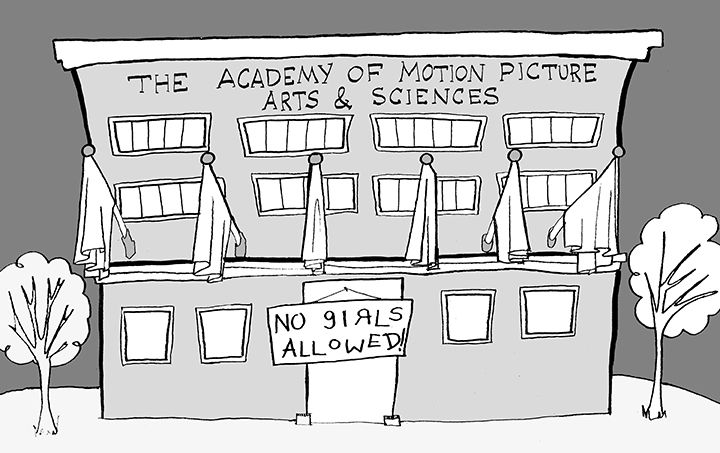 Art by Jenny Rustdad
"It's our time to have wage equality once and for all and equal rights for women in the United States of America," Patricia Arquette, Best Actress in a Supporting Role award winner, said in her acceptance speech at this past Sunday's 87th annual Academy Awards.
Not only did Arquette shock the entire audience — prompting J. Lo and Meryl Streep to fangirl, jump out of their seats and scream, "Yes!" over and over again — but she also made a point that feminists around the country have been trying to express for some time now: We are nowhere near where we need to be regarding the equality of women.
This feminist case was made extremely apparent in the award nominations this year, where we saw a predominantly white, male demographic of nominees. For example, all five nominees for Best Cinematography, Director, Adapted and Original Screenplay categories were strictly male.
This lack of diversity has prompted numerous arguments against the Academy itself and its nomination process. But the problem with these attacks against an organization that is so prominent in our society is the fact that the accusations aren't productive in the least for progress for women.
Senior film and media reporter for Variety, Brent Lang, wrote in his article "Oscar Nominations Expose Academy's Lack of Diversity," published Jan. 15, that "Oscar voters had a chance to make history by nominating the first African American woman in the Best Director category with 'Selma' helmer Ava DuVernay, but instead they opted to reward a contingent that was all-male and heavily white."
For those who have seen "Selma" and think Duvernay's directing is Oscar-worthy, I can understand why this missed opportunity is so frustrating. However, having read reviews that insinuate that the movie is well-directed and well-executed but not of the highest Oscars standards, I can understand why the Academy would choose to go in a different direction.
However, it can also be argued that if the Academy had nominated "Selma" in the Best Director category, then the reasoning wouldn't have been for the movie's exceptional standards, but for the progressive message that would have been sent. I agree that this message would be a good thing, considering the lack of diversity and variety in this year's nominees, but it would also go against everything the Academy stands for as an organization, as well as its sole purpose in the film industry.
The movies in this year's lineup headline men, leaving women out of the picture. Movies such as "American Sniper" starring Bradley Cooper, "Whiplash" starring Miles Teller and J. K. Simmons and "The Imitation Game" starring Benedict Cumberbatch lacked the prominent presence of women, but were definitely still Oscar-worthy, nonetheless.
In past years, the Oscars has had a much more diverse line-up of nominees for Best Picture. In 2013 there were movies such as "Silver Linings Playbook" starring Jennifer Lawrence, "Zero Dark Thirty" starring Jessica Chastain and "Les Miserables" starring Anne Hathaway; in 2014 there were movies nominated such as "American Hustle" starring both Jennifer Lawrence and Amy Adams and "Gravity" starring Sandra Bullock. What all of these films have in common are their strong, female lead roles.
Clearly the Academy doesn't have an agenda against women. Contrarily, there are obstacles that women have to cross to get to a place where the Academy might acknowledge them for certain awards, such as Best Director. This isn't just, but then again, it's nothing new.
The nomination process for each of these categories is straightforward. Actors nominate actors, directors nominate directors and so on. But should these rules change in order to promote progression for future ceremonies? If they did, the Academy would risk losing all integrity by not complying with the traditions they have upheld for the past 86 ceremonies. At the same time, there is clearly a cry for change from the masses.
This doesn't mean that the traditional white male should continue to be nominated for the Best Director category, and it certainly doesn't mean that women should continue to take the backseat in major facets of the film industry. However, if we want this to change, then the content being submitted for nominations will have to step up its game. That's the bottom line.
If, according to the Academy, these are the films that are of the highest standards, worthy of being nominated for such prestigious awards, then who are we to argue?
To put full blame of these unfortunate facts onto the Academy is a stretch, because it isn't their role as an organization to promote progress for women, just as it isn't their role to advocate for social equality in the nominations. If we are going to continue to see the Academy as an expert organization, one to look up to in the industry and in society in general, then we must respect their responsibilities that come with that reputation.
It isn't their job to correct these wrongs; it's the job of actors, directors, producers and moviegoers to ensure that more diversified content is recognized.
Arquette has stuck her foot in the door toward gender equality in the work force, and hopefully other prominent figures in the film industry will do the same.
__________
Follow Rachel on Twitter: @Hey_RaRaRachel