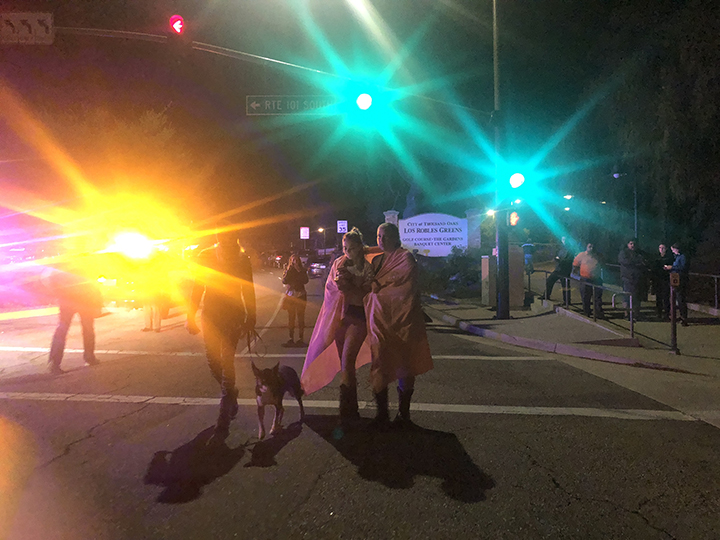 Photo by Araceli Crescencio
Editor's Note: The following is a recount from freshman Annabelle Childers, who was at the Borderline shooting.
10:15 p.m. – We first arrive at Borderline and walk to the front door. I drove Hattie Pace and Janie Souza, and, as we walked to the door, Janie realized she had forgotten her driver's license.
We headed back to Pepperdine, Janie picked up her I.D., and we made our way back to Borderline.
11:10-ish p.m. – We walk toward Borderline for the second time. We enter the front door and turn to the right to the front desk area and pay to get in.
I call Allison Lee, my friend who had been there for a little while, and see where they are inside. She tells me they are near the dance floor, and we make our way over to them. Janie and I go to dance, which we are struggling with because we had never learned the dance they were doing. After failing at that song, Chris Brown's "Turn Up the Music" began playing, and we were even further out of our league because the dance was even more complicated. Laughing, we made our way off the dance floor and returned to stand with our friends behind a half wall/countertop that looked out onto the dance floor. We had only been there for a minute when we heard the first series of gunshots.
*pop. pop. popopopopop*
I vividly remember a loud noise and then eerie silence. I dropped to the floor and crawled behind something. I saw my roommate, but she didn't see me. She continued crawling toward the back of the restaurant, and I didn't follow. A man had put his arm around me keeping me down and telling me I was OK and everything was going to be OK.
The room was silent except for sounds of glass shattering in increments.
Then the second round of shots began.
That second series of shots seemed to spur movement in us, because we realized we couldn't stay put. The guy with his arm around me got up and ran, and I turned my attention toward where the people around me were running.
I got up and ran after them, and I remember coming to a window. There was still a large piece of glass in the top right corner, but the center of the window had been completely broken. I remember looking down and seeing a barstool on the ground among a pool of glass. I saw girl working to get up off the ground after taking the jump badly. I remember thinking I was nervous, looking at the 6-foot drop, and then I heard "JUMP!" and the third round of shots went off.
I don't remember the jump or running through the parking lot. All I remember is that I made it to my car. I hopped into the front seat, looking around to see if any of my friends had headed in my direction. I saw cars peeling out of the parking lot, but I stayed put, afraid that I would hit someone or something. In two minutes, the parking lot went from a crazed mess to a silent wasteland.
11:20 p.m. – I call Hattie, my roommate, twice, and it goes straight to voicemail. I start breathing heavy and tears begin to fall. I call my friend Allison next, and she answers. She's crying, and so am I. She was in her car and had driven away from Borderline. We were desperately trying to locate everyone in our group to make sure everyone was OK. We had located everyone through text, and then Allison said I should call my mom.
I call my mom, and by this time I am crying hysterically, and I can't breathe well. I'm terrified that the shooter is in the parking lot. She answers the phone, and I am completely incoherent. I work to gain some composure and control of my voice, and she eventually finds out what is going on.
Police have begun to show up at Borderline, and they offer me little comfort. I'm terrified that if I get out of the car, the police will see movement and think I could be the shooter. I tell my mom that, and we decide that I should call 911.
I call them, which results in nothing. I tell them what car I'm in with hopes that they will tell an officer, and I can get out safely, but she simply tells me to stay put or try to exit the parking lot in my car. The exit was barricaded by police cars.
I hang up and call my mom back. I go off and on in phone calls with my mom as I also talk with my friends over the phone checking in to make sure everyone is OK.
12:10 a.m. – I have to get out of the car. I'm starting to have another panic attack because I don't want to continue being alone. I'm on the phone with my mom, and she finally says that I can leave the car, so I hang up with her on the phone.
I run out of the car with my hands up, and a man runs to me, picks me up and carries me behind a police car. Another man picks me up from behind the police car and escorts me to an area with around 20 police cars to where I am safe.
I stand there for a while, in the middle of many flashing lights. All of the police have headed toward Borderline, and I'm still scared and still alone. I start walking toward the gas station where I see other people.
As I walk, I see Ashley Fricker, who I had not known was at Borderline. I run to her and we hug for a while, later telling each other our stories.
In the time that followed, we were asked for statements by the FBI, and we began to play a waiting game.
Two of my friends who had been stuck in the bathroom were rescued by the police, and we waited with them for two hours. Around 2:30 a.m., we were cold and decided the area wasn't going to clear out anytime soon. The freeway was blocked off, but we decided to walk down the street to an area where we could meet up with our friends who had run far enough to not be caught up in the aftermath of the shooting.
2:45ish a.m. – We make it to our friends and begin to drive back to Pepperdine. My car is still in the parking lot of Borderline. Allison Lee drives four of my friends, and her dad drives four of us to campus.
3:15ish a.m. – We get back to campus where we are directed to the HAWC. Inside the HAWC, we are greeted by our Resident Director and two counselors.
4:45 a.m. – I climb into bed and go to sleep.
6:45 a.m. – I wake up.
The day after the shooting, I went to the Pepperdine Counseling Center with Tanner Provencher, Allison Lee, Jake Nichols and Hannah Kate Albach, all friends who were at Borderline.
We talked to a professional trauma counselor who told us all of the ways that people react to trauma and what we could expect for the future. We learned that everyone processes trauma differently and our reactions could take different or multiple forms.
So far, I have felt very numb to a lot of things. I don't cry much, but I feel really tired a lot of the time. Talking to lots of people for extended periods of time is really draining at this time, which is a surprise because it has never been hard for me in the past.
I don't like dark places or loud noises, but I wouldn't say that fear is solely dictating where I go or what I do.
The trauma specialist said that we may feel OK in this moment, but things might grow harder as life goes on.
_______________
Follow the Pepperdine Graphic on Twitter: @PeppGraphic