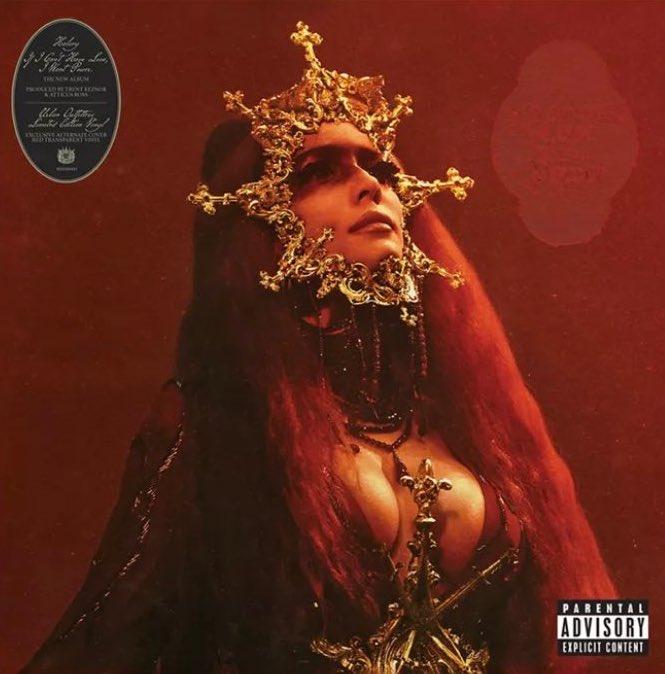 The alternative cover for "If I Can't Have Love, I Want Power" shows an image of Halsey in transparent red. Halsey dressed as a god-like figure looking toward the sky. Photo courtesy of Capitol Records
American singer/songwriter Halsey released her fourth studio album Aug. 27, titled "If I Can't Have Love, I Want Power." The album — produced by Trent Reznor and Atticus Ross — showcases a diversity of genres such as pop, rock, alternative and acoustic. Halsey wrote in an Instagram post, the 13-track concept album expresses the highs and lows of pregnancy and childbirth, according to Consequence of Sound.
"It was always supposed to be about mortality, everlasting love and our place/permanence," Halsey wrote in an Aug. 11 Twitter post. "It was just amplified by me being pregnant and it introduced new themes of control, body horror, autonomy and conceit."
The album opens with the haunting piano ballad, "The Tradition." Halsey told her label, Capitol Records, the lyrics discuss the historical mistreatment women faced from men, according to Songfacts.
"Take what you want / Take what you can / Take what you please / Don't give a damn," Halsey sings in the chorus. "It's in the blood and this is tradition."
"The Tradition" smoothly transitions into the second track, "Bells in Santa Fe." Halsey featured a snippet of "Bells in Santa Fe" in an Instagram video when she first announced the album June 28. The song has a creepy electronic sound that complements the lyrical content.
"Don't call me by my name / All of this is temporary," Halsey sings. "Don't wait for me / It's not a happy ending."
The album then picks up in tempo with the fast-paced, angry rock song, "Easier than Lying." Halsey repeatedly sings in the bridge about how going through a break-up is easier than believing the person loved her back.
"When I got back 'Easier than Lying' for the first time and there was this rage in it, I realized that I was talking about people in your life that kind of make you into someone and then decide that they don't like the person they made you into," Halsey said to Capitol Records in a YouTube video.
The fourth song, "Lilith," is a laid-back, hip-hop-infused track in which Halsey reflects on her corruptive behavior driving the things she loves away, according to JustRandomThings. The shortest song on the album, "Girl is a Gun," has chaotic-sounding production as Halsey warns about how dangerous she can be.
"I love how my voice sounds in that type of production, whether it's new metal or drum and bass," Halsey told Apple Music's Zane Lowe.
Halsey showcases her alternative rock side in "You asked for this." In this song, she talks about how her dreams finally came true, but she now sees the price that comes with being in the spotlight.
"Go on and be a big girl / You asked for this now," Halsey sings in the chorus. "Go on and be a big girl / Or everybody's gonna drown you out."
In the soft, acoustic and peaceful "Darling," Halsey soothingly sings to her newborn, Ender Ridley Aydin, about how everything will be alright. Lindsey Buckingham joined her on Saturday Night Live for a live performance of this song Oct. 9.
"1121" shows more of Halsey's vocal range as she belts about how she would die for her child. The song title references Nov. 21, 2020 — the day she found out she was pregnant.
For the ninth track, "honey," Halsey revealed an interesting backstory of how the rock song was made in an Instagram live. She said "honey" was an experiment song to show her younger brother, Dante Frangipane, how she makes music.
"John Cunningham pulled up a rough beat, I get in front of mic and I just start singing and writing," Halsey said in an Aug. 27 Instagram live. "Two days later, I realized that song was actually dope. It turned out to be one of my top favorites on the album."
In the piano infused electronic track, "Whispers," Halsey reflects on the struggles of mental health.
"Sabotage the things you love the most / Camouflage so you can feed the lie that you're composed," Halsey sings in the chorus.
The eleventh song is the synth-pop hit lead single, "I am not a woman, I'm a god." In this track, Halsey contrasts her identity between being a human and a deity. The music video shows different scenes from the album's accompanying movie by the same name released for streaming on HBO Max Oct. 7.
The longest song on the album, "The Lighthouse," is another alternative rock track about a mythological story. Halsey softly ends the album with "Ya'aburnee," meaning "you bury me" in Arabic — which she uses to express how she wants to die before her son because she can't imagine living without him.
"If we don't live forever / Maybe one day, we'll trade places," Halsey sings in the chorus. "Darling, you will bury me before I bury you."
The album's diversity of genres and instruments highlights how versatile Halsey is as an artist. The lyrical content expresses her personal experiences as a new mom.
"If I Can't Have Love, I Want Power" is currently available to stream on YouTube Music, Apple Music, and Spotify.
____________________
Follow the Graphic on Twitter: @PeppGraphic
Email Timothy Gay: timothy.gay@pepperdine.edu