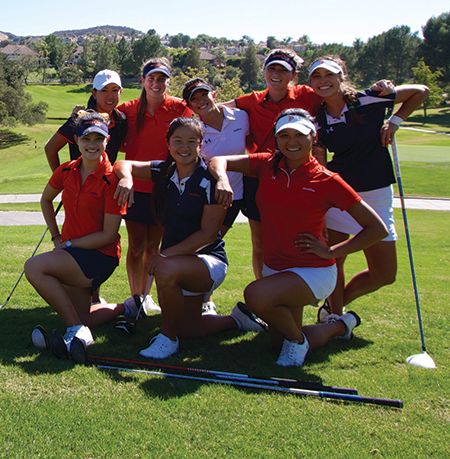 Photo by Marisa Padilla
A nine-day road trip to Albuquerque, N.M., and Wolcott, Colo., launched the women's golf team's season to a successful start in the Dick McGuire Invitational (Sept. 20-21) and the Golfweek Conference Challenge (Sept. 23-25). The Waves placed first in both tournaments, trumping the nearest competition by nearly 40 strokes combined.
Sophomore Marissa Chow led the team in the Dick McGuire Invitational, placing second. In the Golfweek Conference Challenge, senior Grace Na and Chow took the first and second place titles, respectively.
Head Coach Laurie Gibbs said she's proud of the team's domination, noting that they had "never done anything like this before," traveling-wise.
"We laughed a lot, we prayed a lot and we came together as a family," Gibbs said. "They're such hard workers. Success brings on success. We came out and judged the fields well. There were times when they were six, seven, eight under par."
Speaking of laughing a lot, the women's golf team revealed what makes them such a tight, successful team at the Calabasas Country Club on Tuesday, and a great deal of laughter was involved.
1) Practice makes perfect.
In addition to weight training, conditioning and any individual workouts, the women's golf team practices together for four hours, five days a week at local golf courses. During the practice time, Gibbs guides the team through different drills involving various aspects of the game, such as putting and chipping.
2) Coaches are like family …
"Coach [Gibbs] is like our mom, and [Assistant] Coach Leanne is like a good friend," junior Alina Ching said. The team agreed that Assistant Coach Leanne Craig offers them good advice that is especially applicable considering she is a Pepperdine alumna ('08) who played under Gibbs.
3) … and family sticks together, on and off the course.
"[Off the course] we don't see each other as teammates, we see each other as friends," Na said. On the course, the women explained how they motivate each other by making heart shapes with their arms when passing by teammates. Golf can be a lonely sport, but they find a way to stay connected.
4) The goal is simple.
The team said its goal is to, "get better, climb rankings and to have growth." With the exception of freshmen Alessandra Arza and Andrea Unson, the rest of the squad has played together for at least a couple years. Altogether, the team boasts about 72 years of golfing experience — a triumphant season appears to be in the cards.
5) Fun times ahead.
Senior Liv Cheng can juggle oranges and junior Alina Ching likes to make interesting sound effects, the team said, laughing among themselves. When asked who the team clown was, Na smiled and said: "We go off each other, we all have our own charisma. We have so many inside jokes."
6) Roadtrips are tough.
Unlike most other sports, when women's golf takes off on a road-trip, it spans over days at a time, which can be nearly impossible with Pepperdine workloads. "We know our priorities and our responsibilities. It's a lot of fun traveling," Na said. Ching then said, "but it involves a lot of homework, too."
7) Accountability is key.
"Golf is an individual sport. Playing college golf we've grown a lot as a team, and I've grown as a person. We learn to be selfless, how to play for each other and how to keep each other accountable," senior Grace Na said. Senior Liv Cheng added that college golf is fun because it is their only real opportunity as golfers to play on a tight-knit team.
_____________________________________________________________________________
Follow Alysha Tsuji on Twitter: @AlyshaTsuji
As published in the Oct. 3, 2013 issue of the Pepperdine Graphic.