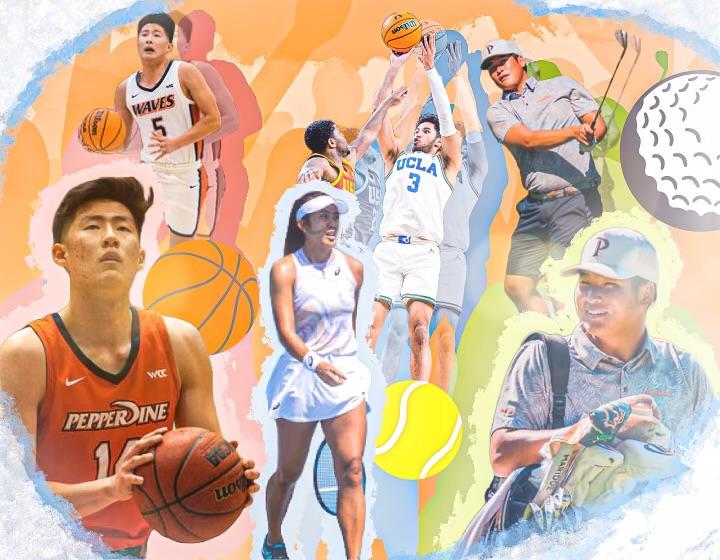 Pepperdine student athletes and Utah Jazz forward Johnny Juzang spoke about their experiences as Asian American athletes in their respective sports. Pepperdine student athletes included Men's Basketball graduate guard Jay Yoon, Women's Tennis graduate student Bunyawi Thamchaiwat and Men's Golf graduate student Sam Choi
Art by Vivian Hsia
In 2014, Sam Choi, Pepperdine Men's Golf graduate student, said he was the only Asian American out of 10 players on the putting green.
As Choi was ready to practice his putting for a tournament in high school, Choi said a player grabbed his golf ball and threw it in the water. Confused, Choi asked why the player did that.
Choi said the player responded with,"You're going to lose anyways; why would you want to practice? You have no chance of going against me. You have no friends here."
"I ended up beating him, so that was a good part," Choi said.
Choi, whom the West Coast Conference awarded golfer of the month in March, said it's sad racism still happens in sports.
"I'm there to play golf, so I don't really care what other people think about me or say about me," Choi said. "I just go out there, try my best to play and show some good scores."
Asian American athletes said they have faced stereotypes throughout their careers, both at Pepperdine and professionally.
Coaches at the amateur level said the biggest challenges Asian American athletes have are the sense of belonging, confidence and facing the eye test.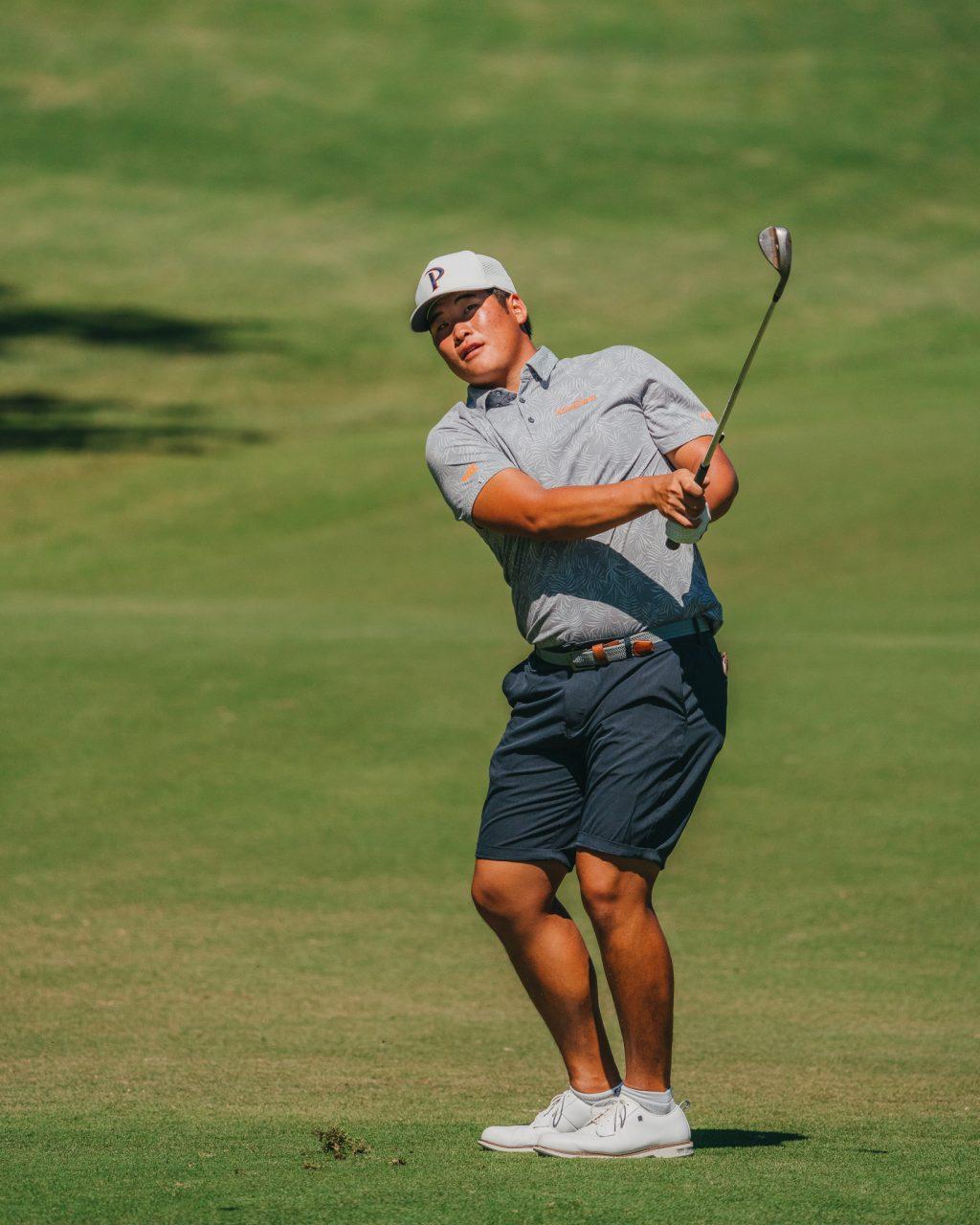 Pepperdine Men's Golf graduate student Sam Choi follows through on his swing at the Ben Hogan Collegiate Invitational in October 2022, in Fort Worth, Texas. Choi is one of two Asians on the golf team, according to Pepperdine Athletics. Photo courtesy of Pepperdine Athletics
In a study done by the CDC, 48% of Asian Americans missed the United States guidelines for staying fit, according to the CDC.
The physical fitness test is required for students in California. Starting from the fifth grade, students are tested every two years to see if they can meet minimum physical fitness standards, according to California's Department of Education.
In 2018-19, a total of 43,440 Asian American ninth graders in California participated in the physical fitness exam. 14.6% of ninth graders needed improvement, and 6.5% were at a health risk, according to the Physical Fitness Test web page.
Studies show how Asian Americans are compared to other ethnicities with sports. Factors such as the model minority myth help explain the challenges of being an Asian American athlete, according to Join AARC.
The model minority myth explains how minority groups have achieved high levels of success in American society, according to a study done by the University of Washington.
For Asian Americans, being stereotyped as smart may benefit Asian Americans in test-taking situations, but the model minority myth demonstrated stereotypes can also be harmful as Asian Americans feel pressure to live up to high expectations, according to the University of Washington.
Ideas like the model minority myth become harmful to athletes, since they're being put in a box, according to The Guardian
Asians make up 7% of the United States population, but only 2% play in the NCAA, according to the NCAA.
However, Asian American participation in sports is increasing. In 2018, there were a total of 8,774 Asian athletes in the NCAA. Under the demographics by gender and race/ethnicity section, by 2022, that number rose to 10,828, according to the NCAA.
Although Asian American participation in sports is growing, athletes and coaches said there is still work to do.
A racial breakdown of participation in sports in the NCAA in 2021-22. Asians make up 2.1% of the student-athletes, according to the NCAA. Infographic by Jerry Jiang
Jay Yoon, Pepperdine Men's Basketball graduate student guard, said he comes into every competition with a chip on his shoulder because he knows everyone will look at him differently.
"I want to leave this competition knowing that I'm gonna work hard," Yoon said. "There's nothing you can do that will stop me from being my best self."
Utah Jazz forward Johnny Juzang said perspective is a powerful thing when dealing with stereotypes.
"Us as humans, we're spiritual beings, and we hold a lot of power," Juzang said. "So, don't underestimate that, and you have the power to create the reality you want."
Throughout her career in tennis, Bunyawi Thamchaiwat, Pepperdine Women's Tennis graduate student, said she has felt people judge her for being Asian.
"Sometimes I feel people list me as 'the Asian girl,'" said Thamchaiwat, whom the Intercollegiate Tennis Association ranks No. 29 in doubles, "[People would say], 'Oh, she's from Asia; she doesn't know anything.'"
Yoon said being overlooked throughout his life helped motivate him to try his hardest and make a name for himself.
"It doesn't really matter what I look like [or] what my skin shows," Yoon said. "I'm going to do my best."
The Challenges of an Asian American Athlete
Marshall Cho, Nike Hoop Summit World Team assistant coach, said the biggest challenge facing Asian American athletes is the sense of belonging.
"If there are only a few people that ethnically look alike [in one industry], it's human nature to only question whether you belong in that space or not," Cho said.
Steve Baik, a Korean American and a former high school basketball coach, said confidence is another challenge for Asian American athletes.
"The thing that separates those that don't have much of a physical advantage would be determination," Baik said.
In 2012, then-New York Knicks guard Jeremy Lin rose to fame with his Linsanity run. Lin carried the Knicks to the playoffs as the No. 8 seed after the Knicks struggled for the majority of the season, according to the Ringer.
In a stretch of nine games, the Knicks went 8-1, and Lin had moments such as dropping 38 points on NBA legend Kobe Bryant's Los Angeles Lakers and a game-winner against the Toronto Raptors.
Baik said with Lin, people take notice not only because he's Asian American but also because there is a difference in the way he plays the game with confidence.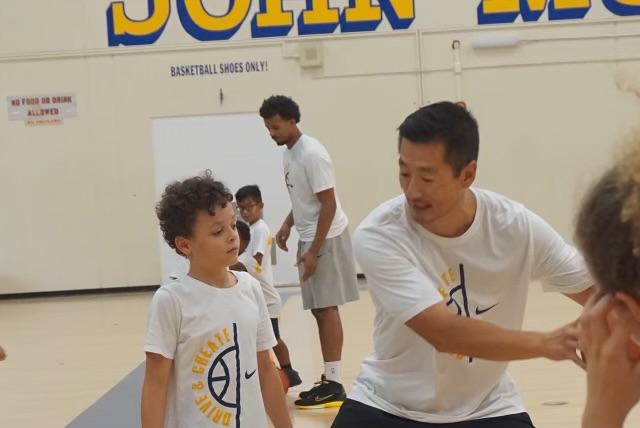 Former high school basketball coach Steve Baik demonstrates a drill at his youth camp at John Muir High School in Pasadena, California. Baik won a California Interscholastic Federation championship in 2015, when he was head coach at Chino Hills High School. Photo courtesy of Steve Baik
Lin's trainer Josh Fan said coming from a culture that is very information-based and process-oriented makes it difficult for athletes to adjust on the fly.
Asian cultures are defined as collectivistic cultures, according to Science Direct. In collectivistic cultures, individuals submerge within their group identity, not leaving room for much creativity, according to Science Direct.
"What it creates [are] very robotic athletes that don't always know how to be the most adept or adaptable problem solvers," Fan said.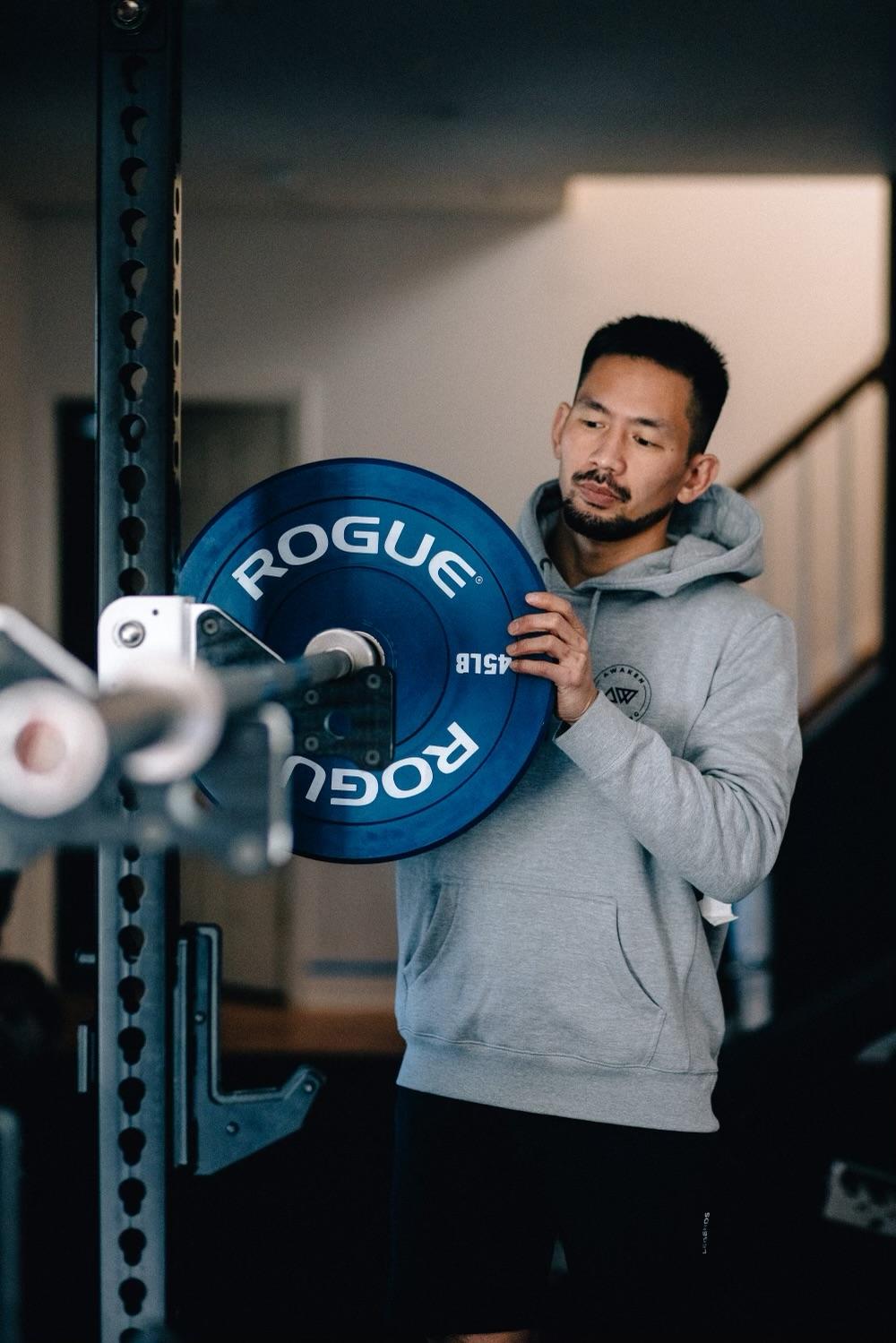 .
Josh Fan, Jeremy Lin's trainer, puts a weight on a squat rack in his gym studio in April. Fan has been Lin's trainer for the past 10 years. Photo courtesy of Josh Fan
Facing the Eye Test
Pranav Iyer is the founder of Amazn HQ — a platform that covers Asian American athletes across all levels of competition and for every sport.
For the past four years, Iyer said he has noticed, while covering the Southern California basketball scene, Asian American athletes aren't passing the eye test in front of college coaches and scouts.
The eye test is the principle of judging athletes' talents based on their looks alone, according to Medium.
"If you have three players that are the same exact build and skill level, one of them is Black, one of them is white, one of them is Asian American, in no world would a scout ever chose an Asian American player," Iyer said.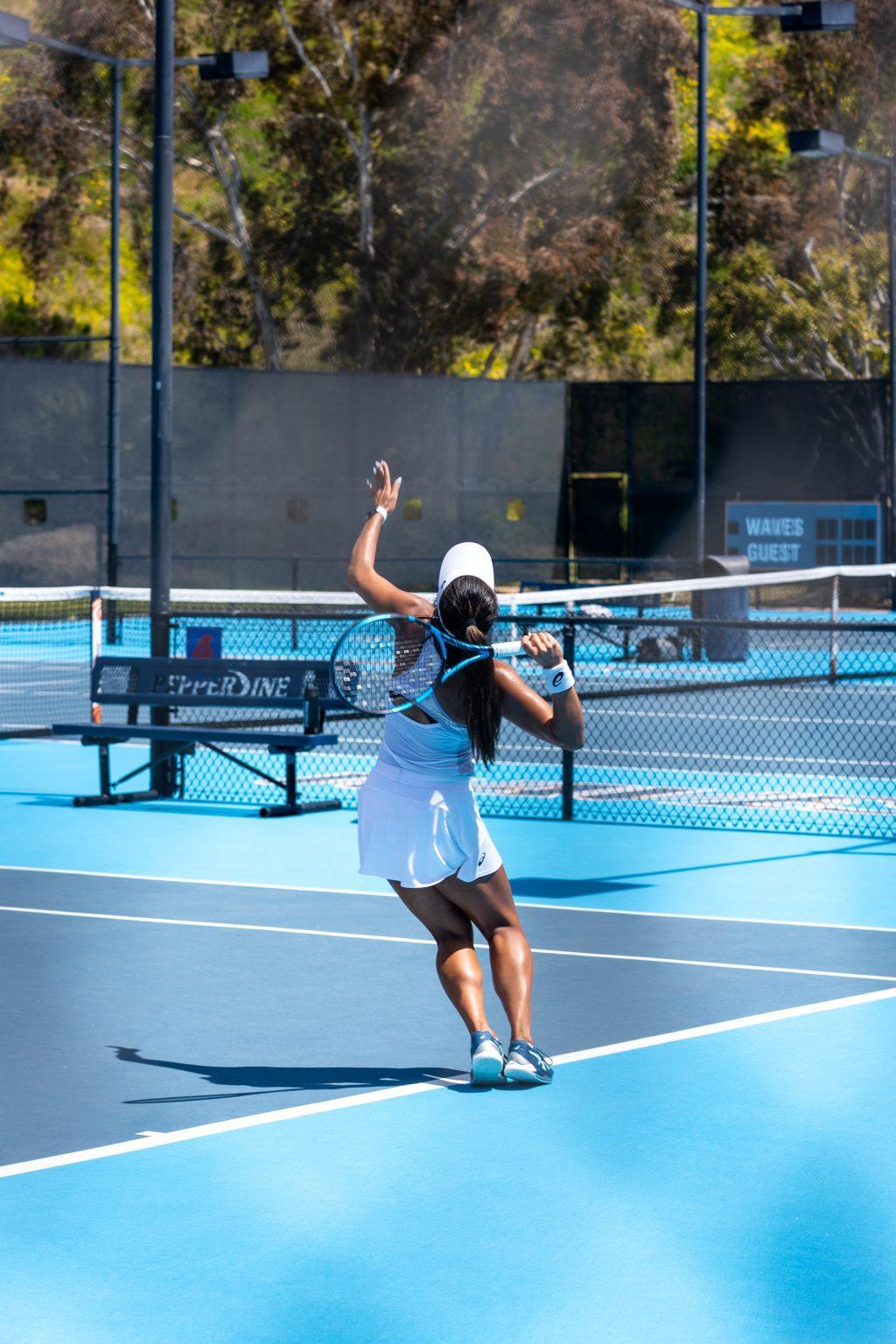 Pepperdine Women's Tennis graduate student Bunyawi Thamchaiwat readies a serve against Gonzaga on April 8, at the Ralphs-Straus Tennis Pavilion. Thamchaiwat is the only Asian on the team, according to Pepperdine Athletics. Photo by Brandon Rubsamen
Before Lin rose to stardom with the Knicks, Lin went undrafted in the 2012 NBA draft after spending four years at Harvard.
Cho said, while there was never a racial component towards Lin being undrafted, a lot of the uncertainties surrounding Lin had to do with scouts questioning his athleticism.
"The words scouts used was 'deceptively' athletic," Fan said. "In our opinion, he's just athletic."
Scott Wong, Pepperdine Women's Indoor Volleyball head coach said, along with the eye test, skin color also can affect a coach's judgment of a player's ability.
"We all have our prejudices," Wong said. "We prejudge, and coaches get hundreds of emails, and we have to make quick decisions based on our experiences.
The number of athletes who identify as Asian at Pepperdine. Women's Golf holds the most with six athletes. Infographic by Jerry Jiang
Breaking Down Barriers with Multi-Generational Families
Iyer said traditional Asian households in the United States, oftentimes, do not encourage participation in sports.
Free time and recreational activities rank at the bottom of priorities for Asian Americans relative to other life goals, according to Pew Research. With the lack of prioritizing free time, it doesn't give much room for other hobbies, such as sports, according to Medium.
The reason behind this thinking is a lot of Asian parents only know certain ways to see success, Iyer said.
27% Asian Americans view success as having a high-paying career as one of the most important goals in their lives, according to Pew Research.
"The opportunities aren't built the same way as they are [in America]," Iyer said. "[In America], you can be an exceptional academic student. You can also be an exceptional athlete."
The increase in Asian American athletes is due to the fact they're coming from multi-generational families, Iyer said.
"A lot of these athletes have the support from their parents," Iyer said. "They're the ones who are putting them in these training facilities and sessions."
Fan said when athletes have parents who played sports, they're put in that culture all the time. The importance of why sometimes younger siblings perform better at sports is because they always have competition, Fan said.
"Just seeing that it's possible is a huge component [in playing spots] because it provides belief that it can be done," Fan said.
Wong said coming from a multi-generational family provides grounds for success. It also makes things easier for the next generation, Wong said.
"My dad played basketball and volleyball — the same two I grew up loving," Wong said. "The inroads were made already because my dad and my brothers were ahead of me."
As a second-generation Korean American, Cho said being a basketball coach gives his son opportunities.
"For a young 12-year-old, witnessing what his dad is doing, it's not that big of a deal to think that he belongs in that basketball scene," Cho said.
Cho validates the belief that his son belongs in basketball by having intentional conversations with his son and telling his son that he can accomplish anything no matter what his racial or ethnic background is, Cho said.
Marshall Cho prepares to coach top high school athletes at the Nike Hoop Summit on April 1, in Portland, Oregon. Cho has been coaching the Nike Hoop Summit since 2012, according to Cho's LinkedIn. Photo courtesy of Marshall Cho
Athletes are allowed to be students and participate in sports in America, but in Asia, the understanding is that, if you want to be an athlete, you're funneled into an academic route from a very young age, Iyer said.
"Maybe the athlete's parents were the ones who didn't have the opportunities to play sports themselves when they wanted to," Iyer said. "These new parents want to have their dreams with their kids or give those opportunities that they didn't have."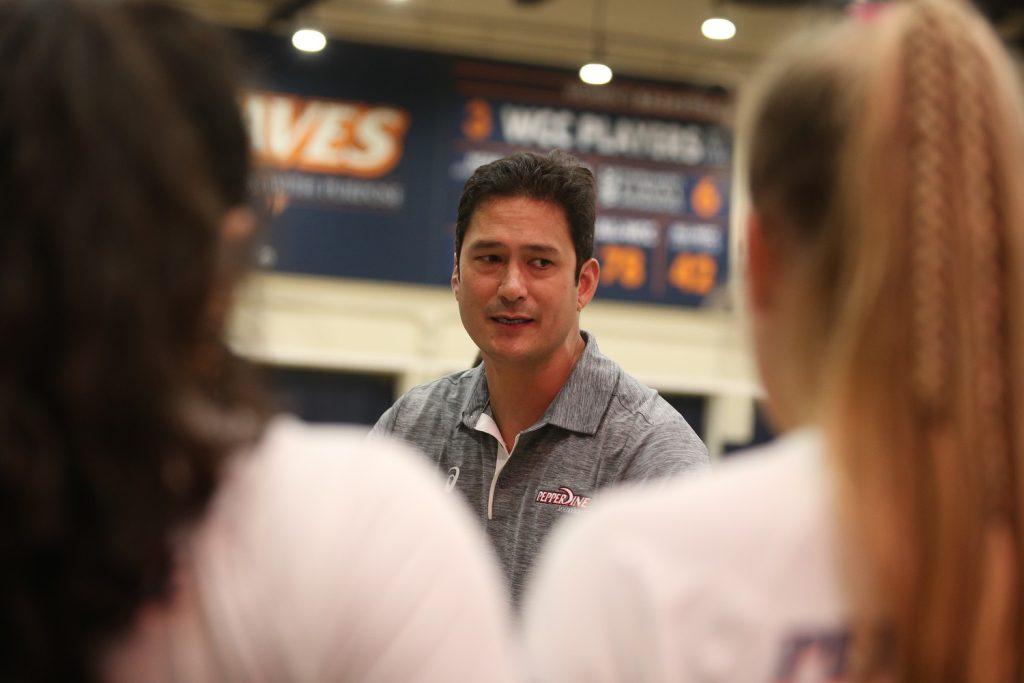 Scott Wong, Pepperdine Women's Indoor Volleyball head coach, draws up a play in a huddle at Firestone Fieldhouse. Wong said coming from Hawai'i gave him opportunities as an Asian American athlete. Photo courtesy of Pepperdine Athletics
Yoon said his parents were always very supportive of what he wanted to do.
"Just knowing that [my parents are] on the same page as me, it makes me feel so loved and so special because I know my experiences aren't similar or aren't like other Asian American athletes' experiences," Yoon said.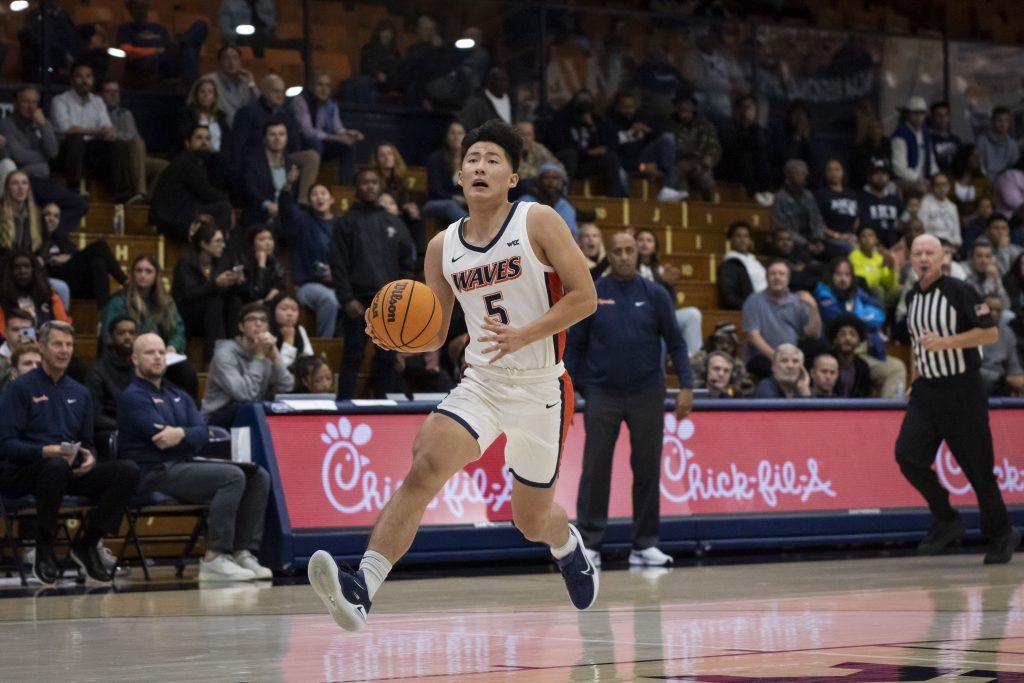 Pepperdine Men's Basketball graduate guard Jay Yoon attacks the basket versus Portland on Feb. 4, at Firestone Fieldhouse. Yoon played in the late minutes of the game and scored a critical layup that propelled the Waves to their first conference victory of the season. Photo courtesy of Charlie Blake
Yoon said there was not a point his life when he thought his parents weren't supporting him.
"No matter what I do, what I've done or what I did in the past five years at Pepperdine, they've always supported me through the highs and lows," Yoon said.
How to Support AAPI Representation
Although players can't connect with everyone on a personal level, there are moments when players can recognize someone like them, Juzang said.
When the Utah Jazz played the Brooklyn Nets on April 2, Juzang said, although he's never met Nets forward Yuta Watanabe before, he was happy for him.
"There's a sense of shared pride," Juzang said.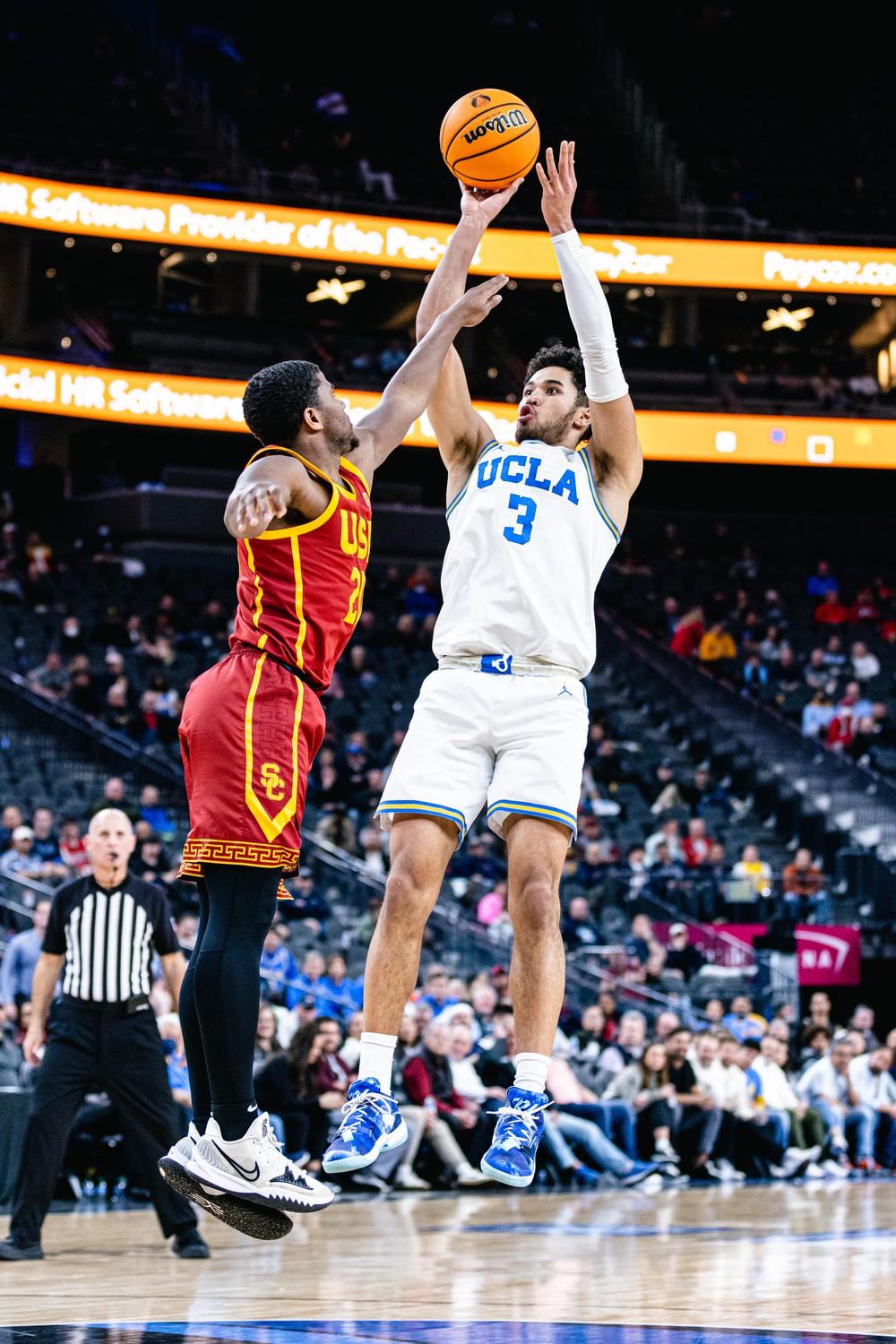 Then-UCLA senior Johnny Juzang rises up for a jump shot versus USC on March 11, 2022, at Pauley Pavilion. Juzang is one of seven Asians in the NBA, according to NBA.com. Photo courtesy of Jan Kim Lim/UCLA Athletics
As a player, Juzang said it was a cool moment to see someone also living to fight this dream of becoming a professional athlete as an Asian.
For better or worse, in society, having representation in the media is where people get their biggest role models, Iyer said.
"The importance of telling these AAPI stories allows for more of those role models because we're still at a time where there's, in general, not a lot of representation in any space that we can look up to," Iyer said.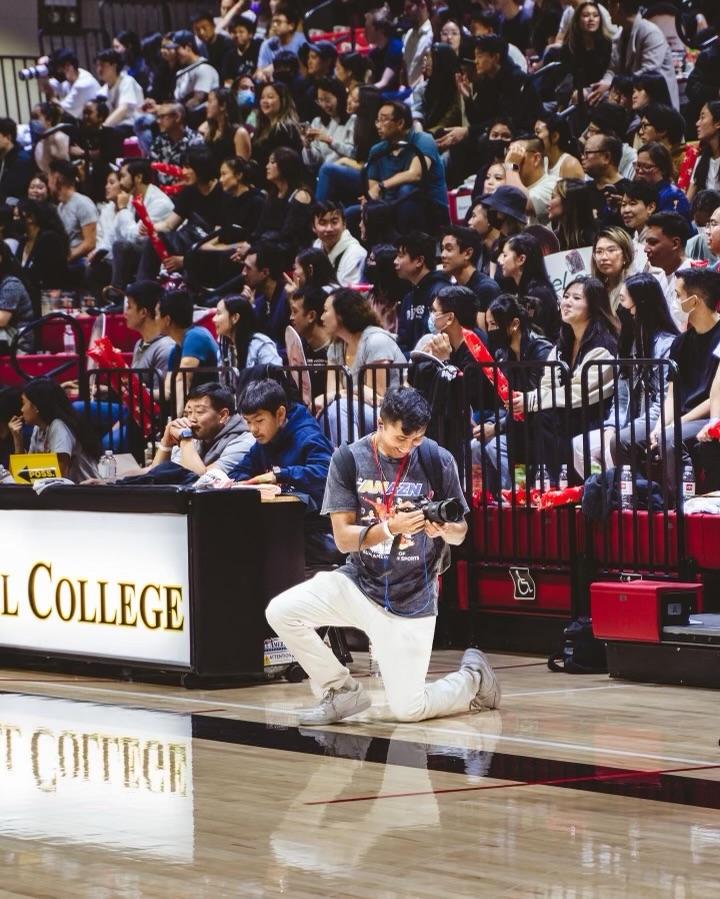 Pranav Iyer shoots a video at ISA's Charity game at Foothill College, California, on Nov. 6, 2022. The ISA Charity game celebrates Asian culture, community and memories every year, according to ISA's website. Photo courtesy of Pranav Iyer
In general, although the support system is lacking for Asian American athletes, Cho said there's potential for Asians to build something that would support the next generation coming up.
"It's really about being intentional," Cho said. "Whether it's through camps, clinics, or Zoom conferences, we need to have infrastructure in place to support [Asian athletes]."
Fan said, every year, more Asian American athletes are continuing to break that ceiling and the mold of what the stereotypical thought is of an Asian American athlete.
"We're definitely trending in the right direction, so there's a changing perception," Fan said. "People are not surprised anymore, and it's becoming more commonplace."
Inspiring the Next Generation
The first thing Cho said he would do is to encourage others to congratulate Asian American athletes.
"You've shown the courage to do something that hasn't been done before," Cho said.
Another piece of advice Cho said he would give is to seek out help.
"The small number of us who have done it — hold us accountable for helping to open doors and being a support and do that for our greater culture so that it doesn't become such an oddity," Cho said.
Fan said, no matter what an athlete does, there are going to be challenges, and the people that rise to the top are the ones who find ways to be resilient and are adaptable problem solvers.
"Embrace the challenges that come with [the journey]," Fan said. "It's part of the process. Nothing good ever happens without overcoming some type of adversity."
Fan said Lin's coach always had a saying — "the cream will always rise to the top."
"If you are really talented, you always find a way to make it to the top," Fan said.
Whether he continues to play basketball or not, Yoon said he'll be forever grateful for what this game has blessed him with. Yoon said he's learned so much and met so many people from different backgrounds.
"That alone is a lot already, and I didn't imagine coming into this that I want to be able to teach and lead this next group of Asian American athletes and mentor them," Yoon said.
Although it was discouraging to see the tribulations AAPI athletes have gone through, now, Asian athletes are getting more recognition and notice, and it's encouraging to see maybe he wasn't the only one, Yoon said.
"All of this is possible," Yoon said. "If I can do it, they can do it as well. It isn't out of reach, and don't let anyone take this dream away from you."
Yoon said he knows so many Asian American athletes who wanted to pursue their dreams but could not and did not because of societal pressures or even family issues.
"If you're gonna fail at something, you might as well feel like going all out," Yoon said.
______
Follow the Graphic on Twitter @PeppGraphic
Contact Jerry Jiang via Twitter ( @j_jiang30 ) or via email: jerry.jiang@pepperdine.edu