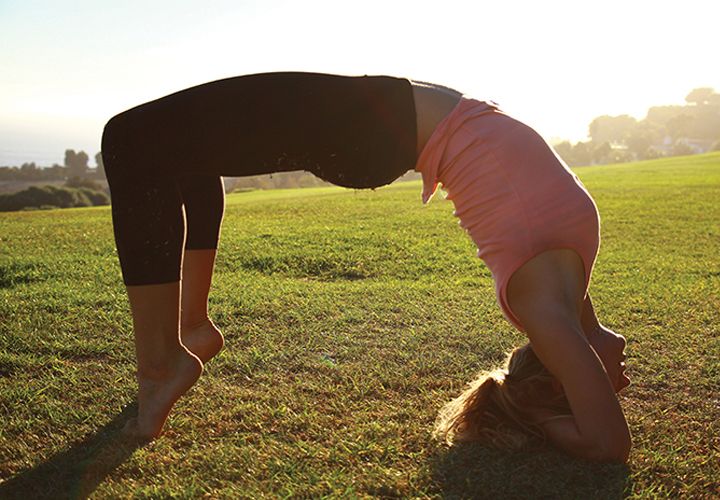 Photos by Allison Hubbard
In Southern California there are several truisms one learns. First, flip-flops are a part of one's year-around wardrobe. Second, 60-degree days constitute sweater weather. Lastly, yoga is good. In the realm of athletics, this third truism permeates the modern sports world as well.
The 5,000-year-old practice of yoga is incorporated into more and more professional regiments, including the training of entire franchises like the Chicago Cubs and Philadelphia Eagles. Yoga is now a staple cross-training exercise for athletes focused on strengthening core, balance, mental focus and injury prevention. Cavaliers player LeBron James, Raven's linebacker Ray Lewis and tennis stars Serena and Venus Williams attribute part of their competitive "edge" to yoga.
All athletes know core strength is vital to one's sport. Underutilization of the core limits the athlete's ability to use both the upper and lower body properly. Strengthening core corresponds to one's ability to balance as well. An athlete's ability to absorb shock, stabilize and accelerate are all contingent on one's core capacity. Yoga poses such as arvangasana (shoulder stand), virbhadrasana (warrior pose), and dhanurasana (bow pose) all rely on strong core control.
The Baller
Many Pepperdine athletes incorporate yoga into training on their own or in official practices. Among them is junior men's basketball forward Stacy Davis. Davis has started 48 of his 61 appearances on the collegiate court. In order to enhance his game, Davis picked up yoga to cross-train for the court.
"I always wanted to do it, but never applied myself," Davis said. "Then I bought this yoga app and do 15 to 30-minute sessions every day."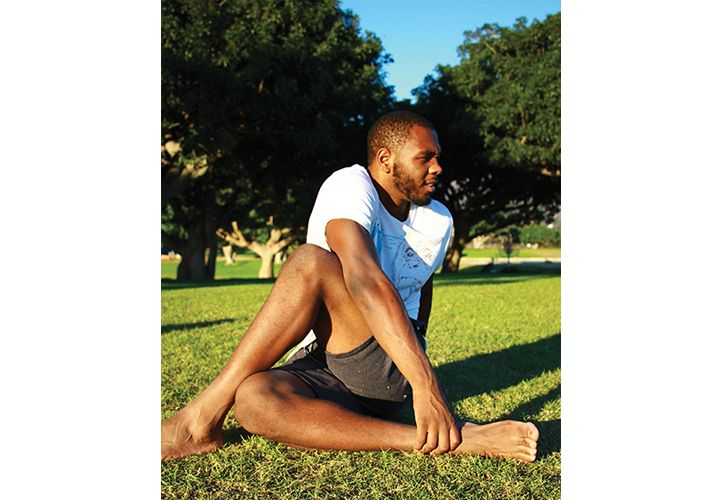 Yoga's benefits are studied and examined in many contexts. Participants typically do yoga for improvement in flexibility, balance, breathing and relaxation purposes.
Davis began with the intention of improving his flexibility, but the benefits expanded beyond his original intentions.
"It gives me a mental awareness and edge," Davis said. "I am challenged to not give up, and I feel accomplished once I finish. My body tells me thank you. I think it's going to be one to those things I do for the rest of my life. I love it and can do it on my own."
Davis was named All-WCC First Team as a sophomore and is on pace to become the school's all-time leading scorer at the end of his career at Pepperdine. He shared his hardest yoga experience and advice to potential yoga enthusiasts.
"My first time I tried yoga it was with 45-year-old women, and all of them could do the poses I couldn't. I had to leave the class," Davis said. "I recommend taking deep breaths and keep going. It only gets better and more rewarding."
Yoga is no longer understood socially as a mom's relaxing hobby; it is a disciplined sport that requires the participant to challenge his or herself mentally, physically and even spiritually. Whether you like the calming effects of a Vinyasa Flow or the cranked-up heat of Hot Yoga, the yogi can pick his or her crosstraining intentions.
Yoga encourages an openness of mind and body. Stretching is one of the main components of yoga, which lengthens the muscles, ligaments and connective tissues within the body.
According to twenty-seven reports published since 1962, stretching increased trunk flexibility as well as flexibility about the knee, hip, shoulder and ankle joints.
Greater flexibility provides the athlete with a greater range of motion to throw, stride or kick. In addition, by mobilizing the joints, the body increases blood circulation and joint lubrication. Yoga becomes a means of injury prevention through increased flexibility and muscular strengthening.
The Runner
With 15 million yoga practitioners and counting, the benefits seem worth the struggle. Track senior Lisa Santroch said she attends yoga individually for her sport and instructs her team in weekly yoga sessions as well.
"I first started for injury prevention and realized I was becoming more flexible. I kept coming back," Santroch said. "Regardless of how good you are on a certain day, you finish yoga knowing you improved your body's limits. It's a lot more inclusive than exclusive of all abilities and people don't realize that."
Santroch ran two extra meets last year, on the cusp of qualifying for Regionals in the steeplechase. In her rookie season last year, Santroch also accumulated honors such as WCC All-Academic honorable mention in cross country and WCC's Commissioner's Honor Roll gold honors.
"Yoga tones your entire body," Santroch said. "It gives you a holistic, collective strength. Plus, you feel awesome after. Yoga is a way of taking ownership of your own health and body to make it the best it can be. I know through yoga, I am preserving my fitness for life."
Among all other benefits, yoga is about focusing in the moment and fostering an awareness of one's body. Instructors recommend picking out an intention, whether it be recovery or endurance, to remember and embody with every move. Sports also require an acute physical and mental focus. Yoga class always begins with controlling the breath, and it is through this breath that the yogi can further delve into a position. This level of discipline makes yoga a mental cross training for any athlete.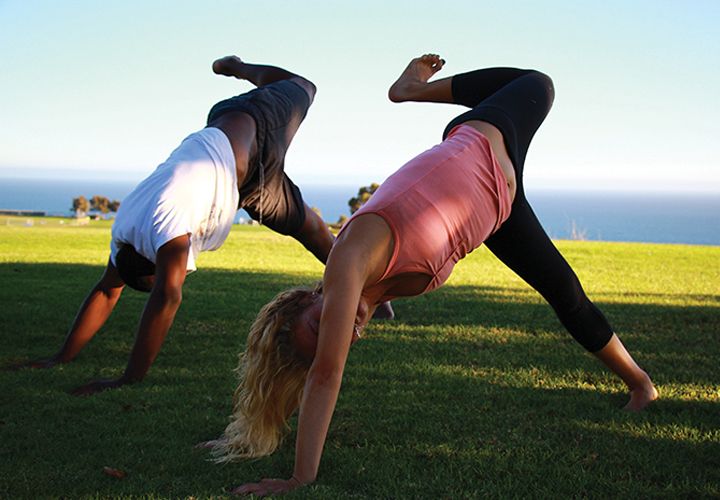 Embrace Relaxation
Men's volleyball redshirt senior Parker Kalmbach said he sees yoga as essential cross-training to supplement weight lifting and additional cardio.
"The amount of focus, levelheadedness, flexibility and strength required to complete a 90-minute power yoga class is easily transferable to the playing court," Kalmbach said. "Besides the great core work and balance, one of the most valuable aspects from yoga is training your mind and really getting relaxed and a steady breath."
Kalmbach played outside hitter, opposite side hitter and middle blocker in his three seasons at Pepperdine. He earned the honor of All-MSPF second team with 206 kills, five assists, four aces and 107 digs within the 21 matches he played last season. He started 20 of those games and totaled 304 points. Kalmbach attributes his ability to perform at such a high level to yoga.
"The idea of control of the breath and a clear mind is definitely something I have enhanced on the court after getting into yoga," Kalmbach said. "Either in an intense situation on the court and staying calm or by just being able to focus and return to the breath so you don't lose concentration is something I've learned from yoga."
Kalmbach was introduced to yoga by a former teammate his freshman year. During Christmas break, the two would go to yoga in their downtime between practices. Since this introduction, Kalmbach has incorporated yoga into his cross-training regime for volleyball. At the peak of his training, he attended yoga four times a week. For Kalmbach, yoga is as much about the mental edge as it is physical.
"I like the idea that when you go into the yoga studio, you are completely shutting out everything else in your life," Kalmbach said. "You enter the studio, power your phone off and get into the zone where you don't have to worry about school, work or athletics. By the time you reach sivasana, the feeling is so relaxing and peaceful, it leaves you feeling refreshed and stress free."
There is a misconception that yoga stemmed from the religion of Hinduism; however, yoga began and exists in every major religion. Yoga's beginnings are relatively unknown, but classical yoga is believed to have been established in the fifth century A.D. by a scholar named Patanjali. Pantanjali created classical yoga that contained eight steps to the physical and mental awareness of one's body and intentions.
The eight steps of classical yoga are 1) Yama: restraint, 2) Niyama: observance 3) Asana: physical exercises 4) Pranayama: breathing techniques, 5) Pratyahara: preparation for meditation, 6) Dharana: concentration 7) Dhyana: meditation and finally, 8) Samadhi: realization of the essential nature of self. All these intentions seem like worthy aspirations to the life of a disciplined athlete and college student.
__________
Follow Stasia Demick on Twitter: @sdemick12