Art by Bethany Wilson.
People have always been drawn to the sky.
"The stars, the peacefulness, the beauty," Physics Professor Gerard Fasel said. "It makes you marvel, it makes you wonder. That's what the night sky does for me."
Cultures around the world have developed different interpretations of celestial bodies, crafting intricate myths and stories to explain the sun, moon and stars. In the modern world, however, these stories sometimes become muddled from one generation to the next.
Pepperdine faculty and students recounted stories they learned from their ancestors or their studies, detailing various cultures' perceptions of the sky.
Ancient Greco-Roman myths and constellations
Scorpius and Orion, two of the most well-known constellations. Art by Bethany Wilson.
The ancient Greeks and Romans found patterns in the stars and created stories to explain them, said Humanities Professor Philip Freeman, who has published research on the mythologies of these two cultures.
One such pattern is the Big Dipper.
"They called the Big Dipper 'Ursa Major' — the big bear — which is, I know, also done in some Native American cultures," Freeman said. "It's the bear that goes around [the North Star] and stays in the sky all the time."
When teaching astronomy, Fasel attempts to cultivate an awareness of the universe in light of a disconnect he believes exists between people today and the sky.
"A lot of people don't realize when they take the class that the moon is up during the day," he said.
Fasel and his students go out at night to Deer Creek Road in Malibu and find a dark space to look at the stars.
"It's hard to see patterns in the sky, and so I try to get my students to relax and just basically gaze up into the sky and take everything in and see if they can see different things," he said.
Students in his class research and present on Greek and Roman celestial mythology while under the constellations they are discussing.
"There's Boötes," Fasel said about one such constellation. "He herds the bears around the pole."
Scorpius and Orion are two of the more well-known constellations.
"You never see Scorpius and Orion in the same night sky because they had had some problems," Fasel said, referring to how the scorpion killed Orion, a great hunter.
People of ancient civilizations would turn to the sky for answers to their questions about life, Fasel said.
"Their view of the universe is much different than ours, and I think there's a lot of wonderment about death and life," he said. "And when they let their imaginations go, they saw these different entities up there."
The northern lights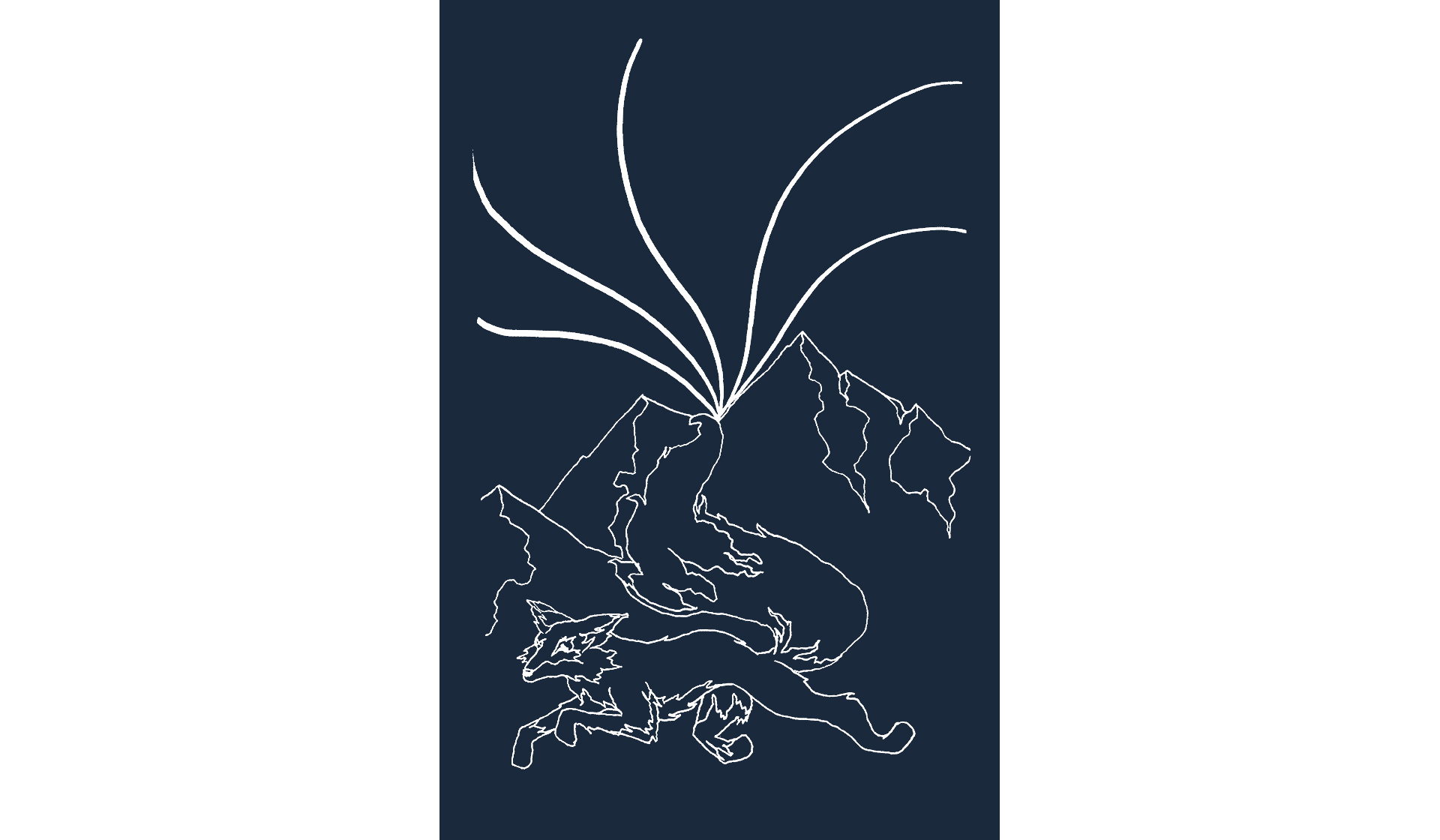 The northern lights (aurora borealis) is a natural light display in the Earth's sky, predominantly seen in the high-latitude regions. Art by Bethany Wilson.
Junior Carolyne Van Den Hoogen, from Girdwood, Alaska, can see the northern lights from her backyard. She recalled seeing them for the first time on New Year's Eve when she was 17 years old.
"We went out to our back meadow to watch this fireworks show that our ski resort was putting on, and we were going to take photos," Van Den Hoogen said. "My sister was like, 'Oh my God, wait. Look, there's the northern lights.' And I'm like, 'Man, Mother Nature's giving us a fireworks show of her own.' It was so cool."
She said people in her community inform each other when the phenomenon is visible.
"There is an email chain or a text chain where people will be like, 'The northern lights are out right now,'" she said. "And then they'll all meet at this specific spot on the highway near my house to go view the northern lights."
Fasel explained what causes the phenomenon, otherwise known as the aurora borealis.
"These lights are basically produced by the interaction of the sun's wind with the Earth's magnetic field," he said. "There's a transfer of energy, and that energy manifests itself in the aurora."
For Van Den Hoogen, such a phenomenon is just a normal part of her home life.
"I feel very lucky to have seen them and been in a place where that's a regular occurrence," she said.
Zimbabwean harvests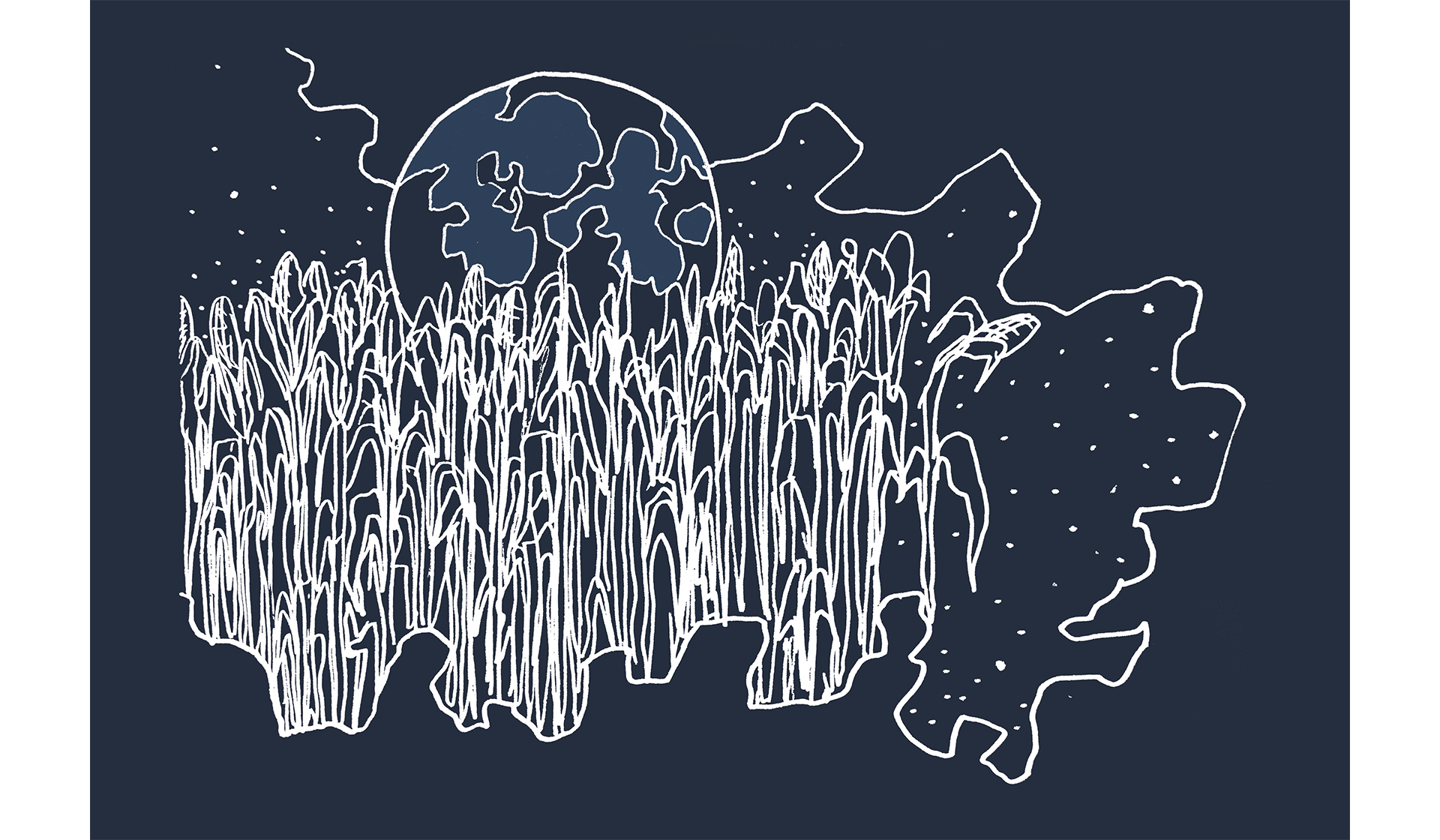 A new moon means a new season, a new day in Zimbabwean culture. Art by Bethany Wilson.
Senior Tinashe Nyamupingidza was unaware of any stories from her country of Zimbabwe that discussed the night sky, so she reached out to her grandmother.
"The one thing she told me was about the new moon and how in Shona, which is the language that we speak, it's called 'mwedzi wagara,'" Nyamupingidza said.
She translated her grandmother's message from Shona to English.
"The [new] moon would go down with all the evil and all the bad things, and then it would be a new season, a new day," Nyamupingidza said.
The new moon would also usher in a new harvest.
"We don't really import any food or vegetables," she said. "I feel like in America, you have food all year round, but back home, it's seasonal."
The sun and moon also act as an alarm clock for the farmers of Zimbabwe.
"At 4 a.m., whenever the sun comes up, it's a sign that they need to start going to plant and sow and reap," Nyamupingidza said.
Romantic Chinese moon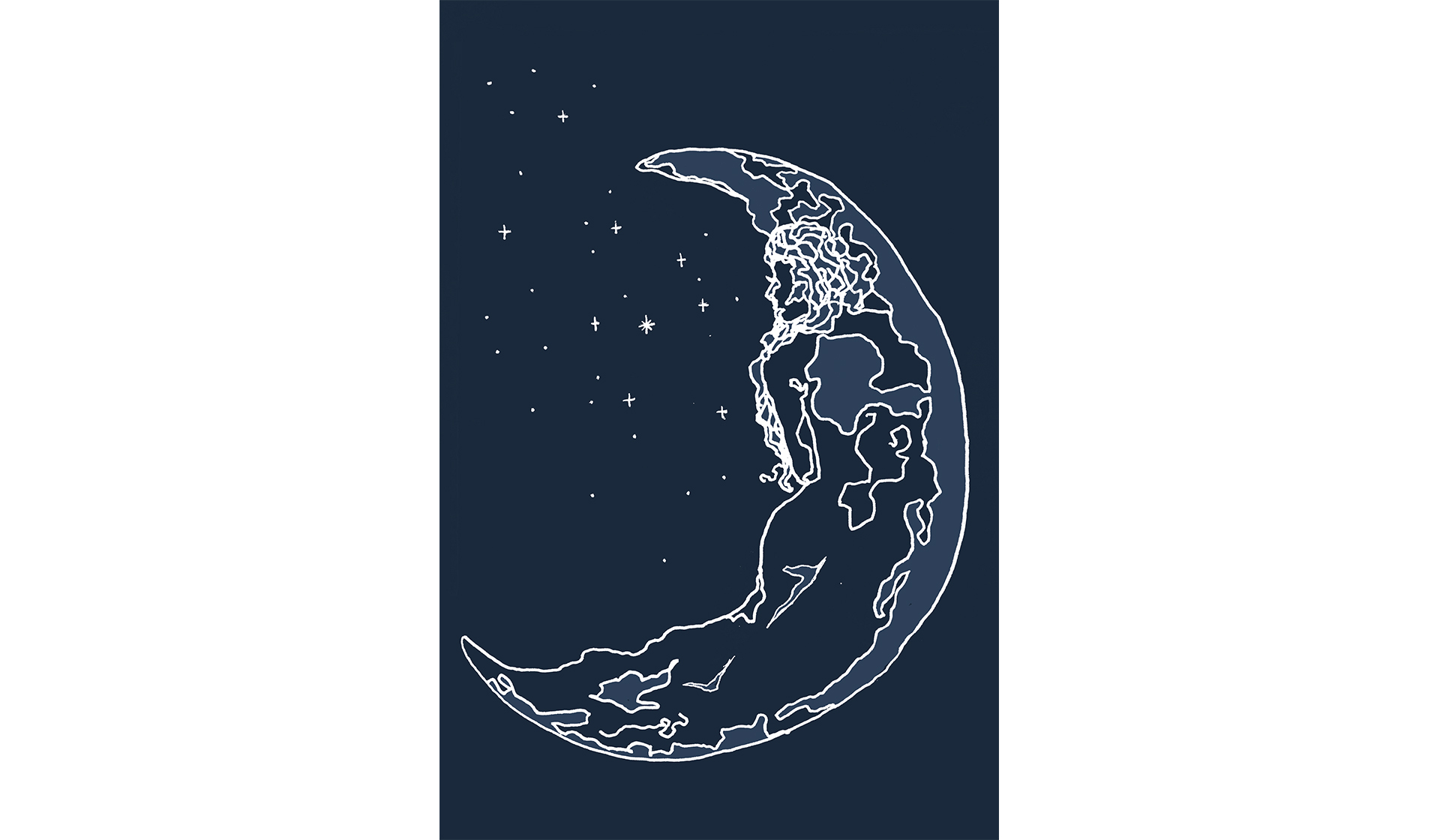 The ideas of romanticism and wisdom are paired with the moon in Chinese culture. Art by Bethany Wilson.
Junior Yinjie Zhai from Shanghai, China, said urban stargazing is nearly impossible.
"I would say it's a little ironic for people living in Shanghai to tell … stories about stars," Zhai said. "You can never see stars in Shanghai because of the light pollution."
Instead, his grandparents passed down stories about the moon and sun to him. One story tells of why there is only one sun in the sky. Originally, there were 10, with each sun bringing light to the Earth.
"But there's one time that they run out together to hang out together," Zhai said. "So everything was dry and dying."
In order to save the world from suffering, an archer named Hou Yi shot down nine of the suns.
"There's only one sun for us now," Zhai said.
There are many different stories about how the moon came to be. In the one Zhai grew up with, Hou Yi's wife, Chang'e, took a pill and rose to the moon. Now, people can still see Chang'e in the shadows created by the moon's craters.
"From ancient times, when people would see those shadows, they would think about the figure; it looks like a woman," Zhai said. "So they think maybe that's the woman who rose to the moon."
To commemorate this story, the Chinese celebrate the Moon Festival, also called the Mid-Autumn Festival. During this time, the moon represents reunion, Zhai said.
"No matter how busy they are, everyone needs to come to the table," he said.
The Chinese connection to the moon carried over into Chinese arts. The ideas of romanticism and wisdom are often paired with the moon in Chinese culture and expressed in ancient Chinese poems. Zhai said ancient poets would drink alcohol in order to be more in tune with their emotions, drawing inspiration for their poems from the moon.
Similar to African cultures, the Chinese used the sky to tell time, and they are one of many cultures that follow a lunar calendar instead of a solar calendar.
"The lunar calendar — it helps a lot for people, especially farmers, to calculate when it's the time to spread all the seeds and when it's the time to harvest," Zhai said.
Chumash astronomy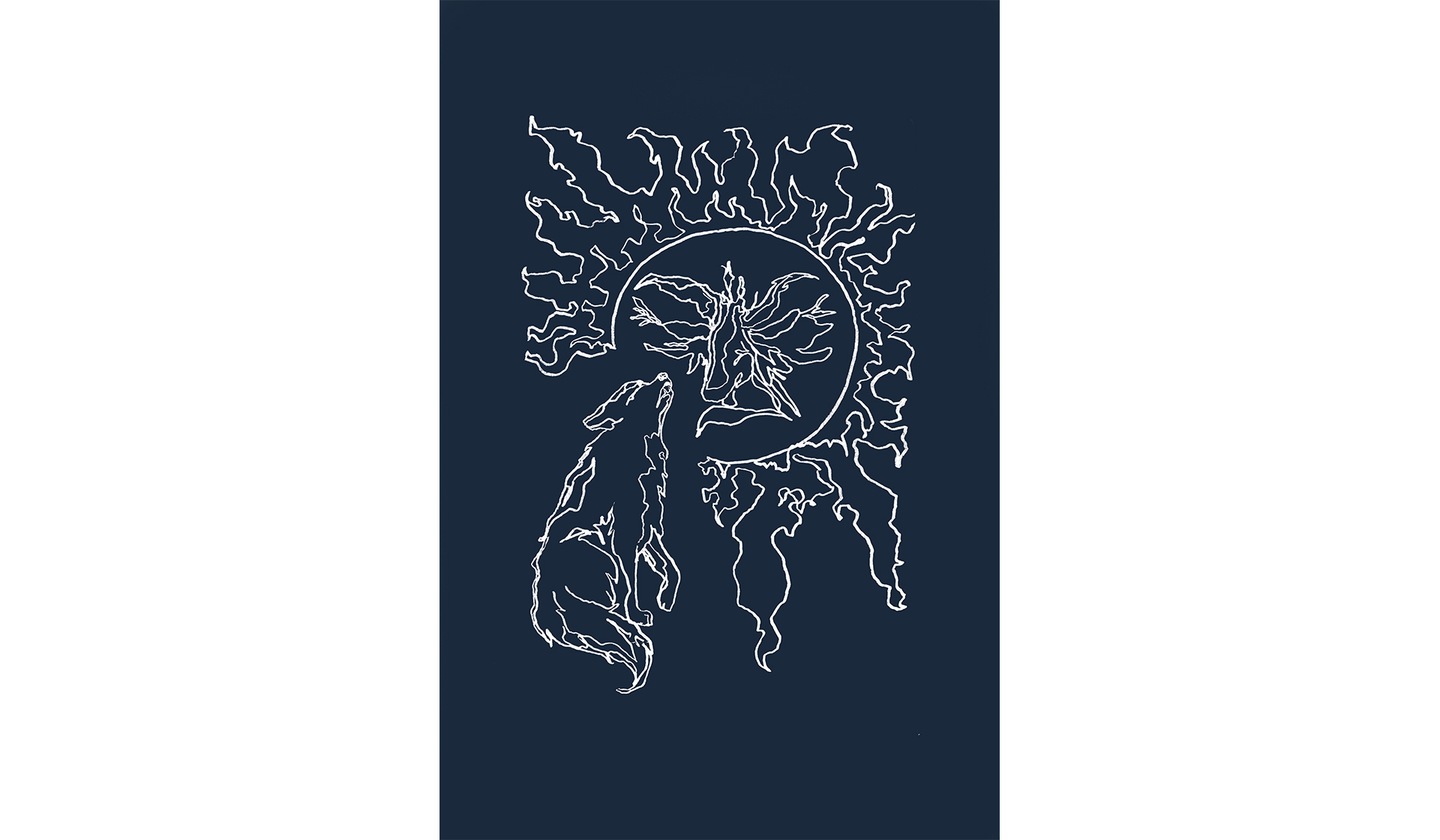 Chumash astronomers track the constellations and the sun for ceremonial times. Art by Bethany Wilson.
The Chumash people once lived in and around the land that is now Malibu. They saw more stars than Malibu residents can see today.
Health policy professional Sabine Talaugon is the granddaughter of Joe Talaugon, a Chumash elder. She talked about when surveyor Rex Saint-Onge sought out her grandfather's help in determining whether a carving in a tree was a Chumash arborglyph.
Along with Curator of Anthropology John Johnson from the Santa Barbara Museum of Natural History, they were able to determine that it was a Chumash arborglyph and was most likely used by 'alchuklash — Chumash astronomers — in order to track the Big Dipper and the sun for ceremonial times, Sabine Talaugon said.
She went on to help her grandfather with the project for a couple of years by "letting the public know that indigenous people didn't need colonization to have intellectual lives and create very important knowledge that is still relevant today."
Sabine Talaugon said there's a push to acknowledge indigenous sciences as legitimate discovery and not as something to be overlooked simply because they do not follow the same approaches as Western sciences.
"These are different structures, etchings, paintings and so on [that] the indigenous people used to keep track of their year," Sabine Talaugon said. "… [They] have ceremony and story at those particular times of the year as part of their culture and as part of their livelihood."
One example of these stories and ceremonies occurred during the winter solstice — the Chumash New Year — when the moon appeared to be the farthest away from the earth.
According to a Chumash story, Old Man Sun, representing destruction, beat Sky Coyote, representing creative energy, at peon — a Chumash gambling game. Sabine Talaugon said Old Man Sun's bet was that he would leave the sky, bringing destruction to the world.
Spiritual and political leaders held a ceremony every winter solstice in order to work together to "pull back the sun" so that it wouldn't leave them, Sabine Talaugon said.
"That's consistent with the reality of winter solstice," she said. "It's the shortest day of the year."
Hindu constellation maps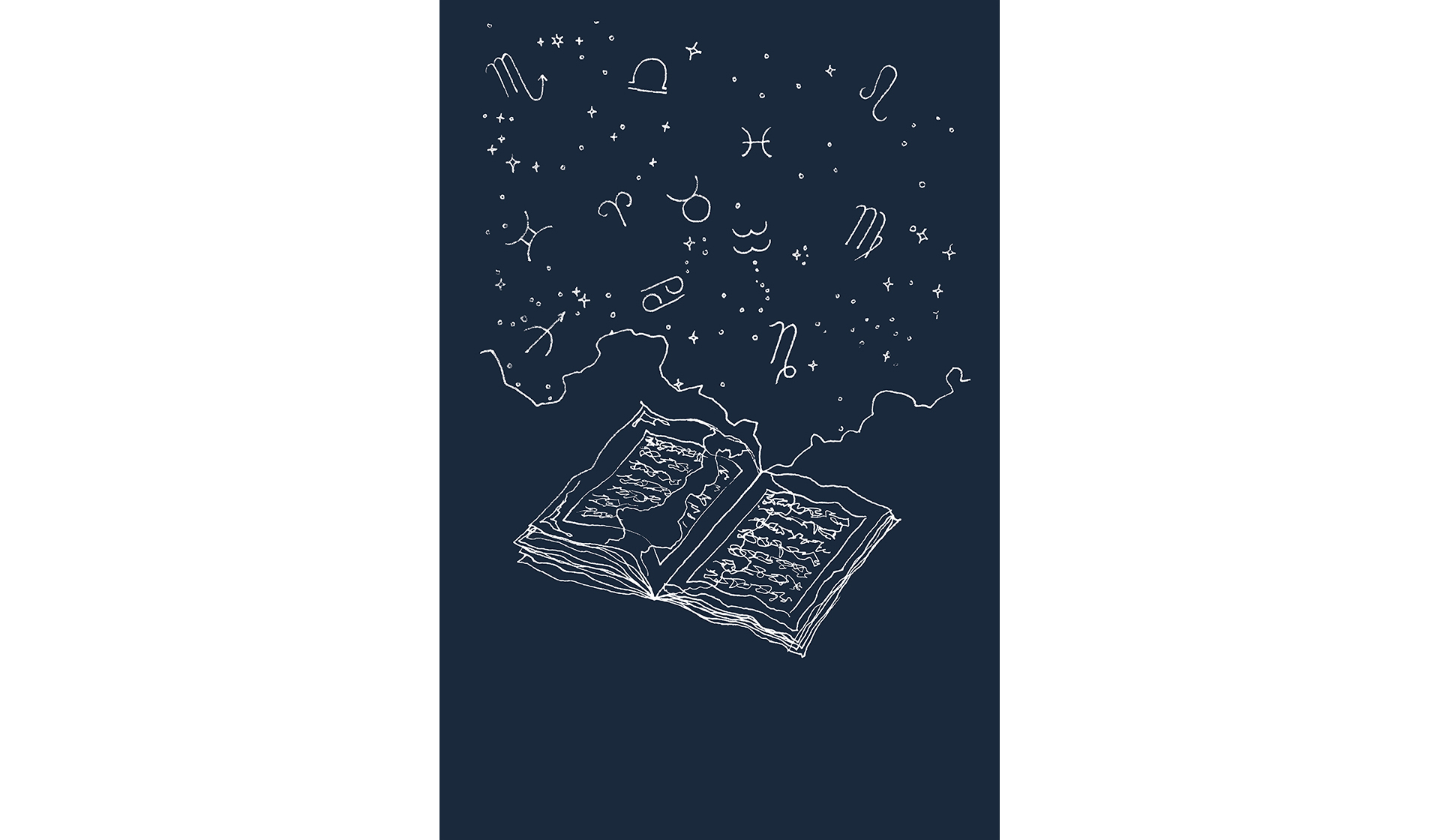 Hindus consult the Vedas, or Hindu texts, to interpret celestial bodies. Art by Bethany Wilson.
In Hinduism, there are 27 possible constellations that one can be born under. These celestial alignments are said to reveal everything about a person.
"They'll be like, 'This is going to be your personality. This is going to be what she likes. This is going to be her favorite color,'" said Sanskriti Sriramoju, a junior from Southeast India.
People use constellation maps to find the right time to make important decisions and to see if a couple is compatible for marriage.
"They're going to look at your constellations, my constellations and the constellations of the time [of the event]," Sriramoju said.
Hindus also believe that certain constellations in the sky, depending on the time of the year, inhibit some people's productivity and luck. There are also certain mischievous celestial gods, such as Pluto and Mars, who negatively interfere with people's lives, Sriramoju said.
"They're just normal, celestial, superior beings who have negative characteristics," she said. "That's it. They're not bad."
Sriramoju said the gods of the sky are male and the sun god, who is the father of the planets, rides a chariot across the sky.
In order to interpret these celestial bodies, Hindus consult the Vedas, or Hindu texts. Using the Vedas' knowledge of stars, astronomers built large instruments to find the location of the moon, sun and constellations to make charting one's constellation map easier, Sriramoju said.
"They're going to map out the whole universe outside you, and then they'll write your story," she said.
__________________________________
Email Kaelin Mendez: kaelin.mendez@pepperdine.edu