Waves celebrate after scoring a point at Firestone Fieldhouse on Oct. 6. Pepperdine won 3-0 against the Pacific Tigers. Photos by Mary Caulfield
No. 20 Women's Indoor Volleyball won for the fourth time in a row with a 25-14, 25-17, 25-19 win over Pacific on Thursday Oct. 6, at Firestone Fieldhouse. The Waves improve to being 4-2 in West Coast Conference play, with their only losses coming against No. 4 San Diego and No. 14 BYU.
The Waves had a strong all-around effort, highlighted by a career night from junior middle blocker Meg Brown. Brown led the Waves with a success rate of 0.667, achieving 12 kills on 18 swings.
"This team is really special and when we're firing on all cylinders it is hard to beat us, and that was proven tonight," Brown said.
Due to kills from Brown, sophomore outside hitter Grace Chillingsworth and freshman outside hitter Emily Hellmuth, along with a good defensive effort from senior setter Isabela Zelaya, the Waves were able to edge a 17-13 lead to start the first set.
Things would pick up for the Waves as Pepperdine went on an 8-1 run, finishing off the first set. Momentum continued for the Waves into the second set as they started off with a 4-0 after taking advantage of miscommunication on the Tigers' side.
"[Keeping consistent energy] is definitely something we have been working on throughout the past few weeks," Brown said. "It's been really fun to have that in practice and then instill it in the game"
The Waves easily conquered the second set after an overtuned Waves challenge sparked a 10-4 Pepperdine run, which capped off when sophomore Trinity Stranger scored an ace. During their offensive run, the Waves put on a defensive clinic, highlighted by a triple block by Hellmuth, Zelaya and Brown.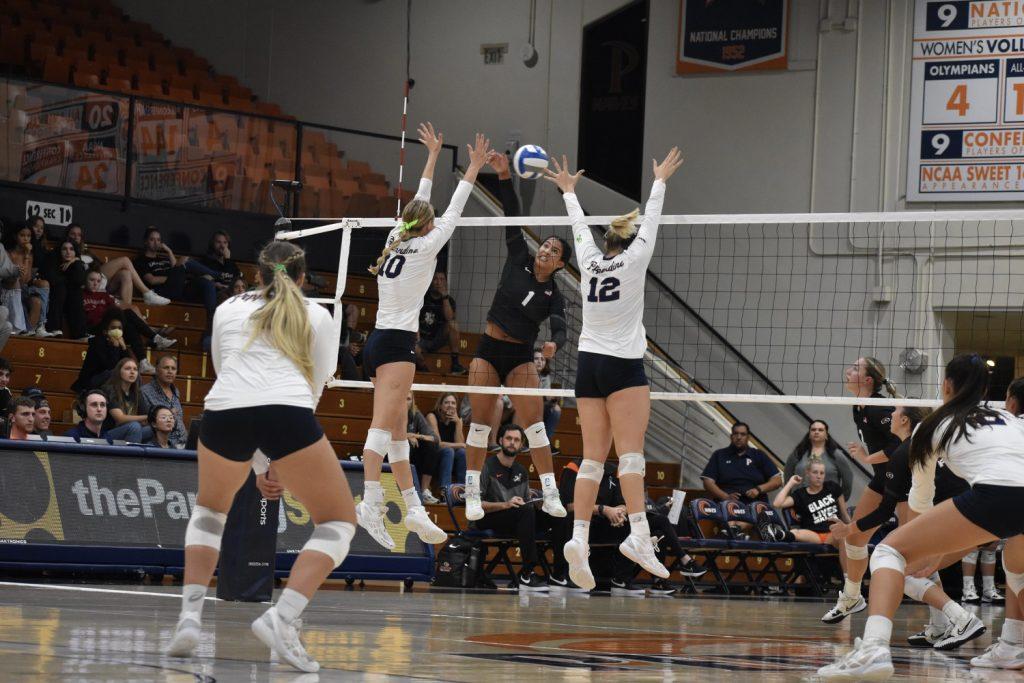 Pacific found their groove to start the third set. A kill from Tigers outside hitter junior Alexa Edwards gave Pacific its first lead of the night at 5-4. Carried by Edwards, as well as outside hitter, senior Biamba Kabengele, the Tigers were able to stay alive, keeping the score to a one-point Waves lead at 18-17.
The Waves would once again capitalize off of errors from across the net in order to go on a 7-2 run, which in effect ended the final set as a 25-19 victory.
This was no easy matchup for Pepperdine, as Pacific had won 7 of their last 9. A 3-0 sweep against a red-hot Tigers team can be a testament to just how good the Waves are this year.
"This team is really special and when we're firing on all cylinders it is hard to beat us, and that was proven tonight," Brown said.
It'll be a quick turnaround for the Waves before their next game Oct. 8. In order to keep their momentum, Head Coach Scott Wong said the Waves will continue to look to improve rather than taking the day off to rest.
"We just got to keep on getting better on our serve, it sets up the table nicely for us," Wong said. "We have served well, but I think as a coach you are always trying to squeeze a little more out and that is just something we want to keep getting better at."
High-quality serves could be crucial to the Waves as their next opponent, Saint Mary's University is 6-3 in their last nine. Pepperdine will be facing a Saint Mary's team that just got swept by Pacific last week.
________________
Follow the Graphic on Twitter: @PeppGraphic
Contact Alex Clark via email: alexander.clarke@pepperdine.edu