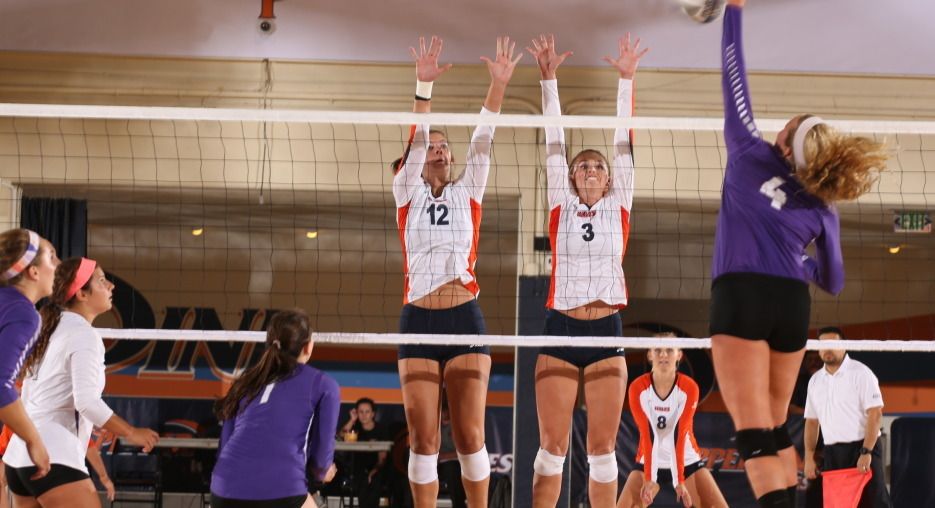 Photo Courtesy of Jeff Golden
The youth movement of Pepperdine's women's volleyball team is coming into fruition.
Last year was very much a transitional period for this Waves squad. After losing major players Katie Messing and Samantha Cash, the team suddenly became very youth-oriented, playing mostly underclassmen in starring roles, with the notable exception of star setter, senior Becca Strehlow. Still, their overall record improved in 2015 from the previous year, and so far the team seems to keep improving. After this weekend, the Waves now are in possession of a 6-3 overall record. Dyer says that she noticed the spike in quality play this weekend.
"I feel like last year, one thing we struggled with was being consistent sometimes, and coming back from not being consistent and being down," Dyer says. "This weekend, we came out and were consistent when we needed to, and even when we didn't come out as strong, I think the turnaround was a lot faster this year. Picking up after struggling is a lot stronger this year."
The Waves won two out of their three games in the Loyola Marymount University/Long Beach State University Invitational this weekend. Pepperdine managed to defeat Arizona State and Harvard, in three and five sets, respectively, and lost a close battle to the home squad of Long Beach State in five sets.
Sophomore outside hitter/setter Heidi Dyer helped lead the Waves with two triple-doubles on the second day of action against Long Beach State and Harvard. Dyer says that because of the multiple responsibilities she has on the court, earning triple-doubles is just part of her job.
"I feel like if I'm doing my job properly, I should be getting triple-doubles because of the role I play on this team," Dyer said. "The role I play on this team is that I'm a setter, but I also hit, so as a setter, I should probably be getting double-digits on all my sets, but as a hitter, that just depends on how many sets we go, and how well I'm doing, and then digs, if we go more than three sets, I feel like I should have at least ten."
Dyer wasn't the only Wave who performed well in Long Beach: Wylie also had a solid weekend, earning a career-high 12 blocks in the Waves' victory against Harvard. Wylie said in an email that she was so entrenched in the game that she never realized she broke her personal record until after the match.
"I honestly didn't realize that I got that many blocks against Harvard until my mom said something to me after the game! I was surprised in a good way," Wylie wrote in an email.
Pepperdine starts WCC play on Sept. 24 against Loyola Marymount, and the pressure should be on to see if they can outperform their 2015 8-10 conference record. Given their strong play so far this season, that goal might not be out of reach.
_________________
Follow Jackson Hogan on Twitter: @jacksonhogan