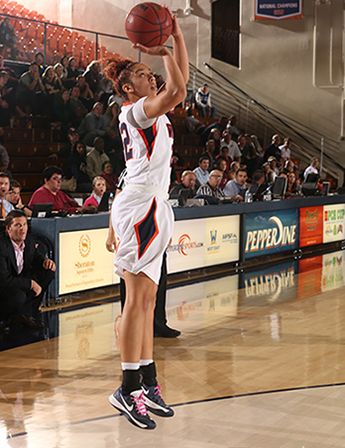 Photo Courtesy of Pepperdine Athletics
Women's basketball had an up-and-down season to say the least. The program was in the midst of reform, featuring a young squad without a single senior and a first year Head Coach Ryan Weisenberg, who brought in a fresh outlook on how the team would run its offensive and defensive schemes.
And for the most part, it worked. The team seemed to respond to Weisenberg's coaching, and fought tooth and nail all season. They had multiple games that came down to the wire, and challenged many of their rivals in the WCC throughout the season. Unfortunately, the ball doesn't always bounce the way we want, and the team finished the regular season with a dismal 5-24 record, losing all of the last 15 games of the season.
The Waves would go on to enter the WCC Championship Tournament as the No. 10 seed, and showed what the team is capable of with an upset win against No. 7 seeded Santa Clara at the Orleans Arena in Las Vegas. In that game, junior guard Grace Leah Baughn and junior guard Ea Shoushtari both hit career highs of 19 points and 30 points, respectively, on route to a 67-61 win that saw the Waves excel in post-play, shooting and defense.
"There was kind of a vibe before the game, you could tell that everyone was focused," said freshman guard Allie Green, who made a name for herself in her first year as a Wave athlete by finishing the season as the fourth leading scorer on the team and securing a spot on the WCC All-freshman team.
"We did something we never did before this season … in the huddle, we wrapped our arms around each other and I really felt like 'wow, we are in this, we are together'" Green said. "I just think it was a really big, not goal for us, but a really big accomplishment for us because it showed ourselves and all the other teams in the WCC that — we may not have won that many games — but we are a team that doesn't give up and we work hard."
The Waves went on to face No. 2 seeded BYU in the second round of the tournament, but ended up losing 77-51.
"They game planned extremely well against us and took advantage of our weaknesses," said Weisenberg, who praised BYU's strong coaching and players for providing a challenging, well-rounded opponent for the Waves.
The Graphic was able to speak with Green and Weisenberg about their thoughts on this past season, and what they hope to accomplish in the next one.
Q: Tell us about your journey to become a part of Pepperdine's basketball program.
Green: I mainly chose the school for the education … I felt the coaches were really invested in me and it was a family environment, which is really important to me.
Q: How would you describe your first season as a player and a head coach with the Waves?
Green: I knew coming in that I would have to work really hard. Of course, a lot of other people on the team play my position. I came in with the mindset that if I try really hard and work I will get a chance to play. I think it really paid off.
Coach: I've been in a number of situations like this where it is a rebuilding period for a program. Expectations were all over the place, and looking back I think we were able to learn a lot as a team.
Q: What did it mean to you to win the All-freshman team honors?
Green: It was really a blessing when I found out I won. I was really proud … I thank my team as well because without them I wouldn't be able to do what I've been able to on the court.
Q: What were some of the strengths of the team this season?
Green: We just always work really hard. Although we have a lot of testing moments during the season, it was a huge learning opportunity for us. For us to come together as a team and really not let that take us over — a lot of people would have crashed and went down — but we always worked hard in practice and it showed when we won the first round.
Coach: I think we competed in every game. I know that's something that people always say but if you look at our games and some of our injuries in our roster … we battled through in all of our games. We could have folded and gave up on the season and said we are done and gone on our merry way. But these girls fought from day one to the last day of the tournament and every second of every game.
Q: What were some of the weaknesses of the team this season?
Coach: Injuries always hurt every team. We lost Bria Richardson to Saint Mary's early in WCC conference play. She was the backbone of the team, a leader. And losing her made everyone else have to step up and accept and do their roles. It definitely hurt us. Two glaring issues of inconsistency for us was in our post play and defense. We are working to break our old habits and change the way we handle these areas.
Q: What do you think the future holds for the team moving into next season?
Green: We have a lot of people coming in that I think will help this program a lot and it will tie in to the people we have now. I hope everyone's ready for next season because we are going to be a surprise.
Coach: I am hoping that the students get behind both basketball teams next season and we hope to have a much more improved season and give the fans something to enjoy and have fun supporting.
_____________________________________________________________________________
Follow Chirag Patel on Twitter: @cbpatel86