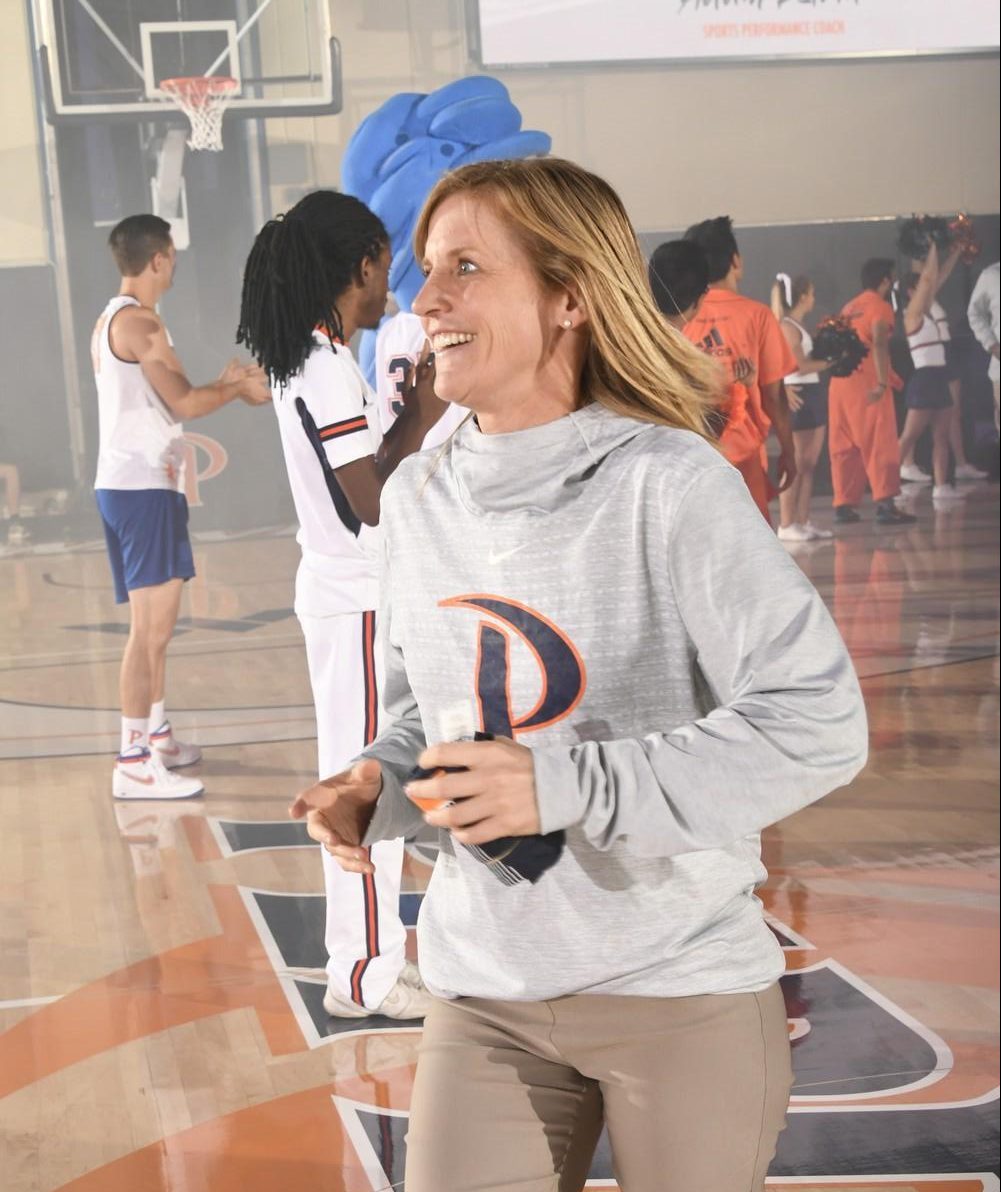 Former Pepperdine Women's Basketball Head Coach Kristen Dowling runs to the court on Firestone Fieldhouse during Blue and Orange Madness in 2019. Dowling stepped down for personal reasons, Assistant Coach Brian Rosario said. File photo by the Graphic in 2019
Pepperdine Women's Basketball Head Coach Kristen Dowling stepped down, Pepperdine Athletics announced in a press release Feb. 27.
Dowling served as head coach for the Waves during the 2019-20 season, which saw the team reach the semifinals of the 2020 WCC Tournament after upsetting Brigham Young University. Before coming back to Pepperdine, Dowling spent seven years at Claremont-Mudd Scripps' as head coach of the program.
Dowling was also the graduate assistant and academic adviser from 2006-08 at Pepperdine under former Head Coach Julie Rousseau, then came back as the assistant coach from 2010-12, according to Pepperdine Athletics.
"I want to thank Kristen [Dowling] for her commitment and dedication to our women's basketball program for the past four years and wish her all the best in her future endeavors," Athletics Director Steve Potts wrote in a statement to Pepperdine Athletics.
Dowling stepped down as the 2022-23 campaign was ending for the Waves. The Waves were wrapping up their season as they headed to Las Vegas, Nev. for the WCC tournament, where they reached the second round after defeating Santa Clara University, but bounced out in a 74-59 loss to BYU.
"I loved Pepperdine Women's Basketball, but I have to believe God has great plans," Dowling tweeted Feb. 27. "Wishing the Waves all the success in Vegas and in the future."
Both Potts and Dowling declined to comment further on the matter to the Graphic.
Assistant Coach Brian Rosario said Dowling stepped down due to personal reasons.
Building a Team Culture
Rosario came into the program at the same time Dowling was promoted to head coach in 2019, according to Pepperdine Athletics.
Rosario said they wanted to recruit high-character athletes who were driven to turn the program around. Rosario and Dowling hoped to do so by recruiting players who were resilient and enjoyed playing the game of basketball with each other.
Rosario said the mission of Pepperdine allows players to grow and develop not only as basketball players but also spiritually and professionally.
"To be able to recruit those types of players and allow them to develop over the last four years — it's really been great to see," Rosario said.
Rosario said the main team values Dowling emphasized were toughness, being part of a team and playing with energy.
Redshirt senior forward Becky Obinma said the team culture had an emphasis on family. The team would huddle up together after practices and say "family on three," which was something Dowling initiated, Obinma said.
"She enjoyed laughing a lot with us and having a good time," Obinma said. "It was pretty family oriented. She definitely had a good personality; she recruited people not only for their skill set but their character, which is what we admired."
Obinma said her biggest takeaway from playing under Dowling was that you could really tell that she cared about her girls.
"People show their care for you in many different ways and aspects, and sometimes, we just have to take it because that's just their way of showing love to you," Obinma said.
Obinma felt she had a pretty close relationship with Dowling, as she was able to FaceTime her out of the blue, Obinma said.
"I made sure that she was able to see I'm an open book," Obinma said. "We were all able to talk whenever [we wanted]."
Coming into Pepperdine, Obinma said one thing she wanted was a coach that she would be able to bond with emotionally on and off the court.
"I felt like she brought that in a way, so, I'm really appreciative of her for that," Obinma said.
An Up and Down Season
The Waves finished the 2022-23 season with an 11-19 record, which included a seven-game losing streak.
"For us freshmen, personally, we didn't get to see a lot of her," freshman guard Hailey Johnson said. "We didn't really get to see her coaching style throughout the season."
Johnson said everyone was confused about Dowling's leave before the end of the season.
"She basically told us, 'Hey guys, I have a personal matter going on,' and then she was gone," Johnson said. "We were in the middle of conference [play]."
It was a tough experience for the players, Johnson said, because the team didn't know what was going to happen and were really lost.
"Considering that happening, she still gave a lot of support from the sidelines, and we ended up actually having a really good season after that," Johnson said. "I think we definitely struggled through that period of adversity with her not being here."
Rosario did a great job in taking over the position in the midst of Dowling's absence, Johnson said.
"He was really thrown into that position," Johnson said. "He didn't have to do that if he didn't want to, but he chose to for us as players. I think that really goes to show just how good of a coach he is [and] how much he really cares about his players."
Rosario is currently the interim head coach, as Pepperdine continues to search for a new head coach for the upcoming season in Oct. 2023.
Team's Reaction
Members of the team said they weren't surprised when they heard of Dowling stepping down. Johnson said when a coach leaves for a long time, it usually means they are dealing with personal matters.
"I feel like a lot of us were not necessarily surprised," Johnson said. "She had been gone the entire season so far and usually when a coach has been gone for that long, something going in the background is happening."
Something Johnson appreciated about her time with Dowling was the emphasis Dowling put on having a high energy environment, Johnson said.
"She really tried to promote an energetic surrounding," Johnson said. "Even though it didn't always work, she always tried to motivate us to be more energetic."
Hoff said she appreciates the opportunity Dowling gave her to be able to play college basketball.
"Be grateful of those who give you an opportunity," Hoff said. "I've always been looking for that, so I really appreciate her for that.
As Pepperdine searches for a new head coach, Hoff said she hopes the next coach will be someone the team has a stronger overall relationship with.
"I really hope our next coach really takes the time to get to know each of us on and off the court," Hoff said. "If we really try to build that relationship up, it will help with overall team culture."
_____
Follow the Graphic on Twitter: @PeppGraphic
Contact Jerry Jiang via Twitter ( @j_jiang30 ) or via email: jerry.jiang@pepperdine.edu
Contact Tony Gleason at anthony.gleason@pepperdine.edu