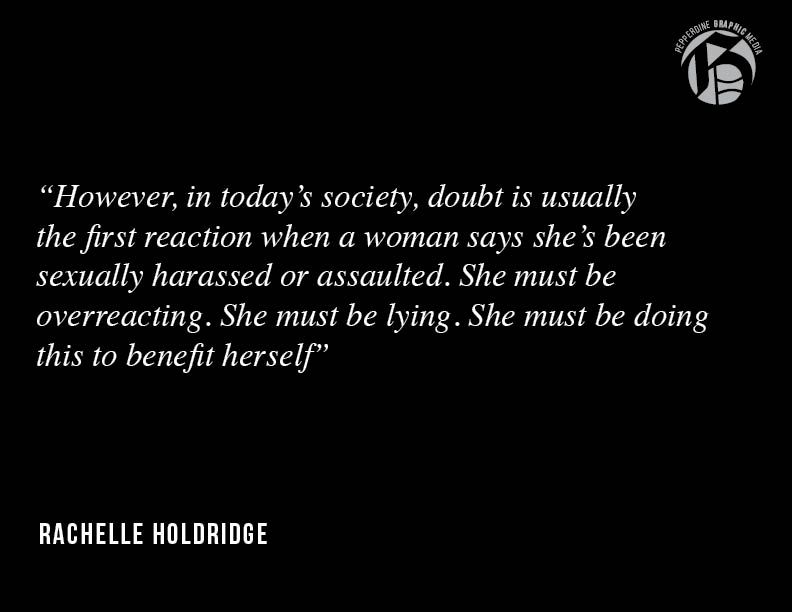 Graphic by Nate Barton
Fox News' apology to former anchor Gretchen Carlson made national news recently. Its newsworthy value was not because the apology was long overdue, considering Carlson filed the lawsuits in July, but because it was even given at all.
The actual confession that something in their company had gone very wrong should be recognized for its significance, but are we really still in a place in our world where it's surprising for an organization to apologize for sexual harassment?
When a company finds out that their chairman has been harassing their employees and actively fostering an environment of disrespect, an apology should be the immediate reaction. However, in today's society, doubt is usually the first reaction when a woman says she's been sexually harassed or assaulted. She must be overreacting. She must be lying. She must be doing this to benefit herself.
It's about time that our society recognizes that a woman often risks much more than she could gain when she accuses someone. As we've seen through the Carlson lawsuit and the highly publicized Stanford case in which the victim was highly scrutinized and the attacker got off with a 3-month sentence, women get questioned, doubted and belittled throughout sexual assault and harassment trials. Even after the trial, justice is not guaranteed, seeing as only 1.8 percent of rape cases reported to police actually end with the accused rapist in jail, according to the Rape Abuse Incest National Network (RAINN).
Fox News was right and admirable to apologize to Carlson. Carlson fought courageously to ensure that justice was served. However, neither of these occurrences should be an anomaly. A company should profusely apologize and recognize its mistakes when an employee is mistreated, and a woman should feel no hesitation in accusing her attacker.
Fox News' apology is absolutely a step in the right direction. However, it is also a reminder of how long we have to go. Even more than providing a community where individuals speak out against harassment and assault, we should be working toward a culture where these acts are not committed. Through a justice system that actually punishes convicted rapists and education that teaches equality and respect, we can take further steps to leave this ugly legacy in our past.
_____________
Follow Rachelle Holdridge on Twitter: @chellie_louise