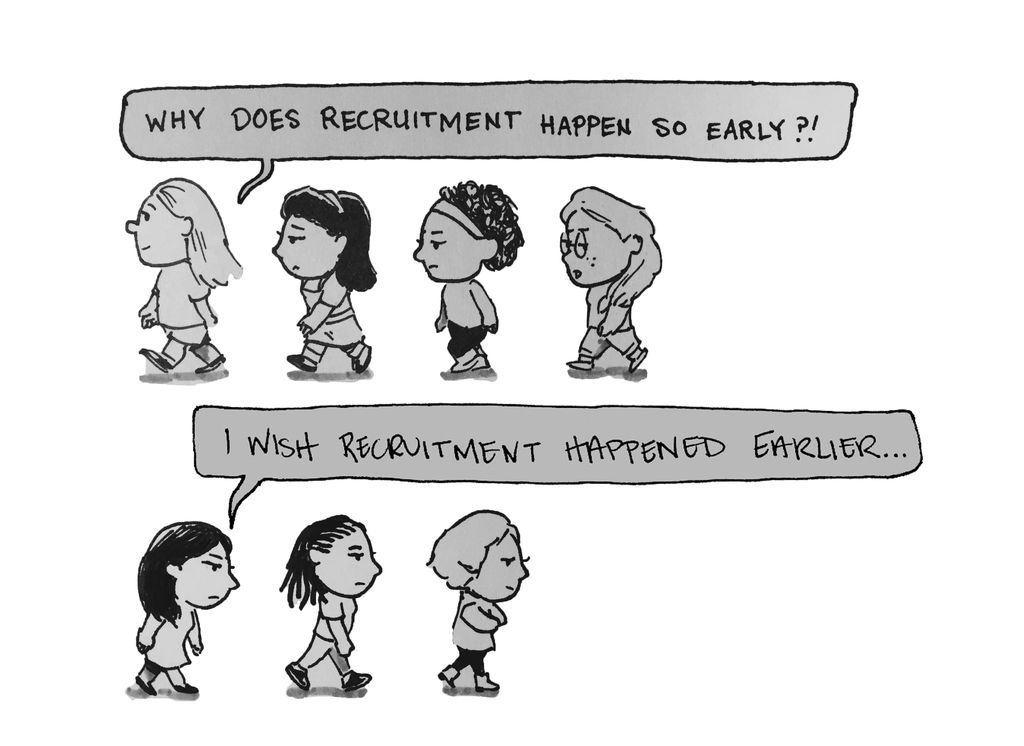 Art by Peau Porotesano
Ladies. Collegiates. My fellow Panhellenic community. Lend me your ears. I write to bring attention to the pushed forward date for Panhellenic Recruitment. While this decision could be perceived as beneficial, I believe it is a detrimental move.
We all remember what it was like to be first years at Pepperdine the first week of school. Those mixed feelings of nervousness and excitement, fed by energized upperclassmen wearing bright orange shirts and sincere smiles. Once we were off the adrenaline of NSO and finally felt our muscles ache from the countless activities and those God-forsaken stairs, we realized something: We had just arrived on campus and were already being encouraged to go abroad.
School began. Our professors buried us in endless pages of syllabi. Countless projects were immediately marked on our calendars and on our way to the Caf, we were met by Greek letters posted all over the place. Another realization hit us like a ton of bricks.
We had just arrived on campus and were being encouraged to join Greek life. We had just arrived, and two of the biggest decisions in our college career were to be decided within the first month of school.
"Go abroad!"
"Go Greek!"
"Go, Go, Go!"
Wait a second. Didn't we just get here?
Now, put yourself in the class of 2020's shoes. They are going through the same emotions. They are being hit left and right by "overcommitted Pepperdine syndrome" contaminants. They took on NSO. They went to their first college classes. They went to the Return. And the next week? Pre-recruitment. The following? Formal Recruitment. The week after that? The IP Deadline.
Go, Go, Go!
Ladies. Collegiates. My fellow Panhellenic community. I am just trying to say that it's too much in such little time. It may seem like moving up recruitment a week early is not that big of a difference, but for first-year students who are still readjusting to living away from home and trying to figure out how they fit into this new world that is college, it may be a little overwhelming.
It would be nice for them to have that extra week of cushion to sort out their new lives instead of being on edge every night about whether a sorority is going to invite them back or not. Aren't they under enough stress already?
Besides, a freshman who is still trying to cope with a new environment won't be as prepared to pick a sisterhood for life. This could result in their true selves being overshadowed by anxiety that stems from having too much on their plate, which could result in a sorority missing out on an awesome Potential New Member (PNM).
As a member of a sorority, I have to say that Greek life is a beautiful thing. I love my sisters and would not swap them for any sorority in the world. Thanks to a late September recruitment schedule, I truly think I made the right decision my first year at Pepperdine because I did not feel rushed. I hope this same courtesy can be extended to future PNMs.
___________________
Follow Kristin Vartan on Instagram: @keepingitkrischic