Art by Ally Armstrong
Visual media — photos, digital artwork, videos and interactive graphics — are the dominant art form in current culture and are an essential part of Pepperdine Graphic Media. Comprised of photographers, artists, video editors and designers, PGM's visual teams strive to make content more visually appealing to their audience while helping communicate the stories being told, as well as the data and emotional context behind them.
In a digital age where distractions are everywhere, keeping readers entertained and focused is challenging. While writers and editors play important roles in newsrooms, visual teams are equally indispensable because the photos and art they produce are often the first thing a reader sees when engaging with the news. Although print journalism is becoming less common, photos, art and design still play key roles in keeping readers engaged with online news.
As Art editor, junior Art major Ally Armstrong oversees PGM's team of staff artists and creates weekly art assignments for each team member. Staff artists work in collaboration with writers, who express any ideas for their direction of the art.
"I think the artwork is really important for the story because it sets the tone," Armstrong said. "When someone looks at the article, the first thing they're gonna see is the art. Each artist has a unique take on what the article is about and what they want to highlight in the art, so I think it adds a unique perspective on the article when you have interesting and eye-catching art to go with it."
Armstrong said readers may not recognize the effort it takes to create a piece of visual media that both informs and resonates with the audience.
"It's easy to take for granted — it looks like we just whip something up really fast," Armstrong said. "I hope people know that we go through several drafts, and we take a lot of time and effort to make sure that it's exactly what the writer wants and what's going to go with the article."
Gary Metzker, a lecturer at California State University, Long Beach and the adviser for its newspaper, the Daily 49er, said strong visual elements are the difference between a reader engaging with an article or skipping over it entirely. Members of the visual teams must compete with distractions like social media and notifications to keep readers interested in the story they are reading.
"We, as designers, acknowledge that content is king, and what we do gets the readers' eyes onto the content," Metzker said. "Headlines, pictures and captions are all ways we can get readers into the content, but after they're into the content, how do we keep the reader entertained? How do we keep their brain focused? Everything is interrupting your focus of reading the story unless we as designers can keep you visually entertained as well."
The visual teams constantly respond to breaking news events with compelling images, artwork and page design. Graphic Photo Editor Ali Levens, a sophomore Journalism major, is responsible for the photos that go on the pages and website.
She assigns photo requests to staff photographers, edits the photos once they are uploaded and creates captions. Her job, however, goes much deeper than that, and Levens said she takes great care to curate photos that catch the reader's eye and the emotion behind the story.
"Photos are the gateway into the story," Levens said. "As photographers, we don't just show up and take the pictures: There is lots of preparation to do, like understanding the context of the article and think about how to capture the scene and what position to stand."
Artists and designers said they collaborate with writers to brainstorm ideas for the visuals that will bring their words to life. Staff artist and photographer Leah Bae, a junior Biology and Art double major, said she enjoys the process of communicating with writers and conceptualizing ideas to create a piece.
"I love being in PGM because I want to support those who voice out their opinions and the ones with whom I share opinions," Bae said. "I view topics through arts."
Due to COVID-19 restrictions, PGM photographers had to make adjustments to their typical workflow. Some of these adaptations included socially distanced photoshoots, Zoom photoshoots and using photos taken before the pandemic. Despite the difficult circumstances, Bae said she knows other PGM staff members are grateful for the photos she and the other photographers produce.
"Everyone in PGM knows working on visuals takes quite a bit of time, but I know that everyone in PGM really appreciates the work artists and photographers put into pieces, so that definitely makes me happy," Bae said.
Senior Economics major Marisa Dragos is the head video producer at PGM who produces weekly video segments for the Graphic's video news show, GNews. Dragos said video helps audience members connect the news by being able to recognize a familiar face, as well as see the stories they read in a visual format.
Due to COVID-19, much of the footage Dragos used is recorded by GNews crew members scattered all over the country. During the February snowstorms in Texas, Dragos and her crew incorporated video footage from Pepperdine students who were there enduring the storms.
"I think stories like that you can read, but it just hits a different way to be able to see that happening," Dragos said. "Instead of a journalist far away writing the story, you have somebody who is sitting there in a house that's like 50 degrees, telling you how they feel."
Sometimes photos, videos and art are not the only way to tell a story visually, Metzker said. Infographics, especially when supplemented with informative captions and a key, can help break down data referenced in a story in a more digestible way for readers.
"When you have a graphic, you don't have to repeat the information in a story — you've given the people a visual they can see and they can comprehend what you're talking about," Metzker said.
Lead Designer Isabella Teague is a senior Advertising major. She designs the front page — called A1 — of each Graphic issue, closely working with the News section to highlight the important reporting done on that week's breaking news stories.
"When designing, I try to look at how to bring the story to life," Teague said.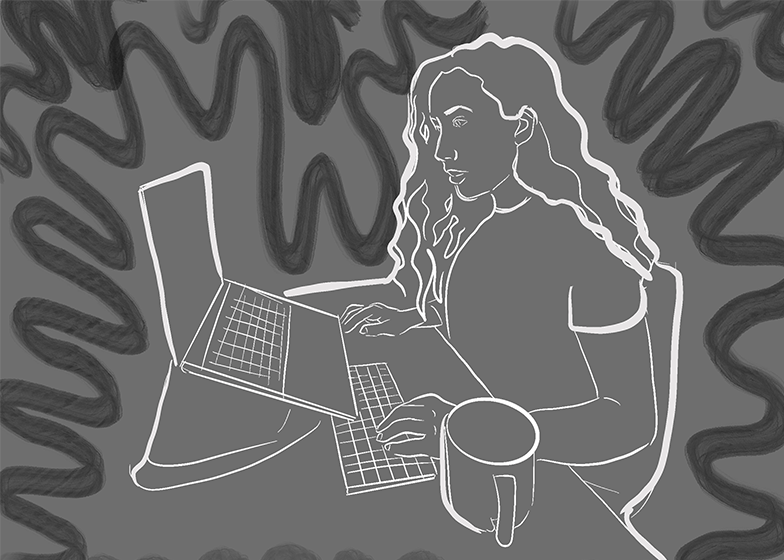 Teague spends time reading the LA Times, other schools' newspapers and magazine layouts to gain inspiration before designing. She said she thinks a functional design serves an important role, conveying the mood of the reporting with an interesting use of the headline.
"It's all about mood," Teague said. "Everyone judges a book by its cover, it's the same with newspaper."
Armstrong said she feels the PGM visuals team works hard behind the scenes to make the Graphic exciting and informative for readers.
"I really enjoy working with my team; I think I've met a lot of really dedicated individuals," Armstrong said. "We have a really great team of people who are committed to really good journalism."
___________________
Follow the Graphic on Twitter: @PeppGraphic
Email Grace Wood: grace.wood@pepperdine.edu
Email Stella Zhang: stella.zhang3@pepperdine.edu