Photos by Symphony Barnes
The Frederick R. Weisman Museum of Art at Pepperdine premiered its latest exhibit, "Larry Bell: Pacific Red," featuring works by contemporary artist, Larry Bell, on Jan. 21.
Entering the museum and turning right, passing the museum's front desk, is an introductory text panel on Larry Bell on the left-hand side.
The panel gives a brief biography of Bell's life and history as an artist. It explains that Bell was born in Chicago in 1939 but later moved to Los Angeles, where he enrolled at the Chouinard Art Institute in 1957. He later became a key figure in founding the the California Light and Space movement in the 1960s — a time when artists turned using traditional paint to using new non-art materials like resin, acrylic and fiberglass. Over the course of his 50-year career, much of Bell's work has focused on exploring light and has been featured at multiple museums and public spaces in the U.S. and abroad.
Directly to the right of the panel is one of Bell's latest pieces: a large, walk-through red glass installation called "Pacific Red II."
The laminated glass sculpture is comprised of six chevrons that vary from light to dark red. When you walk within and aound it all, light is bounced around on the surfaces, creating different optical effects.
Larry Bell discussed in an interview how "Pacific Red II" explores the color red.
"This is a continuation of years of work with large glass panels, and it's the second investigation of this kind of saturated red," Bell said. "I did one other piece about a year or so ago, and I was very impressed with it. It wasn't so much about the subtleties of light off of surface as it was about the saturation feeling of the saturation of the reds. I do believe that under certain circumstances, red, these kinds of colors have emotional input. What it is, I don't know, but that's about all I can say about that."
Across the way from the section for "Pacific Red II," is a high-ceilinged room that includes two groups of Bell's works called "Church Studies" and "Light Knots."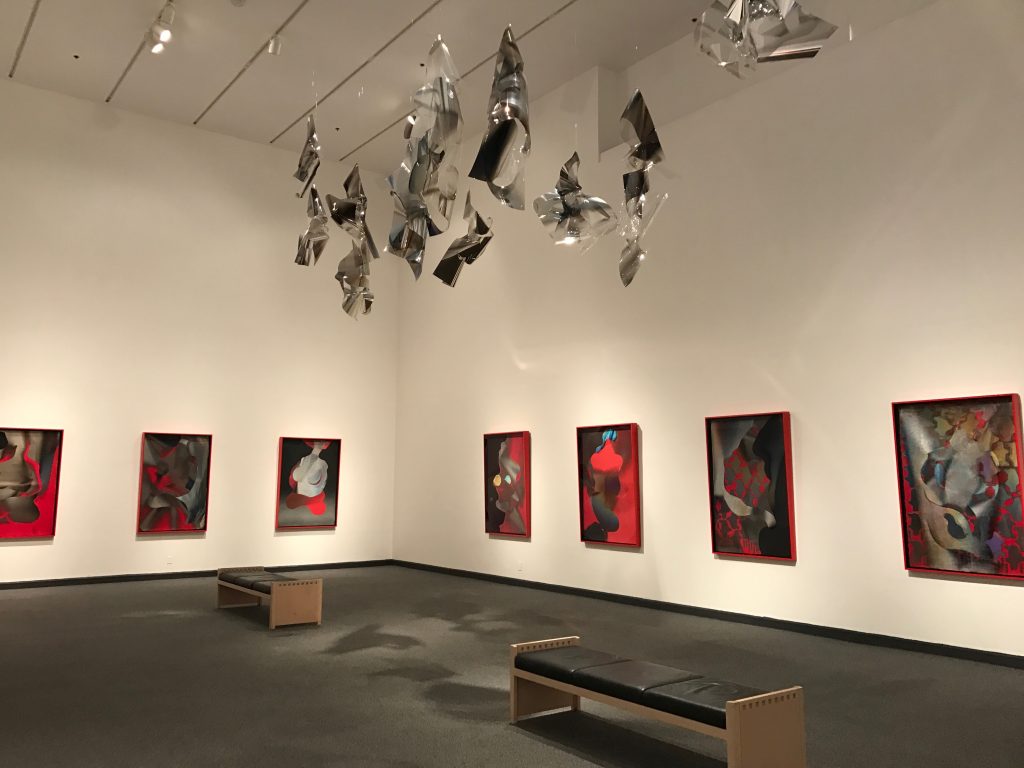 "I like this room a lot," Bell said. "We didn't have much problem with the layout."
"Church Studies" is a group of two-dimensional collages that line the walls of the room. All of them utilize red Hiromi paper, according to the accompanying text panel.
In discussing the works from this group, Bell further described how the color red is a particularly important aspect of the exhibit.
"It's an interesting color to work with," Bell said. "All the red on these two-dimensional pieces comes from red paper that I have made for me, and all the other colors are applied in a collage-like manner, and they're metal films that are plated onto different kinds of stuff that I make these collages with, which is paper, Mylar and laminating film. And each one of those things has some of these metal coatings on it."
Looking up to the ceiling of the same room, Bell's 'Light Knots' — a group of three-dimensional kinetic sculptures — can be seen hanging. The objects start out as Mylar sheets, and then Bell cuts, folds and coats them with vaporized metallic particles, enabling them to have iridescent layers that move and twinkle in the light, reflecting light patterns Bell calls "fairies" onto the walls and pieces from "Church Studies."
"These guys, which I call 'Light Knots' create these things I call 'fairies," Bell said. "Well, every once and a while, one of them will pass over one of the images while you're looking at it, and the image changes."
The upstairs portion of the museum's exhibit houses a historical survey of Bell's art from the late 1950s through the 2000s.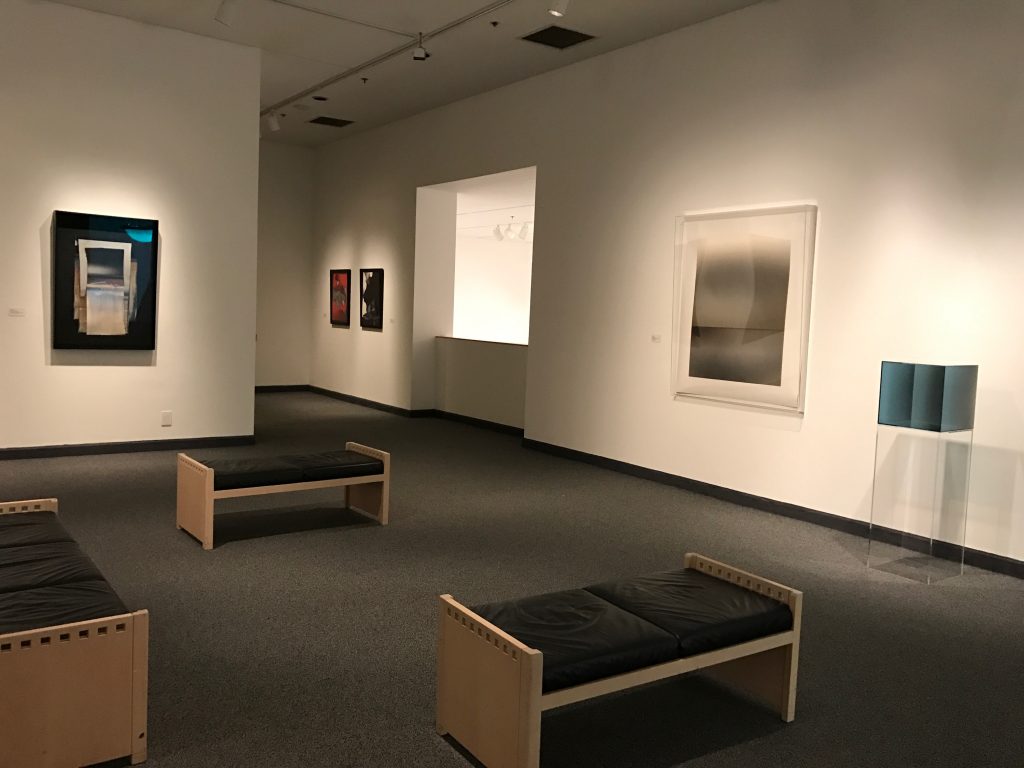 This section includes three-dimensional works like "Ghost Box," a box made of glass, mirror and acrylic, as well as several two-dimensional works.
Bell's art is featured in a numerous amount of places, and he values every chance he has to share it.
"I appreciate just the opportunity to show it wherever I can," Bell said.
The exhibit remains on view at the Weisman Museum now through April 2. The museum is open Tuesday through Sunday, 11 a.m. to 5 p.m. and is free admission.

_____
Follow the Pepperdine Graphic on Twitter: @PeppGraphic