Photos courtesy of Pepperdine Athletics The No. 12 Pepperdine Men's Volleyball team came out on top in a hard, but well-fought battle against the No. 15 USC Trojans. The Waves outplayed USC all over the court, posting 57 kills on a .303 success rate and letting the Trojans amass only 49 kills on a .220 success rate — thanks to 13 team blocks. USC and Pepperdine exchanged set wins for four, 25-19, 24-26, 26-16 and 22-25, but the Waves were able to stick it out with a 15-10 win in the fifth and final set to secure the victory.  
#HIGHLIGHTS .. Peep these Pepperdine products of perfect Pepp action! #WavesWin in five! 👀 #WavesUp pic.twitter.com/aXI1Y2riBB
#HIGHLIGHTS .. Peep these Pepperdine products of perfect Pepp action! #WavesWin in five! #WavesUp pic.twitter.com/aXI1Y2riBB

— Pepperdine M. Volley (@PeppVolleyball) February 18, 2018
Before their win over the Trojans, Pepperdine upset No. 4 UC Irvine on Wednesday, Feb. 14, bringing them to 7-3 on the season and 2-1 in Mountain Pacific Sports Federation (MPSF) play. The upset over UC Irvine set the Waves up for success against USC. "Coming off the upset, we were feeling pretty good as a team," redshirt junior outside hitter David Wieczorek said. "We showed the team we really are against Irvine and the win gave us a lot of confidence."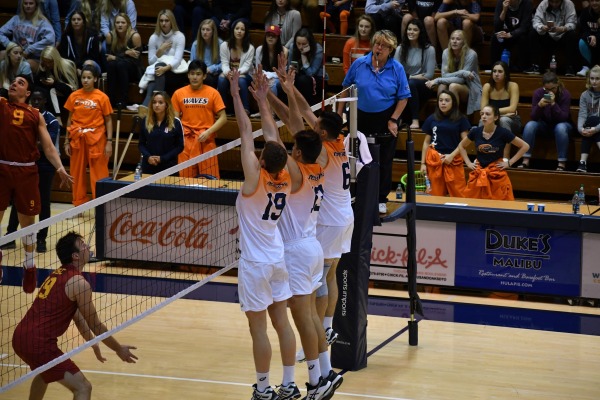 The battle began early in the first set as the Waves and Trojans fought back and forth for the lead. Pepperdine broke away after a 7-7 tie with two kills from Wexter. USC countered, but four kills from Harriman, two from Wieczorek and another from Wexter gave the Waves a 21-16 lead. An ace from Wieczorek and two kills from Harthaller gave Pepperdine the set-point advantage, 24-19. Wexter put the nail in the coffin with a quick kill over the USC defense to put the Waves on the board heading into set two. Pepperdine came into set two ready to attack. With kills from Harriman, Wieczorek, Harthaller and Wexter the USC defense was helpless. Chamberlain notched an ace and a kill as well bringing the Waves to a 10-3 lead. The Trojans eventually found their stride and cut their deficit immensely. Three errors from the Waves put USC down only 18-15. Pepperdine tried to hold them off for the remainder of the set, but USC was able to tie up the game at 21 and eventually took the set 24-26 with a kill over the Pepperdine defense. The Waves were not ready to back down in set three. Pepperdine jumped to a 10-5 lead with an extreme defensive effort from Chamberlain, Harriman and Wieczorek. Harriman took command at the service line with four-consecutive aces. He totaled five on the night, a career high. The offensive stint from Harriman and the Waves lengthened their lead to 21-13. Pepperdine quickly sealed the deal 25-16 to put the Waves up 2-1. USC stuck around in the fourth set gaining the early lead 7-12. The Waves made a late comeback cutting the lead to 22-24, but they couldn't hold on for the win. Tied 2-2, the Waves headed into the fifth set ready to take on the challenge.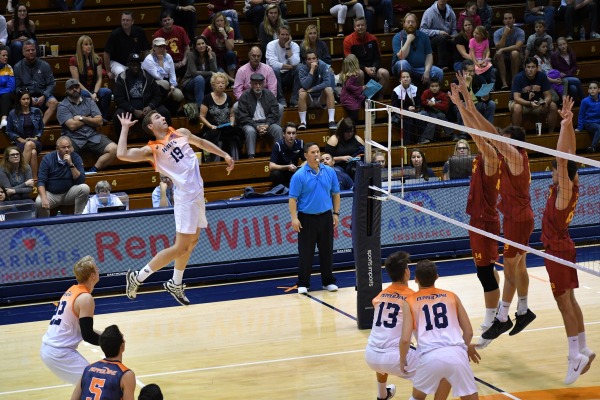 "We have been in some tough matches where we have had to grind," Wieczorek said. "As a team we are used to battling together and going the distance in the fifth set. I think we have enough experience of going into fifth sets that we know how to handle them, physically and mentally." Taking the early lead was the strategy for the Waves. "We wanted to make sure we jumped out to an early lead and kept the energy up on the court, celebrating each other's successes, taking big swings, and being Wave tough," Harriman said. "The energy in the crowd definitely helped propel us to win the fifth." They executed perfectly, jumping ahead of the Trojans 8-3 with a massive team effort on defense seeing blocks from Mullahey, Chamberlain, Wieczorek, Wexter and Harthaller. Pepperdine was able to maintain that momentum and secure the 15-10 set win with three kills from Wieczorek and a match-winning block from Harriman and Chamberlain.  
Here's the #Block .. you know which one! @thechamberlain_ and Harriman for the 3-2 #WavesWin! #WavesUp pic.twitter.com/zQhUxI0gYN
Here's the #Block .. you know which one! @thechamberlain_ and Harriman for the 3-2 #WavesWin! #WavesUp pic.twitter.com/zQhUxI0gYN

— Pepperdine M. Volley (@PeppVolleyball) February 18, 2018
"We just played aggressively and freely," Mullahey said. "Our serving got us out to an early lead and we were able to ride that momentum through the rest of the 5th set." Wieczorek and senior outside hitter Colby Harriman accounted for over half of the team's kills with 18 and 16, respectively. Senior outside hitter Alex Harthaller tallied with 10 kills and four blocks, while junior outside hitter Michael Wexter added six kills and six blocks. Junior middle blocker Max Chamberlain totaled seven kills and six blocks, including one solo block in the third set. Redshirt freshman setter Robert Mullahey reached a career-high 51 assists while also notching four blocks against the Trojans. Set-by-Set Scoring (vs. USC): Set 1: 25-19 (PEPP, 1-0) Set 2: 26-24 (TIED, 1-1) Set 3: 26-16 (PEPP, 2-0) Set 4: 25-22 (TIED, 2-2) Set 5: 15-10 (PEPP 3-2)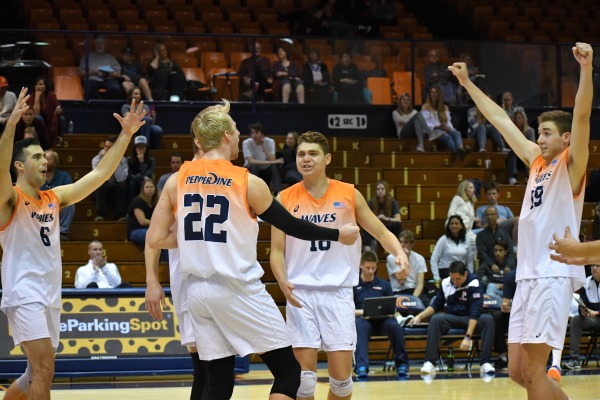 Quotables: On what the team executed well in the match against USC: "The team served great tonight," Wieczorek said. "We put a lot of pressure on USC from the service line. We got some great passes that allowed us to run our offense. Lastly, we played well as a team. It was not six individuals out on the court tonight, it was six teammates battling together and supporting each other." "I thought we did a great job scouting them and executing our plan based off of what we saw from them in the film we watched," Mullahey said. "We passed really well which makes Rob's job of setting up us hitters much easier," Harriman said. "We also served really well and were able to knock USC out of its system quite often. We had some clutch blocks when we needed them and those blocks definitely turned the tide of the match in our favor." Up Next: The Waves travel north to take on No. 13 UC Santa Barbara on Wednesday, Feb. 21 at 7 p.m. They will finish up the week in Firestone Fieldhouse against UCLA on Friday, Feb. 23 at 7 p.m.
_________________________________
Follow Sam on Twitter @sam_marlott