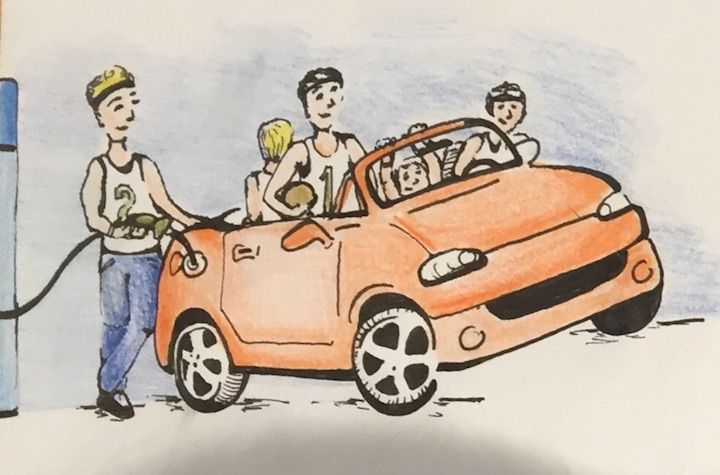 Art by Christine Nelson
Pepperdine Athletics' Refuel the Waves campaign went above and beyond. In just seven days, the week-long crowd-funding initiative aimed at better meeting the nutritional needs of Pepperdine's student-athletes raised $24,090, exceeding the goal of $20,000 that was initially set.
Jimmy Gehrels, co-president of the Student-Athlete Advisory Committee, explained that such a campaign was necessary to "give all student athletes the nutritional enhancements that they need in order to succeed in all phases of their day."
"A lot of the time there isn't a lot of time between lifting, class or practice, and so it is necessary to grab something quick and go," Gehrels said.
Of the $24,090 raised, approximately $12,000 is needed just to maintain the current meal program, which includes protein bars, yogurt and chocolate milk. All the remaining funds will be used to improve this program, with a committee of student-athletes already being set up to help budget the extra funds.
The idea to launch Refuel the Waves partially stems from the NCAA's decision to deregulate a meal legislation that allowed schools to provide only three meals a day for scholarship athletes.
Gehrels explained that prior to the NCAA deregulation, "There was always the joke of a bagel being a snack, but once you add in the cream cheese it becomes a meal and would possibly be a violation."
"When the NCAA deregulated food and meals a couple years ago, it started a race to see who could provide the best food," Gehrels said. "And in order to stay competitive and continue to recruit the top student-athletes, we had to do something."
Not only did the NCAA deregulation allow student-athletes to have unlimited meals, but independent campaigns such as Refuel the Waves give each and every student-athlete a wide variety of snack choices to choose from.
"It's great having snacks in the training room. I go down there a lot when I don't have time after practice to go to the caf before class. It's super convenient," said senior swimmer and diver Emma Fitzsimmons. "I know all the athletes are all really appreciative of the people who are making the campaign happen."
From a total of 93 donors, donations came from figures as small as $25 all the way up to more sizable amounts of $3,000.
"This Student Athlete Advisory Committee effort was supported by parents, friends, faculty and staff through a crowd-funding initiative," Associate Vice Chancellor Sam Lagana wrote in an email. "It was an important initiative, as it involved a concerted effort by the students with assistance from staff to develop the story line, produce the appeal, initiate the website, and push the message via social and direct media in a concentrated period of time."
__________
Follow Anthony Wells on Twitter: @anthonyawells