Photos by Jeff Golden
In a back-and-forth scoring game Saturday in Malibu, No. 6 Pepperdine overcame No. 4 USC in a 13-12 match, beating the Trojans for the first time since 2005.
USC started off hot, beginning with a 3-0 goal streak with help from sophomore goalie Nic Porter. Trojans had a tight defense, forcing the Waves to make more long shots and passes so as to adapt to the aggressive style.
"At first, we started off slow — we knew who we were supposed to shut down, but we weren't shutting them down," junior center Coleman Carpenter said. "Then we found our ideal match ups and started to stop the individuals that we needed to, which caused their offense to crumble."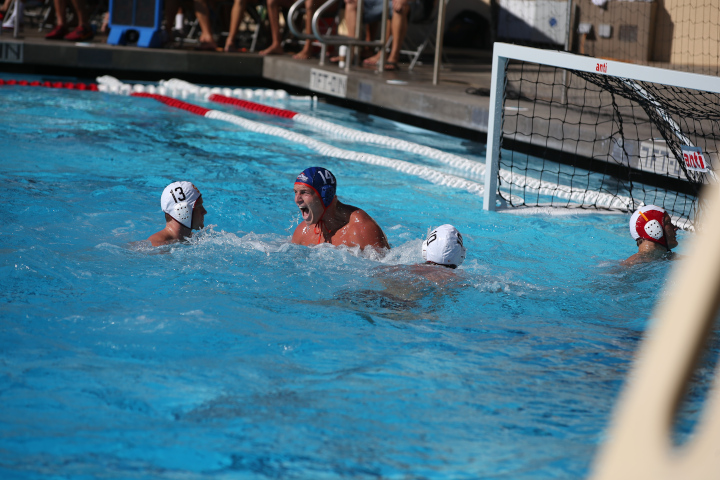 Junior Coleman Carpenter celebrates in the game against USC.
The first quarter was just a warm up. Senior Mate Toth scored Pepperdine's first goal end of the first period.
"It's all about the communication," Carpenter said about the team's mentality. "We need to always stay focused on how to continue scoring and maintaining being up as a team."
In the second quarter, the team began to pick up. The Waves forced multiple turnovers, leading to offensive fast breaks that allowed some scores.
Pepperdine maintained their composure throughout the match.
"Even if we miss shots, we don't try to force plays to happen if they aren't natural," Carpenter said. "If we are doing what we are supposed to be doing, like our drives and plays, then as long as you're patient, you will have the shot. We have the skills to make it happen — we just need to do it correctly."
Right before halftime, redshirt senior Marko Asic scored from the back-left side through two defenders, bringing the score to 7-5, with USC only two goals up.
"It's all about patience," sophomore utility player Jake Gordon said. "Be patient and find our opportunities, wait for them to make mistakes and capitalize on them."
The Waves tied the game 8-8 in the third quarter. Not only was the offense firing up with Toth's scores, but redshirt sophomore goalie John Claude Marco had some major saves. This included blocking a crucial penalty shot at the end of the third quarter, keeping the Trojan's lead 8-6.
"We were all on the same page that we were going to win this game," Carpenter said. "So when put to the test, all of our starters stepped up to the plate — everyone that went in for the last two quarters, they went in going to win the game."
Fourth quarter started off with a bang. Redshirt senior center Chris Dilworth's second of three goals snuck by Porter after the Trojan goalkeeper initially blocked the shot.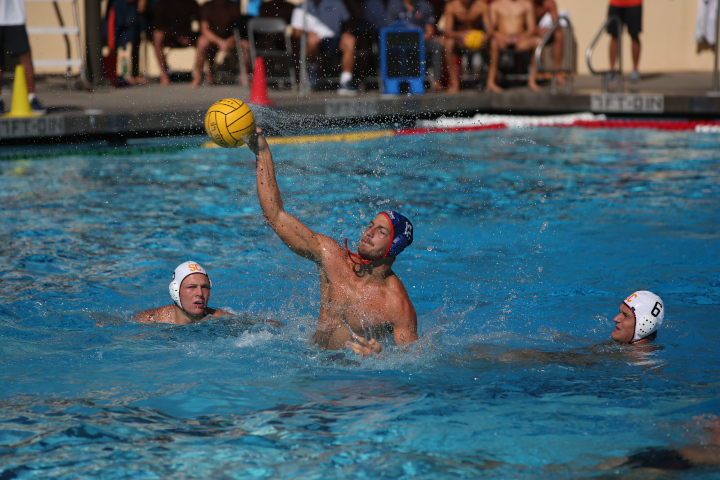 Sophomore Balazs Kosa takes a shot Saturday.
Not long after, Dilworth scored again, giving Pepperdine their first lead, 10-9. Asic increased the lead to 12-10, and sophomore attacker Balazs Kosa, leading scorer of the season, scored a penalty shot, making it 13-10.
With 1:29 left, tensions were high, teams inching for the win. USC had possession and managed to score within the last minute, which brought the score back to 12-13, Pepperdine leading by one. However, Waves ended the last 10 seconds of the match holding the ball, taking their record to 17-5.
Make sure to support the Waves at their next home game, Nov. 2, against San Jose State. For more updates and information on the team, make sure to follow their Instagram @peppwaterpolo.
____________________________________________________________________
Contact Nadia Amirmokri at nadia.amirmokri@pepperdine.edu