Photos by Berkley Mason
Women's Swim and Dive re-entered the water on Saturday for the first competition of the semester. The Waves boasted 36 top-five finishes and won five events overall.
During the meet, the team celebrated six senior swimmers for their years of service and dedication to the team. Senior Jessica Mosbaugh took the win in the 100 Butterfly with a :59.12 with fellow senior Nicolette Barreiro coming in second with a :59.68.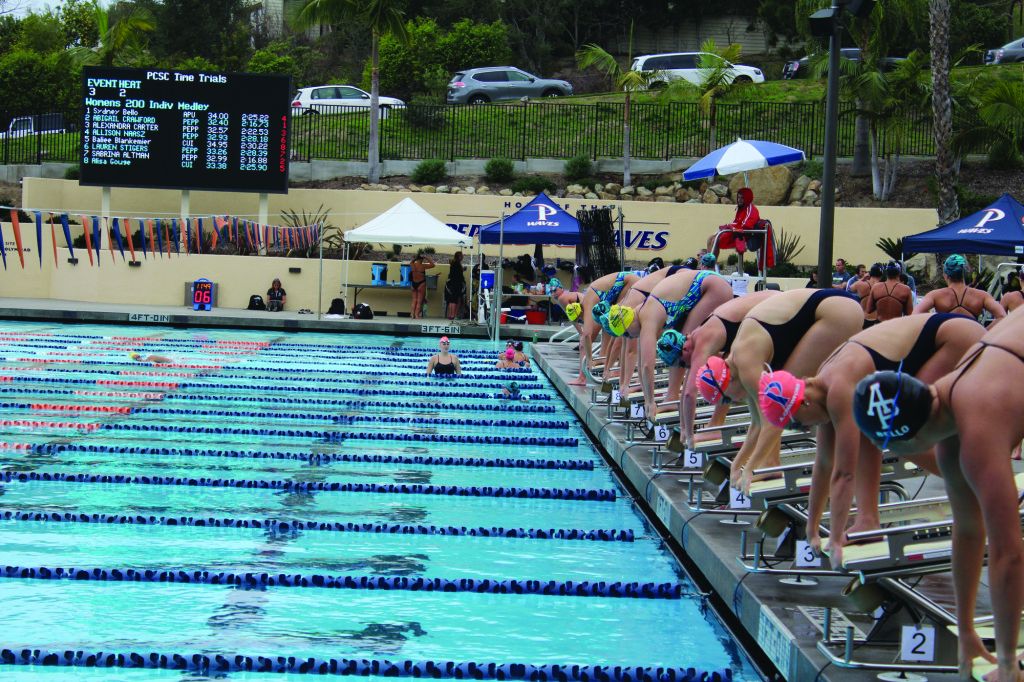 Senior Allison Naasz was a top finisher for the Waves with three first-place finishes. She defeated the competition by more than four seconds in the 200 IM, with a finishing time of 2:11.03, then went on win the 50 free with a :24.71 and the 100 free in a :53.78.
Emma Fitzsimmons, Amanda Rowe and Elena Witham rounded out the six seniors on the roster. The coaches and athletes presented the seniors with Build-A-Bears dressed as mermaids.
"It was very thoughtful," Fitzsimmons said. "Everyone on the team swam well, which is exciting going into our final meet of the year … we are all really looking forward to see what we can do at our Conference meet."
Freshman Megan Henley won the 200 breaststroke for the Waves with a 2:32.14.
On the diving side of the competition, the Waves were awarded two of the three top finishes. Junior Sydney Newman placed second in the 1-meter and 3-meter dive, while freshman Taylor Cason took third in the 1-meter dive and sophomore Lauren Stigers finished fourth overall in the 3-meter competition.
The Waves hosted the PCSC Trials in preparation for the final meet of the year: PCSC Championships on Feb. 12-15 at East Los Angeles College.
________________________
Follow Stasia Demick on Twitter: @sdemick12