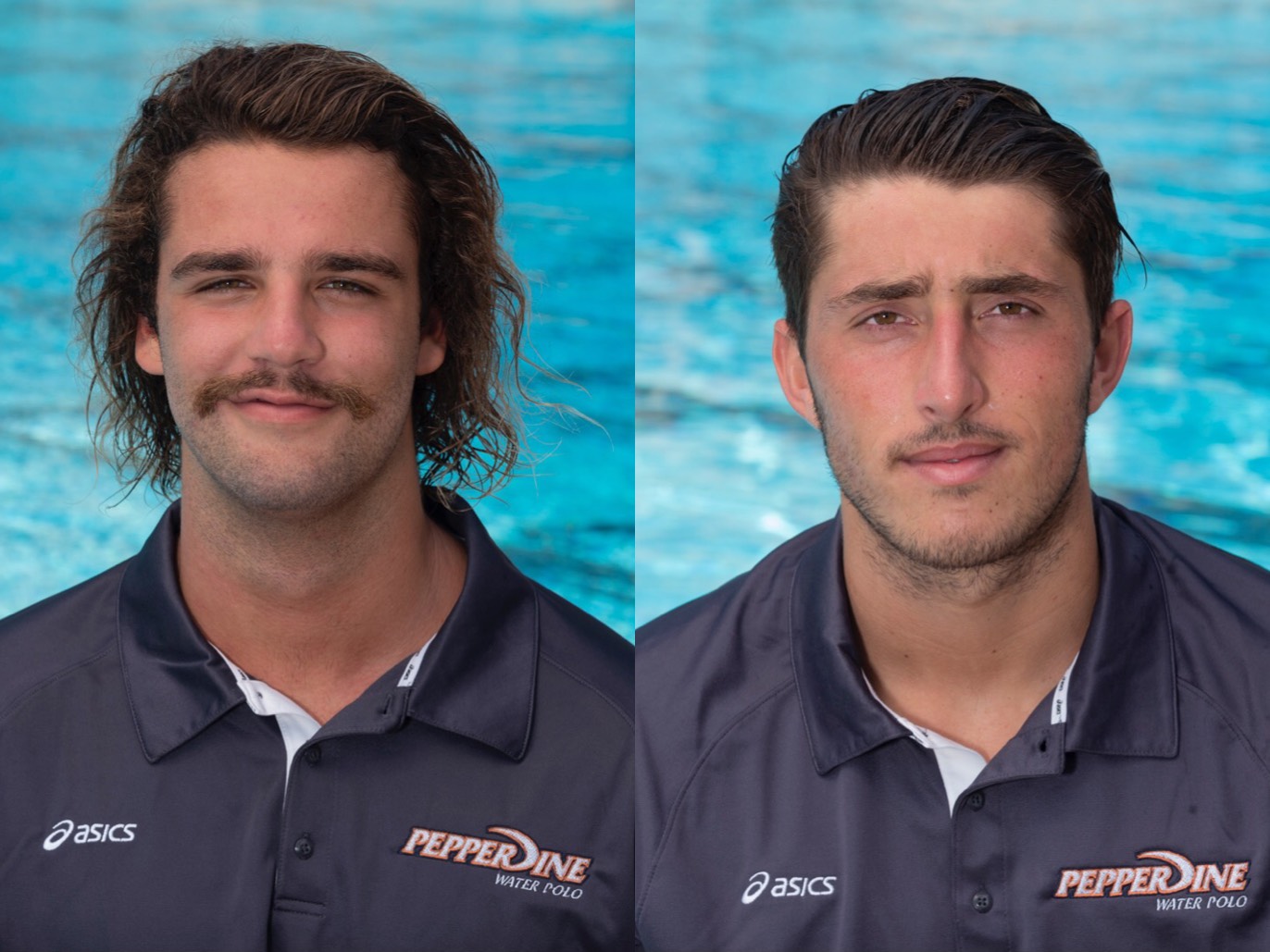 Photos courtesy of Pepperdine Athletics
Before Men's Water Polo sophomores Coleman Carpenter and John Claude Marco were best friends, they were club rivals. Carpenter played at College Park High School in Pleasant Hill, California, where he set his school's record for the most goals scored in a single season. Marco went to Sacred Heart Prep in Atherton, California, where he was named to the All-CIF Central Coast Section first team.
"We started as opponents, so we knew each other through that, but that's just how it is in water polo. It's a small world," Carpenter said.
Carpenter is starting his second year playing center and redshirt freshman Marco is returning as a goalie. Acquainted through water polo club matches early on in both of their high school careers, they competed against each other before joining forces at the Olympic Development Program, a training program that focuses on both the technical and tactical components of water polo at a highly competitive level.
The friendship between the two blossomed as they entered the Raleigh Runnels Memorial Pool side-by-side, but extends beyond just being teammates. Carpenter and Marco began as freshmen roommates in Fifield, and the chemistry that these two now have is a result of spending a lot of time with one another.
"JC was my first roommate ever, so there is a special bond there aside from being a teammate," Carpenter said. "Every night we would say goodnight to each other no matter what the situation was."
"Coleman has been there through thick and thin," Marco said. "Freshman year was a rollercoaster of emotions. I definitely went through a lot of downfalls. There were days when I was just sad lying in bed and Coleman would ask me if I wanted to go to the cafeteria. It was the sweetest thing ever … I love him so much more every day."
The Pepperdine Men's Water Polo team kicks off this year with a No. 8 national ranking for the preseason. With nine new recruits added to the roster, impact players Carpenter and Marco will set good examples, having the knowledge of how the team works with a year of experience under their belt.
"It's a culture that's on our team that is definitely different than any other team at this school or honestly any team I've ever been a part of," Carpenter said. "We have these pillars that our team is based on: excellence, respect, discipline, commitment, grit and family. After being here for a year, you can really see the family aspect of our team, and the biggest thing for me is to pass that culture to the freshmen."
Carpenter was picked to the GCC All-Freshman team last year, played 21 games and scored nine goals. Marco, who redshirted his first season, is prepared to step up and help lead the team.
As returning sophomores, both Marco and Carpenter are expected to be standout players.
"Both of them as players are extremely hard workers. Coleman as a center really takes part in the control of the offense, and JC as a goalie really has a key position for the team," Associate Head Coach Merrill Moses said.
Their brotherly bond out of the pool leads to a strong sense of support for each other's accomplishments in the pool.
"When Coleman is playing and he does something well, it gets me super hyped up for him," Marco said. "It's like watching a family member score."
The pairs bond sets the tone for an inclusive and winning atmosphere for the team as a whole.
"We all love each other like brothers because we do everything for the culture," Carpenter said.
Keep an eye out for Pepperdine's Men's Water Polo team as they play home on Sept. 20 at 6 p.m., against University of California Santa Barbara.
Follow the Pepperdine Graphic on Twitter: @PeppGraphic