Photos courtesy of Pepperdine Athletics
The No. 7 Pepperdine Men's Water Polo team lost a tough battle to No. 5 Pacific, 12-13, Saturday at Raleigh Runnels Memorial Pool. Freshman attacker Balazs Kosa counted up seven goals in the game. Junior center back Mate Toth scored three goals and freshmen Curtis Jarvis and Sean Ferrari scored a goal apiece.
The Waves commemorated the two seniors, Sam Paur and Jens Cole, before the start of the game to recognize their accomplishments over the course of their four years at Pepperdine.
"This game meant a lot for me as it was one of my last games in front of the home crowd," Paur said. "It's all finally starting to set in that I'm coming down to my final games as a Wave."
The Waves started scoring early in the first period with a goal from Kosa and Toth. However, the Tigers did not budge, matching each goal scored by the Waves and tying the first period at two. Into the second period, the Waves only had two goals while the Tigers collected five going into halftime with a 7-4 lead.
"They have been one of the best teams in our conference in the past couple of years, so we knew we had a battle," Head Coach Terry Schroeder said. "We just had to do a better job stopping their big superstars; they have three guys that are really good shooters and we let one of them get behind us and he hurt us today."
Coming back from halftime, Kosa challenged the Tigers and came out scoring six of his seven goals in the third period. The Waves defense improved in the second half, holding Pacific to only two shots and securing a tie 9-9 leading up to the fourth period.
"I want to win and I'd do anything for the team to help us win," Kosa said. "My teammates gave me good assists, so it's also their success."
The Waves continued to fight in the final period, but the Tigers came out strong with four goals and had the Waves fighting against time to catch up. As the game came down to only three minutes remaining, Jarvis put a point on the board with Toth following close behind, scoring two of his three goals in those last crucial minutes.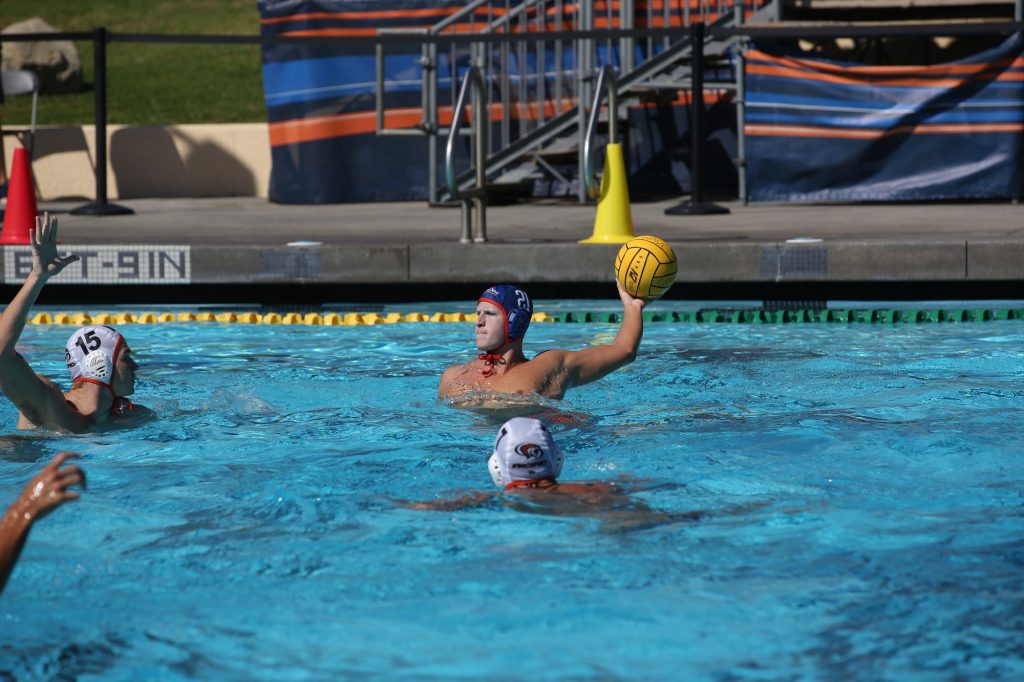 "One of the major ups of the game was how our team kept on fighting and didn't give up or lose confidence in our skills," Paur said. "Some downs were never really getting a big lead. Every time we scored a goal, we allowed them to come back and score one as well. If we are able to get on some runs we are a very dangerous team."
The game concluded with a close comeback by the Waves but just short of one point with an ending score of 12-13.
"Since the Golden Coast Conference was started, it's always been Pacific and us who've been at the top, and that is still the same this year," Paur said. "We have split our games with them and we will probably be seeing them in the finals of the conference tournament, so it's nice to know that we were able to keep it to a one-goal game."
The Waves will play San Jose State, Santa Clara, and UC Santa Barbara away for the next three games leading up to the GCC Championships that will be held at Raleigh Runnels Memorial Pool starting November 16.
"Everything now is in preparation for the GCC tournament, but we have a couple of conference games till then," Schroeder said. "This season is interesting because there are so many teams that are pretty close, so we have a lot of good battles to prepare for the GCC tournament and that is increasing the competitive level."
Kosa had quite a performance Saturday but is focusing on the games ahead.
"I am looking forward to all of the upcoming games," Kosa said. "From now all of them are really important and we want to take revenge on our lost against Pacific."
Up next, the Waves are on the road playing San Jose State Nov. 3 at 12 p.m. in Saratoga, California.
__________
Follow the Pepperdine Graphic on Twitter: @PeppGraphic