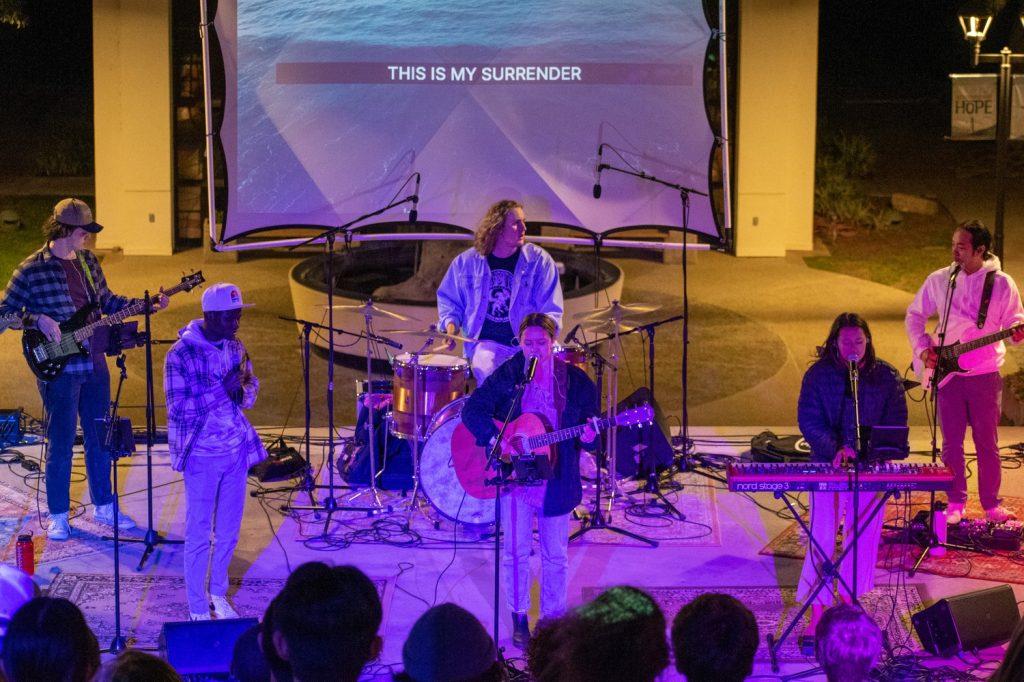 The Well worship team performs songs of praise in the Amphitheatre on Jan. 26. The worship team performs during The Well service every Thursday evening during the academic year. Photo by Colton Rubsamen
Since 1937, Pepperdine has embraced its founding principles of encouraging students to live lives full of faith and purpose, according to the school's History webpage. While the school remains committed to its roots in the Churches of Christ, the spiritual life on campus reflects a diverse community consisting of a multitude of faiths and religious backgrounds, according to the University's vision.
Students have said Pepperdine has given them the ability to elevate and affirm their spiritual identity. Yet, others said they face challenges navigating a network of various branches of Christianity.
Senior Nick Barron and junior Zacharias Tapp said their time at Pepperdine shaped their faith through both community and worship.
"I think it's [Pepperdine] made me stronger in my faith because it's taught me to really develop my own personal relationship with the Lord," Barron said.
Barron said his walk with Jesus did not start at Pepperdine. Rather, he said his transition into campus life posed a challenge when adjusting to a community where believers expressed their faith differently than his church back home in south Florida.
"My spirituality was defined by that tangible experience with God and when I came to Pepperdine that's actually not how people really experienced their faith," Barron said. "That was really hard for me and that's kind of been a huge part of my journey at Pepperdine."
Barron described his home church as a circle of charismatic Christians who "believe and have a sense of a living, moving and active Holy Spirit."
Barron said Pepperdine's diverse spiritual life on campus strengthened his faith. It encouraged him to develop his own personal relationship with the Lord outside of Bible studies, church and the culture of the University, he said.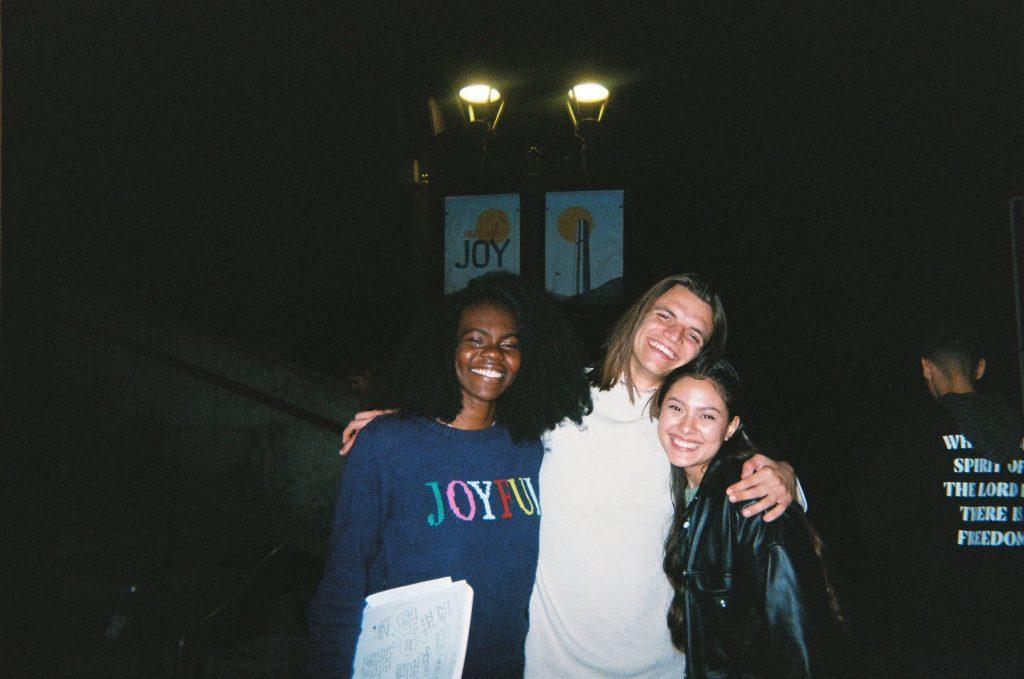 Senior Nick Barron poses with friends in the Pepperdine Amphitheatre after a night of worship at The Well in fall 2022. Barron said he began working in the Hub for Spiritual Life during his junior year at Pepperdine. Photo courtesy of The Well Instagram
Since his first year at Pepperdine, Barron said he enjoyed active involvement in multiple spiritual life activities on campus. These include taking part in student-led ministry Word Up, serving as a spiritual life adviser and The Well — a weekly spiritual gathering that includes singing and a brief message from various speakers.
During his junior year, Barron gained an official position with the Hub for Spiritual Life as a worship leader and mentor, helping students grow in their relationship with the Lord. Barron said he encourages students to cultivate their own intimate relationships with Jesus — independent from what others around them may believe.
Barron said he is grateful for the relationships he has gained through his involvement with the Hub. He said he enjoys writing congregational worship songs and creating new projects with his co-leaders to continually deepen and improve the spiritual life on campus.
"I've been learning to navigate how to still be Christian and still walk in faith with other people, that's been a huge journey for me too — coming out of a bubble," Barron said.
Tapp said Christianity has always been a central part of his life, but it was not until eighth grade where he began to seek a more personal connection with God.
Tapp was raised in Las Vegas and attended a Pentecostal church — a branch of Christianity that focuses on the movement and gifts of the Holy Spirit, according to an article by the Pew Research Center. Like Barron, Tapp said this was an experience he found very different when transitioning to Pepperdine.
Tapp's parents were actively involved in their local church and he said his family felt called to open their own church when he was still in middle school. Adjusting to a new church community was difficult, Tapp said, as his previous church had always felt like home to him. Yet, he said he was honored to see God move in his family's life.
"It's just really fulfilling to see where it [the church] started and where it's at now and just how many people's lives were affected so it's been really cool," Tapp said.
Tapp said he was most drawn to Pepperdine because of its emphasis on community and the lasting impact on students' lives during both their time at Pepperdine and post-graduation. The school's diverse student body allowed Tapp to engage with others from all walks of life and experience the many expressions of Christianity.
Tapp said he's realized each student has a unique relationship with God that's conveyed differently — whether it's through group worship, discussions with others or basking in the intimate quietness of alone time with God.
"I think the community at Pepperdine has just exposed me to so many different perspectives and views and ways of practicing Christianity and serving God which I think is the best part of Pepperdine," Tapp said.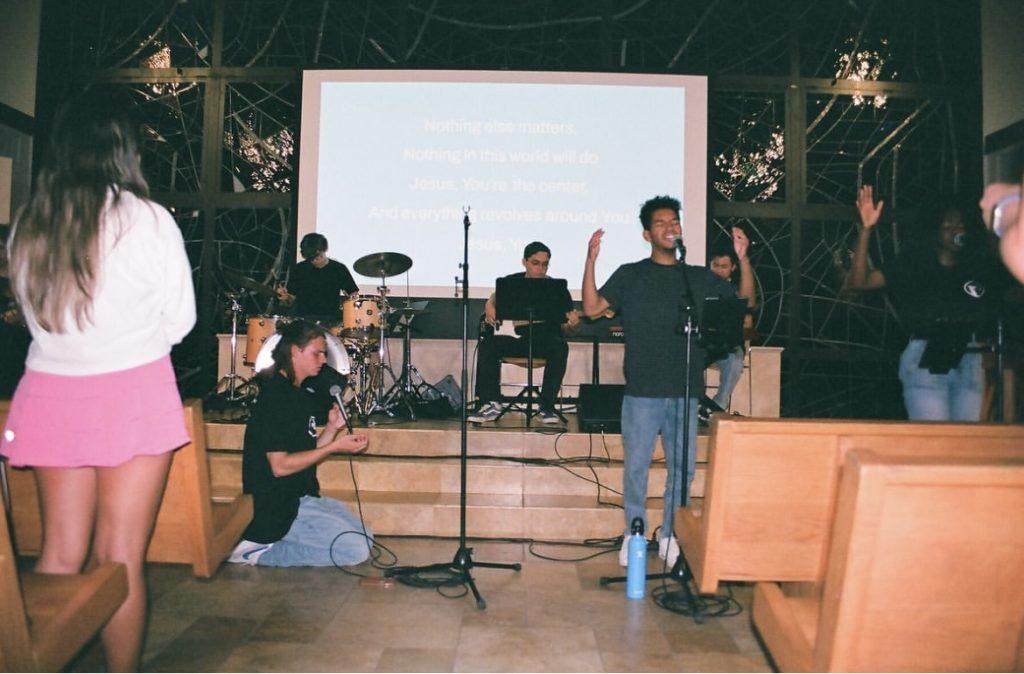 Barron and Tapp praise God through worship and prayer with the WordUp community in Pepperdine's chapel Sept. 22. WordUp was founded as a student-led ministry that aims to diversify worship on campus, according to their Instagram profile. Photo courtesy of Pepperdine WordUp Instagram
Tapp's role in the Hub began when he applied for the Spiritual Leadership Cohort Scholarship, which he described as a selective group of eight-to-nine students serving as spiritual leaders on campus. Recipients take on a variety of leadership roles such as leading worship ministries and working in the Hub office.
Tapp attributes the most transformational piece of his journey to his mentor, Worship Director Ko Ku, who leads the Pepperdine worship band in weekly praise and worship during The Well.
"He [Ku] just really takes the time to get to know students beyond their musical talents," Tapp said. "He just genuinely cares about students and [makes] sure that they're emotionally and spiritually OK."
Both Barron and Tapp said their time at Pepperdine has been a season of growth and an opportunity to expand their perspective on what it means to walk through life with Jesus.
___________________
Follow the Graphic on Twitter: @PeppGraphic
Contact Lauren Goldblum via Twitter: @Laurengoldblum1 or email: lauren.goldblum@pepperdine.edu