Photos by Caroline Edwards
Thousands of people flooded the streets of Downtown Los Angeles to participate in the third annual Women's March.
As Women's Marches happened nationwide, Los Angeles was no different. Armed with posters of all colors, shapes and sizes, a sea of people of all ages, wearing pink hats, butterfly wings and sassy T-shirts joined together to make a statement on Saturday, Jan. 19. The event began at Pershing Square at 9 a.m., and participants began marching toward City Hall after 10 a.m. People chanted as they marched and Pepperdine students were among the local protestors.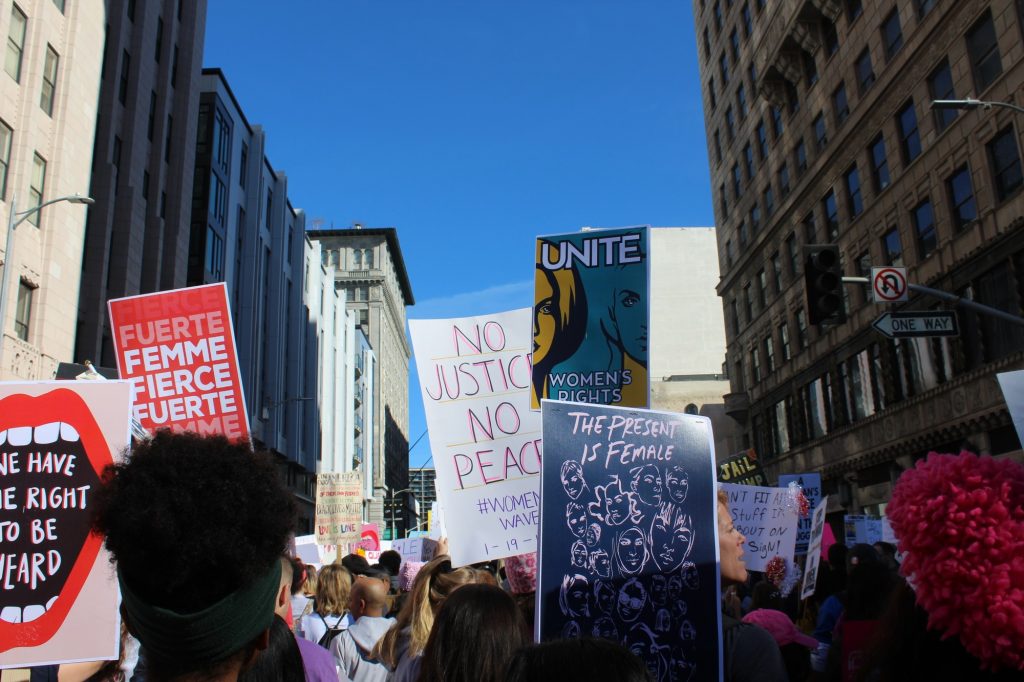 "It's super important [for men to be at the march] because it just shows that women's issues aren't just women-specific, they're for everybody," Senior Anthony Nabor said. "Making women equal to men, both legally, socially and economically is good for everybody. I don't know why anyone would not be for that."
Nabor carried a poster that read "know justice, know peace." Other posters read "stop the war on women," "this episode of 'Black Mirror' sucks" and "boys should be held accountable for their actions."
Many signs advocated for equal pay, one of the biggest issues women face, along with sexual harassment and period poverty.
"A lot of people say those numbers are fudged or it's not a real thing, but I think it's apparent in the facts that we see with women in positions of power not being paid as much as other people or even in the workplace," Nabor said. "Women don't have as much respect as their subordinates and male managers."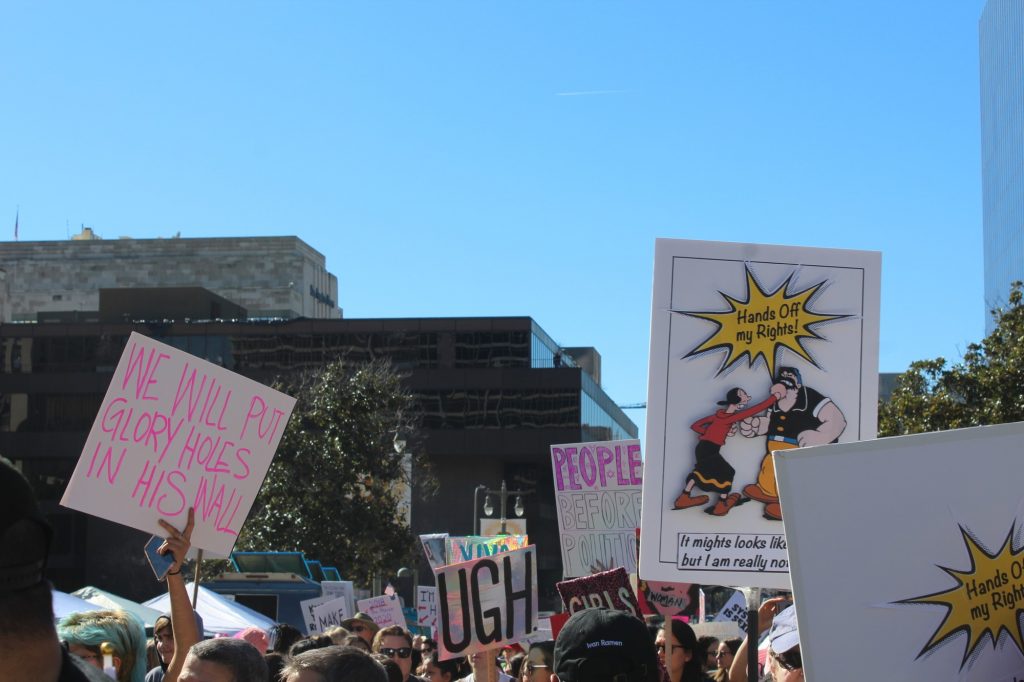 Despite the controversy surrounding the board of the Women's March regarding anti-Semitism after Women's March organizer and co-president Tamika Mallory attended a speech by the Nation of Islam's Louis Farrakhan. However, thousands continued to gather downtown. Allison Crisitio, 25, marched in 2018 as well and said she was aware of the controversy but didn't let it stop her from joining.
"There were a lot more people out here [this year] not just for women's rights but getting Trump out of office and trying to make that possible for everyone," Cristio said.
The event kicked off with speeches to pump up the crowd at Pershing Square. Spokespeople included: Nury Martinez, Assistant President Pro-Tem of Los Angeles City Council; Gloria Allred, founding partner of the law firm of Allred, Maroko & Goldberg; and Patti Giggans, executive director of Peace Over Violence, among others.
"For two years we've been fighting the administration when they talk about rolling back the rights of women and reproductive rights," Martinez said. "We stood together to to make sure that women showed up to the polls in November and over 170 women won elected office in the United States Congress … We need to fight on. Let's march and take our country back."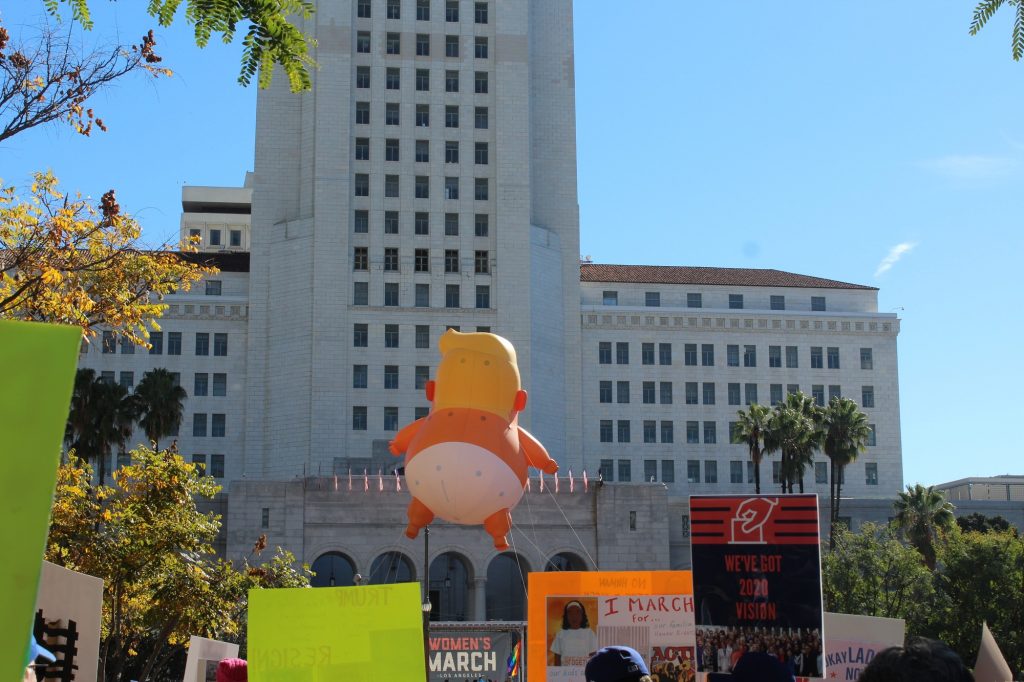 The crowd continued to cheer as more speakers gave motivational speeches.
"We are going to continue to speak truth to power; we are the change we wish to see in the world," Allred said.
As the march ended at City Hall, protestors gathered to hear speeches from celebrities and politicians, including Laverne Cox, Connie Britton, Laura Dern and Mayor Eric Garcetti.
"We want gender equity now, in Los Angeles and across the country," Garcetti said. "We are a city that welcomes everybody. No matter where you come from, no matter who you are, no matter who you love, Los Angeles is where you belong."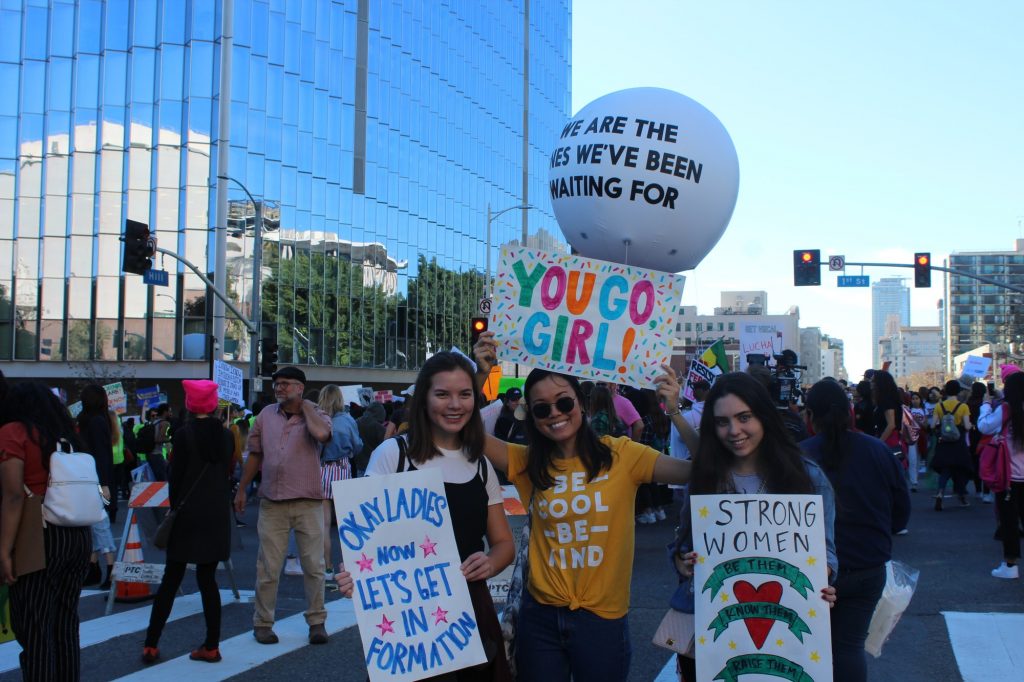 Aliya Edwards (left) with junior Jesse Pak (center) and junior Alaina Sanchez (right)
Equal rights were important to crowd members alike. Junior Aliya Edwards said this was her first Women's March, but that she had a good time.
"I feel like it's our duty to come to these things and to support each other," Edwards said. "I think it's a great opportunity that our city provided us, and I'm having a lot of fun."
Meanwhile, this was Nabor's third Women's March, and he was one of thousands of men who came to support and be an ally to women.
"Women are of equal dignity and respect as men, and if men are rewarded that, then women should be as well," Nabor said.
_____________
Follow the Pepperdine Graphic on Twitter @PeppGraphic