Kat Le's grandparents, Tram Le and Nam Le, pose with her father, Kiem Le, in Hong Kong in 1982. Le said her paternal grandparents brought her father to the U.S. for educational opportunities and to grow his faith. Photos courtesy of Kat Le
Great Books Professor Tuan Hoang was one of over 120,000 Vietnamese refugees who fled Communist Vietnam in the aftermath of the Vietnam War.
He and his family left for Indonesia in 1981. Like many refugees, Hoang's family used small fishing boats to cross through the Gulf of Thailand, burdened by the threat of capsizing and potential pirate attacks. Due to the clandestine nature of the trip, being caught meant imprisonment or even death.
To make it to the United States, his family had to split up when he was a pre-teen. Hoang, his father, one of his siblings and his aunt arrived in the United States in 1982. Hoang's mother and younger siblings were formally sponsored and migrated to the United States in 1990.
"It was very common for Vietnamese families to be broken up," Hoang said. "The father and the oldest kids would leave first, and if it's safe the mother and the younger kids would follow. [They] would try to escape, like we did. And that was actually what sort of happened because my mom and my younger siblings tried to escape the way we did it. They never succeeded."
Hoang is not the only Vietnam refugee at Pepperdine today. University Registrar Hung Le escaped when he was 11, and senior Biology major Kat Le's family escaped to Hong Kong before moving to the U.S.
Though the Vietnam War was decades ago, the U.S. is currently seeing an influx of refugees from other war-torn parts of the world like Afghanistan, Syria, Iraq and several South American countries.
Safety in a new world
One of the leading causes of the world's refugee crisis is wars or conflicts, according to a 2018 Journal of Travel Medicine study. There can be refugees for numerous other circumstances. The UN Refugee Agency defines a refugee as "someone who has been forced to flee his or her country because of persecution, war or violence."
U.S. citizens have long been divided over the idea of opening borders and accepting refugees. A 1975 Gallup poll asked 1,491 Americans if Southern Vietnam refugees should be permitted to reside in the United States, and according to the New York Times, roughly 54% said they should not be allowed and 36% said they should.
Despite this, Hung Le said he felt safe in the United States after leaving Vietnam.
"First of all there were no bombs, I felt very safe," Hung Le said. "There was incredible peace, I lived in Seattle and it was colder than I imagined and the people were kind. I just remember 'Oh my gosh, these are the most amazing people.'"
At 11, Hung Le's parents sent him to America to avoid the imminent Communist takeover in 1975. His parents sold everything they could so that Hung Le could be sent with his cousin who only had one extra ticket. Hung Le had to go without his immediate family, but his parents knew sending him to America was the best option and the only way to keep him safe.
For many Vietnamese refugees, America seemed like a distant paradise.
"My siblings and I and my friend's [in the] neighborhood used to take our suitcases and pretend we were going to America. That was the dream," Hung Le said. "We used to play, 'Come to America' and just dream of, you know, being in a place where there were paved streets, and we didn't know what snow was but we knew it was cold. But it was just such a neat picture I had in my mind."
Unlike Hung Le, Hoang did not know much about America before traveling. Although he was born before the war, Hoang said he was too young to remember much of the outside world. The little he did learn was during his time in Indonesia.
"I think what I learned about the U.S. was very interesting," Hoang said. "There were two sides that I saw with the limited amount of information I learned about the U.S. It is a wealthy country, you know, and it could be very difficult because of crime and because of different types of individualism."
As he grew up in America, Hoang immediately took notice of some of the key differences between Vietnam and his new home.
"At the time, it was very white," Hoang said. "I mean it was 90% white. It's less than that now but we were thrown right into it from like 95% Asian groups in Indonesia and Vietnam. Even though it was familiar to see a Catholic Mass, which is celebrated in a safe fashion in most parts of the world, it was still alien to us."
Holding on to heritage in pursuit of the American Dream
While Hoang and his family were evacuating Vietnam in 1981, Pepperdine student Kat Le's father was also fleeing Vietnam, escaping to Hong Kong. Kat Le's mother also fled from Vietnam to Hong Kong just two years prior in 1979. Both of Kat Le's parents moved to the United States in the early 80s.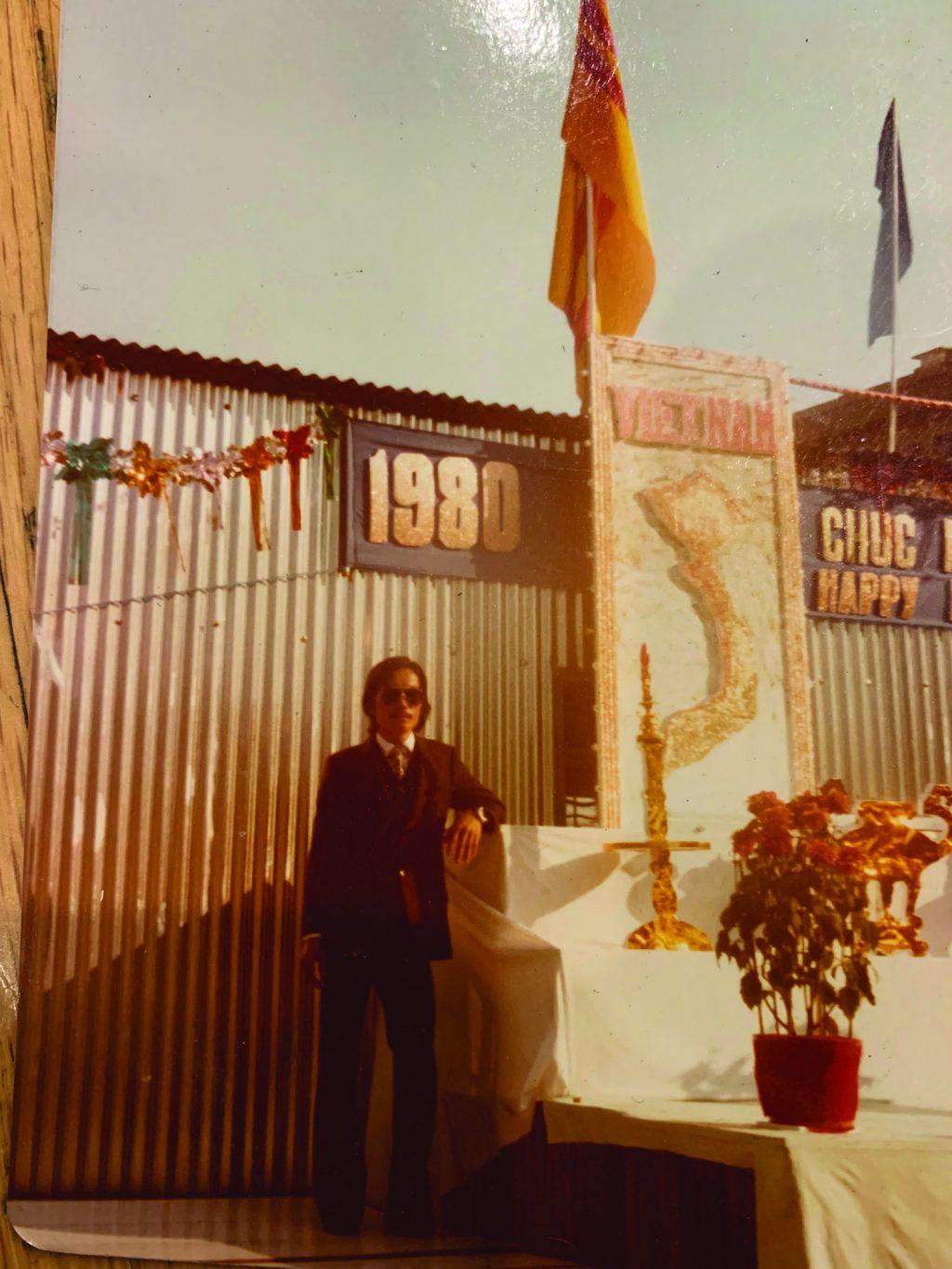 "We're very proud of our heritage and I think the whole experience was one that really shapes us as a family, " Kat Le said. "As Vietnamese people, we connect over this kind of experience. Even though I didn't immigrate, my parents' immigration and their way of life is really reflected in who I am and how I grew up."
Like many refugees, Kat Le's family came to America with very little after the Communist takeover of Vietnam. They also faced a rising anti-Vietnamese movement in the U.S. that made it difficult to adapt, Kat Le said.
"The Communists took everything from them," Kat Le said. "So, they had to start from scratch. And I think being poor you're already discriminated against."
Kat Le said she also believes anti-war sentiment added to the anti-Vietnamese sentiment.
"But during the era of the Vietnam War, a lot of people were against the Vietnam War," Kat Le said. "You know, Vietnam didn't want the U.S. mangling the United States, people didn't want the U.S. lingering and so because of that, since we were Vietnamese, a lot of people didn't want us to be here. Because they didn't want the war to happen."
Despite the hardships her family faced in the United States, Kat Le said the choice to move was a necessary one.
"It was kind of like you're going to the States, or you're gonna die here in Vietnam," Kat Le said.
The American Dream in the eyes of a refugee
With three different experiences of immigrating to the United States away from a war-torn country, Hung Le, Hoang and Kat Le all expressed the same views on one idea that Americans may take for granted: the American Dream.
The American Dream is unique for each individual. For many immigrants, it signals nearly endless opportunities that might not be available in other countries and is a driving factor to come to the United States. For many refugees, it's no longer the concept of white picket fences and perfect families, it's the idea of freedom and liberty.
"I think for my family, the American dream was kind of being able to provide for your family in means like education, having food on the table, having job opportunities," Kat Le said. "But beyond that, like being yourself and being allowed to do that."
Hoang added that America offers freedoms that refugees might not be accustomed to, freedoms he said that allow them to go further in their careers and goals.
"For refugees, liberty and freedom are big things, obviously, political freedom and economic freedom as well," Hoang said. "This is a place where I could, you know, receive higher education, my children could receive higher education in order to become, something like a physician or a lawyer or business person or professor or such."
As new generations of refugees come into the United States from countries like Afghanistan, Hung Le acknowledged the difficulties of being a refugee in a new place, but said everyone must keep pushing forward.
"My advice to not just refugees, but to all of us, is to believe in the reality that light overcomes darkness," Hung Le said. "Even in the darkest of days, I pray for a glimmer of hope. And no matter how dark the world is, we have to believe that light is designed to overcome darkness. That's all it is."
____________________
Email Ryan Bough: ryan.bough@pepperdine.edu
Follow Currents Magazine on Twitter: @PeppCurrents and Instagram: @currentsmagazine