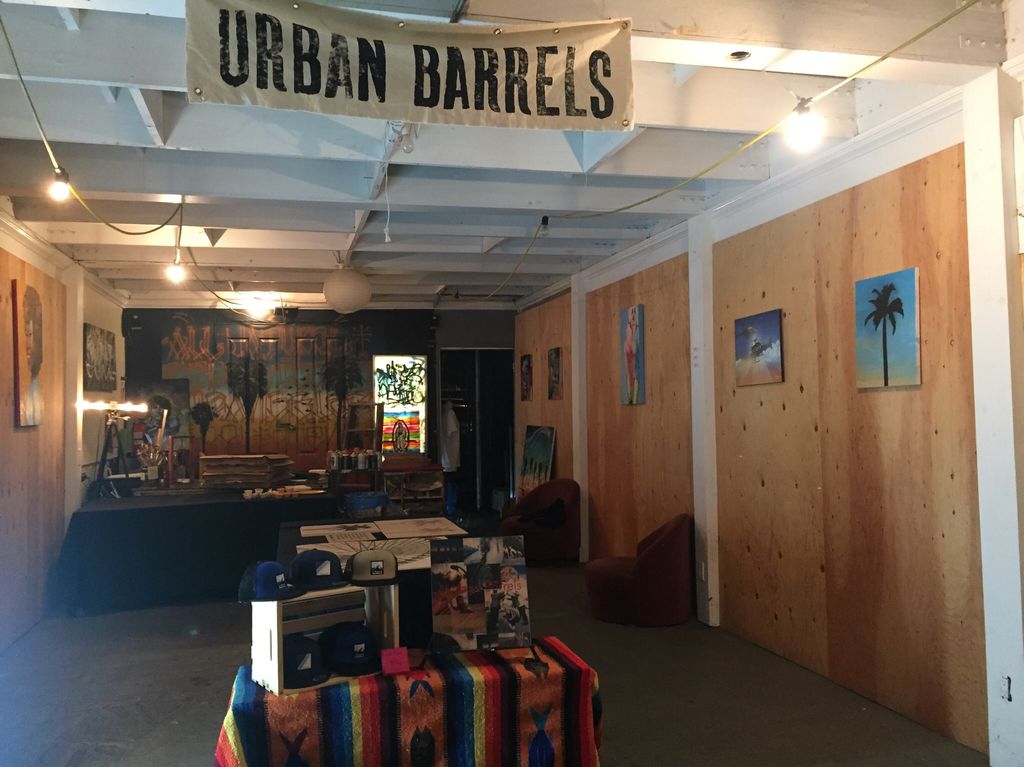 Photos by Kayiu Wong
The MacDonell brothers, JP who graduated from Pepperdine in 2009 and Mat who graduated in 2010, founded Urban Barrels in 2014. The company fosters a "connection to the ocean," and targets those seeking adventure, JP MacDonell said. "Basically we take old sailboat sails and turn them into cool, unique products."
The bagtowel is Urban Barrels' original product. Advertised on the website as the "Ultimate Adventure Bag," the bagtowel is a chino twill backpack lined with recycled sailboat sail and a velour beach towel sewn inside. The 2-in-1 bagtowel is intended to streamline the beach-going process.
Pepperdine alumni JP and Mat MacDonell hosted an alumni event featuring their company Urban Barrels and promoting the bagtowel at LA Street Art in Santa Monica on Oct. 6. Before revealing the transformation from bag to towel for his fellow alumni, JP MacDonell asked the crowd who loved magic. Within seconds, the drawstring backpack was flipped inside out to reveal the hidden towel. JP MacDonell said that their customers find the design and zipper pocket to be convenient for carrying easy to lose objects such as car keys when trekking through the sand.
"What we're trying to do is inspire people to get out and go explore new places," JP MacDonell said.
JP MacDonell explained the process of making their shirts. First, unused sailboat sails are collected from SAILStoSTUFF Recycling Partnerships throughout the U.S. After the sails are received, they are cleaned and cut to product dimensions. The product lines are then sewn in California; the company's main tailor, Enrique, was sewing shirts for those who attended the event.
Upon arrival to LA Street Art, attendees could enter a raffle to win a bagtowel and customize a shirt for themselves. Participants could choose a shirt and the piece of sail they would like as the pocket on their shirt. While waiting for the pocket to be sewn on, attendees interacted with Pepperdine alumni and current Pepperdine students.
"It's cool to see that Pepperdine still continues after graduation," freshman Jaime Del Barrio said. He attended the event with his sister, a Pepperdine graduate. "Once you're a part of Pepperdine, you're never truly gone from it."
Urban Barrels was also accompanied by two of their ambassadors on Thursday night. Syrian Olympic swimmer Azad al Barazi and New York entrepreneur Eben Cooper both contribute to the growth of Urban Barrels with their promotions on social media.
"It all comes back down to the product. At the end of the day, it's just super functional. It's cool — you like to see good people do well," Cooper said, who has a front seat to observe Urban Barrels' growth.
"What we're going to do is grow our recycling program and eventually build our product line out into accessories like duffel bags and tote bags,"JP MacDonell said of the company's future. "A bigger idea for us is to find other recycled materials to use and become a sort of hub for recycled materials and their products."
Alumni at the event said they loved opportunities like these to get together in a casual environment and be excited about the things their peers are doing.
"Everybody that I graduated with is just doing something really cool," alumna Annalise Dry said about the community that came together to support Urban Barrels. "They're pursuing their passions or doing something that's meaningful or that matters to them."
________
Follow the Graphic on Twitter: @PeppGraphic