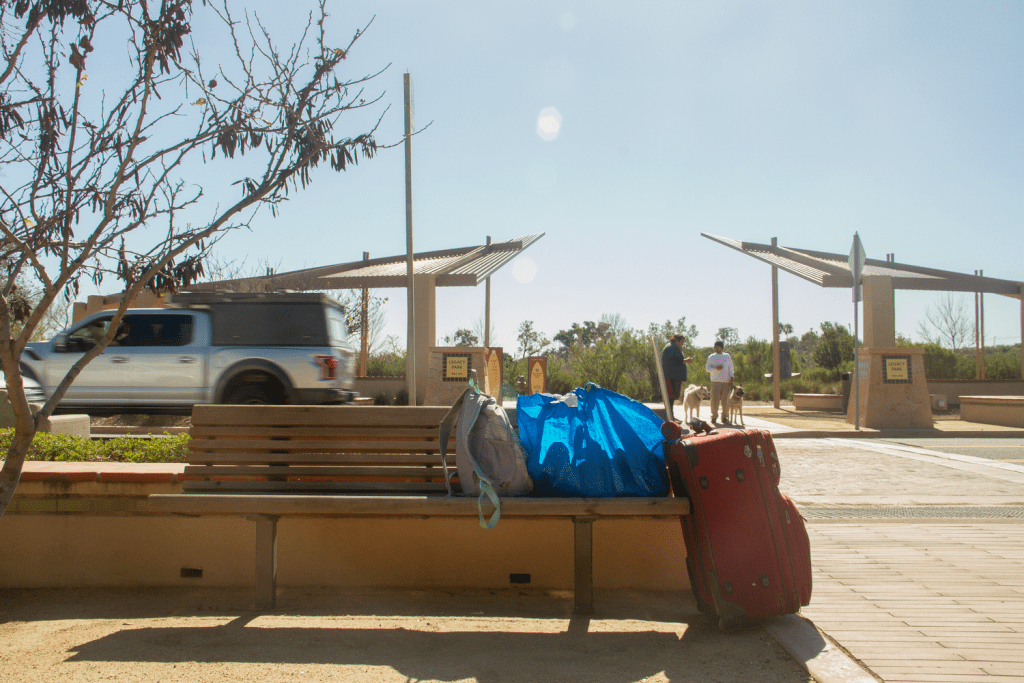 John Doe's belongings wait for him on a bench along Civic Center Way in Malibu on Feb. 1. John said he has been unhoused for about two years. Photos by Millie Auchard
Editor's Note: To protect the identity of two sources, the Graphic has used the pseudonyms Jack Doe and John Doe.
This season Malibu residents watched from their living room couches as trees swayed in the wind and raindrops fell from the sky. But individuals without housing in Malibu did not have that luxury.
An anonymous 35-year-old man living with a disability, John Doe, said he has been unhoused in the L.A. area for about two years.
Despite the aid that organizations like The People Concern offer, John said he feels he has not received much help. The People Concern is an organization based in Santa Monica, Calif., offering solutions to homelessness and domestic violence, according to their website.
This January, eight out of 243 unhoused individuals in Malibu received permanent housing, temporary housing or The People Concern relocated them, according to The People Concern Malibu Outreach Team's January 2023 Report. Relocation refers to when an unhoused individual reunites with their family or returns to their city of origin, Public Safety Liaison Luis Flores said.
John said The People Concern comes to Malibu twice a week to collect information from unhoused individuals to help them find housing. John said he feels frustrated with the amount of time it has taken for him to receive housing.
"Every day, I wake up, I call my case worker," John said. "I call him three times a day, so he knows I'm still out here."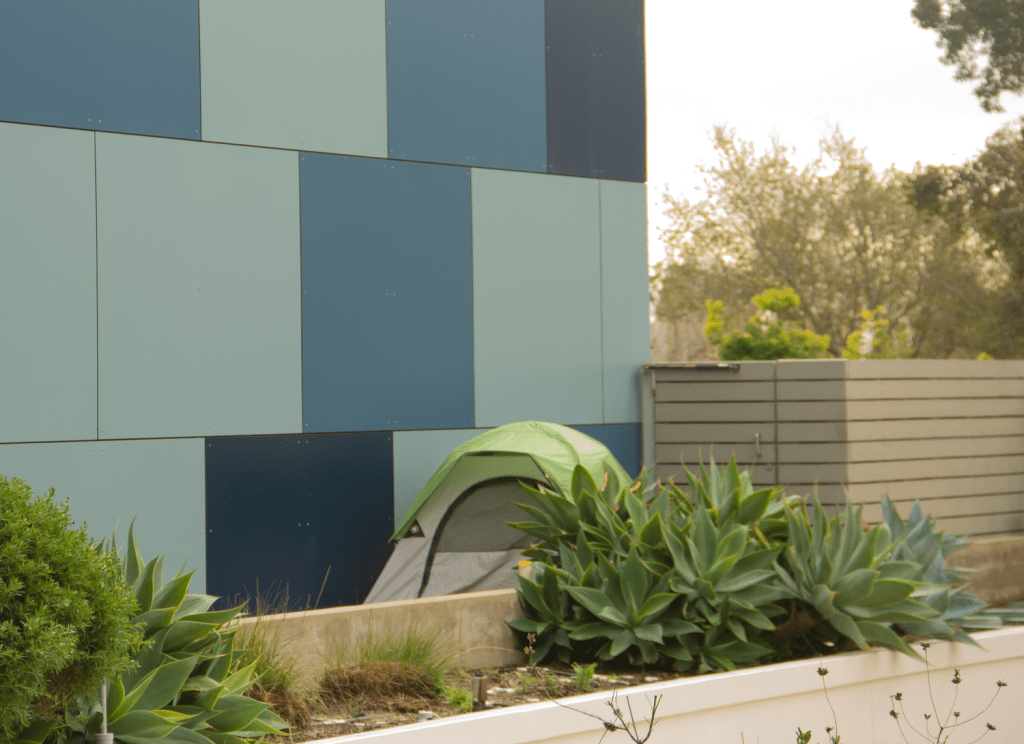 A tent stands among plants alongside the Malibu City Library on Jan. 29. The tent was gone the following day.
Malibu's Resources for Unhoused Individuals
Lea Johnson, director of the Malibu Community Assistance Resource Team (CART) works with CART President Terry Davis to cook meals for the unhoused in Malibu every Tuesday and Thursday, while Malibu's Homeless Outreach Team works to house people. CART offers meals to those in need behind Malibu Urgent Care. The organization also provides meals to unhoused individuals Monday, Wednesday and Friday at Zuma Beach.
Johnson said CART hosts a Connect Day twice a year, where they offer unhoused individuals haircuts, showers, medical services, job opportunities and more.
There are 4,604 unhoused people in West Los Angeles, which reaches from Malibu south to Playa del Rey and east to Beverly Hills, according to the 2022 Greater Los Angeles Homeless Count. Malibu's unhoused population in 2022 was 81 people, according to the Malibu Homeless Count.
Two people walk the corridor to the Malibu Courthouse and the Malibu Library on Feb. 1. Zachary Coil, director of Westside Operations for The People Concern, said he has seen unhoused individuals gather in the corridor during inclement weather.
Zachary Coil, director of Westside Operations for The People Concern, said he oversees the outreach teams who develop relationships with the unhoused population in West Los Angeles.
"Our big thing is trying to make contact on the streets and provide them care and attention and try to get them resources," Coil said.
Coil said relationships between case managers and unhoused individuals are voluntary — meaning unhoused individuals don't have to engage with the outreach teams if they don't want to.
The People Concern's outreach teams in Malibu are on the streets five days a week, Coil said. They frequent Malibu Surfrider Beach, Zuma Beach and Legacy Park by the Malibu Library to offer their services. Coil said the outreach teams provide medical care, substance abuse resources and case management to unhoused people.
Homeless Shelters in Malibu
The Los Angeles Homeless Services Authority (LAHSA) offers winter shelters annually from Nov. 1, 2022 to March 31, 2023, to those ages 18 and over experiencing homelessness, according to their website. The nearest winter shelter to Malibu is 24 miles from Pepperdine's campus.
"There are no shelter or interim shelter opportunities within the City of Malibu," Flores wrote in a Feb. 23 email to the Graphic. "But our Housing Navigator actively pursues interim housing opportunities throughout L.A. County for people experiencing homelessness in Malibu and works collaboratively with our Outreach Team to make those placements when available."
Flores wrote there is no one reason for the lack of homeless shelters in Malibu.
"There's no direct answer because there's a myriad of potential reasons," Flores wrote. "Including having available property for shelter/permanent housing conversion, political will, community support/opposition, extensive length of contracting process, proximity to services, etc."
Malibu doesn't have a homeless shelter of any kind. Coil said the nearest year-round shelter to Malibu is 15-20 miles away.
"I wish there was something local for these people to access," Coil said. "It just doesn't exist."
Rainy Days in Malibu for Unhoused Individuals
John said he finds refuge on the concrete in front of the entrance to the Malibu Courthouse, where there are cameras and an overhang.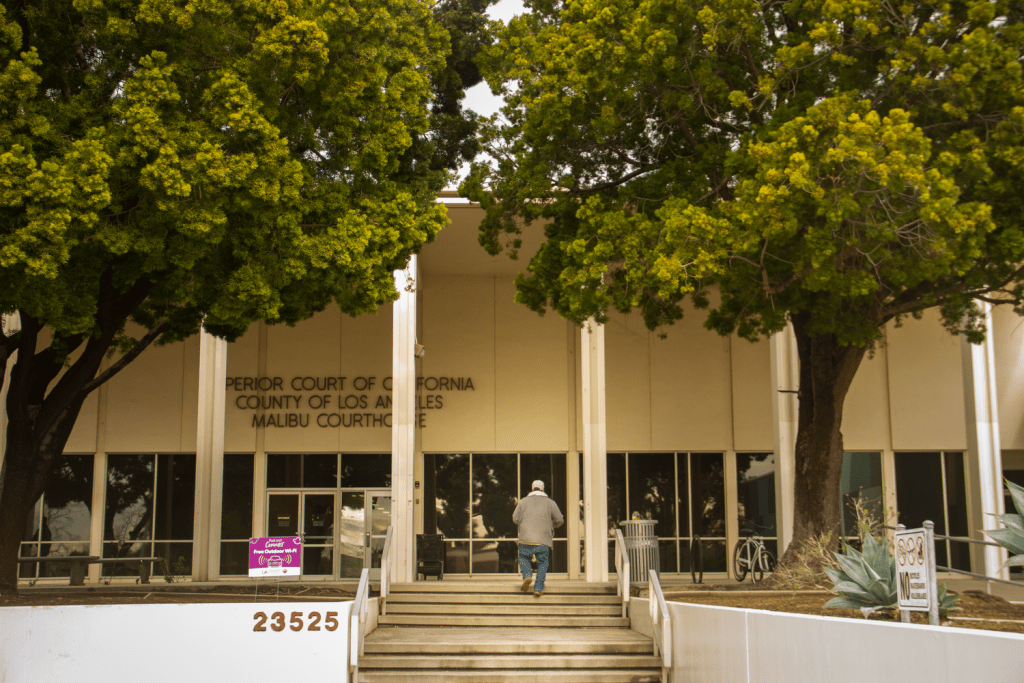 Someone walks up the steps to the Malibu Courthouse adjacent to the Malibu City Library on Jan. 29. John and Jack Doe said they sleep on the concrete there at night.
"This is the safest place to be in [Los Angeles]," John said.
John said the overhang and the trees in front of it keep him safe from rain and wind. He said he sleeps under a blue tarp to stay dry when it rains.
On rainy days, Coil said he'll see most of the unhoused people in Malibu gather in one spot such as Legacy Park, the courthouse or the library.
"They will be all huddled together," Coil said. "It's very survival-oriented at that point."
Coil said sometimes unhoused people will ride the buses all night to stay out of the rain. A one-way ticket on L.A.'s Metro Rail costs $1.75, according to the Metro website.
Johnson said many unhoused people in Malibu don't want to go to shelters in the winter.
"Some [people] are physically abused," Johnson said. "They steal from each other."
Flores said he is sure interpersonal conflict can happen in homeless shelters.
If the weather gets cold enough, John said he would go to a winter shelter. Although, he said he prefers to stay close to the library because he's had bad experiences with shelters in the past.
An anonymous Vietnam War veteran Jack Doe also lives by the Malibu Library. He said he has been unhoused throughout the U.S. and Canada for 40 to 50 years and has been unhoused in Malibu for the past decade.
Jack said about six other people live near the library. In inclement weather, he said that number will increase to 13 to 16.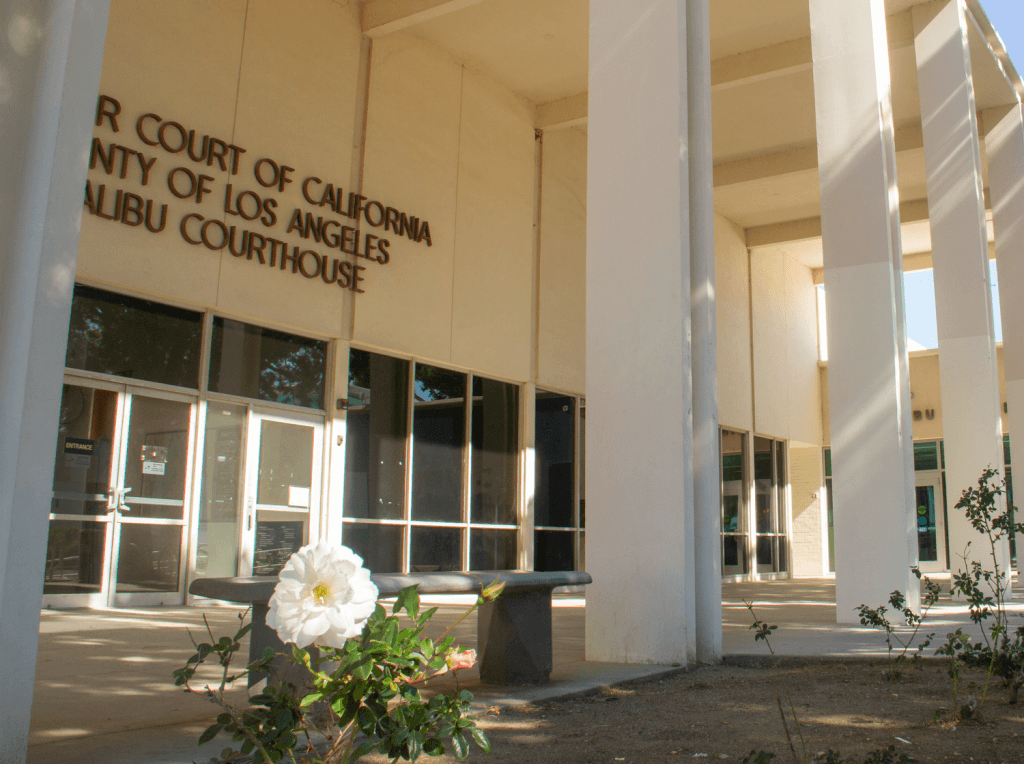 A white rose glows in the sunlight Feb. 1, outside the Malibu Courthouse. During wet weather, between 13 and 16 unhoused people in Malibu will find refuge under the overhang of the courthouse, Jack Doe said.
Like John, Jack said he chooses to stay in Malibu in the rain because, although there are winter shelters available to him, the authorities who drove him there will return him to Malibu after a night.
What Jack is referring to, buses taking homeless people to and from shelters every day, no longer exist, Coil said.
An organization that used to offer these resources, the West Los Angeles Armory, stopped service in 2020 to build a new shelter, according to an article by the Santa Monica Mirror. The West L.A. Armory would send buses to Venice Boardwalk every day to transport unhoused individuals back and forth from the shelter, Coil said.
"We have a deep empathy for how hard it is out there, and I wish we had more to offer," Coil said.
___________________
Follow the Graphic on Twitter: @PeppGraphic
Email Millie Auchard: melissa.auchard@pepperdine.edu