Photo courtesy of Pepperdine Improv Troupe
The Pepperdine Improv Troupe, also known as PIT, welcomed six new members to the performance group this academic year.
Comprised of two directors leading 15 student players, PIT entertains the Pepperdine community with its exciting and interactive monthly shows. Junior Indy Wilson, student co-leader of PIT, said the troupe develops versatile improv skills like vulnerability and the ability to engage an audience.
The new members are seniors Elissa Croslin and Cayla Brady; sophomores Alexander Kolm, Haley Powell and Lauren Burton; and freshman Cat Masterson.
Croslin wrote in an email that she wanted to be a part of PIT since she transferred to Pepperdine during her sophomore year.
"I think [PIT is] a great, supportive community that has fun and gets to make people laugh; you can't get much better than that," Croslin wrote.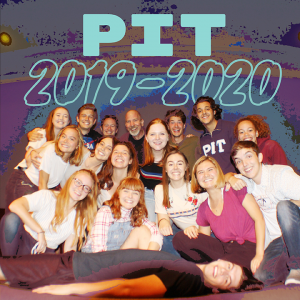 The 2019-2020 PIT team smiles together, excited for the year to come. Photo courtesy of Pepperdine Improv Troupe.
Auditions
PIT holds auditions at the beginning of each school year. Fifth-year Evatt Salinger, student co-leader of PIT, said all PIT members from previous years have to re-audition, with the exception of the two student leaders.
Lauren Drake, a sophomore starting her second year in PIT, said PIT generally looks for students who are supportive, good listeners and ready to have a fun time.
"What a lot of people think is that improv, in order to succeed, you just need to be really funny and you need to just come up with really clever, really weird stuff," Drake said. "But it's counterintuitive. If you're trying to do that, you're not doing it the right way."
Salinger said the improv troupe accepts a cast of 15 people, and there is no experience required to audition. This year, PIT had about 32 people audition.
Wilson said PIT has about 30 to 60 people audition each year. The auditions consist of an initial group audition and then a call-back in the span of one day.
"The audition is a fun workshop setting, so even people that don't get into PIT still, we hope, learned a lot and had a lot of fun throughout the day," Salinger said.
Team Building and Integration of New Members
Salinger said after PIT had its first rehearsal Sunday, Sept. 15, it had its first show Friday, Sept. 20.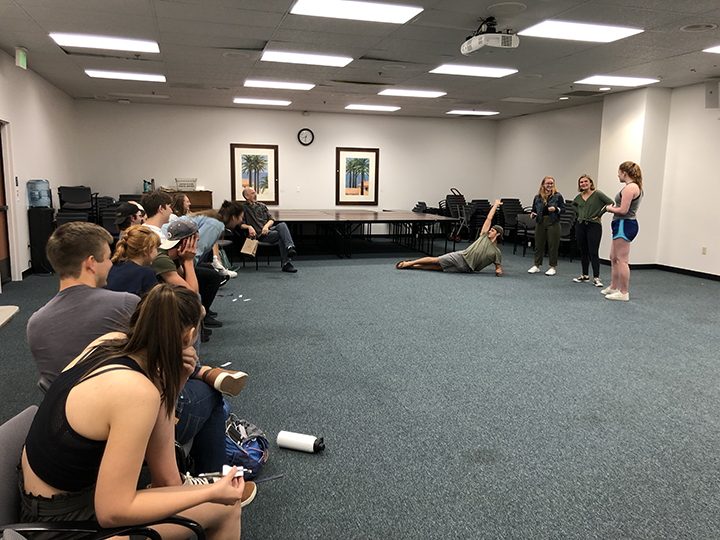 Photo by Emily Shaw
PIT members rehearse Sunday, Sept. 29.
"Three new members who had never rehearsed with PIT before were thrown immediately into a show, and that happened last Friday, and it went really, really great," Salinger said.
Brady was one of the new members who performed at PIT's first show this year.
"My first PIT show was definitely nerve-wracking, but that's where you rely on the other people performing with you for confidence," Brady wrote in an email. "They're all so supportive and kind and want to make you feel comfortable every second you're on stage."
Masterson was another new member who performed at PIT's first show this year. She said she was involved in an improv group in high school.
"It was really scary because the people who would come to our shows in high school was maybe 30 people and here it was 200, and I was not expecting that," Masterson said. "But it was so nice because … the crowd was so excited and was laughing at everything, so it made you feel really good … [and] gave you adrenaline to keep going."
Wilson said she and Salinger are making a conscious effort this year to continue fostering a sense of family within PIT.
"PIT is just my favorite part of Pepperdine, and it feels like a family — a really safe space for growing and learning and getting to play," Wilson said.
Both Salinger and Wilson have been involved in PIT since they were freshmen.
"[PIT is] a relaxing and comfortable place to take risks and to laugh and enjoy each other and entertain people," Salinger said.
Drake echoed Salinger and Wilson's sentiment.
"PIT was the first community that I really felt comfortable in last year as a freshman," Drake said. "It's … a safe space and … a place where you can really just let go of everything else and just play … — a place of rest and a place of joy."
Drake said the sense of family within PIT adds to its success on stage and behind the scenes.
"We say 'together we fly' as a joke, but honestly, it's the best way for us as a team to really bond and become a strong ensemble, both in shows and then when we see each other and support each other," Drake said. "You have to feel like everybody's got your back or else no one would trust each other and everybody would be trying to get the spotlight."
Drake said Brian Jones, the co-director of PIT, is an alumnus of PIT as well. Allen Simpson, the co-director and piano player for PIT, was the director of the troupe when Jones was a member.
"[PIT] is such a cool community of people who just love PIT so much that they come back," Drake said.
Upcoming Shows and Opportunities
In addition to the monthly Friday shows, Salinger said PIT plans to add more intimate Sunday night shows. These will provide students with the opportunity to experiment with performing other types of genres such as improvised interpretations of musicals or plays and improvised stand-up comedy.
"Our shows are for the student body," Wilson said. "We're stressed college students. We just need a moment to laugh and improv is so rewarding because the audience is making it up with them. So if anyone hasn't come to a PIT show, they need to get in there."
If students are interested in joining PIT but are nervous about auditioning next year, Salinger said PIT has open student workshops during the second semester of every school year, where people can rehearse with PIT and see what it is like.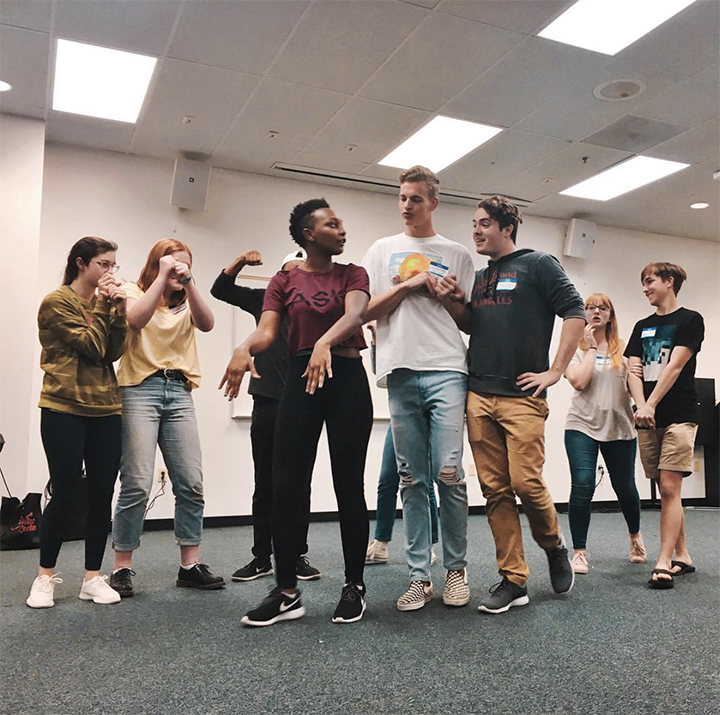 Photo courtesy of Pepperdine Improv Troupe
PIT members and students interested in joining PIT rehearse together at the open student workshop.
PIT's next show is Saturday, Oct.12 at 4:30 p.m., in Elkins Auditorium during Waves Weekend.
Wilson said it is open to all families and alumni. At this show, alumni of PIT perform with the current members of PIT, and families of students get to come and see what PIT is about.
"[I'm] really excited about the cast," Salinger said. "After the first show, it's clear that the new members are going to be stellar."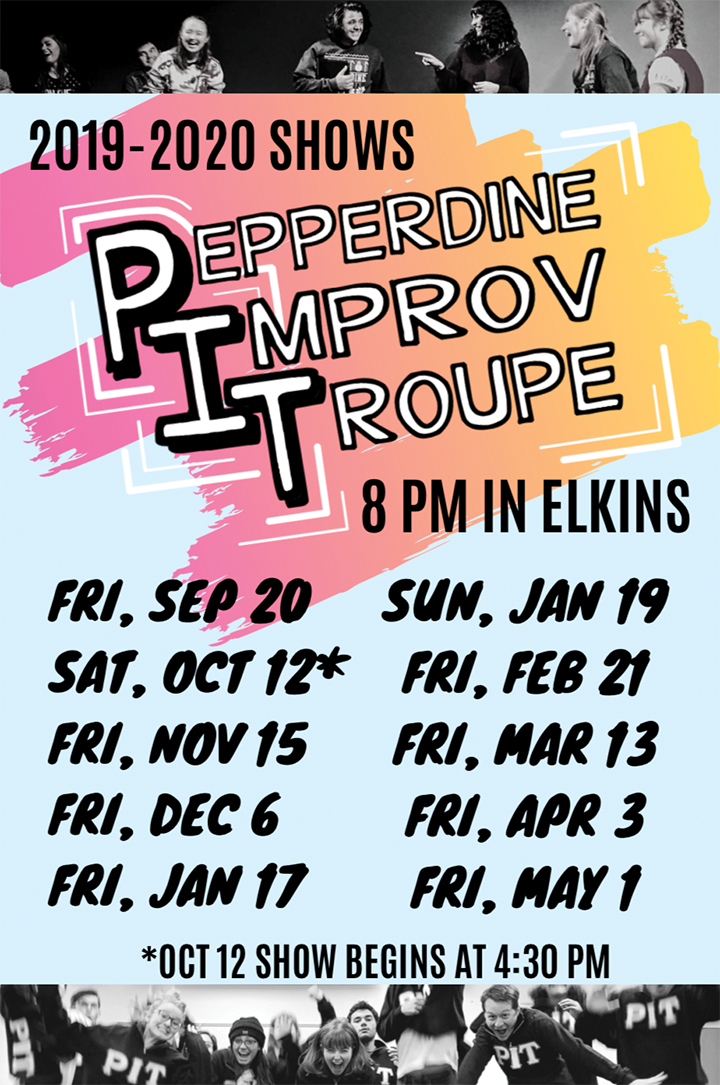 Photo courtesy of Pepperdine Improv Troupe
_______________________
Email Emily Shaw: emily.c.shaw@pepperdine.edu