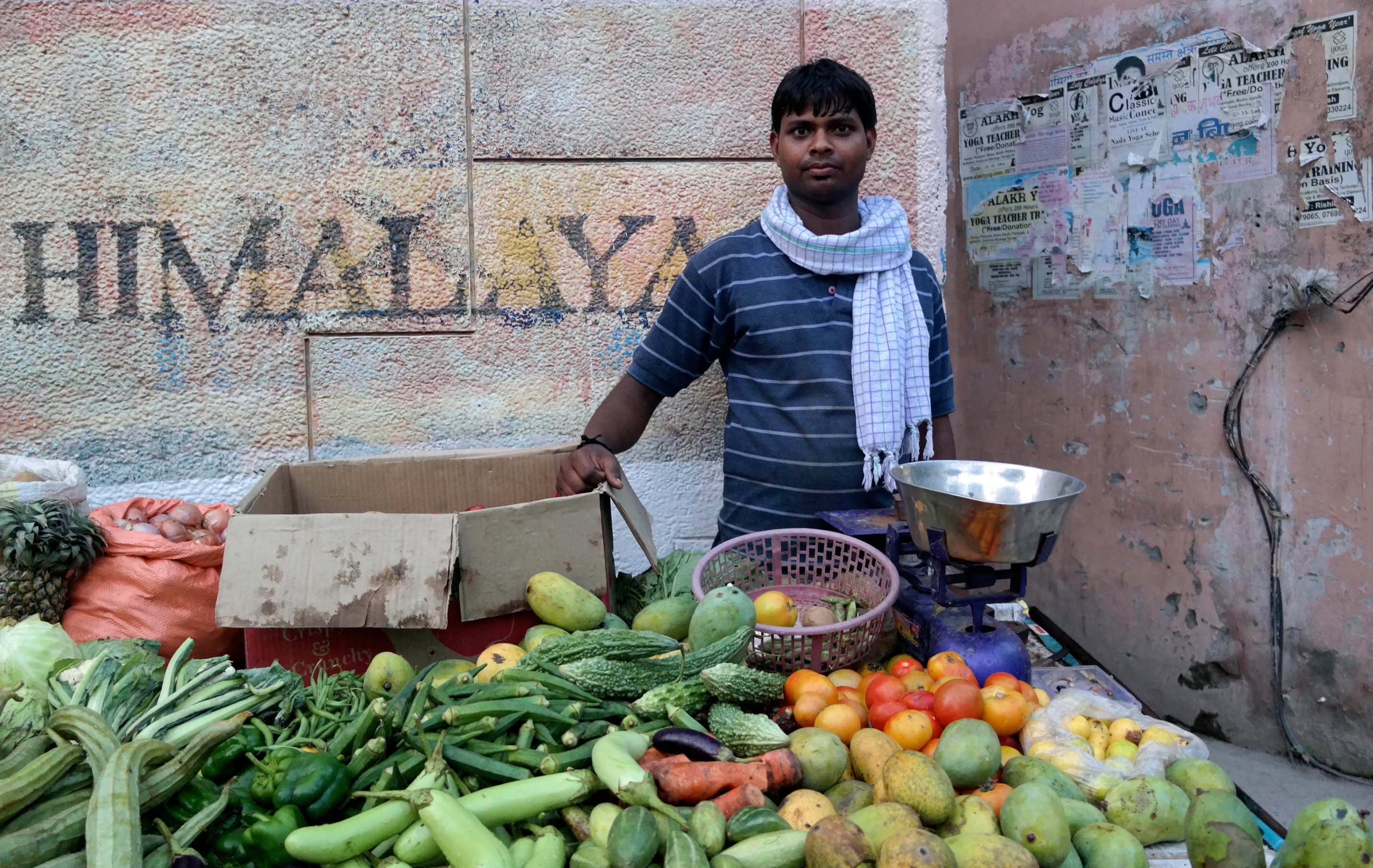 Photos by Amelia Dal Pra
As I walked through the streets of India, I noticed faces. So many faces. Old and young. Every wrinkle, every crevice, every smile and every grimace told a story. Soon enough, some faces became more familiar than others. So I asked three of my friends if I could sit down, listen to their stories and share their perspectives with my friends at home. These three stories are glimpses into the joys, wounds and passions of my newfound friends in India.
Sunil
Age: 25
At 6 p.m. Sunil shouted in Hindi loud enough for the whole neighborhood to hear. He did this every day to attract others to his fruit stand. During my stay in Vill Jounk, I could not go one day without stopping to talk with Sunil, a young man with a huge, bright smile, who had a fruit cart with some of the best mangoes, bananas and lychees around.
"I do the hard work every day," Sunli said. "I wake up at 4 o'clock to go to market in Rishikesh to buy fruit."
He then stocks his cart and works to sell his fruit all day in the Indian heat, with little rest. Sunil always greets others with a smile and a loud, "Hello, my friend." He returns home on a motorbike at 10 p.m. every night.
"Being here with this cart, I am happy here with my community, my people," Sunli said. Sunil said he works hard so that his children can do what he cannot: learn about the practice of yoga. At the end of our interview he explained, "My dream is that my daughter and my son become very good yoga teachers."
Madhav
Age: 27
Madhav was born the youngest of three children in a small developing village outside of Agra — where the Taj Mahal is located — and today he is a successful business owner. With a youthful spirit and infectious laugh, one would not suspect that his story is one filled with great loss.
"My father passed away when I was six months old, leaving my mother to provide for me and my siblings," Madhav began. At age nine, Madhav's mother brought him and his siblings to stay with his uncle in Rishikesh. "After two years in Rishikesh, I was told my mother was dead," Madhav said.
He continued, "When I was 21, my brother passed away due to a sudden heart attack, leaving behind a pregnant wife. For two or three months, I never came out of my house because I felt so sad and alone."
In India, widows are often rejected by their families and left on the outskirts of society. To prevent this from happening, Madhav's family decided he would marry his brother's wife and raise his brother's child as his own.
After suffering from depression for years, Madhav met a guru named Mooji. "Mooji's teachings changed my life and inspired me to start my own business," Madhav said.
Today, Madhav owns a small traditional herb and natural medicine shop, and his daughter is almost 7 years old. He said his life's purpose is to "raise and teach his brother's child well."
"I am happy now," Madhav said. "I have everything. I'm not alone. I see each person who enters my shop as my friends, as my brother, my sister, my family."
Avinash
Age: 33
Avinash grew up near Rishikesh and distinctly remembers spending long hours playing in the Ganga River after school. He has a bachelor's degree in History and English from a university in Rishikesh. Outside of managing his family's longtime health and herbal supplement business, he works to educate his children.
He explained that every morning he teaches his children "traditional Sanskrit chants and Indian prayers" along with English words. He proclaimed proudly that his 3-year-old son already knows the English words for fruits.
While Avinash sees the importance of learning the English language, he hopes that his children will continue to find value in the ancient traditional practices in India. He is "frustrated that the younger generations do not value tradition the ways that they once did."
"I will continue to teach prayers to my son and my brother's children," he said. "I will share these traditions with them and I will share these stories with you, so I can share my love of India's history with others."
The stories of Sunil, Madhav and Avinash are just three of the many untold stories in the foothills of the Himalayas and, moreover, the world. These honest stories serve as a reminder that people are more than what meets the eye. Though our circumstances in life may be different, it's our common experiences with the challenges of everyday living which unite us all.
________________
Follow Amelia Dal Pra on Twitter @amelia_dalpra