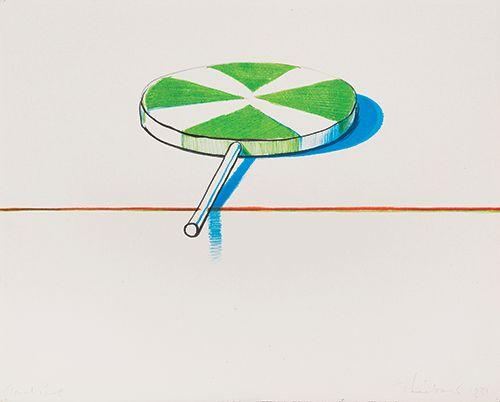 Photos Courtesy of Wayne Thiebaud
Artist Wayne Thiebaud's work graces the Frederick R. Weisman Museum of Art for the museum's 20th anniversary.
On Jan. 11, the Frederick R. Weisman Museum of Art unveiled Wayne Thiebaud: Works on Paper, 1948-2004, an exhibition of Thiebaud's prints. The works on display not only show his interest in the mundane but  also his unique method of drawing objects and landscapes. This is Thiebaud's third exhibition in the museum.
Thiebaud is considered one of the first artists of the Pop Art movement. Michael Zakian, director and curator of the museum, shares this sentiment.
"Most Pop artists take images and base paintings off of them, while Wayne Thiebaud always believed in painting from the source," Zakian said.
According to Zakian, Thiebaud considered himself more of a realist. He was more "fascinated" with drawing his thoughts onto a canvas or print and sharing it with others.
That is not to say that Thiebaud's works resemble photographs. The works showcased are composed using a variety of mediums ranging from woodcut to monotype.
"What makes his art so interesting is that they look so real yet so abstract," Zakian said.
The exhibition is a chronicle of his print works over the years, starting with his experimentation with Expressionism in the 1940s and 1950s, which he traded out for the style most associated with him.
This newer style shifted its focus to what most would consider the mundane, especially sweets and desserts.
Thiebaud's interest in food items came from his time when he worked as a waiter to pay off his school's tuition. He was fascinated with America's obsession with sweets.
"He always found simple, ordinary to be fascinating," Zakian said. "So he could make a slice of pie interesting."
Despite the number of prints centered on mundane objects, quite a few works in the gallery are devoted to landscapes. The manner in which he drew them is most notable.
His prints of San Francisco are surreal, with streets angled at ninety degrees and buildings that stand erect despite the tilted landscape.
The inspiration for these rather bizarre prints came from Thiebaud's experiences in San Francisco when he and his wife bought a second house in the 1970s.
"When he traveled [to San Francisco], he noted how strange the streets were," Zakian said."He wanted to portray that strangeness."
Some of Thiebaud's later landscape prints included the Sacramento River Valley and Yosemite National Park. Though neither has the same surreal nature of the prints of San Francisco, the landscapes of both prints possess Thiebaud's realistic yet abstract art style.
"I decided just to focus on the food and the places [when I organized the exhibition]," Zakian said.
Aside from the contents of the exhibition, the occasion is also important.
The exhibition is the museum's way of celebrating its 20th anniversary, following a trend that began with the museum's inception.
Thiebaud's paintings made up the first exhibition when the museum opened.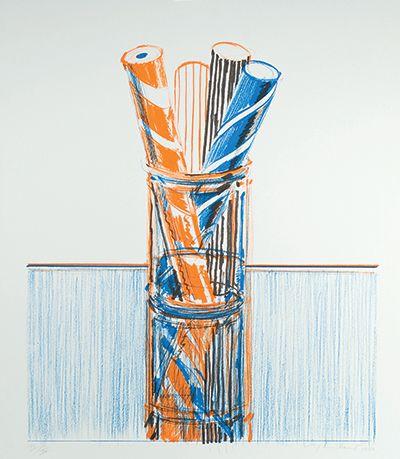 For the museum's tenth anniversary, it showcased his works again in an exhibition titled "Wayne Thiebaud: Works from 1955-2003."
The exhibition overall is a demonstration of the unique style Thiebaud put into his works. Despite Thiebaud's place as one of the first Pop artists, no movement of artists has ever taken the task of replicating his art style.
"I think Wayne Thiebaud saw himself as very much an individual," Zakian said.
_____________________________________________________________________________
Follow the Graphic on Twitter: @PeppGraphic