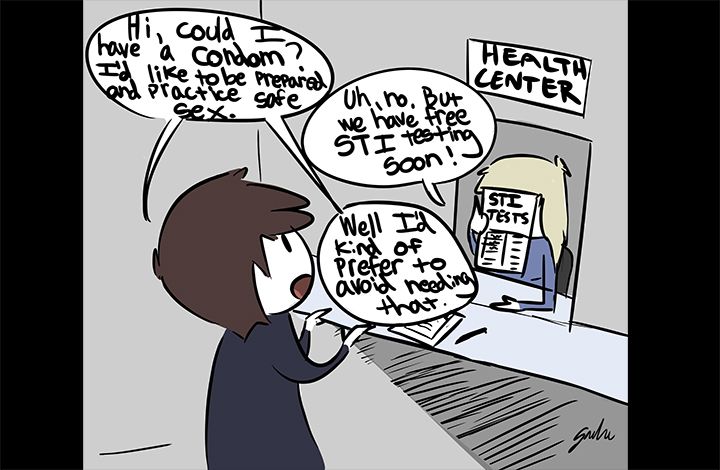 Art by Sacha Irick
Pepperdine's Student Health Center uses the Centers for Disease Control and Prevention's definition of contraception when considering students options, according to Student Health Center Director Nancy Safinick.
The CDC's definition of contraception is "the deliberate use of artificial methods or other techniques to prevent pregnancy as a consequence of sexual intercourse." It goes on to explain that "the major forms of artificial contraception are barrier methods, of which the most common is the condom." The definition also includes "the contraceptive pill/patch/ring" and "intrauterine devices" and explains how each works to prevent pregnancy.
According to the American Psychological Association, "between 60 percent and 80 percent of North American college students have had some sort of hook-up experience."
As part of an email statement to the Graphic, the Health Center wrote that they do not provide condoms, as it strives to be in accordance with the Christian mission of the university.
The Health Center does provide certain forms of birth control for women including the pill, diaphragm and DepoProvera, according to Safinick. For an unmarried student with no medical need for birth control other than pregnancy prevention, "the Student Health Center would consider this request on a case-by-case basis and would follow best practice in that decision."
The Health Center also recommends and encourages abstinence to prevent sexually transmitted infections.
Safinick did not clarify how each case is determined.
The Health Center also does not provide emergency contraception for anyone. In the case of a student seeking assistance from the Health Center after a sexual assault, the victim "would be referred to the Santa Monica-UCLA Rape Treatment Center," Safinick wrote.
Safinick "clearly … note[d] that condoms are readily available and easily purchased over the counter at a local retailer."
This local retailer is not the campus bookstore, however. The bookstore is run by an outside company, Follett Corporation, which has campus bookstores at dozens of other schools. At some of these other schools a "Family Planning" section is present. The Pepperdine University location does not have this same section.
"Pepperdine takes a biblical view of sexual relations and marriage, and aligns institutional practices with this perspective. As part of the Pepperdine community, the bookstore similarly prioritizes its merchandise in accordance with these views," Director of Communications Ali Taghavi wrote in an email.
Taghavi did not clarify whether the bookstore chose on its own accord not to sell family planning products, or if the decision came from the university. The bookstore manager did not comment on the matter.
Pepperdine students, both undergraduate and graduate, married and unmarried, can go to nearby CVS or Ralph's for regular and emergency contraception needs. Condoms can also be purchased using online retailers who typically ship their product in discreet packaging.
__________
Follow Breanna Grigsby on Twitter: @Bre_Louise
Follow Justina Huang on Twitter: @huanderwoman