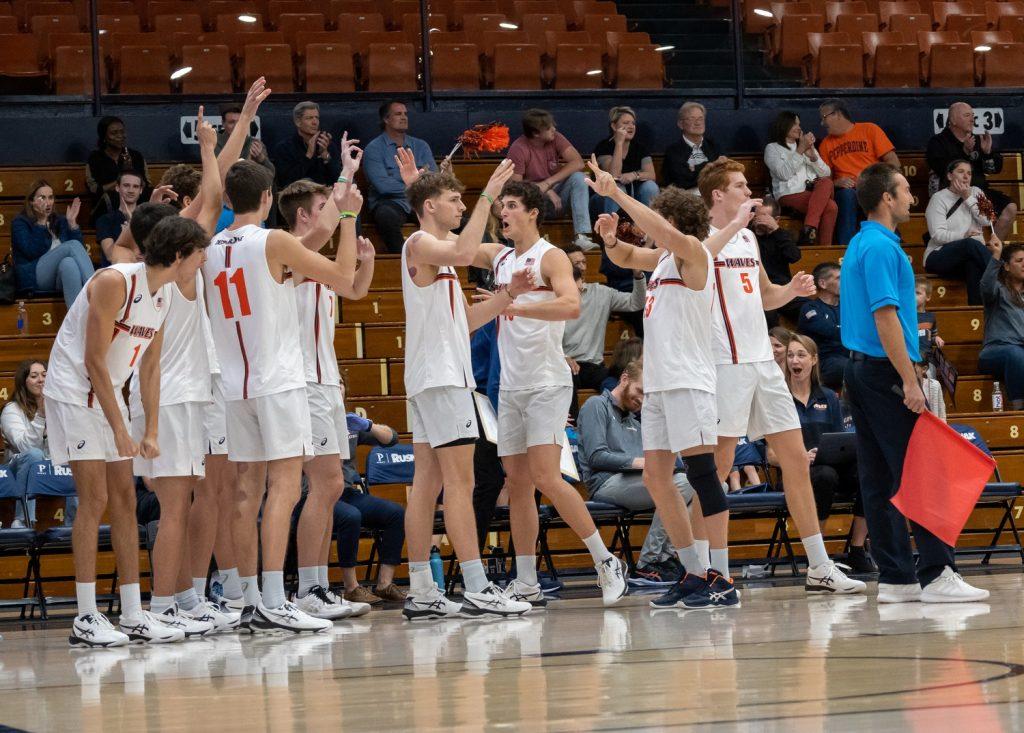 Boasting an 8-2 record so far, the Pepperdine Men's Volleyball Team looked to bounce back after just their second loss against UCSB last Friday, Feb. 3.
The Waves pushed their opponent to the limit, but ultimately fell short in a 3-2 loss against the Anteaters on Wednesday night.
"I think unfortunately sometimes you just don't play well and we just have to keep moving forward," Head Coach Jonathan Winder said. "We did not play to the level we are capable of so we're just going to keep getting better."The first set proved to be a close one with neither team gaining more than a four-point lead.
USCB came out with a couple of hot blocks to put the Waves at an 8-4 deficit early on, but this proved to be the biggest lead of the set.
After the Waves called for a timeout, they responded with composure and came out determined to fight back.
"We were able to take a mental reset and remind ourselves of the game plan and what we need to do better," Rasic said.
After consecutive kills from redshirt sophomore outside hitter Joe Deluzio, graduate student and outside hitter Jaylen Jasper and a kill and a block from redshirt freshman libero Brendan Read, the Waves closed the gap to a score of 10-8.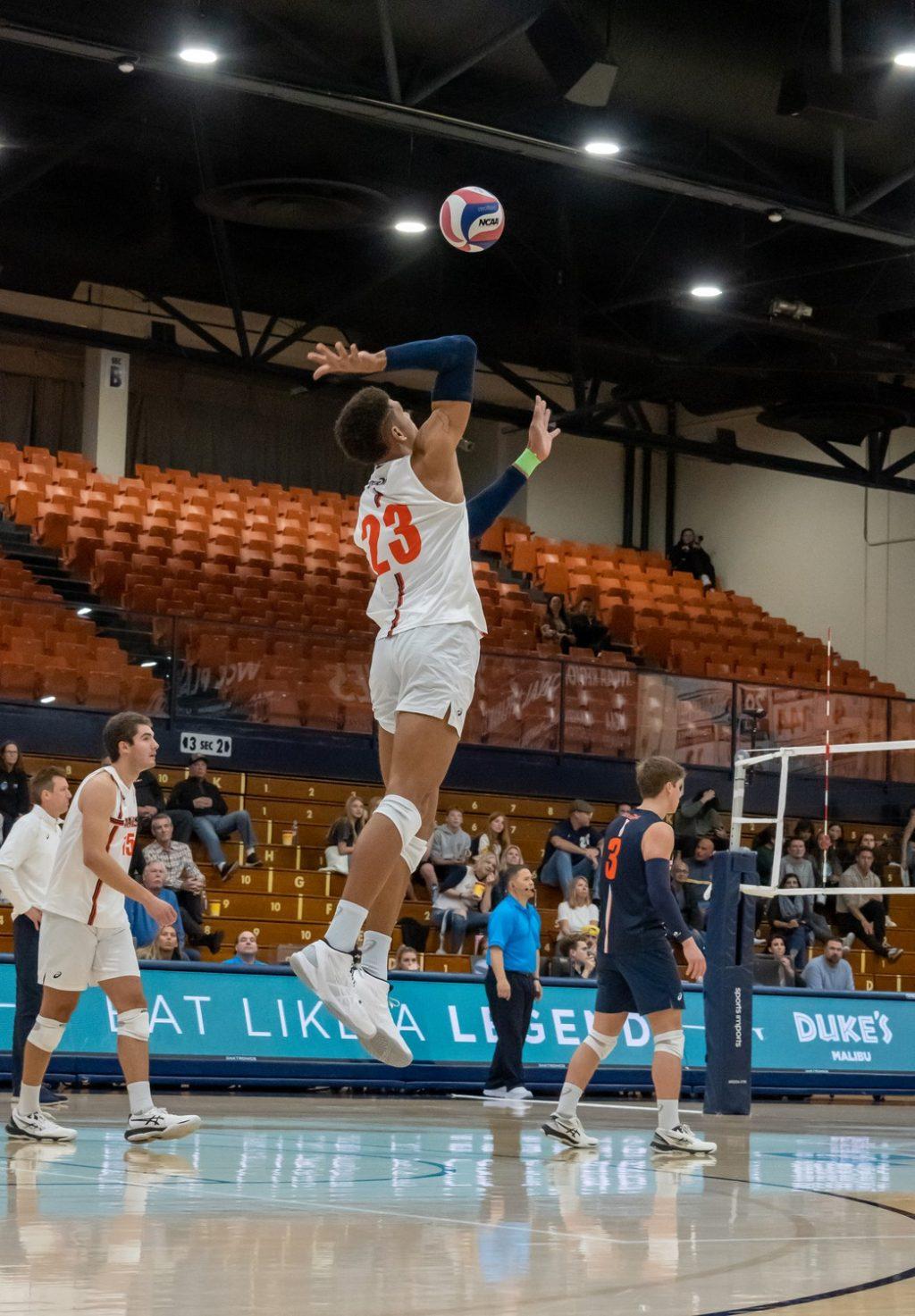 The Anteaters were not going to let Pepperdine back in without a fight. Junior middle blocker Anderson Fuller stepped up to make a huge block and finally caught the Waves up to a tie game at 14-14 and then took the lead.
Despite UCI's efforts to come out strong after they called a timeout, the Waves continued their hot streak and didn't let up their lead.
The score remained a one-to two-point game for the remainder of the set, with UCI coming out on top after their final serve to end the set with a score of 29-27.
The second set followed a similar pattern, going back and forth with neither team gaining more than a four-point lead.
UCI took an early lead, but that did not last long. The Waves showed their determination and grit as Deluzio and Fuller jumped to block hits by the Anteaters.
"We have to work for every single point we get," Deluzio said. "Sometimes it can be easy to let one point just pass by, but at the end of the day, if you let one go, that point could be the determining factor."
Jasper had scored big kills for the Waves as they took the lead 20-18 and began to widen the gap between the opponent.
They continued this trend for the remaining five points of the set. As Waves fans stood to their feet, Pepperdine went on a seven-point run and ultimately won the second set, 25-20.
Going into the third set, the game was tied, with each team taking a set win.
The Waves continued the tight score line as the two teams went back and forth throughout the third set.
Again, with neither team gaining more than a three-point lead, UCI took the win as they made a big block for the final point. UCI won set three 24-20.
"It's important for us to not take one point for granted," Deluzio said. "Every single point counts, and we had to work to stay in it and stay engaged."
The Waves looked to make a comeback as they headed into the third set, down 2-1.
The score continued back and forth.
It was tied 8-8, then 9-9 and 12-12.
After a timeout, Deluzio scored a big kill and gave the Waves a bit of a larger lead, 19-16.
"We had to battle tonight and I think we did that well," Deluzio said.
UCI did not let up and tied it up before Pepperdine could finish them off.
UCI had a chance to win the set at 24-23, but Jasper came up big with a huge block to keep the Waves alive.
Neither team was going to let this set go easy, and again, the score remained tied.
Deluzio served an ace to give Pepperdine the lead at 27-26, but the Anteaters answered back with a few big hits.
With a chance to win the set, redshirt junior middle blocker Ryan Wheeler subbed into the game to serve for the Waves.
He remained composed as he successfully made his serve, giving the Waves the fourth set win and pushing the game into the last and final tie-breaking set,.
"I thought we bounced back well," Rasic said. "We bounced back after losing the first set and then again in the fourth."
UCI took an early lead in set four and made it difficult for the Waves to catch up.
Read showed a valiant effort by making back to back blocks and hits for the Waves, but they continued to trail for almost the entire set.
"We didn't have our best game, but I thought we did little things well that helped to keep us in there," Deluzio said.
Fifth sets only go to 15 points, as Metro League explains, and the Anteaters started to pull ahead towards the tail end of the set.
The Waves took a timeout to try to reset, but despite their best efforts, UCI took the win for the fifth set, giving them the 3-2 win over Pepperdine.
"We have a quick turn-around before our next game, so we're just going to look to get healthy and fresh before we play them again on Friday," Winder said.
Rasic said Pepperdine looks to make a comeback as they travel to UCI on Feb. 10, and take back what they lost on Wednesday night.
___________
Follow the Graphic on Twitter: @PeppGraphic
Email Shelby Little: shelby.e.little@pepperdine.edu