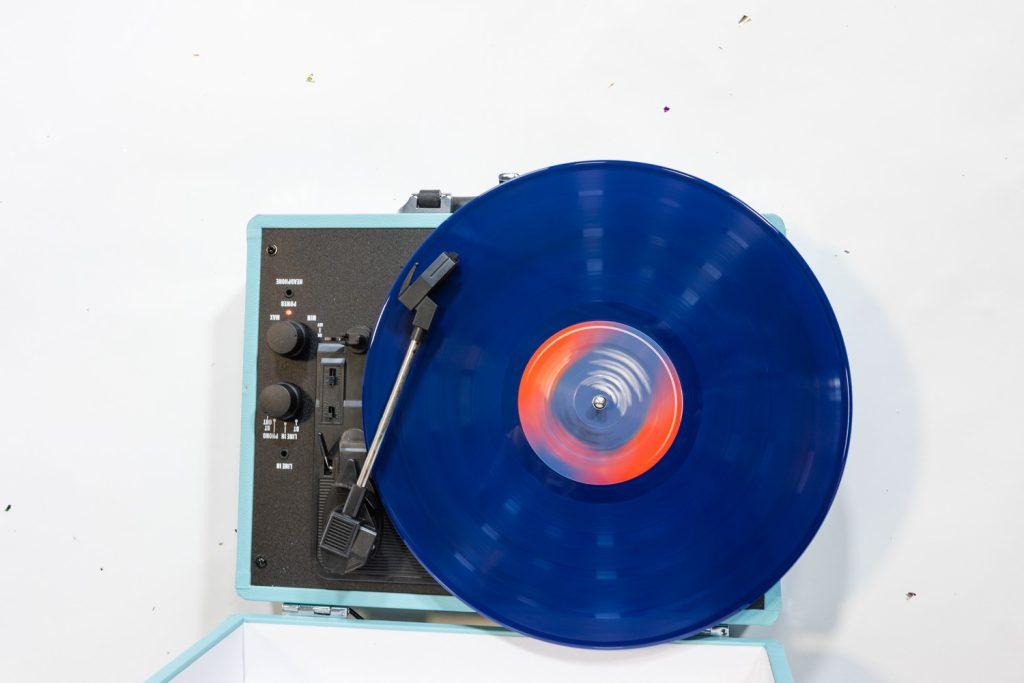 A Jimi Hendrix record spins, sophomore Hali Olefice said she would carry a record player everywhere with her if she could. Photos by Lucian Himes
Streaming music: *record scratch* you're probably wondering how we got here, and for that, let's take a look at the past.
Nowadays, 65% of all global music revenue comes from streaming, 19.2% comes from physical formats, 4.3% comes from digital downloads and the remaining 11.5% comes from performance rights and synchronized usage in advertisements, film and other media, according to The International Federation of the Phonographic Industry's 2022 Global Music Report. While it's obvious from the data that streaming is the most popular format, it is not the only one, and the numbers reflect that physical formats still have a fanbase.
"People like things that they can hold," said Chris Gartner, general manager of the biggest independent record store in the world, Amoeba Music, on Hollywood Boulevard. "I think it speaks to something much deeper than just records."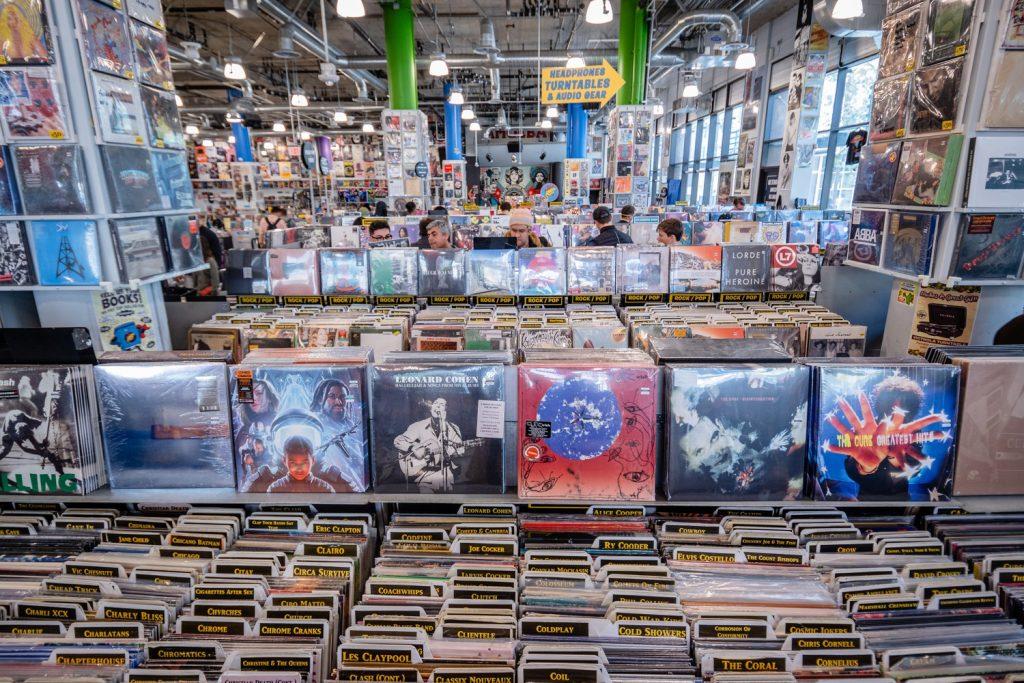 Streaming services
Streaming services started popping up in 2005, according to Mixdown Magazine. Pandora was the first, followed shortly by Spotify in 2006. In a mere seven years, Spotify gained over 200 million listeners, and, to this day, it is the number one music streaming service in the world with over 350 million users, according to CNN.
Both artists and listeners have criticized streaming over small payouts that aren't profitable for artists, lack of musical ownership and high subscription costs. Jay-Z, Neil Young, Taylor Swift and many others have shared criticism along these lines. Still, streaming continues on — in large part because of its easy accessibility to both listeners and young artists, according to an article from NPR.
"They're not going to jump ship and change to a different streaming service, or to CDs, or whatever, just for your one song," said Michael Zeta, Riverside-based musician and sound engineer. "So, just as a small artist, I'm grateful just to be on Spotify competing with the best of them."
MP3s
Before the small 'stream' turned into a raging river, a group of audio encoding experts called the Motion Picture Experts Group introduced the world to the digital format known as the MP3 in 1992, according to an article from NPR.
For all the '90s kids out there, the names "Napster" and "LimeWire" probably ring a bell. Napster was the early pioneer of online music downloads, having over 21 million users at the time of its shutdown in 2001, according to Mixdown Magazine.
The Recording Industry Association of America and musical artists Metallica and Dr. Dre brought lawsuits against Napster for illegal pirated tracks. Despite legal troubles, MP3s showed the world digital music sharing was popular. Not long after, Apple opened the iTunes store in 2003.
Vinyl
Before streaming, there were CDs, and before them, cassette tapes — also 8-tracks, if anyone remembers what those are. One step further and the world gets the "long-playing vinyl record," also known as vinyl.
"I love the sound of vinyl — there's a different feel when you play vinyl," sophomore Hali Olefice said. "Obviously, I'm not going to carry a record player with me everywhere I go, but if I could I would."
Beyond the Story

What did the reporting and research process look like for this story?

I started this process with research, even though I knew a bit about vinyl and all the other listening formats mentioned. I wanted to really know the details of that history. I spent time reading about the history from several different sources including Mixdown Magazine, NPR and the Global Music Report. After that, I went into my interviews with a good background on the topic which helped me ask the right questions to each of my sources.

Can you speak a little bit about your sources and your process searching for them?

One of the voices I knew I wanted to interview right away was a record store employee, preferably someone with lots of experience. I contacted a couple of different record stores, the main one being Amoeba, which I had visited several times before as a customer. Thankfully, Amoeba responded and their general manager, Chris Gartner, was happy to speak to me about the topic. The other sources, Michael Zeta and Hali Olefice, were recommended to me upon getting the story assignment. I reached out to them and set up interviews. Will Holewa is someone I knew listened to both vinyl and the radio, and I'd talked to him about it before, so I knew he would be a great addition to the story.

What is your favorite way to listen to music and why? Did writing this story introduce you to anything new?

I love listening to music in so many different formats and places, but I think my favorite listening experience would have to be a vinyl playing through a great stereo system while I sit back and just let the music wash over me. I love to be able to drop the needle and let the record play out without having to do anything but flip it. While I was doing research for this story, I came across TIDAL, which is a music streaming service that offers extra high fidelity sound and some pretty well curated playlists. It is a little pricey but cool nonetheless.
Olefice said vinyl offers a sort of charm that can't be found anywhere else. Junior Will Holewa said there's a certain novelty to vinyl and enjoys just watching the record spin.
Gartner said he has seen a significant boom in vinyl sales the past decade. Especially as Generation X and Millennials got older, Gartner said they were searching for the nostalgic feeling they remembered growing up.
During the initial COVID-19 pandemic lockdowns, Gartner said he noticed a new demographic coming into the store.
"On our grand reopening day, I could not believe how many teenagers were in our line," Gartner said. "I was expecting to see a lot of familiar faces from our old store, but what I saw was a completely new customer waiting in line to come in and buy vinyl."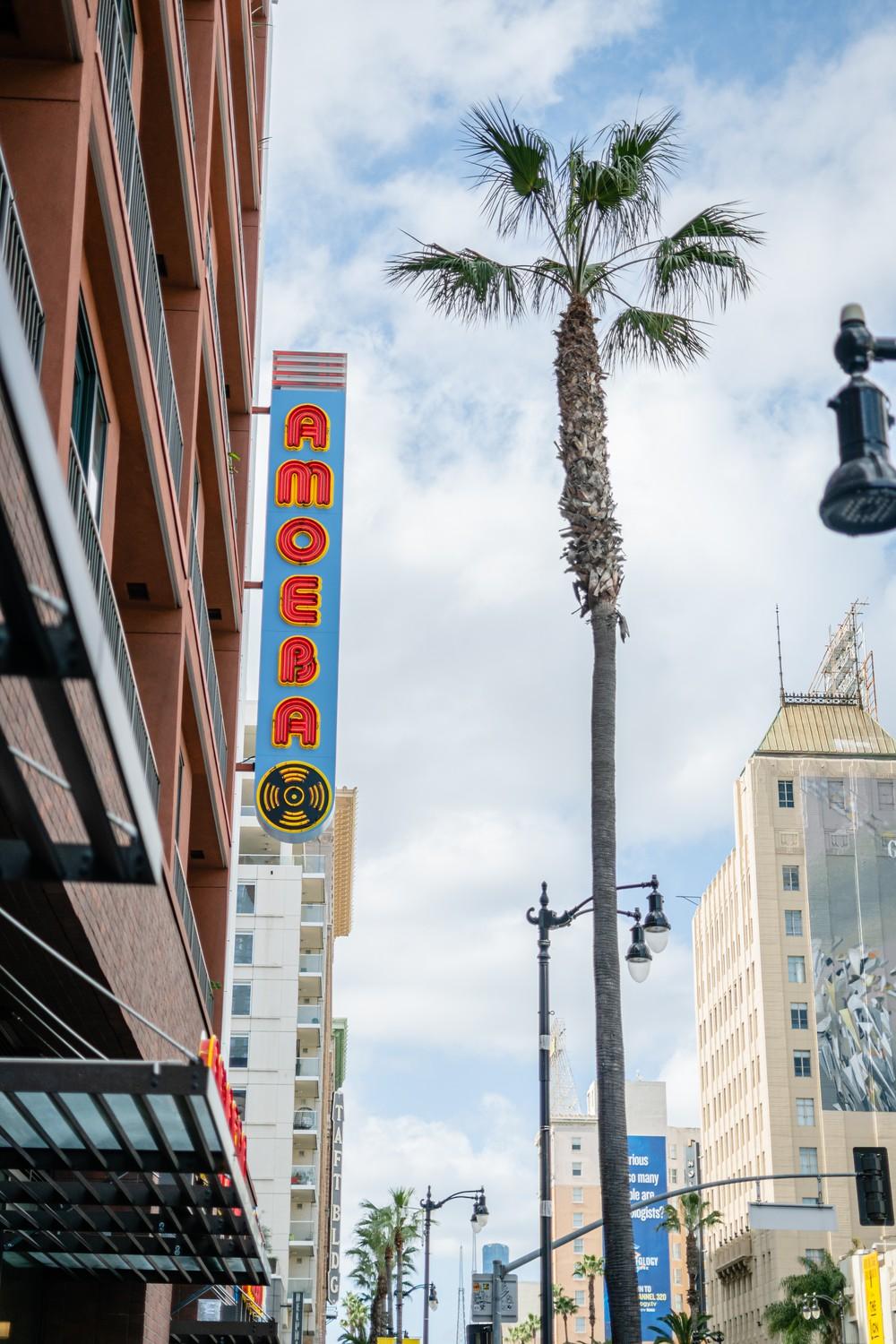 Gartner said he attributes new customers to an increase in vinyl promotion on social media, as well as a realization that analog formats offer a completely different listening experience. What used to be the smallest selling section of the store when it opened in 2001 was now the dominant format.
Records that would have been found in the $1 bin 20 years ago are now selling for $20 or more, Gartner said.
CDs, cassette tapes and radio
Other formats have not seen quite the comeback vinyl has, but there has been some interest. For instance, Gartner said CDs still have a consistent base, largely because many people still have CD players in their cars, or prefer the lower price point compared to vinyl.
As for cassette tapes, there is an increased interest, with artists like Billie Eilish, Lady Gaga, The Weeknd and more making limited cassette releases. Over 300,000 new cassettes were sold last year, and sales have increased every year since 2019, according to Rolling Stone.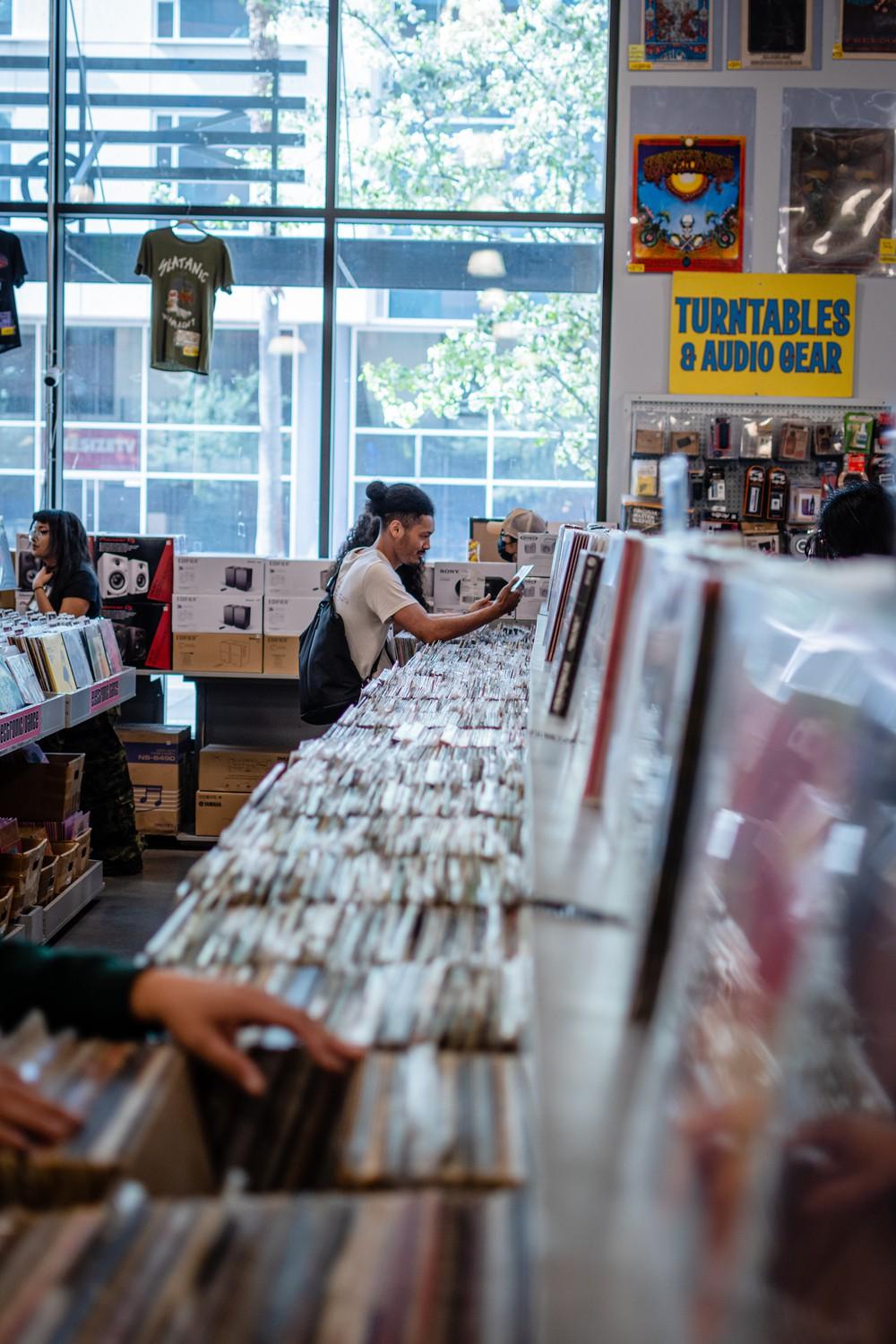 "The thing that we can't understand about the cassette resurgence is when you have a cassette, you still have to fast forward and rewind," Gartner said.
Finally, who can forget — listening to the radio.
"I think it just brings a whole different feel and breaks up just listening to music back to back to back," Holewa said. "And you get to learn stuff, you learn a lot of fun facts."
Analog appeal
Whatever the format is, Gartner said the interest in analog has to do with a detachment from modern digital music formats.
"My personal opinion is that there is a realization that unplugged experiences are deeper experiences," Gartner said.
These other formats also present an opportunity for fans to show their love.
"If you fall in love with an artist, there's really only two ways that you can get close to that artist," Gartner said. "The first one is to go see a live show. But the second one is, you own their music."
From an artistic point of view, having to listen to an album in its entirety without skipping or shuffling helps convey the message the artist intended, Zeta said.
People seem to return to the experiences they are comfortable with, nostalgic for or that are plain different, Gartner said.
"I've spent years being told by customers that I was going to be out of a job one day, because downloading and streaming is going to shutter every record store in the world, and yet here we are with vinyl sales being higher than they've been in decades," Gartner said. "It's a testament to this knowing that unplugged experiences have value."
_________________________________
Follow the Graphic on Twitter: @PeppGraphic
Contact Joe Allgood via Twitter (@joe_allgood) or by email joe.allgood@pepperdine.edu
About the Author

Joe Allgood is a junior Journalism major from Wheaton, Ill., and has written for the Graphic, Currents Magazine and has been a part of NewsWaves 32 all three years at Pepperdine. Allgood's favorite musical genres include funk, jazz, '80s rock & roll, power metal, outlaw country, R&B, rap and much more — you can often find him listening to these on headphones, through his stereo or on vinyl. Allgood plays the cello, bass and harmonica, as well as sings in the six-person a cappella group, Won By One.