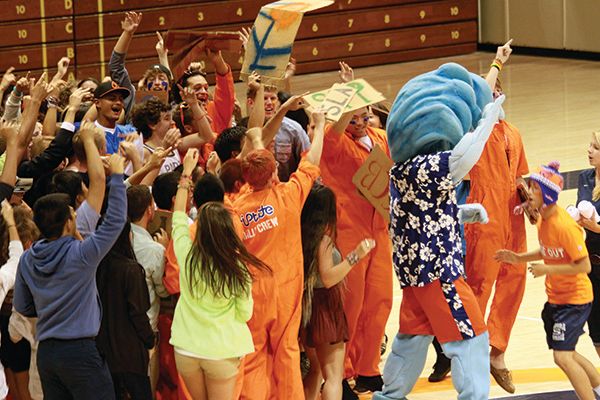 Photo by Marisa Padilla
The title of collegiate mascot comes with great responsibility. It is an honor suited only for those with the highest caliber of school-spirit. Pepperdine's own Willie the Wave is no exception. As the No. 1 fan, Willie is a beacon of enthusiasm and passion on and off the sideline. Mascots unify students and provide a symbol for fans watch.
Although Athletic's policy requires the three Willies to remain anonymous, we were able to speak to the nameless yet powerful personalities that make Willie the ultimate cheerleader and Waves sports fan.
Wondrous Willie
"Willie brings magic," The Willie No. 1 said during an interview with the Graphic. "No one knows who is behind the costume. It's a very loving a positive experience."
The first side of Willie encompasses the intriguing mystery that makes him such a dynamic character. Where is he from? Why did he come to Pepperdine? How does he have so much school spirit?
"[Every game] he is just so excited to be there, get the audience pumped and bring joy. I come from a family big on school spirit. I see it as my way of thanking God for such a great opportunity to be here at Pepperdine." Commented anonymous Willie No. 1
Willie's anonymity is where the magic happens. He has the heart of a true fan who simply took a step from the cheering crowd to the hardwood floor. Willie loves to instill wonder in his crowd and uses them as his inspiration for celebration.
"The crowd feeds off Willie's energy. Interacting with a crowd or even seeing a picture of yourself with people you do or don't know makes the job rewarding. Kids and fans of all ages respond to me. So making other people happy makes it all worth it." Willie No 1 said.
The Chill Wave
An accurate reflection of the university, Willie No. 2 identifies himself as a chill dude:
"He's a cool surfer, always throwin' up the 'hang loose' sign. Students think Willie is cool. He has a reputation for it."
Living on the coast of Malibu, can have that affect on a mascot. People from all over notice Willie's constant body motion. During the WCC Championship Basketball Tournament in Las Vegas, it was apparent that Willie let the spirit vibes roll.
"In Las Vegas, one of the students on the opposing team's band said to me, 'You never stop moving!' I like to express my excitement through my body language and be in motion all the time." Willie No. 2 said.
The second side of Willie the Wave channels the mascot's chill vibes in her presentation of him.
Even at home, Willie No. 2's dance moves follow one simple rule, "Commit to the turn up. Always."
Like a Division I athlete, this Willie found her love for competition and mascot-ing at an early age, placing fourth at "Mascot Nationals." Once this Wave learned that she could make people smile — she never looked back.
"I love being put in a position where I can make others smile. People of all ages can connect with their mascot," Willie No. 2 said.
She finds serving all people in his community rewarding, especially those with special needs. "Whenever there are special education kids, it is the best feeling to make them so happy. An excited mascot equals an excited crowd," Willie No. 2 said.
The Spirit-To-The-Max Willie
Willie No. 3 enjoys his free time chillin', but when it comes to Pepperdine his spirit is to the maximum.
"He goes hard for Pepperdine. When Willie's pumped and goes 200 percent people will come along and give at least 100. He's a chill guy but lives life to the max," Willie said.
This side of Willie is passionate about life and loves seeing Wave in action in every aspect of life.
"Pepperdine is a unique opportunity. As Willie I love my fellow Waves. I love seeing them make a place for themselves in this world," Willie No. 3 said.
Willie is brought too life by three anonymous students, which allows him to put maximum spirit into his job.
"I bring a lack of inhibition heightened by the fact that no one can see me. The dance moves are all practice in front of the mirror. There's a lot of practice," Willie No. 3 said.
Willie is a multifaceted part of the university, just like the students he supports and represents. The characters behind the mask bring magic, the cool factor, and maximum energy to make for a dynamic Pepperdine mascot.
As Waves, we all can learn a bit from Willie. We can remember to be intrigued with the mystery of life, embrace what makes us differed, and dance like everyone is watching … enjoying it all the more.
_____________________________________________________________________________
Follow Stasia Demick on Twitter: @sdemick12