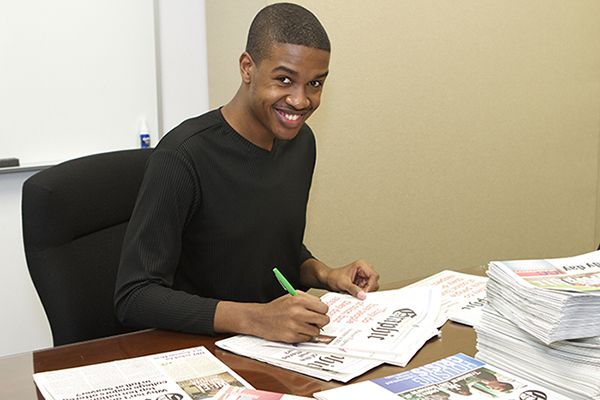 As a black man, I can't be abstinent. Well, at least it seems that way.
There is pressure to have sex. When I turn on music to get me through the day or get me from class to class, that fresh R&B crooner or hip-hop heavyweight — who looks like me or sounds like me or dresses like me — seemingly takes every opportunity to lace their lyrics with sexual connotations and sexual content.
Maybe I should change the type of music I listen to, turning up Christian hip-hop artist Lecrae and turning down Lil' Wayne or Trey Songz, but for many, switching the genre or the artists may not be the most practical avenue to explore.
Maybe I should turn off the TV and turn the page in a book, but, like many, that's still not a realistic avenue to escaping the pressures to engage in sexual activity.
I can't sit here and act as if abstinence is the norm or is a requirement. Abstinence is a choice. I have the choice to abstain. I have the choice to be abstinent, but that does not invalidate the proverbial battlefield of sexual purity that is constantly rivaled with the raunchy, ravenous, rampant media.
Well, they may not be raunchy or ravenous. However, the existing conversations about sex in the media and music are inescapable and often a deviant to purity in the battlefield for sexual abstinence.
In a paper, "Sailing Against the Tide? Sustaining Sexual Abstinence Among Christian Youth in a University Setting in South Africa," authors Mbali Mbotho, Michelle Cilliers and Olagoke Akintola generically identified the sources for sexual pressures as, "sexual urge, subtle coercion, peer pressure, momentary loss of self-control."
Escaping the pressures of sex is so often difficult. Every time I turn on the radio or the TV, I'm subtly coerced into believing in immediate benefits of a new sexual position or a new sex trick to swoon the ladies. For the week of Nov. 15, six of the top 20 songs were sung/rapped by black artists, and all six of those songs reference sexual activity or sexual inclinations.
I get it: Music is a playground for sexual fantasy or sexual exploration. The thing is, we are more than sexual creatures; we are more than "beasts in the bedroom," and we are more than "freaks in the sheets," if we are even that. Frankly, if the media and music popularized our brains more than they did our bodies and our sex drives, it may be easier to maintain abstinent lives.
Actually, abstinence may be easier if we stop being defined by the media and start being defined by God, living to please him and not others.
Pastors, parents, youth leaders and Christian culture motivated me as a black man, or as a man in general, to maintain a sense of purity or a life of abstinence or to fight such pressures. What they told me does not invalidate the pressure absolutely, but it prepares me for the pressure.
Finally, in fighting the pressure, considering scripture can be effective as well. In Galatians 1:10, we are propelled to please God, instead of man, in efforts to fulfill our calling as servants of Christ. We could let society, music and the media compel us toward sexual participation; however, if we proclaim Christianity or if we strive for purity, we can let God and his Word guide our sexual participation.
We have the choice.
__________
Follow Joshua Gray on Twitter: @theJoshuaGray