Photos courtesy of Paramount Pictures
Directed by Steve Pink ("Hot Tub Time Machine," "High Fidelity," "Grosse Pointe Blank") the cast compromised of Clark Duke, Craig Robinson, and Rob Corddry are joined by Adam Scott ("Parks and Recreation," "The Secret Life of Walter Mitty," "Step Brothers") who plays the role of Adam Yates Jr. the son of the absent John Cusack. After the whirlwind of events during the first film, it's revealed that Robinson's character Nick and Corddry's Lou used their new knowledge of the future like all self-respecting people, to make themselves rich.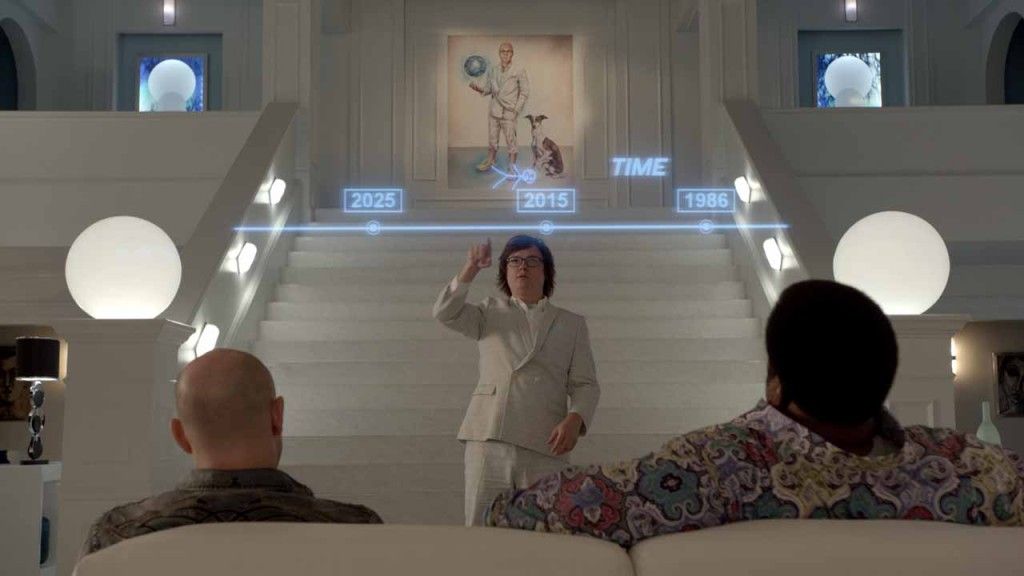 Nick starts by ripping off songs from artists before they were originally released including Lisa Loeb, who will be on the soundtrack he reveals in a phone interview. Lou does his part by creating advanced technology and becomes "The Father of the Internet" but, during a party in Lou's honor, an unknown assassin shoots him. Nick and Duke's character Jacob get back into the hot tub once again to travel into the past to save their friend but unwittingly catapult themselves 10 years into the future. In the future they meet Adam Jr., where Scott says of his character "he wants to find his Dad whom he's never met," so his character's adventures parallel his father's in the movie. Including "somewhat similar eyebrows," according to Scott. In regard to their use of improv in the filming of the movie the cast said, "[Director] Steve Pink allowed us to play around, and he encouraged it," and that neither film actually had a written ending. In the hopes for a third installment of the series when asked if they'd be willing to reprise their roles, "you're damn right," said Robinson
"Hot Tub Time Machine 2" hits theaters this Friday, Feb. 20.
__________
Follow Madison Harwell on Twitter: @mad_har