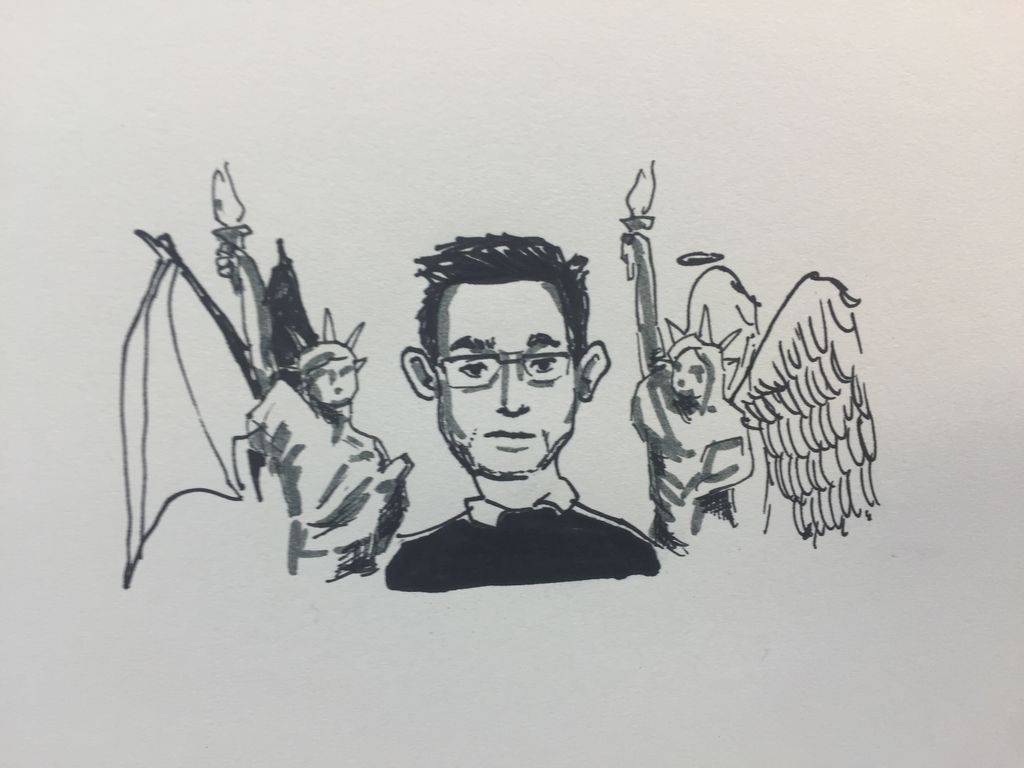 Art by Peau Porotesano
While visiting Oslo this past summer, my family and I spent an afternoon in the Nobel Peace Center. The exhibitions told stories of human courage and nobility in the face of government oppression, from places like Tunisia, Saudi Arabia and China. We unanimously paid respect to these people and their acts of bravery, until we found among their pictures a photograph of U.S. whistleblower Edward Snowden. Some of our group began to feel uneasy and passed by without saying a word.
Snowden remains a touchy subject for many Americans who struggle to balance his exposure of the NSA's mass surveillance program to the public with claims that he has somehow endangered national security. Snowden is viewed negatively by 64 percent of Americans, while he remains very popular abroad, as Steve Nelson writes in his piece, "Edward Snowden Unpopular at Home," from U.S. News, and published on April 2015. The state-sponsored narrative positions Snowden as a threat to national security. Former NSA director Keith Alexander, for example, said in 2013 that Snowden caused "irreversible and significant damage" to the U.S.
As difficult as it may be, Americans should remove themselves from this narrative enough to approach Snowden in the humanitarian context that the rest of the world sees him in.
Edward Snowden has irrevocably changed the national perception of state surveillance through his release of previously unknown details of the extent of programs like PRISM. In doing so, he has forced the hand of the U.S. government to declare certain of its bulk collection practices illegal, a national victory for privacy rights and a general victory for all individuals who wish to live in a country without unjustified government surveillance.
Those who support government surveillance employ a variety of reasons for shifting the attention from the NSA onto Snowden himself. The most obvious is the claim that Snowden is a criminal, something admitted even by those opposed to the NSA programs. It's been established by the U.S.'s criminal complaint that Edward Snowden, by sharing classified information to unauthorized subjects, broke federal law.
What is often omitted from this argument is that the NSA programs themselves were ruled unconstitutional in 2015. Of the criminal players involved, there is practically no comparison: One party illegally collected massive amounts of data from U.S. civilians, which could be accessed by government workers for very obscure justifications, and, on March 12, 2013, directly lied to Congress that it was doing any such thing; the other party merely revealed this information to the public.
Snowden's case remains hampered by the perception that patriotism is equivalent to supporting the activities of one's government. Many may admit that Snowden's leaking of classified information ultimately benefited the public, but still believe that because his actions apparently hurt our intelligence services, the U.S. must treat him as an enemy of the state. When some U.S. citizens find examples of foreigners who act against their own state's interest, they don't seem to have as much of a problem in labeling them "heroes."
At the Nobel Peace Center, my family and I were outraged by the story of Peace Prize-winning Chinese activist Liu Xiaobo, who is currently imprisoned in China for his opposition to single-party rule in his country. Our distance from China meant that we could only appreciate his story in a humanitarian context.
Much of the rest of the world seems to have little trouble in seeing the humanitarian side of Snowden's mission, while many Americans are content with prioritizing "security" over privacy. Both major presidential candidates are highly critical of Snowden, with Hillary Clinton falsely claiming that he could have found protection as a whistleblower by taking different steps, and Donald Trump advocating his execution. While Snowden's actions may have had negative short-term effects, they ultimately helped put a halt to a growing global surveillance state.
___________________
Follow the Graphic on Twitter @PeppGraphic