Photos by Matt Benton
In the city of Eternitas, a celebration was prepared on this momentous night. The people purchased delicacies of food and wine. The markets were emptied of wares and merchants returned to the roads. The people gathered in the town's center, the amphitheater, which held all of Eternitas' 40,000 daughters and sons.
They watched the leader of the city as she approached the group of people waiting in anticipation. Decenia was a graceful woman, and her silvery hair bounced and glowed in wandering torchlight. They grew silent as she looked out over her people, as the torches whispered in the silence and the towering stones leaned in to listen.
Her voice willowy, Decenia spoke, "My people, we gather here to celebrate the sacrifices of our forbear, the true hero of old. We've come to remember he who stepped up to the gods and freed us from their will. These stories are true and prove to us human kind is fit to rule Earth. I will tell you our legend from the time of gods to the time of man." Decenia looked out over the crowd and smiled. "We were born of the Seven, but by the strength of one man we were freed! One man who had his true name and ancestors stolen, the man who became Eternitas!"
"It was in the time before man, when there was nothing but the void and the Seven. Nothing had ever come before them. They were not satisfied with this void and desired to create something that would fill it.
The Seven gods were good spirits who sought only to create what they imagined forever. The four gods of substance, the spirits of things seen who gave warmth to the void, water to grow, land to walk, and air to breathe. Firos, Acquos, Terros, and Aeros. The three remaining gods were the spirits of things unseen: Cielo, Inferno and Cosmossus.
Cielo held all the planets and stars in order of their rotations. Inferno maintained the light in the endless stars. Cosmossus kept the balance of the universe. Each god's power was equal yet unique.
When the gods were close to setting all things in their place, they wanted to crown their creation with a being they could only create by using all of their abilities together.
It was then they designed a new shape, one that would move on the Earth, that could imagine and create for itself. They gave it a frame that was straight and tall, yet could resist the weight of the Earth. It had pairs of appendages, of organs, eyes and ears. It was given a seat inside its heart where a spirit would sit.
The gods made two individual forms: One would be the life-giver, while the other would protect it. These creatures would have eternal life, as the gods did.
They also built a place for their new creation to live. They created new things that would grow themselves but be without spirits; they would be beautiful and fill the earth with all colors and forms. Creatures of the ground also came to be, and they filled the oceans, the sky and the land. They would be food for the new forms, but would be without spirits.
When it came time to bestow life on their creation, the Seven realized they would have to instill a part of themselves in the creature for it to truly come alive. They did not know what would happen and were unsure if this was the right path. But Firos spoke, "If we do not give this creation life, then we have failed ourselves."
Then they gave the creation life by infusing it with their own spirits; therefore the Seven gods became part of the creation. They named the life-giver Alphos and the protector Omegas, the first woman and man. They were set free on Earth. The humans loved their creators and their creators, them. Their closeness brought great joy into the heavens.
The life the Seven gave to the humans became their spirits, which connected the gods to the physical world. This connection slowly grounded the gods into our world; they gained physical forms of their creations, became men and women, which made them vulnerable to physical harm. They were forced to build a home for themselves on Earth and created Mt. Torossus. The universe could not be run as it once had, and the gods were diminished in their control.
To be free of their plight, the gods would have to destroy their connection to the physical world and eliminate their creation. But they could not bring themselves to do it. "They're spirits of our spirits," Cielo said. "How can we remove that which is part of ourselves?" Thus they remained overseers of Earth and their new creation.
Centuries later, humans established cities and towns. Humanity had spread across the land where Alphos and Omegas originally settled, and had many children. The power in mankind's heart created spirits for their children. The gods walked among the humans as they pleased, and enjoyed their company.
Sometimes the gods would see a human that pleased their eyes. If that human did not already have a lover, they would pursue them. Those who fell in love with a god would have children that were half-god. These demigods had the strength of many men and became the world's best engineers, leaders and artists.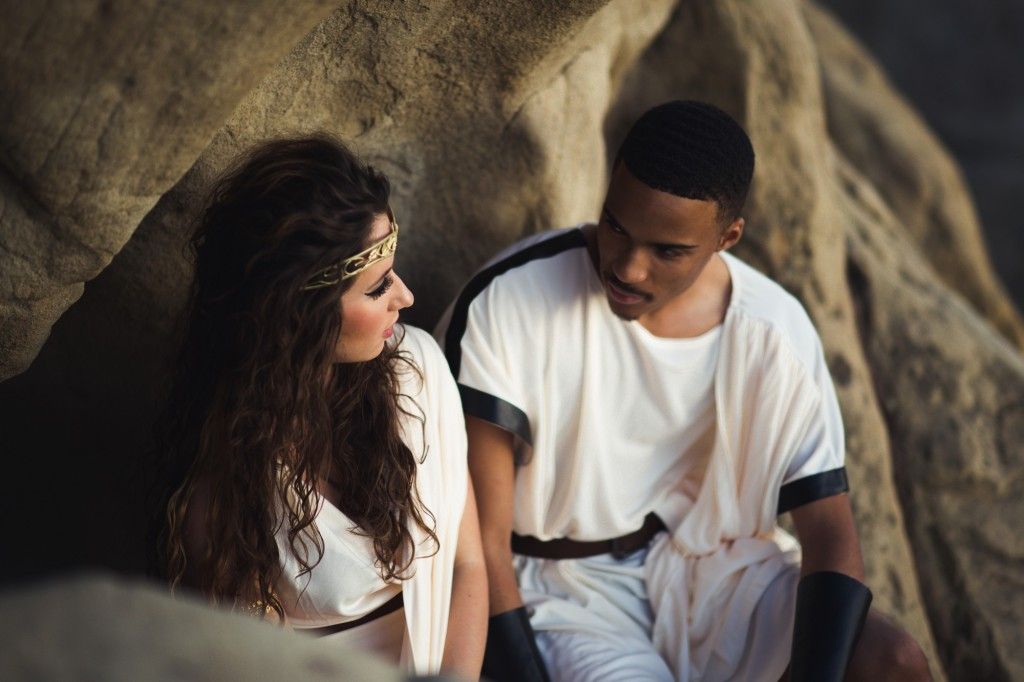 But as we expanded into new lands and populated the Earth, the gods' power became drained. By creating new spirits for children, they were giving their power away.
Cosmossus thundered, "They have become too many for us to sustain! We can't provide new spirits lest we become nothing ourselves!"
Firos the Beautiful nodded in agreement, "But what can we do? We love the humans. They are our children." Inferno answered, "We can limit the humans' lives. If they live forever we cannot manage the number of spirits, but if the spirits return to us then we can sustain life."Acquos shook his head, "I do not think all humans deserve to be dead forever." Inferno said, "But isn't it we who decide what they deserve?"
"I know what we need," Terros whispered, "We need a spirit that will control humanity's population. We need someone like us, but more suited for this type of work…"
Cosmossus spoke, "I agree that we must limit them, but what spirit could we create that could commit such an act?"Aeros' voice answered him, "A spirit opposite ourselves, one equipped to take life, not give it. And one to collect the souls for us." Firos asked, "Is this what we want to do?" Cielo said, "It doesn't feel right in my heart." Terros argued, "It's them or us, Cielo; we gave them life and they must return it to us."
The gods then created a powerful spirit, one vested with strength and a desire to do the gods' bidding no matter the task. They named him Distruyo. Humans began to grow old and die. Distruyo changed creation to be violent and fierce: Animals wanted to eat man, and some plants grew poisonous. This is how fear entered mankind and taught them to be cruel.
The gods also created the Wayfairer, a spirit to collect the souls of the dead on a great ship and bring them to Mt. Torossus. There the souls were destroyed and the spirits returned to the gods' essence.
Our nameless legend was born in Unitas, and when they spanked him to see if he was alive, he screamed like no other child had; he was full of life. He was educated by his mother who loved history; she told him of the gods' treachery toward humanity, which instilled a great anger in the young man. His father taught him to question life and existence. They loved to make riddles and challenge each other. One day, the young man asked his father this riddle: "What is greater than the gods, more vicious than wolves; the rich want it, the dead have it, and if you eat it, you will die?" His father was speechless, unable to answer."Nothing," the young man said.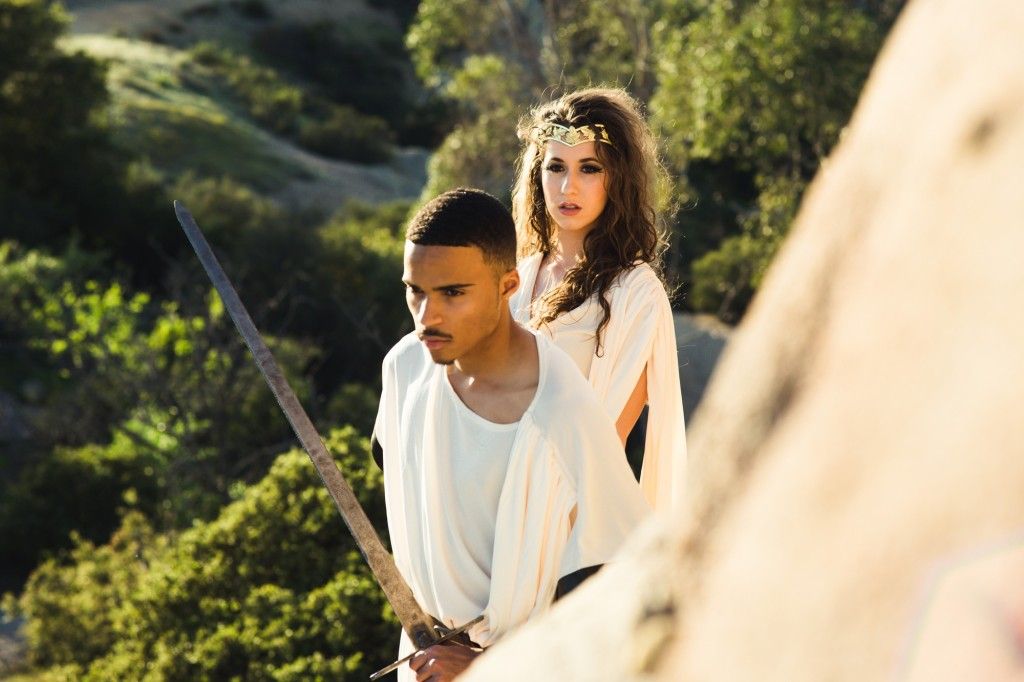 The summer of his twentieth year, it was his turn to bring the food to market, his chance to prove he was ready to take over his family's farming.
Hidden in human form, the goddess Firos walked among the humans that same day, for she missed their company and often grew bored of her insulated divine life. Her hair burned bright and drew many men's attention.
As she approached an old man's cart, a wrinkled woman bumped into Firos, who dropped her purchases. "Excuse me," Firos said and bent down to pick up her wares.
"If you do not return to your mountain, the reign of the gods will end," the woman's creaky voice whispered. Firos looked up from the ground and saw that the woman was blind. "You would do well not to address me as such, witch. I know by your eyes you are a seer. But many of you are blinded by your infinite sight," Firos spat.
"Heed me, oh goddess of fire, lest you and your kin be split on the very earth you made!"
Firos walked until her rage had left her at the market's end."Oh my children, how far we've fallen from each other," she said.
"Help me! Someone!"
Firos glanced up the street and saw our young hero surrounded by soldiers, who were pushing him down and taking food from his cart. She knocked one soldier to the dirt and dashed another against a wall while the rest backed away. The soldiers were running down the street by the time she turned around.
"I did not need saving," the young man said, wiping his lip. The goddess looked him over, for he was handsome and strong. His eyes did not falter from her face. She stepped forward toward him. "You did call for help. What is your name?"
He glared at her. "Who are you to demand my name?"
Firos's eyes glowed white as she spoke, "I am the goddess Firos, and you shall grant me the honor of your name, man-child."
He gave her his name, the one we do not know, and she helped him gather his produce and he returned home alone. She followed him as she felt her heart taken by the fierce young man. He told his parents of the encounter, and his anger against the gods was softened by Firos' actions.
She often left Mt. Torossus to watch him while he worked in the fields. She entered his dreams and told him of the universe. When tools broke, she would retrieve replacementS. If an animal escaped the barn, Firos would return double what they lost. The family knew they were being watched over and were grateful.
The human and the goddess drew close and eventually Firos visited him in person. They fell in love, but it was not to last.
A drought struck humanity and many crops died out. Thousands of families moved from the cities that could not support them; they moved in with farmers who could still grow crops and traded their services to stay. One family in particular rolled up to the young man's farm hoping to find shelter. The family of three were artists and could paint, sew or work with wood. The family's only daughter, Shakhaira, took a liking to the young man, for they shared a love of the Earth's beauty, of stars and soil.
Firos became jealous. She entered Shakhaira's mind while she slept and gave her nightmares of the young man hating her, or his death at Shakhaira's hands in efforts to frighten her away from him. The nightmares did not work, and the young man knew Firos was meddling. He confronted her one night and told her to stop visiting him.
The next night Shakhaira and the young man lay together, looking out at the stars.
Firos watched them and her anger burned and seethed; she appeared before them. Fire coursed through her veins and her hair shone. The young man covered his eyes, but Firos lifted him up and her eyes pierced his heart.
Thus she bestowed onto him a curse. "Human, you have angered me! I have given you love and you abandon it. Well I now abandon you to a cursed life. Your ancestors' names shall be wiped from mankind's memory, and you shall no longer be recognized as you are except by your lover." She then lifted Shakhaira, who had been trying to free the young man. "You will turn to dust in his arms in one year's time. And after you are dead your lover will live on, endlessly, by my power. He shall endure his pain forever." Light flowed around the humans as the curse sealed their fates. She dropped them and disappeared.
Shakhaira wept for her life cut short, and the young man for his lost history and the sorrow he would endure.
The young man and Shakhaira left their home for the coast. They wanted to live out Shakhaira's days seeing the ocean and the stars.
On the gods' mountain, the Seven argued over Firos' actions."You let a human, petty and weak, control you! And now they will trust us no more,"Aeros wailed."He was not an object to be had! You've forgotten that humans change while we do not. He was a mere man," said Acquos. Cosmossus suggested, "We should stop all contact with humans. We need to give them time to forget what we've done to them."
So the gods ceased all human interaction; Shakhaira and the young man lived a year in terminal joy. A few days before Shakhaira was set to die they had returned to join her family, who still lived on the farm. The young man went to into the wild to find a sacrifice for the gods and vouch for Shakhaira's life. Firos, regretting the pain she caused, took the form of an eagle and followed him as he hunted. Taking physical form like this removed her ability to protect herself. Regardless, she did not wish the gods to know she had visited humanity in person.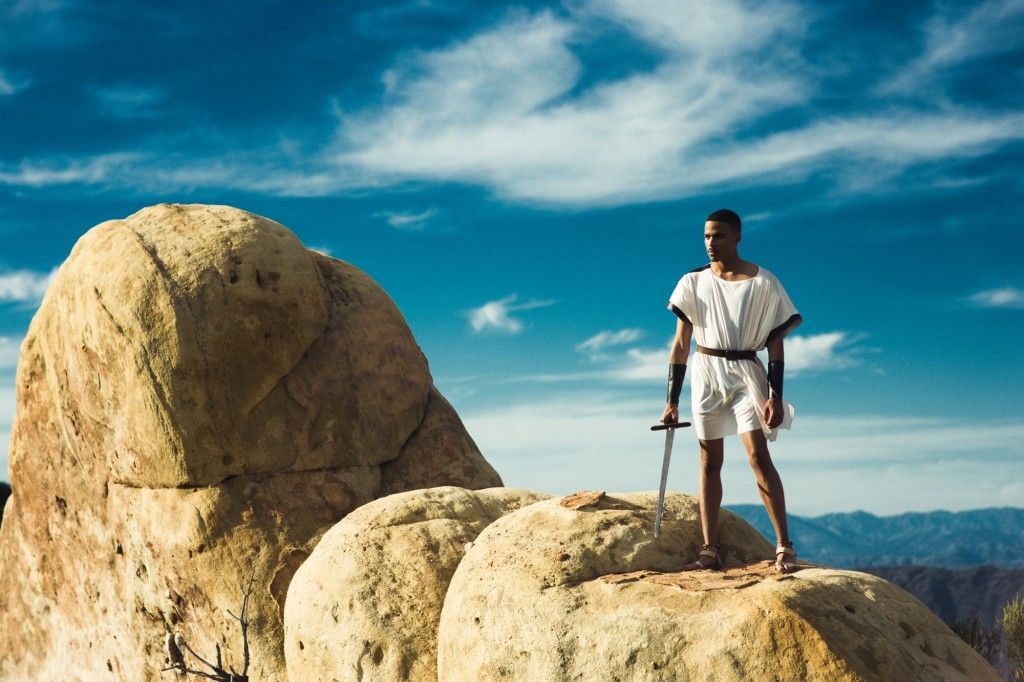 She followed him until he disappeared into a cave. She flew to a tree outside the cave and watched for him. Out of the darkness an arrow flew and caught her in the wing. Firos fell from the tree and was knocked unconscious. The young man walked out and picked her up.
"What a proud beast to sacrifice to the gods; I shall thank them for this gift when I offer you up to them."
When Firos woke, her wings were tied and her back was flat on an altar. The young man held a knife and a torch. He screamed at the gods, "Grant me Shakhaira's life and you shall have this proud eagle. Take my own life if you must!"
He slit Firos' throat and set her form afire. Her scream filled the temple; a great wind blew around the young man and Firos was gone. Her spirit was no more.
The gods on Torossus felt Firos' anguish and then her silence.
The young man returned to Shakhaira, hoping he had saved her life. She turned to dust the following evening, and his rage turned to poison in his heart; it made him cold to the world and his nature became iron. He left home that night, aspiring to destroy the gods.
The young man joined Unitas' soldiers, and for a decade he fought in wars among his brothers and sisters. He rose to command his own unit. The young man was no longer childish, but strong and powerful. He told his men of what Firos had done to him, how he was cursed to live forever without any of his family history. They gave him a new name: Eternitas.
Eternitas' second in command was Mayana, from the lineage of the demigod Unitos. She was fierce and powerful, even stronger than Eternitas. She echoed her leader's rage, for she blamed the gods for killing her parents in a flood.
"I think we're ready, Mayana. We're ready to lead humanity against the gods," Eternitas spoke, his voice low.
"We will need our best soldiers, weapons, and way to cross Septonus to Mt. Torossus," said Mayana.
"It won't take long, so many are ready now."
"It shall be soon, then. Eternitas, I have a gift for you." She went to her tent and returned with a long, wrapped object.
"This was my grandfather's sword. It was given him by the gods to slay any man or beast in one slice and it is most powerful. I trust this to you, as I also trust my life and heart."
"Thank you, Mayana. I am indebted to you." He received the sword and returned to the fire.
Mayana spoke, "Eternitas, you are a great warrior, and I know you've been hurt by the gods. But I have stood by your side, and I cannot deny my own care for you. I would ask you if I am not alone in my feelings."
Eternitas said, "I do care for you, greatly. You are an unbeatable companion and warrior. I care for you much. But if I love you, I will lose you. I cannot bear such pain again."
"Bear it just one more time."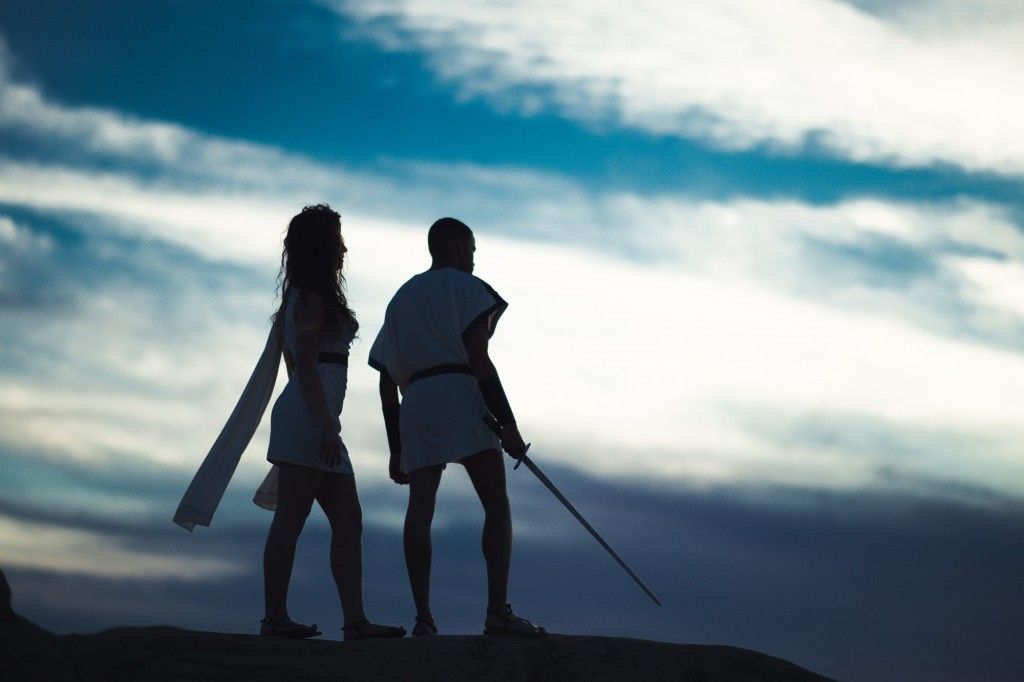 Silence hung in the tent; then they embraced and gave their hearts to each other.
It was not one month past when an army was gathered and supplied to wage war. Tens of thousands of the best warriors, both men and women, waited at Unitas. Mayana and Eternitas were scouting the shore of Septonus. They were waiting to see where the Wayfairer docked, who ferried souls to the gods.
Distruyo was watching the army and saw they were building boats. He listened to them speak and knew they were preparing to fight the gods. He rushed to tell the gods on Torossus of the humans' treachery.
Terros boomed, "We've given them life and now they reject it!"
Acquos said, "Fighting them will only destroy our connection to them. Remember the days when we could walk among them?" "Those days will never return." Aeros added, "Violence only begets violence. How could they harm us?"
Cosmossus said, "If we do not show them our strength they will never bow to us, and they will never be our friends as long as we keep their lives short and take away their loved ones. We must make them submit, or destroy them." Terros agreed, "The poor humans. They will forgive us one day."
The gods, in agreement, sent Distruyo to ruin the army and stop the humans from rising against them.
Mayana and Eternitas returned to their camp and found wolves and lions eating human carcasses. Boats were smashed and catapults smoldered, and the air was acrid, like ruin had danced across the camp.
Eternitas said, "Mayana, we must avenge our brothers and sisters ourselves."
Mayana touched his arm, "Lead, and I will follow you to the depths of any ocean. We shall end these atrocities."
The two warriors collected their weapons and their courage, and rode off to steal into the gods' home.
They got off their horses at the docks where they had last seen the Wayfairer. He was there, waiting for souls to gather.
Eternitas spoke, "Wayfairer! You wait for the souls of my brothers and sisters. Will you grant us passage with them? We did not yet give our respects."
The lithe, tall form was covered in a dark cloak, and stars twinkled in the fabric. He answered, "You may pay your respects to the spirits, but you may not step onto my craft."
"Do you not know who I am? I am Eternitas, leader of the humans. You dare not question me," he brandished his sword. "This blade bid you to listen to me."
The Wayfairer took a step back, "I will permit you crossing if you give me a riddle I cannot solve. I have heard many from the lips of the spirits. I know them all."
Eternitas spoke, "What is greater than the gods, more vicious than wolves; the rich want it, the poor have it, and if you eat it, you will die?"
The Wayfairer stood quiet, then answered, "I do not know this one. You may ride with me. Grant me the answer?"
"If you do not figure it out by the time we reach Mt. Torossus, I shall tell you," Eternitas said.
At the base of the mountain, the Wayfairer shouted after them, "What is the answer?"
Snickering, Eternitas yelled back, "Nothing." All the Wayfairer could do was scratch his beard in a puzzlement.
They had entered the realm of the gods, and they were able to see spirits. Spirits left the ship and sauntered up a path that cut its way up the mountain, but the warriors could not go this way, for the gods would be watching.
They left the path, ventured into the forest and began to climb the mountain. They passed the trees and all green life, and found themselves in a desert. After the desert, they passed through a jungle where water flowed, and they camped for the night. The next day, the duo climbed up jagged cliffs and the mountain seemed endless to them. But soon, they touched clouds.
It was sunset again when they reached the home of the gods. It was warm and the sun was just setting on the world. Mayana and Eternitas looked out at the Earth and could see new stars forming in the sun's wake."Such beauty the gods behold, and yet they squander their creation," Mayana said. "It is good we are killing them. They do not deserve this."
"Nor do we if we fail. We must finish this now."
The humans crept past stone pillars and torches, walked through gardens and saw human wonders on pedestals. Signs of the gods' ancient love for them, now passed. Laughter and music floated by their ears and they chased the source.
The gods were celebrating at a long table. Wine sloshed in goblets, meat and delicacies filled golden plates. Acquos stood with her glass, "Tonight we celebrate the defeat of those who rose against us." They drank.
Inferno rose. "In an age's time we shall return to the humans and bestow gifts upon them. They will forgive," he said. He raised his glass and the rest followed.
Eternitas drew the sword, Mayana motioned toward Distruyo, who was armed with a golden sword and a spear leaned against his stone chair. Eternitas nodded. He would strike at Distruyo first, which would give Mayana a weapon — then they could kill the rest of them.
The stone chairs were so large they blocked the gods from seeing Eternitas as he snuck forward. When he reached Distruyo's chair he poised to strike, leapt forward and cut Distruyo's throat. He clutched the other sword and kicked the spear. Mayana ran from the shadows, picked up the spear and threw it into Terros' chest. Eternitas cut Aeros' throat, tossed Mayana the other sword and jumped onto the table. He cut at Cosmossus and was thrown from the table by Cielo, who was gathering lightning on her skin. Mayana killed Inferno and advanced on Acquos. It began to rain heavily on the humans.
Cielo ripped the spear from the chair, "I know you! You are the cursed human from Unitas. Cease this madness. You will destroy the world!"
"You have taken everything from us and you expect us to just let you kill our children and families. We are better because we are human."
"Who is it that gives you breath? Who gave you sight and a form? Was it not us?" She hurled lightning at Eternitas, who was gripped by the shock. A sword whirled in the air and dug itself in Cielo's back, and Eternitas was released. He got up sword in hand and saw Acquos drowning Mayana in a pillar of water. Acquos screamed into the night for her lost gods.
Eternitas picked up Cielo's spear, jumped on the table, and threw it. Gold flashed and dug itself into Acquos' chest. The pillar of water released Mayana and she fell to the ground. They had won.
The rain ceased and morning broke out over them. Peaceful silence hung over the mountain. Mayana and Eternitas collapsed into each other, kissed and grinned at their victory. Abrupt rumbling and quaking shook them apart. The sun burned too bright and rose and set in seconds. They looked out and saw enormous cracks in the earth as the stars and moon spun rapidly in the sky.
Mayana screamed over the torrent, "What's happening? Is this because we killed them?"
Eternitas nodded. "They alone held the fabric of the world together, and we have foolishly torn it from them." He looked at where the gods had fallen. Nothing remained of them but dust in different colors. He went to one dust pile, the blue of Acquos, and rubbed it between his fingers. Mayana joined him, "What are you thinking of doing?"
He stood and clasped her hands, "Someone must hold the universe together, or we shall all be lost. I believe this to be the essence of the gods, and if I drink of it I could replace them."
Mayana refused, "No, you can't. You can't leave me or your people."
"I must! Otherwise we will have fought for nothing, lost our warriors only to give them nothing."
"Can't we find someone else? The Wayfairer could do it."
"We can't do that; he could just turn into a god and kill us off like the others did. It must be a man who takes on the form of a god."
Mayana sank to her knees, "Please don't leave me. I am with child. Your child."
Eternitas held Mayana. "Then I must do this for our child, too. Please, Mayana. We don't have much time."
He went to each pile, gathering the gods' essence. He then took a goblet from the table and filled it with water in a nearby stream. His hands emptied essence into the cup and it glowed white. He held Mayana one last time, and sent her down the path. He drank the essence down to its drops, staggered and disappeared into the air.
Decenia looked out at her people, whose eyes were wide with questions and sadness. She spoke to them, "We are here today because of Eternitas' sacrifice and Mayana's love. They were fierce warriors for us, for humanity. Even though it's been two centuries since their time, we always celebrate this day when Mayana returned to Unitas, renamed it and led humanity to a new prosperity. One day we will join them in the stars."
________
Follow Zach Roush on Twitter: @ZPoWaH