Photos by Shawn Jones
If senior Aaron Sever finds himself between a rock and a hard place, that is exactly where he wants to be. Sever boulders, climbs rocks and chases adventure. As a Pepperdine student, Sever can be found hiking and climbing at Malibu Creek State Park or the Echo Cliffs in the Santa Monica mountains. Born in Gardenerville, Nev., near Lake Tahoe, Sever was introduced to the outdoors at a young age.
Now Sever's taste for adventure translates into his daily life and a spontaneous outlook for his future. If he's not climbing in his free time, Sever can be found outdoors snowboarding, hiking, biking or traveling. In rock climbing, the next step is seldom known from the start. Likewise, Sever's adventurous spirit captures the very nature of his passion: rock climbing. The following interview with Sever was conducted over email.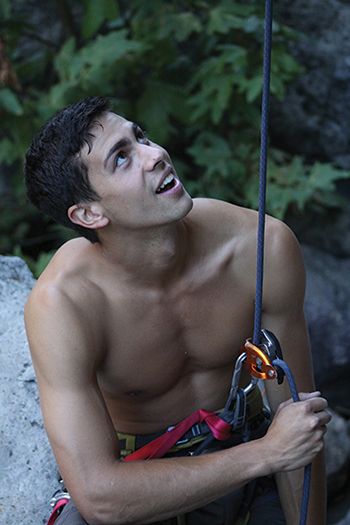 Q: What does a day as a rock climber look like?
A: A day in the life of a climber totally depends on the day and what you want to climb. It could be as mellow as sleeping in, heading out to a climbing area like Malibu Creek or Echo Cliffs and hiking a short distance in, hanging out with friends and doing a few fun laps on the climbing routes, then hiking out and stopping for some good food on the way home because you're always starving on the hike out. On the other end of the spectrum, a day could look like waking up at 4:30 a.m. and after breakfast, hiking several miles to the climbing route, then climbing a couple thousand feet, hiking off the mountain and back to the tent or car in the dark and getting back late in the night.
Q: How did you get into rock climbing?
A: I first got into rock climbing when I purchased a pair of rock climbing shoes and started climbing on some boulders behind my house. I really had no idea what I was doing; it just seemed like fun, and I love being outdoors. I had always seen videos of climbers and seen some of the cliffs climbers can climb and was inspired by that, but I didn't know anyone who climbed, so I decided to start bouldering. Bouldering is rock climbing usually 10-20 feet high on large boulders with a foam pad underneath for protection. That was about four years ago, and my climbing experience has developed from there.
Q: Who do you climb with?
A: I go climbing with a variety of people. Here at Pepperdine, I have a close group of friends who I climb with, and we usually try to take anyone who wants to climb with us. I also climb with people who I have met at different climbing areas or even people looking for a climbing partner on climbing websites. Basically, I go climbing with anyone who wants to climb.
Q: Where is the coolest place you've gone climbing?
A: That's a difficult question to answer because I've gone exploring in many areas and each have their own defining characteristics that stand out to me. One of the coolest places would have to be an area in the backcountry of Joshua Tree National Park called the Underground. This area contains climbs and sections with names like "Heart of the Universe" and the "Underground Chasm," which pretty accurately capture the essence and feel of the area. You feel very removed and isolated wandering around with towering rocks, cactus and pines all around you while ducking in and out of caves and jumping over gaps.
Q: What is the craziest climbing experience you've had?
A: My craziest memory from climbing so far would have to be from this last Sunday because that memory is still pretty fresh. I was on lead on a sport route, which means the rope was coming up from the ground, meaning if I fell, I would fall a decent distance. I was about to clip the next protection bolt, which is where if you fall, you will take the farthest fall on the route. Well, right before getting my rope into the next and last protection point, I fell. I fell about 30 feet which is fairly common in climbing, but what wasn't normal was that I ended up upside down while I was falling. That's a big no-no. The rope had caught behind my leg and flipped me. Fortunately, the fall was clean because the route was overhanging and I didn't end up hitting the rock too hard or hitting my head which is a real danger when you fall inverted. That gave me quite the rush, and it seemed to amuse everyone watching. This incident reminded me it's good to scare yourself every once in a while and try to work through that fear, all while being safe of course.
Q: What are the dangers involved in this sport?
A: With climbing, I'd say the biggest danger is getting too complacent with routine safety checks and gear management and simply missing a little detail that could lead to heavy consequences. As long as one is attentive and uses good judgment regarding their ability and external circumstances such as the difficulty of the route or descent, weather, gear placement, etc., the level of danger is relatively low. Even though there can be high consequences for messing up in rock climbing, the risk of messing up in such a way that brings on those high consequences should always be very low to none.
Q: Where is your dream climbing spot?
A: If I could go to one climbing spot right now, it would probably be Mallorca, which is a small island off the coast of Spain. I've actually been there before but didn't get to climb. It's the perfect little Mediterranean vacation island with some of the best climbing that involves climbing out of the sea onto and up the cliffs. You don't climb with a rope, and if you fall, you fall into the water. This kind of climbing is called deep water soloing and is something I want to try. Another dream climbing destination is Yosemite Valley. That place is definitely within the five-year plan, hopefully in very large doses.
Q: Where is your favorite spot you've climbed thus far?
A: My favorite spot for climbing currently is Tuolumne Meadows in Yosemite National Park simply for its beauty, climbing variety and high-altitude setting. The climbing style there is so unique because of the granitic knobs found on many of the routes in addition to some great cracks and really harrowing, run-out slab climbs. It is also one of the most incredible places I've been to with its huge granite rock domes, lakes, rivers and of course the meadow. It's like climbing in paradise.
Q: Where do you see yourself in five years?
A: I can't picture specifically what my life will look like in five years, but based on the direction that I have set for myself now, I will hopefully be doing something that I love whether it be traveling, spending lots of time outdoors or of course climbing. Between now and five years, I will try my hardest to put myself in places and circumstances that will continually motivate me through my passions.
__________
Follow Stasia Demick on Twitter: @sdemick12