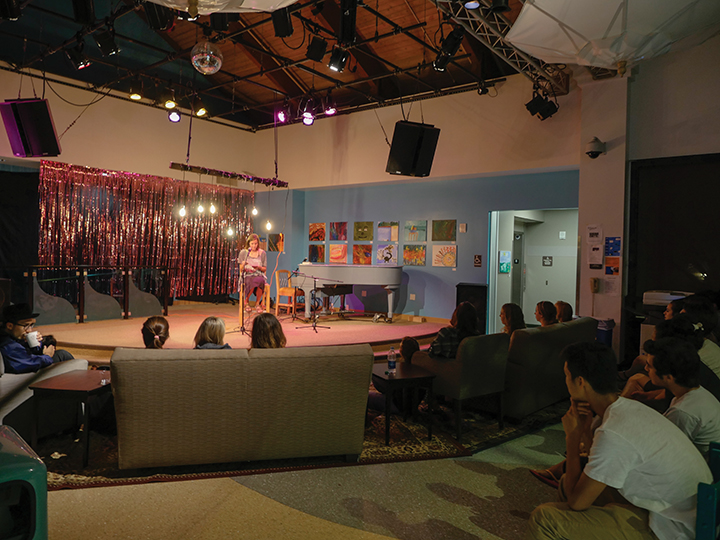 Photos by Kaelin Mendez.
The Student Programming Board's "untraditional" coffeehouse had student performers defy conventions Friday, Oct. 5, in the Sandbar.
"We decided to call it 'untraditional' to show that it's different than our typical coffeehouses, which usually have acoustic and traditional songs," said senior Natalie Samaniego, a member of the Music and Art Committee on the Board. "We wanted to invite more unique talents to the stage like poetry and spoken word."
To emphasize the untraditional atmosphere, Samaniego said Board members decorated the Sandbar differently this time around.
"We brought in some fun confetti balloons and rose gold streamers to give it a different vibe," Samaniego said. "Also, instead of our traditional coffee and cupcakes, we provided kombucha and muffins."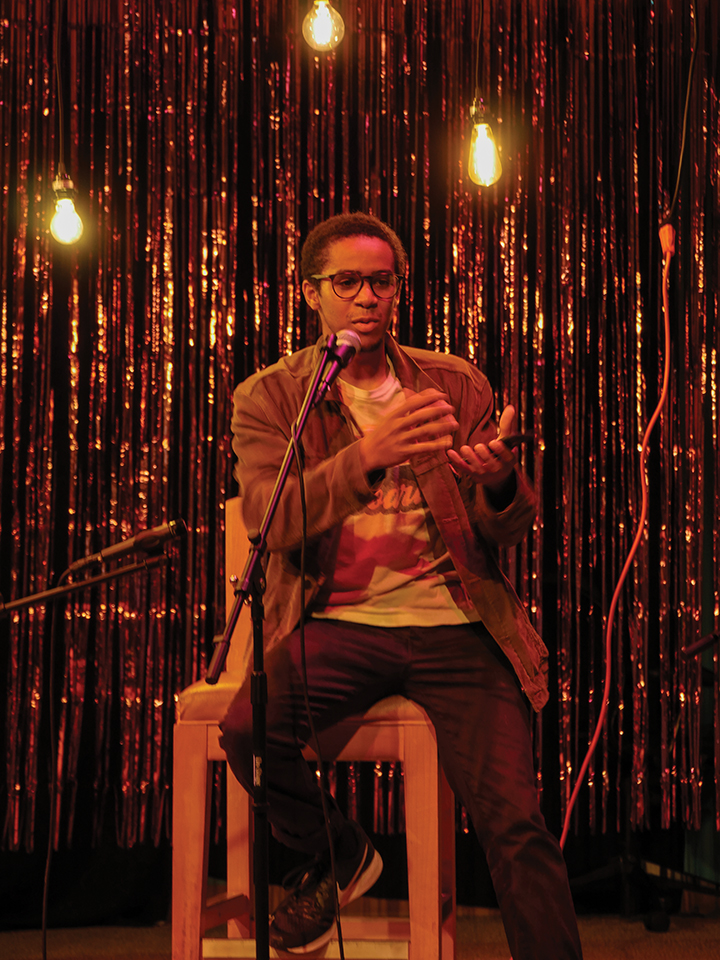 Senior Corbin Ford, co-chair of the Film Committee for the Board, emceed the event. He chimed in with his own untraditional jokes before introducing each act — "Why do crabs never give to charity?," he asked. "Because they're shellfish."

The first performer was sophomore Haily Watson, who sang her original pieces "Please" and "Pine Scented Skin" on her guitar before moving to the piano for her last song, "I'll Be Here."
Watson was followed by junior Ike Egwuonwu, who delivered a poem he wrote in high school about identity and other people's perceptions. Junior Cori Persinger followed Egwuonwu and also recited original poetry.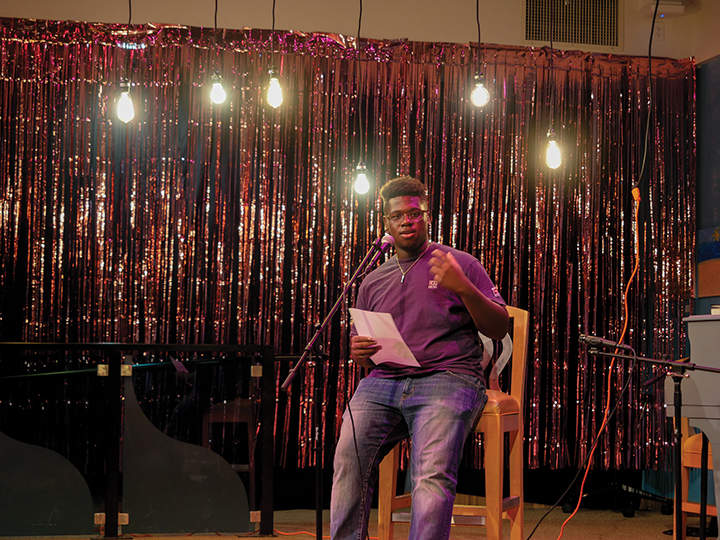 Next was freshman Wesley Ruby. "A lot of people are doing original stuff tonight," Ruby started. "But I don't know how to do that. So I'm going to sing someone else's song."
Ruby then proceeded with his rendition of Frank Sinatra's "All of Me." However, Ruby's version had a unique twist. He combined elements of guitar, singing, beat-boxing and finger-snapping to create a funkier version of the song.
The final act of the night was freshman Kathy Lee, who played her original songs on the ukulele and the piano.
The experience proved to be a positive one for performers and audience members alike. "It was my first time performing at a coffeehouse, and I had a pretty good time," Egwuonwu said. "So much so that I'll be singing and playing guitar or piano in the next one."
Persinger, also a first-time coffeehouse performer, said the experience advanced her as an artist. "There's definitely value to writing things for yourself, but there's something so affirming in reading your writing in front of your peers," Persinger said. "I felt proud of the words I had to say and was excited there were people who wanted to hear them."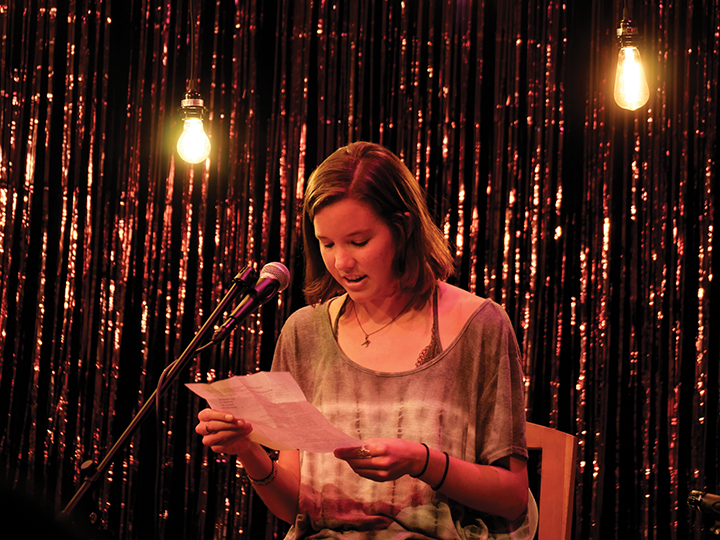 It was junior Sarah Blase's first time attending a Board coffeehouse and said she enjoyed it. "It was a super fun environment and all the performers were incredible," Blase said. "I loved that it was a relaxed vibe, and everyone was incredibly supportive of the vulnerability that comes with sharing your art."
The Board's Winter coffeehouse is Dec. 8. See all upcoming Student Programming Board events on their Facebook page.
________________________
Follow the Pepperdine Graphic on Twitter: @PeppGraphic