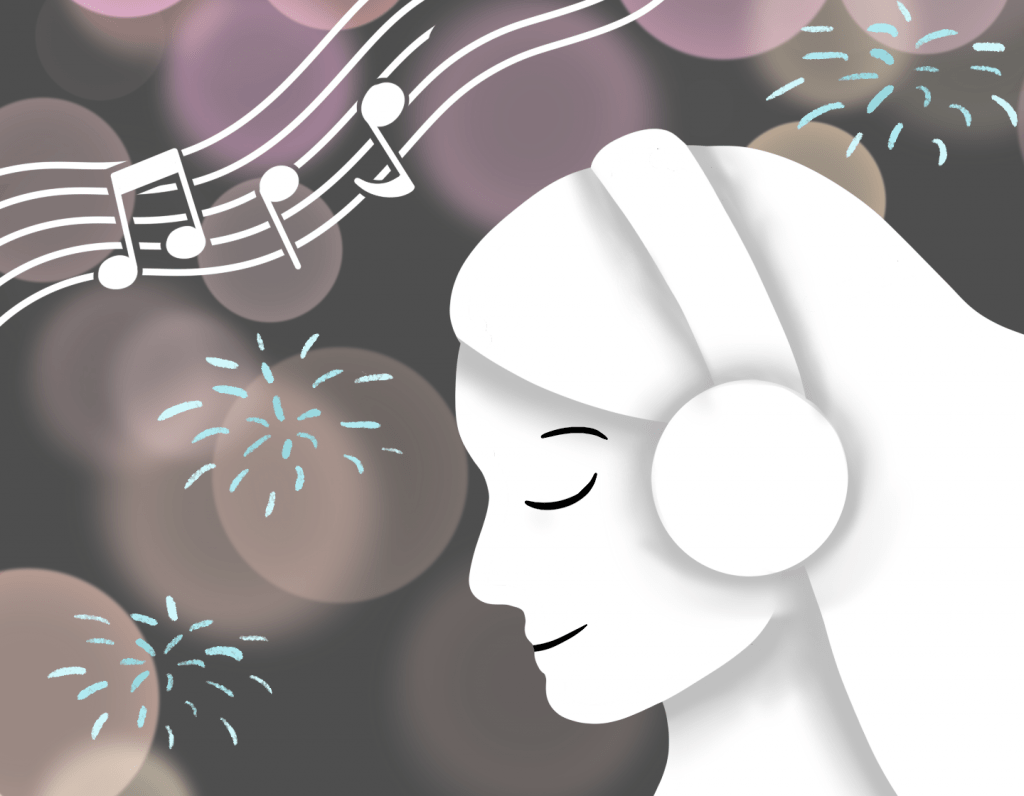 Art by Vivian Hsia
Music has the power to heal, inspire, motivate and unlock emotions within listeners, students said. In order to fully tap into these feelings, music lovers said they create playlists.
Playlists are used to express emotion, captivate a moment or to find and share music — while also conveying one's own relationship to music.
"Making a playlist is a delicate art," said Zoë Kravitz who plays Rob Brooks music connoisseur from Hulu Original "High Fidelity." "It's like writing a love letter but better in a way. You get to say what you want to say without actually saying it. You get to use someone else's poetry to express how you feel."
In the show, Brooks explains there are non-negotiable rules of making the "perfect playlist," but because music is a personal experience, students said playlists can be anything one wants them to be.
Senior Dylan Newman said he was heavily exposed to music and developed his taste in music through his parents — his father being a DJ and a record shop owner.
His love for music, he said, stems from its ability to relate to an audience through vulnerability.
"The authenticity of it, how you can make anything yours by just incorporating unique sounds," Newman said. "We can start at any emotion ever and it makes the listener feel that too."
Newman started making playlists in high school when a friend complimented him on his music taste. He said that moment alone gave him confidence and a desire to share music through playlists.
When making playlists, Newman said there is no specific pattern that he follows in his process. A playlist of his can either have a particular purpose or be comprised of recent music finds.
Newman's favorite personal playlist is one titled, "music when the assignment is due at 11:59 p.m. and it's 11:00," he said. The playlist is exactly 59 minutes long and created with the intention to motivate.
"It's so effective," Newman said. "It's actually ridiculous when you listen to it. It's the best playlist ever made."
Senior and KWVS DJ Lauren Chivers said her favorite personal playlist is one titled, "roadkill Roadkill roadkill."
"I think [it] perfectly encapsulates the feeling like a little gritty, a little dirty, like you kind of want to scream," Chivers said.
Chivers said she first started making playlists during high school.
"When I was in high school and especially coming to college, I was sorting through a lot of different feelings," Chivers said. "I wanted playlists that were so niche and specific to exactly what I was feeling that it felt like only a playlist could capture that moment."
The process of making playlists, Chivers said, is intentional. She has a few rules of her own when making playlists — taking after one of her favorite shows, "High Fidelity."
For her, a playlist mimics the structure of a song, she said. The first and last songs on a playlist are very important, imitating the effects of the first and last verse of a song. These songs should capture a listener's attention and then leave them wanting more. The songs in between serve as the bridge. Chivers said she is aware of the ebb and flow of a playlist and prioritizes consistency in sound and vibe.
Chivers said her playlists either follow a specific mood or a season of her life.
"I used to be one of those people that would [shove] all of my liked songs into one playlist," Chivers said. "Now, I'm more like, 'Let's capture the mood of this season and collect songs that adequately reflect that mood and that ambiance.'"
However, Chivers said she has a completely different approach to curating playlists when it's for her KWVS radio show, "Hold the Pickle Please," with co-DJ senior Abby Morrow.
Every week, she said they pick out a theme for their playlist and order the songs according to how they flow together. The pair have similar tastes in music, so Chivers' goal is to come into the process with a song that can surprise Morrow, she said.
Chivers said how they end their show is really important — it must make the audience want to tune in again.
"With my personal playlists, I don't always need to end it on a high note," Chivers said. "But when we're working together to create one, I always want to end super joyous, like wanting listeners when they're done listening to feel like, 'Oh, that was so good. I'm coming back next week.'"
For sophomore KWVS DJ Fatima Reyes, creating playlists became a hobby of hers after starting her radio show, "Basement Talk," with co-DJ sophomore Sofia Reyes.
Before, she never thought of curating a playlist for a specific purpose and said she had only one playlist that held about a thousand of her favorite songs.
"After [starting the show] there'd be moments where it's like, 'Oh, I just want to listen to songs that make me want to dance, or songs that make me want to sway a little,'" Reyes said. "So, then I started taking actual time to focus on that."
Reyes said her favorite playlist for Basement Talk is "basement talk ep1," which is composed of their favorite songs as individuals and together.
"Music has always been a part of my life," Reyes said. "Because of that, it's also really created a sacredness in music."
Being a musician herself, Reyes said her personal playlists tend to focus on the sound of songs. For example, if a playlist starts with a song that is guitar heavy, then all of the songs added to that playlist will then be guitar heavy, she said. Reyes said she also enjoys using playlists as a time capsule.
"I think that really adds the magic to that playlist because you can look back and be like, 'Oh, this is whenever I found out about this band or this artist," Reyes said. "It just makes it more special when listening to it."
Students said the beauty of playlists comes from their power to express anything a creator wants it to — whether that is vulnerability, personality or anything in between.
"It's so subjective," Newman said. "You can't say one specific thing makes a good playlist. If you like it, that's a good playlist."
___________________
Follow the Graphic on Twitter: @PeppGraphic
Email Yamillah Hurtado: yamillah.hurtado@pepperdine.edu