Photos Courtesy of Craig Detweiler
Two members of the Pepperdine community made a splash at this year's Sundance Film Festival. This year, Pepperdine alum Taylor Johns (2012) worked on a film that reached this exclusive destination. "Last Days in Vietnam" is the first film that Johns has worked on throughout its entire production process since he graduated from Pepperdine. Craig Detweiler, director of Pepperdine's Center for Entertainment, Media and Culture, was this year's recipient of the Spirit of Windrider Award
Johns graduated with bachelor's degrees in Film Studies and Sports Medicine.
"I have always been a passionate film fan," Johns wrote in an email interview. "I grew up watching and making movies, but didn't decide to pursue a degree in film until halfway through my tenure at Pepperdine, when I decided I needed more creativity in my life."
Johns deferred his medical school acceptance to finish his work on "Last Days in Vietnam," and has not decided whether or not he will be pursuing a career in the medical field. However, he is content with his choice of working on a film that has been received very well by audiences.
"Last Days in Vietnam's story struck a chord with me in its tales of heroism," Johns wrote. "There is so much stigma attached to the Vietnam War, I wanted to have the opportunity to shed light on overlooked stories of the people who's courage saved thousands of lives."
Johns believes the occurrences of the Vietnam War resemble those taking place in the Middle East.
"Here we are again making the same mistake of entering a war without having a real exit strategy," he wrote. "The film is a powerful reminder of the consequences we face when we don't look ahead to how our actions will affect those we become responsible for but leave behind."
Johns is honored by the success the film has had.
"To be able to share our film at one of the most esteemed film festivals in the world is an incredible feeling," he wrote. "To receive the overwhelmingly positive reception that we did only sweetened that feeling. I am extremely proud of the film we made."
He appreciates the opportunity he had to work on "Last Days in Vietnam."
"The overall learning experience of creating a documentary from concept to completion was my favorite part of working on the film. It was an eye opening ordeal to see the amount of work that goes into making a feature length documentary. Working with such a small team garnered a lot of responsibility for myself, so my role as Associate Producer expanded as production went on and new needs arose," Johns wrote.
Along with more responsibility, there were also a few difficulties.
"The sheer amount of material was the most challenging thing to overcome during research for the film," Johns wrote. "There is an insane amount of material on the Vietnam War, as it was really the first war to be televised. We had to find a balance between the iconic images from the war and largely unseen archival material we found to make the film feel fresh and not a story you have already heard."
Johns is working on two documentaries that will each be one hour in length and will be part of a series titled "Makers: Women Who Make America".
"I am working as Associate Producer," Johns wrote. "The two I am working on are Women in Politics and Women in Hollywood. They are scheduled to be delivered in May."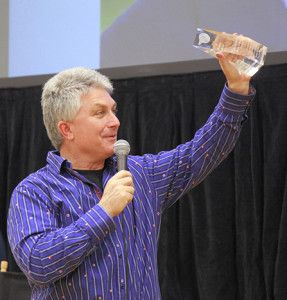 This year's Sundance film festival was not only eventful for Johns, but also for the Director of Pepperdine's Center for Entertainment, Media and Culture, Craig Detweiler. Detweiler was this year's recipient of the Spirit of Windrider Award.
"The Windrider Forum is an immersive educational experience at the intersection of cinema and culture," Detweiler wrote in an email interview. "The Spirit of Windrider Award recognizes people whose work has sparked conversation and initiated social change. Recipients have been directors, producers and writers who broadened our understanding of the power of film. [It] is cumulative in nature, a bit like a lifetime achievement."
Detweiler was one of the people who founded the Windrider Film Forum in the 2005 Sundance Film Festival.
According to Detweiler, the goal was to "teach students how to navigate the world of independent film and interpret and respond to all these unique movies from around the world. I hope that as Pepperdine develops a robust film and media program, we'll send lots of students to Sundance in the future."
Detweiler was especially honored to receive the award this year due to the pride he has for his students.
"This was an especially meaningful year for me because two of my former students who I brought to Sundance in 2005 were back in Park City this year, competing against each other for the best documentary at the Slamdance Film Festival. Kate Logan won the Audience Award for her documentary 'Kidnapped for Christ.' As a filmmaker and professor, I revel in her accomplishment and hope to inspire the next generation of filmmakers at Pepperdine."
Detweiler has been attending the Sundance Film Festival since 2002, and he began to take students along with him in 2005. This year, he saw 16 feature films within the course of five days.
"Music was a key component in some of the best films," wrote Detweiler, "including a musical from Belle and Sebastian, 'God Help the Girl' and the grand prize winner, 'Whiplash,' [which is] about an aspiring drummer and his intense teacher."
Correction: Feb. 20, 2014

In the Feb. 13 print version of this article, the headline implied that both Dr. Craig Detweiler and alumnus Taylor Johns won awards. Detweiler won the Spirit of Windrider Award and Johns' film "Last Days in Vietnam" was accepted to show at Sundance. Detweiler's last name was also misspelled in the headline.
____________________________________________________________________________
Follow Paola Ramos on Twitter: @PaolaRAwaves
As published in the Feb. 13 issue of the Pepperdine Graphic.