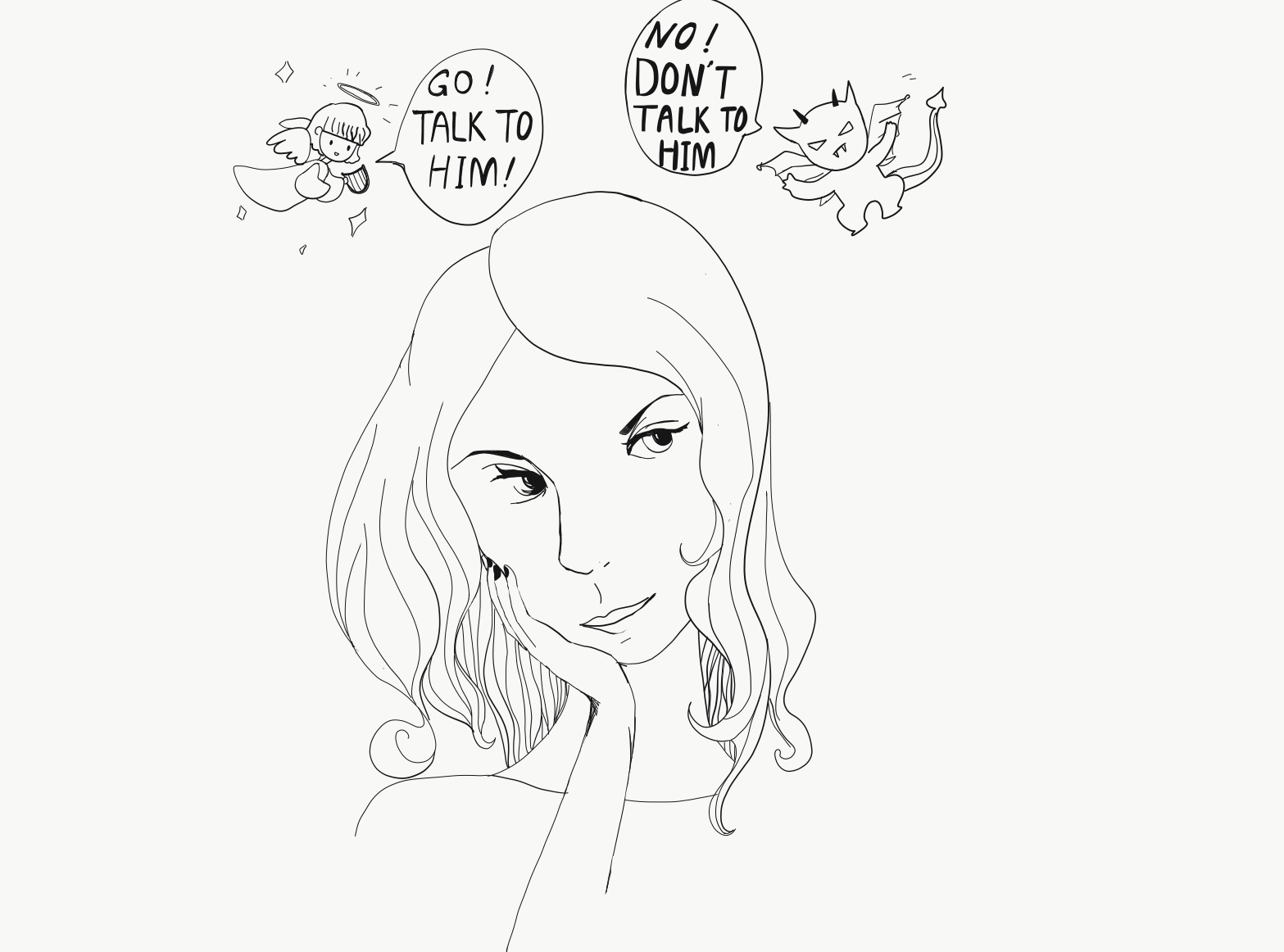 Art by Sybil Zhang
It's odd that I — introverted, awkward person who wouldn't be caught dead on campus without headphones — would advocate for readers to talk to their crushes. Especially because I have chosen to make a playlist instead of a convincing argument.
The truth is, talking with people is difficult, especially when the person in question is someone on whom you have a crush. There's no magical phrase, multi-step plan or book series that ensures success. Instead, take heart: Many writers, poets and musicians (including some from the playlist below) have struggled too.
Feel free to use these songs as guides. What do you have to lose?
"Do It, Try It" — M83
Oh great. Now the mousy voice saying "do it, try it" is stuck in your head. This was NOT a great start. Oh well. At least those words can be a starting point while weighing the pros and cons of talking to a crush.
"Sharron Apple" — Airiel
This obscure shoegaze band from Chicago is responsible for one of my favorite lines: "I can say a few things but I'm shy."
"Can You Tell" — Ra Ra Riot
The first verse of this song is: "Have I been too discreet? / How long am I supposed to wait / I think about you nightly / Oh can you tell I'm losing sleep? / Oh what am I supposed to do? / It's hard to stay cool / Oh when you smile at me / And I get nervous every time you speak." Enough said.
"Ask" — The Smiths
In a very Morrissey-esque twist, "Ask" turns a love song about bashful lovers into nuclear war.
Damn it, Morrissey.
"Thank You for Sending Me an Angel" — Talking Heads
In the event that you think your crush is experiencing the same "should I/shouldn't I" dilemma, consider David Byrne exclaiming "You can walk you can talk just like me." Anyone can be excited as Byrne if they rip off the band-aid and go for it.
"23" — Jimmy Eat World
Talking to your crush can be daunting. Overthinking might occur while plotting that first conversation with your crush, which is normal. (considering you've made it this far in a playlist from a college newspaper column, it's safe say you're already overthinking it).
Instead of overanalyzing your pick up line, consider this: "You'll sit alone forever if you wait for the right time / What are you hoping for?"
Trying to find the (bold, underlined, italicized) perfect moment to talk to your crush is impossible. So carpe that diem instead of waiting for the stars to align.
"Pictures of You" — The Cure
If you've made it this far (and 4:29 into the song), you've reached the danger zone: Regret.
In the event you get cold feet and can't muster up a conversation, remember the line (preferably in Robert Smith's croon): "If only I thought of the right words, I could have held on to your heart."
(Warning: 80s-era Cure is pretty dangerous, melodramatic stuff. If drowning in a cold pool of reverb and sparkling guitars isn't up your alley, "Pictures of You" might not be for you.)
"The Less I Know the Better" — Tame Impala
This should only be used in emergency situations. In the event that talking to your crush goes poorly, break the glass that separates you and this song, put this on repeat and walk — nay, strut — to your car. I don't care if you parked down by Firestone Fieldhouse or halfway up the Drescher hill, you will need to strut it off to this undeniably catchy, incredibly groovy (that bassline) song about unrequited love.
Dear reader, you are a fabulous individual with nothing to fear. Here's to hoping you won't need to take a long drive down PCH, blaring this excellent Tame Impala song and yell "just don't make me wait forever" to the sleepwalking, suntanned citizens of Malibu.
___________________
Follow Kyle Cajero on Twitter: @kylecajero