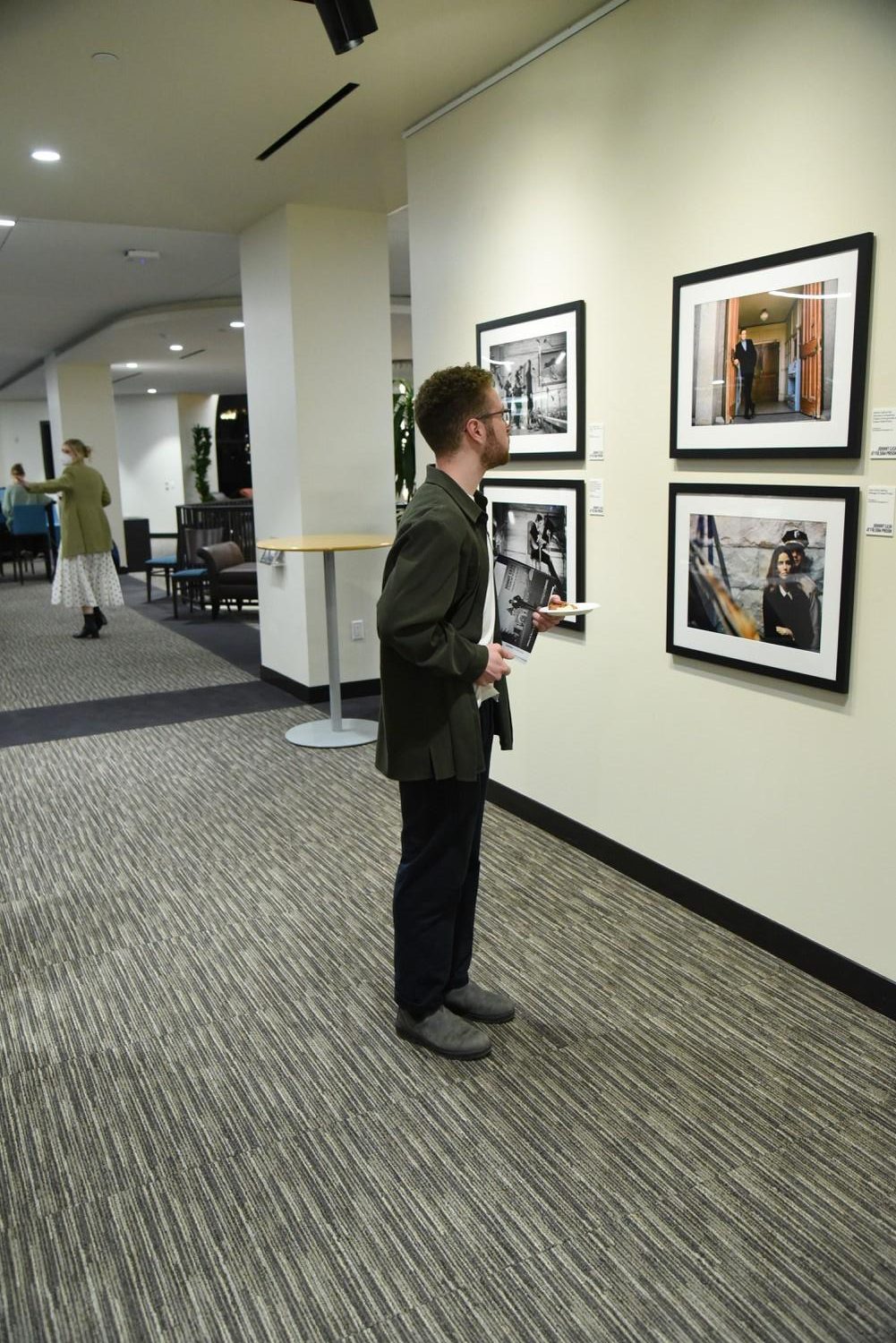 Student visits the Johnny Cash exhibit's inaugural reception in Payson Library on Jan. 6. Pepperdine opened the Johnny Cash exhibit, which consists of prison concert photos. Photos by Jeffrey Bowen
Payson Library opened a new exhibit called Johnny Cash at Folsom and San Quentin, as part of its current partnership with the Grammy Museum. The exhibit showcases Jim Marshall's photos of Cash's 1968 and 1969 performances at the Folsom and San Quentin prisons.
The exhibit explains how in the 1950s, Cash began performing at various prisons around the country, eventually culminating in the 1969 Folsom State Prison Performance. Columbia Records recorded and distributed that performance.
"As a man of faith who ardently believed in redemption while also acknowledging his own demons, Cash didn't see himself as much different from the prisoners for whom he performed," Dean of Libraries Mark Roosa said.
To celebrate the exhibit's opening, the Center for Faith and the Common Good and Pepperdine Libraries collaborated on the Faith, Reconciliation and Flourishing: A Symposium on Prison Reform on Jan.12. There were four different speakers, each focusing on their lectures on prison reform and the lives of incarcerated individuals.
Visiting Public Policy Professor Byron Johnson spoke on peer-led ministry programs and the connection between faith, service and prisoner rehabilitation. Johnson said he is conducting research with Pepperdine, which aims to bridge the gap between domestic and international studies on prison ministries.

Andrew Johnson, a visiting scholar for the Center for Faith and Common Good and professor at Pepperdine's School of Public Policy, spoke about prisoners in Rio de Janeiro who were leading churches and ministries. While researching, Johnson said he lived with prisoners and participated in church services.
Johnson said Pentecostal churches are becoming popular among Brazilian inmates. Pentecostalism is a subset of Protestantism that emphasizes spiritual gifts and personal relationships with God, according to Pew Research. Johnson said he believes its popularity among inmates stems from both charismatic leaders and mostly because the church allows inmates to find communities and protection.

Courtney Hook, a professor in the Communication department, lectured on her research on incarcerated women. Hook said one of her friends in college spent the night in the drunk tank. When Hook heard about all of the things her friend saw and experienced in one night, Hook became interested in studying how long-term incarceration affects women.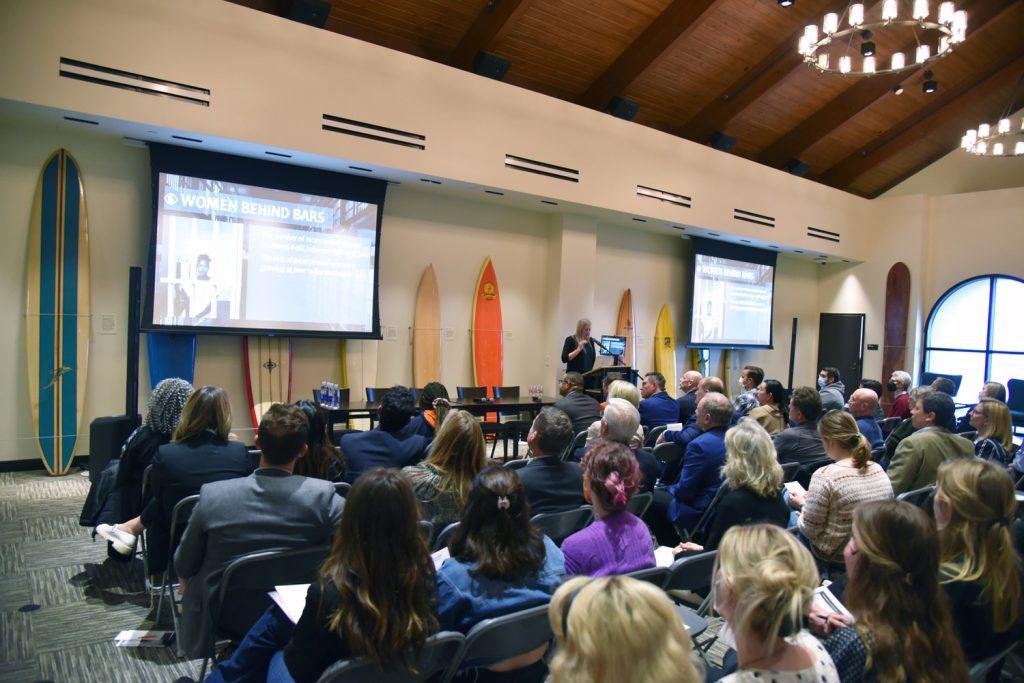 "Women offenders are often being swept up in a system which is eager to treat women equally, which means like men," Hook said in her speech at the symposium.

The training corrective officers endure prepares them for male prisoners, Hook said, but leaves them ill-equipped for rehabilitating women and the unique experiences of female prisoners.

"[Prisons] are built for men leaving [female prisoners] misunderstood, under-resourced and unable to get treatment necessary for successful reentry," Hook said.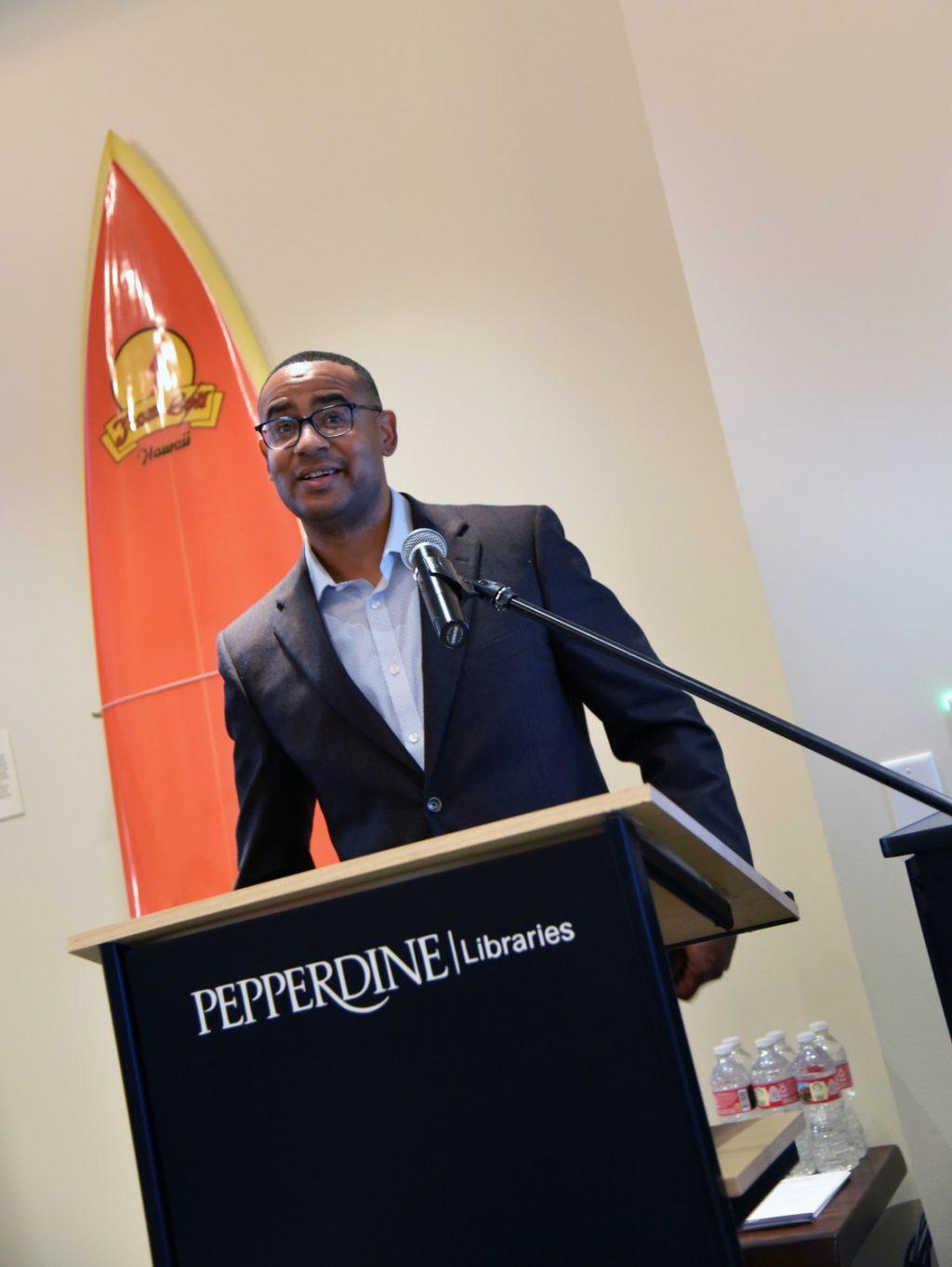 Chaplain Ronald Olivier spoke on his experience as a former inmate and current prison chaplain. Olivier served 27 years after being found guilty of second-degree murder. He cited fellow prisoners as his faith inspirations who taught him how to preach and introduced him to his vocation of prisoner ministries.

Oliver said the U.S. Supreme Court ruling that a minor cannot serve mandatory life sentences is why he was released in 2018. Since then, he has dedicated his life to ministering to prisoners worldwide.
The symposium concluded with biographer and journalist Marshall Terrill lecturing on the life and faith of Johnny Cash.

Terrill read portions of his biography on Cash. His book emphasized Cash's paradoxical identities as a Christian, addict, social reformer and American patriot.
"To many sinners, he was a saint, even prophet-like," Terrill said."To many saints he was a conflicted man who struggled with drugs and the law. Who else could be friends with Willy Nelson and Billy Graham at the same time."
Terrill said Cash's faith was his support system during the hardest times of his life. Terrill argued Cash had a special bond with inmates because he knew judgment, heartache and marginalization.
"It was inspiring to see the panelists talk about the humanity of the inmates with whom they worked — and, in the case of one of the speakers, hearing how God helped him on his road to rehabilitation after 27 years of incarceration," Roosa said.
Roosa also emphasized Cash's Christian faith for being the source of his compassion. While these photos show him performing, they also show him acknowledging the prisoners' humanity and existence.
"He tried to follow in Jesus' footsteps by caring for some of the most marginalized people in society," Roosa said.

The exhibit provides 23 photos of those performances alongside headphones that play recordings of the same performances. Viewers are encouraged to listen to the recordings while looking at the photos. It closes April 9.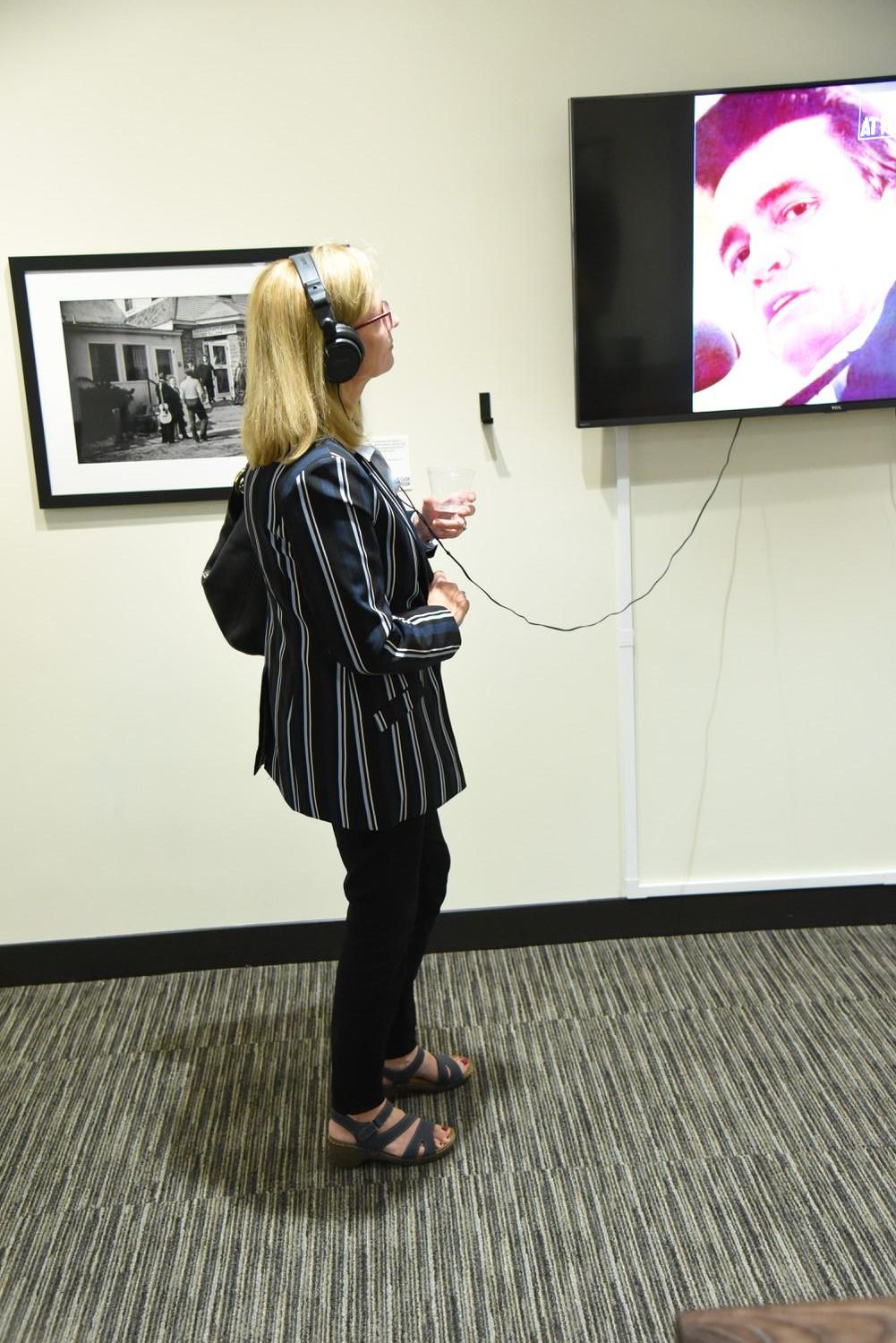 Maurissa Dawson, a student employee at Payson, said they first encountered the exhibit while working. Dawson heard of Cash before but never had listened to him or knew much about him.
They said the first time they listened to Cash was at the exhibit.
"It's a very informative exhibit, even if you're not necessarily a Johnny Cash enthusiast," Dawson said. "It's still something to look at and learn from."
___________________
Follow the Graphic on Twitter: @PeppGraphic
Email Hope Lockwood: hope.lockwood@pepperdine.edu