Photos by Sherry Yang
Great waves of sounds and harmonies filled Smothers Theatre on Thurs. Oct. 19, when the Pepperdine Orchestra performed with the Westlake High School Chamber Orchestra and internationally renowned pianist Rufus Choi. Under the direction of conductor Tony Cason, they performed pieces from Wolfgang A. Mozart, Ludwig von Beethoven and the lesser known Jean Sibelius.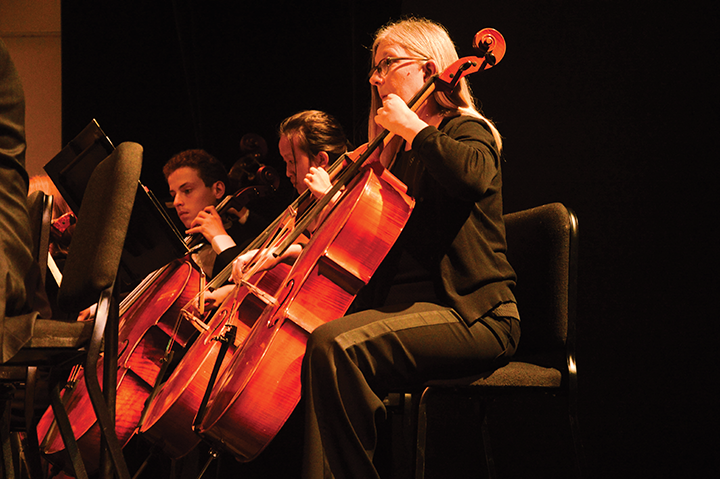 Pepperdine students opened the concert with Mozart's "Impressario Overture." Following the piece, the Westlake High School Chamber Orchestra and Mr. Choi joined them on the stage for Beethoven's "Piano Concerto No. 5 in E-flat Major."
Sophomore cellist Lauren Lee said playing with high school students has been a great experience.
"I remember being a high-schooler and playing with college students, and it really brings that level up," Lee said. "It's really cool being on the opposite side knowing that the high schoolers are looking up to us, but it's not like a competition."
The two orchestras had five rehearsals together before the concert. Last year, the orchestra paired up with a Las Vegas high school orchestra for a similar event. "Mr. Cason does a wonderful job of finding some wonderful people," Lee said.
Choi played the intricate arpeggios and trills on the piano from memory. String players plucked and bowed their instruments. The Beethoven piece alternated the focus between the piano and the rest of the orchestra. At the end of the three movements, the orchestra members stood up and bowed. Choi took a bow, left the stage and returned to bow again.
Choi teaches piano at Pepperdine. He played concerts internationally in Italy, the Netherlands, Russia, Mexico and South Korea among other places.
After a short intermission, the students took up their instruments again and played Sibelius' "Symphony No. 2 in D Major." The four-movement piece included moments of focus on the oboes, bassoons and horns. After the finale, soloists stood and bowed before the rest of the orchestra.
Junior Austin Welch said he and his friends, Freshman Jorge Contreras and Junior Kari Okubo, came to the concert to support their fellow Delta Sigma Pi business fraternity members.
"We'll be their orchestra groupies," Welch said.
Welch said he was impressed by the players' talent.
"I could never do that personally, and I think it's fantastic and amazing," Welch said. "We should support the arts as much as we support other things on campus."
Okubo said the concert helped her relieve stress and might help other students if they were to attend.
"You can just sit and be present in the music," she said.
Admission to all choir and orchestra concerts is free for students, faculty and staff. Their next performance will be on Sun., Oct. 29 at 7:30 p.m. in Raitt Recital Hall. Other future concert dates are posted on the Center for the Arts website.
_____________
Follow Lidia Bayne on Twitter: @lidiabayne