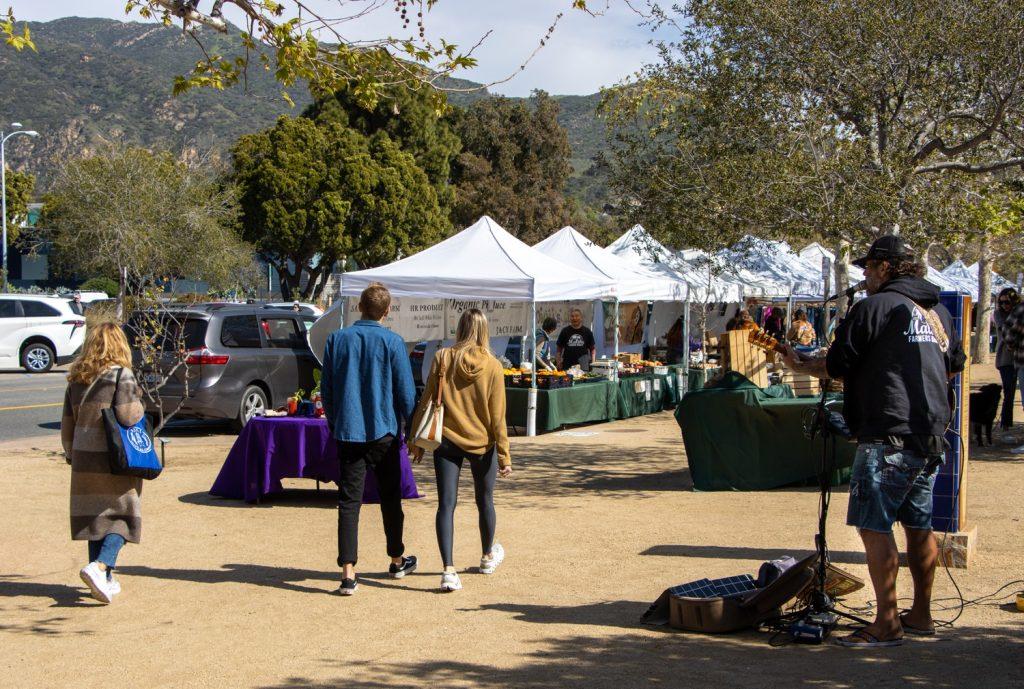 Local community members enjoy the sunshine and listen to performer Brad Welker at the Malibu Farmers Market on Feb. 12. Market owner Debra Bianco said she is looking for new student performers. Photos by Sammie Wuensche
While walking in the fresh Malibu air and tasting the flavors of a strawberry and chocolate crepe, one could think they're in the middle of Paris. In reality, they find themselves at Legacy Park in Malibu enjoying the Malibu Farmers Market and live music.
Students may remember the market taking place right outside the Malibu Public Library, but the market is now at Legacy Park, right across the street. The last time the market took place there was in September, and it received positive feedback from the Malibu community, according to The Malibu Times.
Since then, Debra Bianco, co-founder and president of the Cornucopia Foundation, and her vendors have been asking the city for permission to relocate to Legacy Park, according to The Malibu Times.
"The farmers market is filled with ambiance from the music, to the unique foods, to the surprise of the market," junior Grace Garrabrants said. "The entire experience is always lovely and very refreshing in our manufactured world."
Fresh produce, dogs galore, local business and entertainment, the Cornucopia Foundation and the Malibu Farmers Market have served the community for over 20 years every Sunday, according to their Instagram.
Music
An internship looking for new musicians opened in February as the market searches for new faces and talent in the local community.
"There is a big difference between a singer and a performer, and you know you have got it all when you have both," Bianco said. "I happen to like covers; originals are fine too."
Singer Ingrid Yael said she has enjoyed being a regular performer for years. Yael said she sings at the market every Sunday, and she learns at least one or two new songs a week, taking her time to learn them before she adds them to her roster. With her routine, the Malibu community can appreciate classics and the unexpected.
"[My favorite part is] seeing all the beautiful faces that come through the market and of course being around nature — and then my favorite would be all the dogs," Yael said.
Students and the Market
Garrabrants said she grew up going to a farmers market back home right by her church in San Diego. In Malibu, she always makes it a point to visit the Malibu Farmers Market on her Sunday mornings. She said she loves the feel of a little bit of European culture; she has many memories of morning markets during her time abroad last year in Lausanne.
Garrabrants said she greatly appreciates the performers and how they usually focus on classical or even sing in French, and she wants to attend the market as much as she can before she graduates.
"The music at the farmers market always completes the experience: It sets you up to have a good time," Garrabrants said. "We often forget because we are surrounded by these cool opportunities, and they won't be accessible to us forever. However, many of us will never come back to Malibu once we graduate, so we should take advantage of the local experiences while we can."
Singer Ingrid Yael
Yael said she usually sets up her equipment herself — speakers and an old-fashioned microphone to match her Hollywood glamour aesthetic — but occasionally has friends help. She said her favorite song to sing is "Cabaret."
Yael said she began her singing career in her 20s when her friend bought her professional singing lessons after she expressed music was her dream. Yael said her family friend lost their voice and was unsure she would ever sing again — so she took this as her inspiration to start singing.
"I asked her daughter, I said, 'How is your mother?' and she said she was afraid that she was never going to be able to sing again," Yael said. "So, I said, 'You know what, I am going to take this as my push and begin my singing career.' And I did. I went downtown and bought a speaker."
After Yael made the choice to dedicate herself to singing, she said word got out, and she began singing at private parties, grand openings and art galleries. Bianco discovered Yael's talent when she heard her singing at her place of work.
"I am a hairstylist, and she [Bianco] came into my work for an event, and she heard me singing, and she said, 'Oh my God, that would be great if you came and sing in the farmers market,' and my dreams came true," Yael said.
Yael said she loves her Sunday mornings because she gets to sing for fun. She takes pride in the people that listen to her and will sometimes even change up the words or melody to keep the songs new and the environment cheerful.
"I like to make up the words sometimes to my own songs or change the melody and change the tune and it used to drive my other partner that used to sing with me nuts, he would go 'it doesn't go like that,' but I'm not P!nk, I'm not Lady Gaga — I am not going to sing it the way she sings it," Yael said.
New Performers
Bianco said the farmers market is looking for students to perform once a month or every other month in a school credit internship. Applicants must have their own equipment. Yael will continue to be the lead, but new faces are needed when multiple artists play at different times such as local musician Brad Welker, alongside Yael.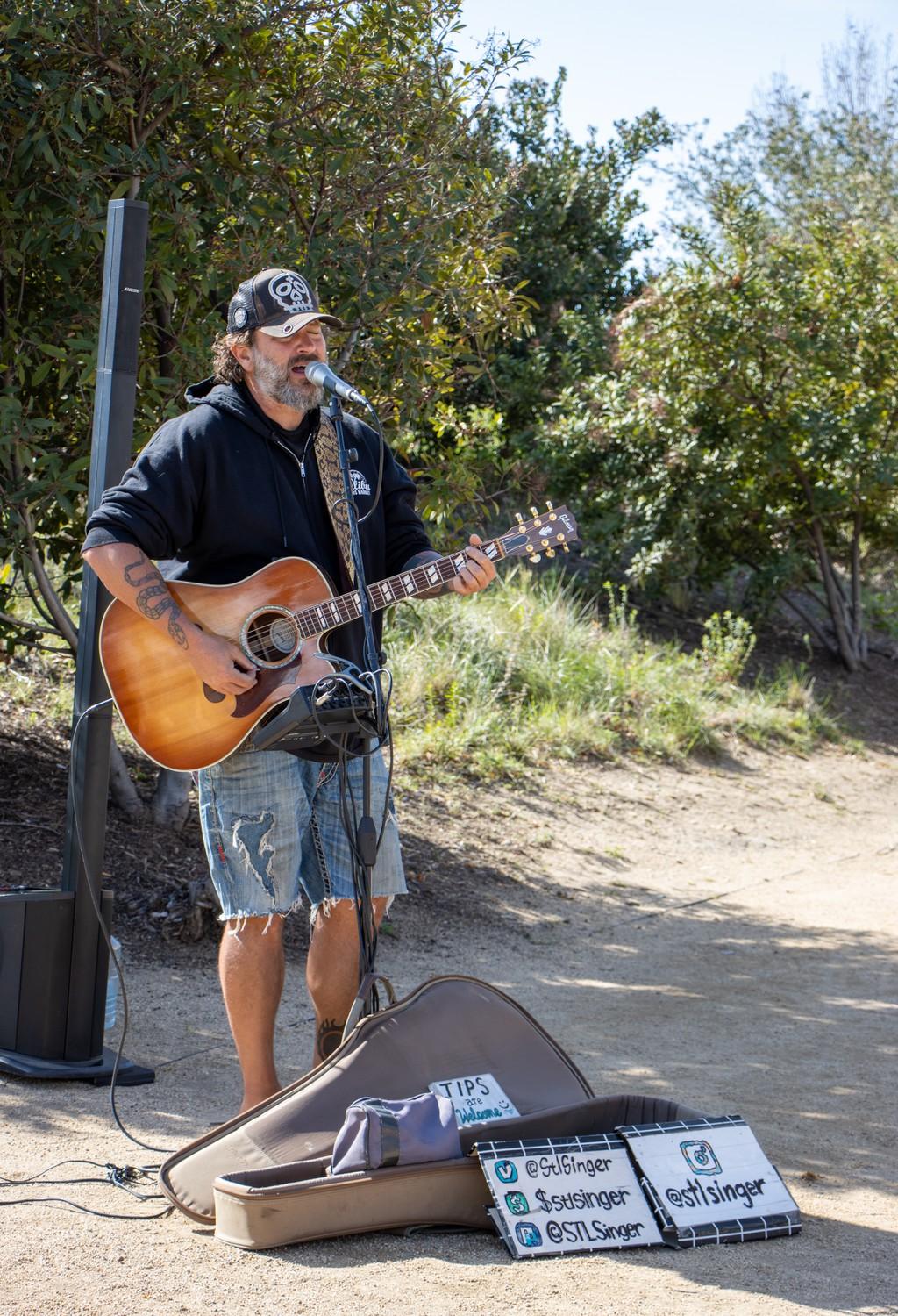 The farmers market hopes to provide an opportunity for students to support local businesses and perform for a diverse audience, according to their Facebook.
"I knew that I wanted to make people happy; I wanted to pursue my dreams," Yael said. "Just singing, it doesn't have to be on a record or an album — because it makes me happy and I know it brings joy."
____________________
Follow the Graphic on Twitter: @PeppGraphic
Email Beth Gonzales: beth.gonzales@pepperdine.edu