Photos by Caroline Edwards

Pepperdine's convocation event was an evening of snaps, slam poetry and epiphanies.
Pepperdine's Black Student Association, Multicultural Theatre Project, Intercultural Affairs Office and the Institute for Entertainment Media and Culture teamed up to present "Epiphany," a slam poetry event, for its 18th season. The event was part of Pepperdine's convocation series.
Students filled Elkins Auditorium at 8 p.m on Feb. 18 for the 75 minute event to cheer on fellow Seaver students. The all-female cast consisted of six students: Darylynn Horton, Heavin Hunter, Sarah Arthur, Marie Marmolejo Garza, Krystal Chen and Cheng Zheng. The performers were joined by special guest Natasha Hooper, a poet and activist, to share their stories.
Professor Joi Carr, creative and program director for the Multicultural Theatre Project and director of Film Studies, led the event.
"This is an opportunity for people to come and share their stories," Carr said. "This is a story slam. It's a collage of stories by six beautiful Seaver women."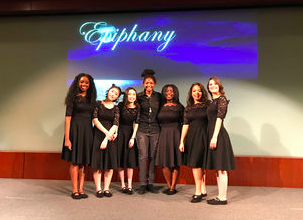 The show was a live art piece and was called "an evening of monologues and artistic expression," according to the flyer. The event was an opportunity for the six students to share how life experiences challenge their faith and understanding. It was their first time performing slam poetry live, with the help of Professor Carr.
"I went to Dr. Carr and said, 'Oh hey I want to do this,' and she said 'Oh I already have this idea called Epiphany,'" senior Horton said. "We decided to do it during Black History Month, and it turned into this. It's an all female cast of all different colors."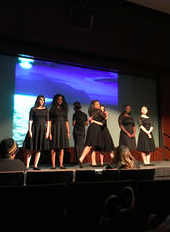 The women shared stories about race, grief, misunderstanding, abandonment, forgiveness and love.
"I want people to take away the idea of forgiveness," sophomore Hunter said. "I want them to forgive people and not hold them to who they were in the past, especially if they are trying to change and be a better person."
Hunter said she had written poetry before, but never participated in slam poetry prior to the event.
"It's completely different," Hunter said. "In my mind I have a way I want things to be, but in a performance it takes that away and made it more dramatic. It was definitely more strategic."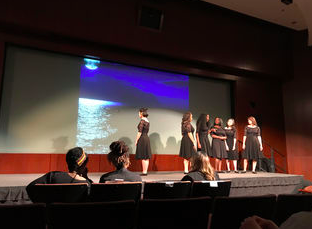 Some stories were funny, but Horton's voice cracked as she began to cry while talking about her distant mom.
"I need you to need me," Horton said. "I just want my mom back. I need her back."
Throughout the show, students snapped, cheered on their friends, laughed and were inspired.
Junior Diana Kim came to support two of her friends who were performing.
"I was really interested in what they were going to be doing because I haven't heard about anything else like this at Pepperdine," Kim said. "They touched upon a lot of taboo topics. In Pepperdine's culture it helped bring conversation. I know a lot of these are true and personal stories, which made it really inspiring."
Update made on April 8 at 7:39 PM: The program was sponsored by the Multicultural Theatre Project, the Intercultural Affairs Office, and the Institute for Entertainment Media and Culture in collaboration with the Black Student Association. Joi Carr is the creative and program director of the Multicultural Theatre Project and director of Film Studies at Pepperdine.
____________
Follow the Pepperdine Graphic on Twitter: @PeppGraphic