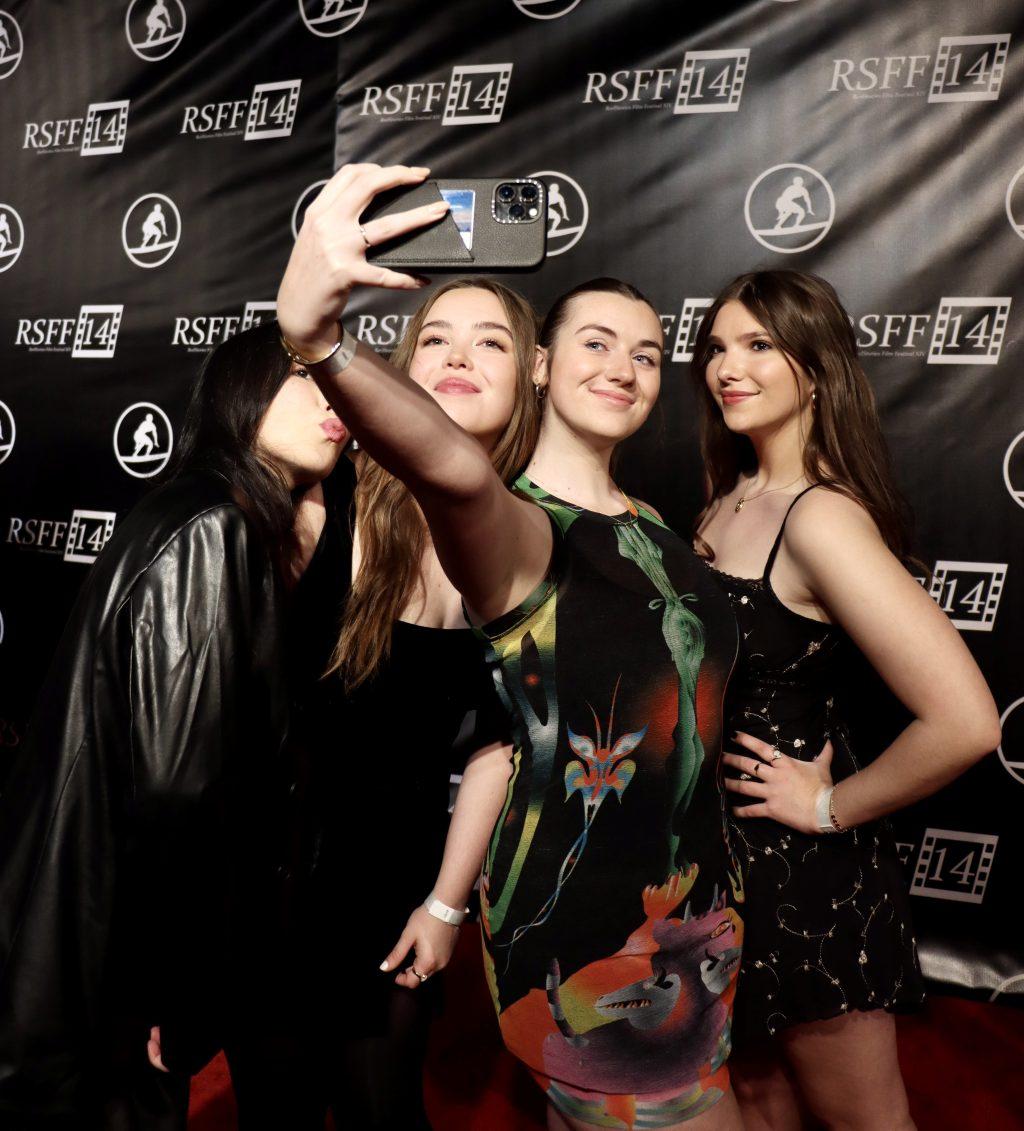 Students pose for a selfie on the red carpet in for ReelStories Film Festival 14 in Mullin Town Square on Feb. 3. Attendees dressed in their most formal attire to walk the red carpet. Photos by Sammie Wuensche
The Pepperdine Student Programming Board hosted ReelStories Film Festival 14 and this year's theme was "Timeless: Stories That Live On." The 14th annual festival took place in Mullin Town Square on Feb. 3. Students arrived at the red carpet entrance, attended the film screenings, enjoyed the dessert afterparty and watched the awards ceremony.
The event showcased students' creative talent through short films which "capture human experiences that empathize with, comfort and inspire people beyond the theater," according to the ReelStories Film Festival website. Students submitted their films in December and the Board selected the top eight films to be shown and judged.
"We really wanted the theme to emphasize the legacy of timeless stories," Claire Lee, co-executive director of RSFF14 and former staff writer for the Graphic in 2020-21, wrote in a Feb. 6 email to the Graphic. "Whether that theme is love, sadness, frustration or hope, the films allow for the audience to know that they are not alone."
History of ReelStories
The Board established ReelStories in 2010 and the festival is a staple in the Board's event calendar, according to the ReelStories Film Festival website. Lee wrote there is a new theme each year to inspire student filmmakers.
"These stories reach beyond race, gender, age and time," Lee wrote. "And while each is unique, there is often a universal theme that humans can all relate to."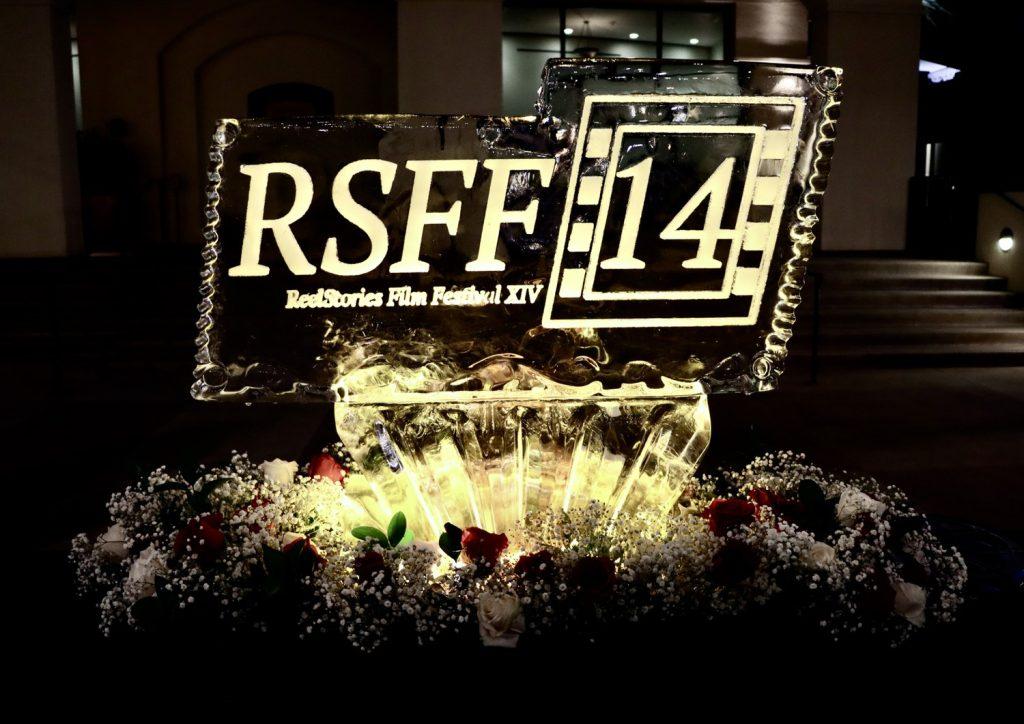 An ice sculpture engraved with the ReelStories Film Festival 14 logo sat on a flower-covered table in front of Elkins Auditorium in Mullin Town Square on Feb. 3. Students, alumni and faculty gathered for the annual event to enjoy food, film and friends
2023 Films
The eight short films in this year's festival were: "Sweet Brother What Have You Done" by William Holewa, "Poems on a Monday" by Hannah Bella Huynh, "Gotta Rob Bryan" by Chris Howard, "Sticks in a Bundle" by Katai Mutale, "Brother!" by Emily Watson, "Looped" by Hali Orefice, "Hi, This is Georgia" by Georgia Zanca and "Love Doctor" by Cat Masterson.
The first film of the screening was "Sweet Brother What Have You Done," in which the main character, Luc, deals with the consequences of an awry robbery that took his brother's life. The film won Best Cinematography and Holewa said he was grateful for everyone who got to experience his love for the camera with him.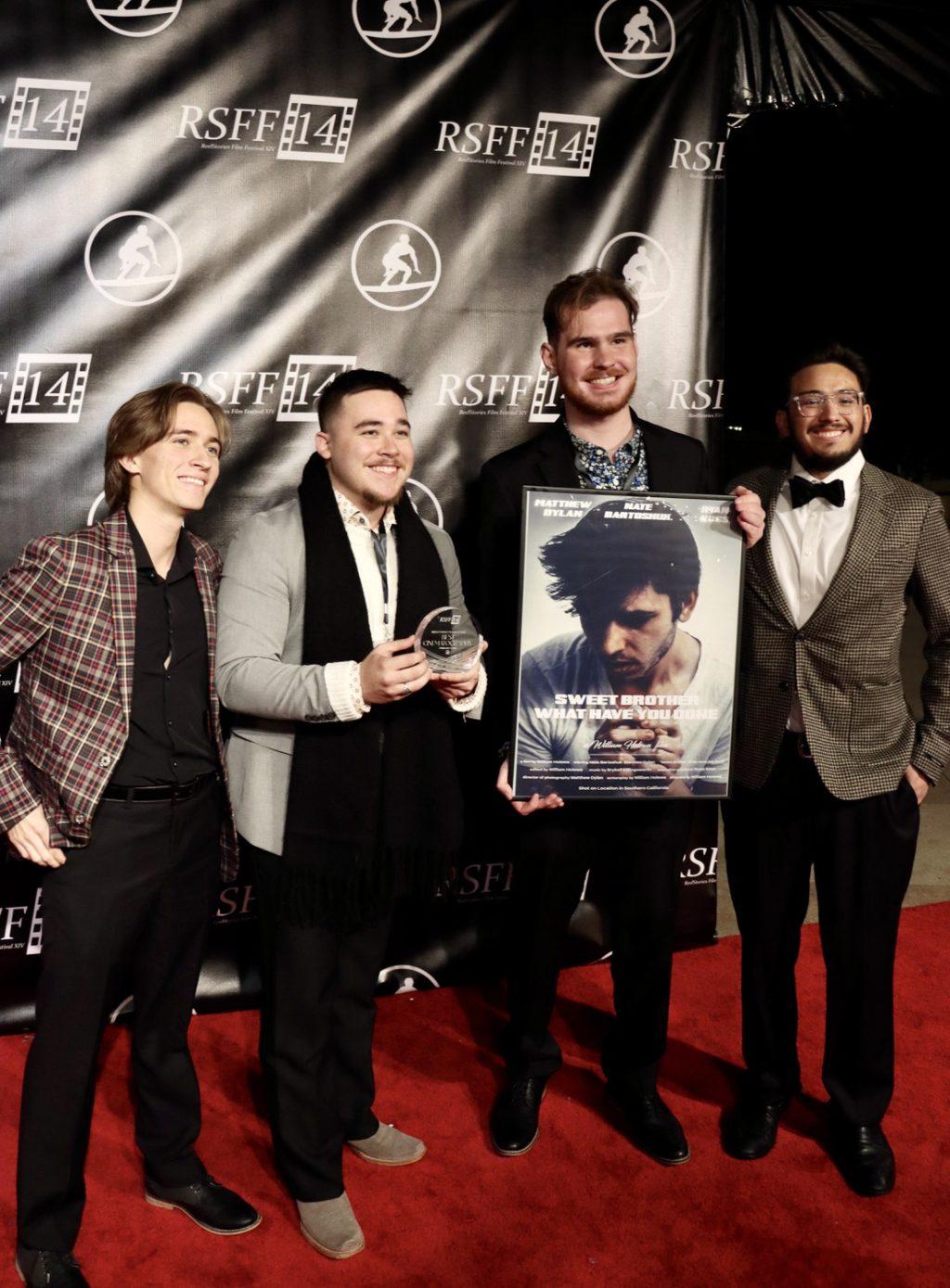 The cast and crew of "Sweet Brother What Have You Done" stand on the red carpet with their film poster and Best Cinematography award in Mullin Town Square on Feb. 3. Holewa said the film was shot in multiple locations including Joshua Tree National Park.
The next film was "Poems on a Monday," which details the feelings of a heartbroken girl and her ex's poem about her betrayal.
"I wanted a film that would help people get through heartbreak and make them realize they are not alone in that," Huynh said. "Heartbreak is something that can happen to anyone but you can come out the other end just fine."
Following "Poems on a Monday," was "Gotta Rob Bryan," a short comedy about two broke roommates who plan a friendly robbery.
"I personally am very independent and have always struggled to ask people for help," Howard said. "This film is my way of incorporating my theme of being OK with reaching out and asking for help, however unconventional."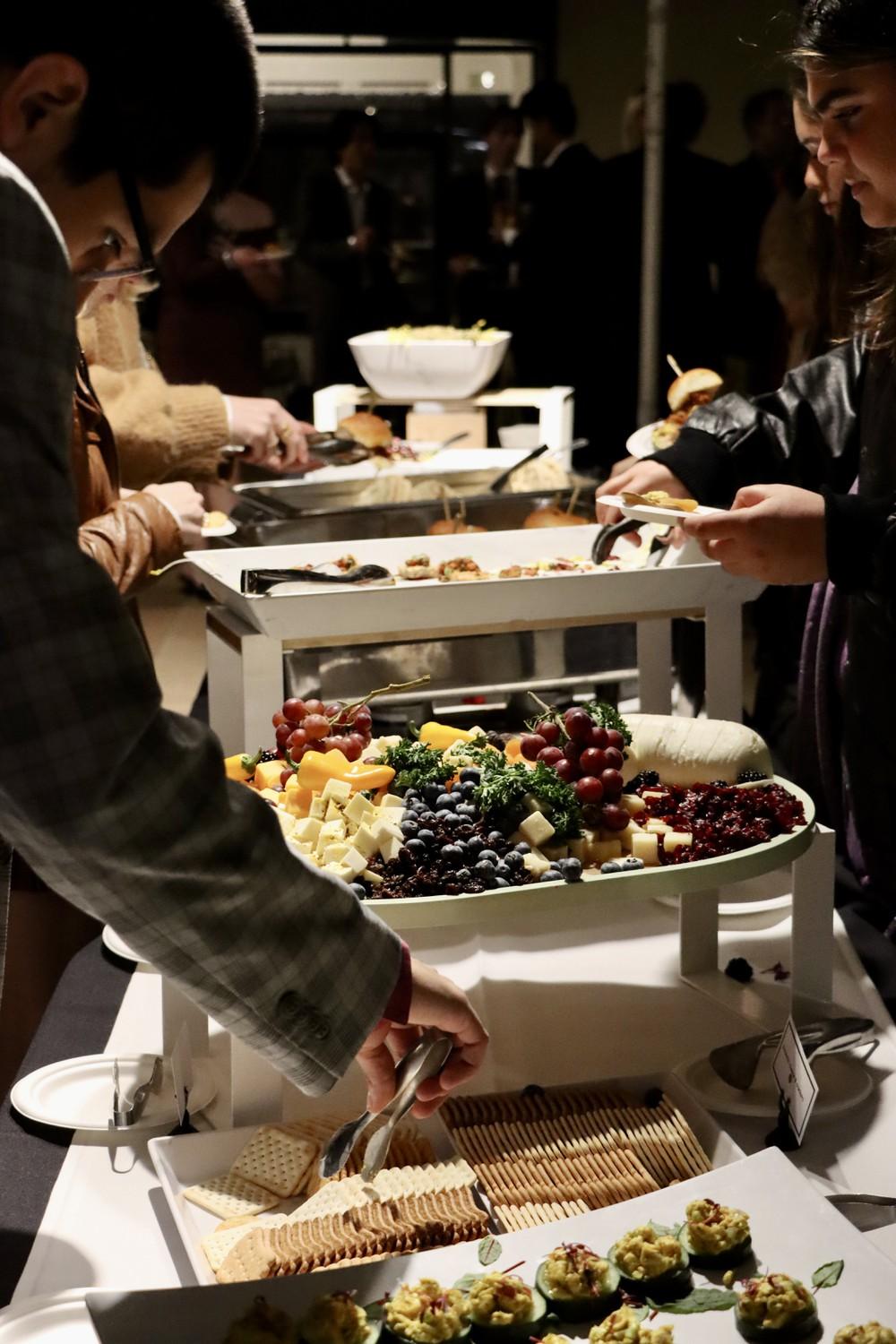 Guests of the festival enjoy appetizers during the red carpet entrance in Mullin Town Square on Feb. 3. ReelStories provided a space for students to come together to see the creativity of their peers while having a formal night out.
The fourth film of the night was "Sticks in a Bundle," which showed a Zambian family overcoming a milestone that threatened to upset their domestic unity. The film centered around a character's move to college abroad and the resulting familial tensions.
"There is a current hunger for African films," Mutale said. "We've seen 'Black Panther' and 'Woman King' and there are many more films on the horizon showing archaic African stories. People love it and I thought, 'I've grown up there, I have access to the tools and there is so much of my experience that I can articulate to this audience.'"
Next, was "Brother!," a Regency-era film about a marriage proposal with an expected turn. "Brother!" won Best Acting for the roles played by Watson, Masterson, Joshua Corey and Cole Wagner.
"Growing up, I loved Jane Austen and the Brontes and their film adaptations and I am really happy to see a resurgence of period-style stories with things like 'Bridgerton,'" Watson said. "So that was a huge inspiration and I wanted to challenge myself."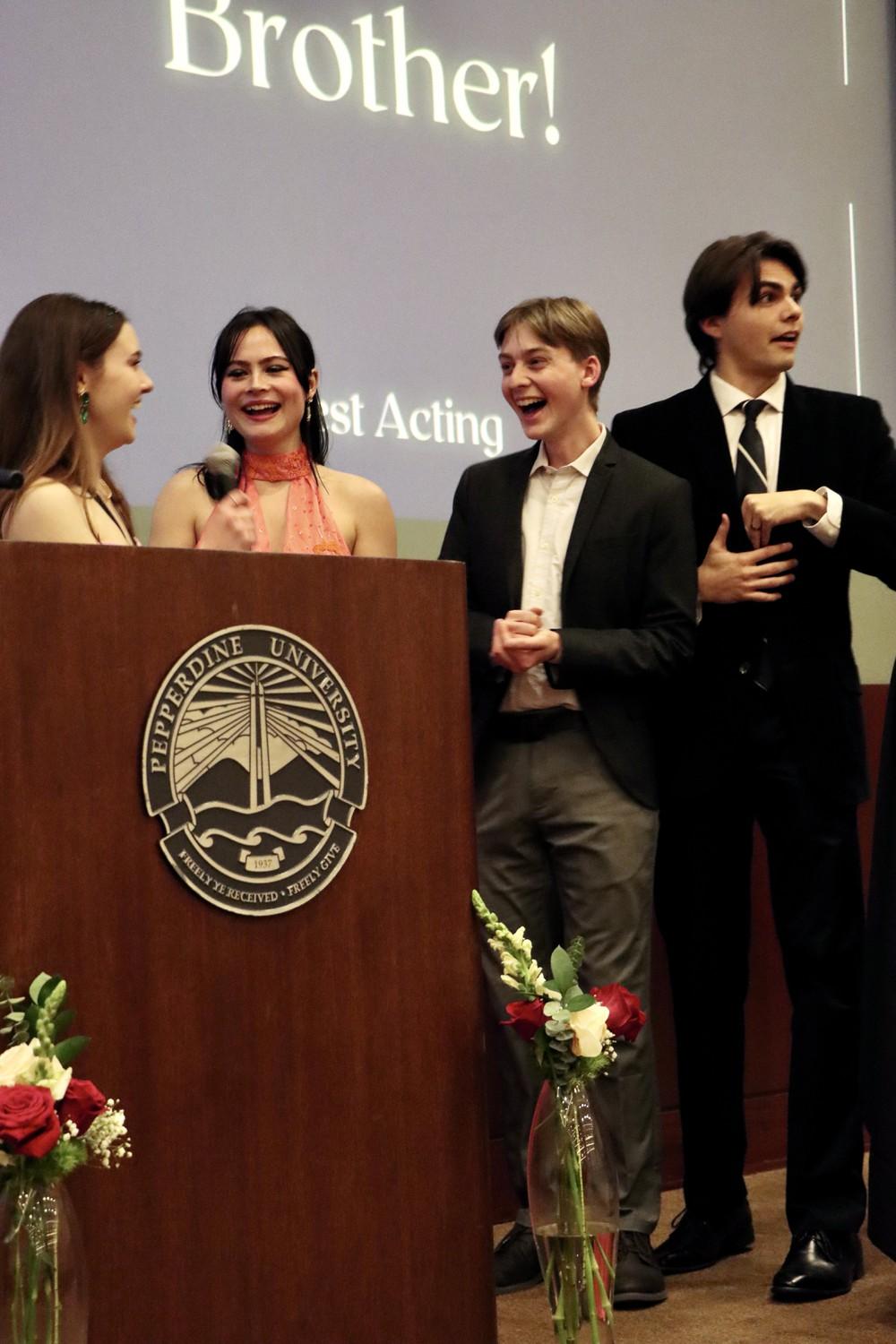 Cast of "Brother!" receive their award for Best Acting in Elkins Auditorium on Feb. 3. "Brother!" incorporated Regency-era fashion and English accents with a comedic and Timeless plot.
Watson said the story was a tale old as time about an oblivious man that makes things awkward for his lady. She said she wanted to fully embrace the old English style while still making a humorous piece.
"I really liked 'Brother!' and the regency theme," first-year Elizabeth Stansbury said."I thought it was really well filmed and acted. It was funny and the characters were relatable, so it was very enjoyable to watch."
The sixth film was "Looped," which was about a college-age girl whose wish for more time was granted, and she suddenly found herself living the same day over and over. "Looped" won awards in four categories — Best Screenplay, Best Editing, Best Directing and Best Picture.
"There's this idea as a college student that we will never actually find what we want to do ultimately," Orefice said. "The general message I wanted to showcase is that if we are stuck in the loop of trying to find out our path, we should look outside of ourselves and focus on something that might be right in front of us because there is beauty in the present."
The "Timeless" message of Orefice's film stuck with many audience members, sophomore Myers Mentzer said.
"It was a good reminder of the little things we miss in our everyday lives," Mentzer said. "I also thought the screenplay was very cohesive and the words, art and transitions made for a beautiful film altogether."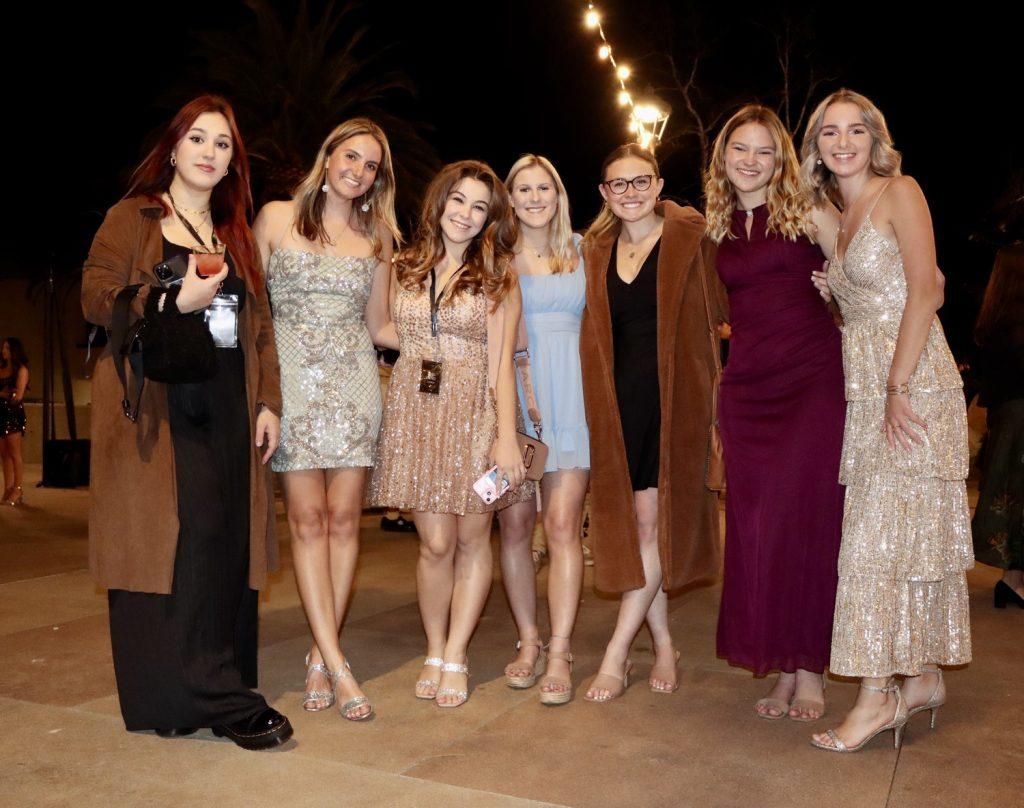 Cast and crew of "Looped" pose for a group photo in Mullin Town Square on Feb. 3. "Looped" was highly successful in the awards ceremony and received four awards.
After "Looped" was "Hi, This is Georgia," a biographical film about Director Georgia Zanca's battle with bipolar disorder.
"My mom's best friend always tells me that someday I'm going to share my story and it's going to save a life, and that's what I was going for in this film," Zanca said. "Hopefully, someone can see this and know that it is OK to reach out, to speak out, and that it is OK to share your story to inspire others — even if it's scary."
The final film was "Love Doctor," which begins with a patient going to a love doctor about an awful date she had and ends with the pair spending the day together attempting to understand love.
"I thought it would be funny to have a doctor of love and format it in the traditional doctor-patient relationship," Masterson said. "When I came up with the idea I was with a friend who was eating a biscotti, it was very hard and dry, and I thought that was funny, and that started the monologue which came together that day in the cafe."
Masterson said she hoped to share there is more to life than romantic love — there's platonic love between friends, there's familial love and self-love.
"The final message I wanted to share is that when you do find romantic love, make sure not to lose yourself in it," Masterson said.
Awards Ceremony
After the screenings, students, alumni and faculty attended a dessert reception before the awards ceremony. A panel of industry professionals judged the films prior to the event.
"We tried to get a diverse representation of judges by reaching out to people from various aspects of the film industry including acting, directing, screenwriting, composing, editing and producing," Lee wrote. "We also wanted a balanced gender representation, especially to empower more female filmmakers in the industry."
In addition to the judges' award, there were also two awards based on audience votes — Audience Choice and the Timeless Award.
"Honestly, everyone who submitted a film deserves an award because so much hard work goes into creating a single film," Lee wrote. "It's so significant when the filmmakers are recognized for all their hard work, and the amount of love and support from the audience is so evident."
The Timeless Award was given to "Hi, This is Georgia." Zanca said she hoped her courage in opening up about her disorder would be a step in the right direction in destigmatizing mental health.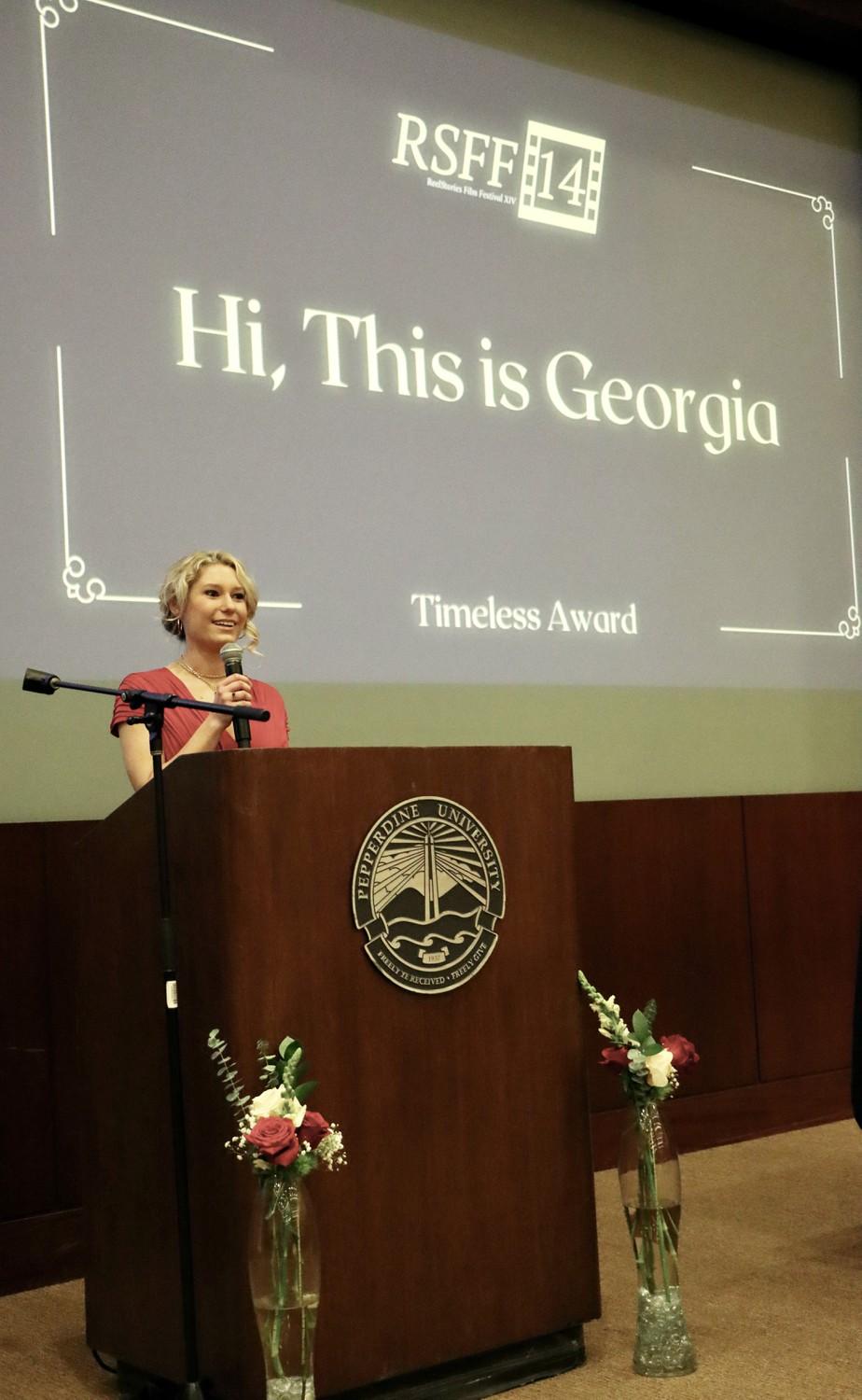 Georgia Zanca gives her acceptance speech for the Timeless Award in Elkins Auditorium on Feb. 3. Zanca said she hoped by sharing her story she could potentially save someone's life.
The film with the most audience votes and claimed the title of Audience Choice was "Love Doctor." The film received a standing ovation at the ceremony as Masterson accepted her award.
"This story is really special to me, so seeing this reaction and you guys loving it this much means the world to me," Masterson said in her acceptance speech. "Thank you all so much, I love everyone I worked with, they are all my best friends."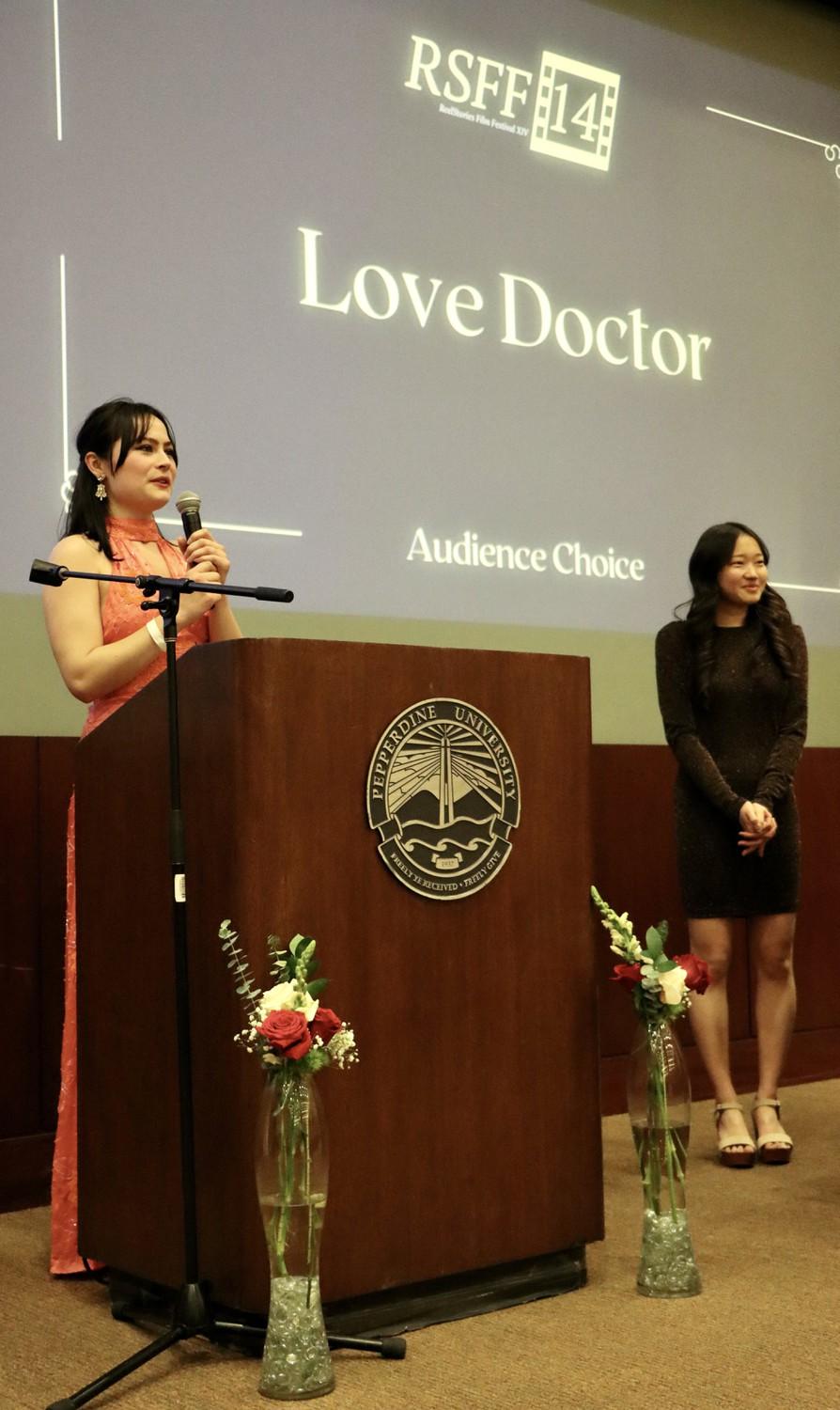 Cat Masterson gives her acceptance speech after winning Audience Choice in Elkins Auditorium on Feb. 3. "Love Doctor" was a crowd favorite and received a standing ovation.
ReelStories is a highly important night for the Pepperdine community, Lee wrote. She said the event allows students, alumni and faculty to connect and have a good time while supporting their fellow Waves' creativity.
"We have so much talent at Pepperdine, and this event allows the talent to be shown, appreciated and celebrated," Lee wrote. "These are the people who are going to make waves in the film industry, and it's awesome that friends and classmates can come to support them early in the process. Yes to student empowerment."
___________________
Follow the Graphic on Twitter: @PeppGraphic
Email Milena D'Andrea: milena.dandrea@pepperdine.edu