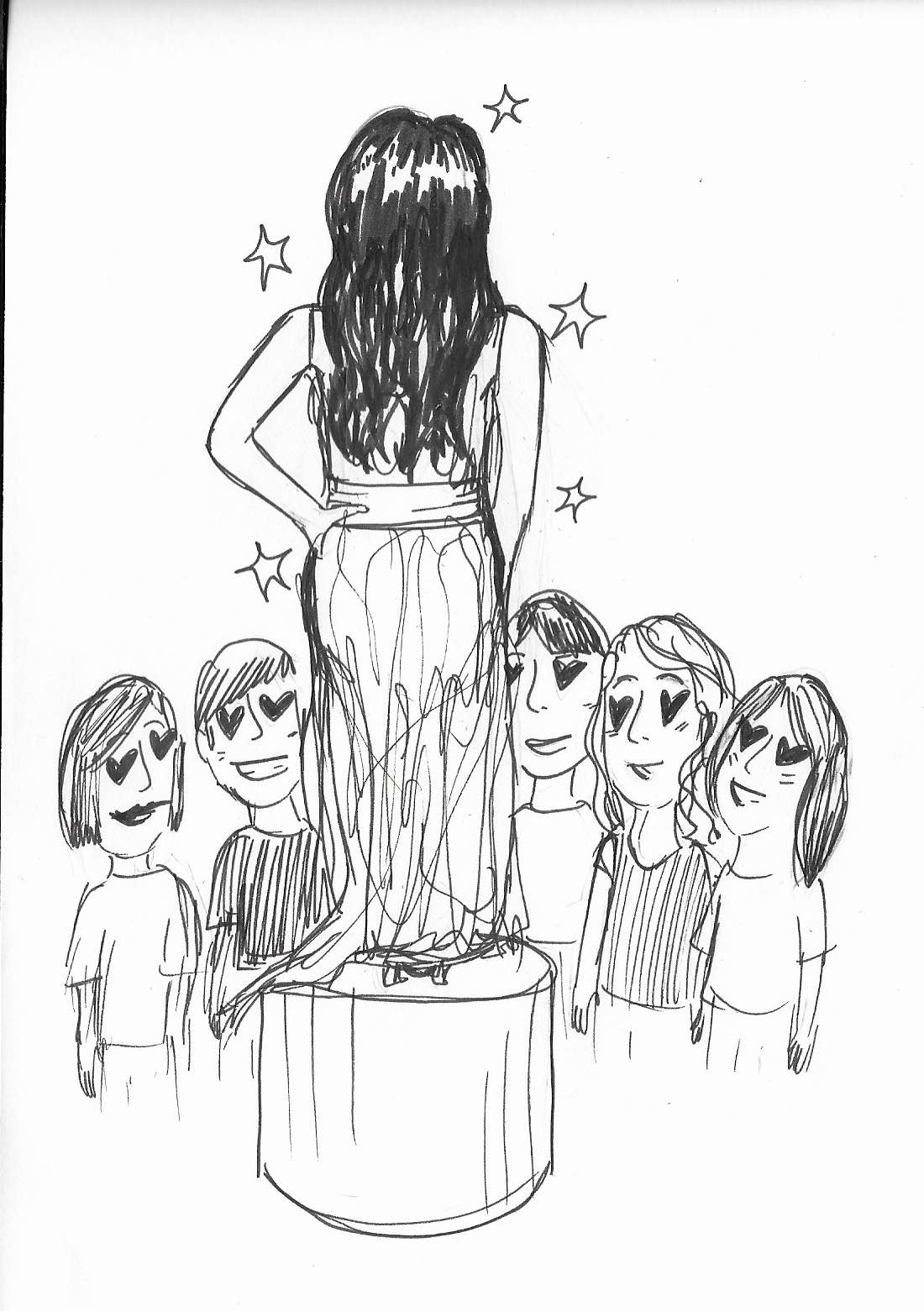 Art by Ally Armstrong
Celebrity addiction could be a symptom of self-esteem issues. It could potentially cause confusion as to whether being content with one's outward appearance is merely related to having high self-esteem. This is detrimental because it could potentially produce a likelihood that some young people will fall into a false reality of what they consider true beauty to be and what it entails.
The average person will spend more than five years of their life on social media— five years and four months, to be exact. That breaks down to nearly two hours (116 minutes) a day spent on social media sites according to Carolyn Sun's Article, "How Do your Social Media Habits Compare to the Average Person's," published in Dec. 14, 2017 on Entrepreneur.
The combined exposure of screen time from television sets, computers, tablets and cellphones has allowed fans to follow their icon's lives at a closer, virtual proximity. In turn, this may have given birth to a newer, more disconcerting generation of idolatry, stated in Samatha Olson's article, "The Psychological Effects of Idolatry: How Celebrities Crushes Impact Children's Health," published in 2015 on Medical Daily.
Celebrity obsession is alarming and should not be taken lightly. John Maltby, along with several other psychologists, found evidence to suggest that celebrity worship is significantly related to poorer psychological well-being, according to the article "Personality and Coping: A Context for Examining Celebrity Worship and Mental Health," published in the British Journal of Psychology in September 2004.
It seems a little scary to think gushing over Noah Centineo's new instagram pic or drooling over Kim Kardashian's bikini pic could further manifest a celebrity addiction. Being able to successfully prioritize one's self-value and not seek the influence of celebrity ideologies or appearances is a healthy start.
These influencers are respected because of the power they hold, but what good is that power if they are not using it in the most ethical way? What good is it if fans are giving these celebrities more power than necessary solely based on looks? Students need to appreciate the true beauty they possess that is internal rather than external.
To do this, one needs to be aware of the idolization and be willing to let go of one's distorted reality for a more hopeful and self-appreciative one. Be willing to set aside the phone and not feel the constant need to pick it up; This takes practice and perseverance.
Classifying beauty by a celebrities' appearance or viewpoint is harmful. First, students need to understand that 'true beauty' comes from within. As cliche as it sounds, it's true. Realizing that what one's favorite celebrity is wearing, how good their makeup looks, what kind of car they drive, where they shop, etc., does not have anything to do with how that celebrity is on the inside nor should it determine popularity or likability.
In essence, prioritizing a student's self-esteem is essential for a healthy psychological well-being. Understand that the amount of time people spend on their phones fantasizing about a celebrity is a problem that needs fixing. Having a strong ability to differentiate a celebrity's life through a cell phone screen versus one's own actual reality will benefit both the celebrity and the fan. Students need to prioritize becoming the sole creative force in their lives and focus on their well-being.
____________________
Follow the Pepperdine Graphic on Twitter: @PeppGraphic