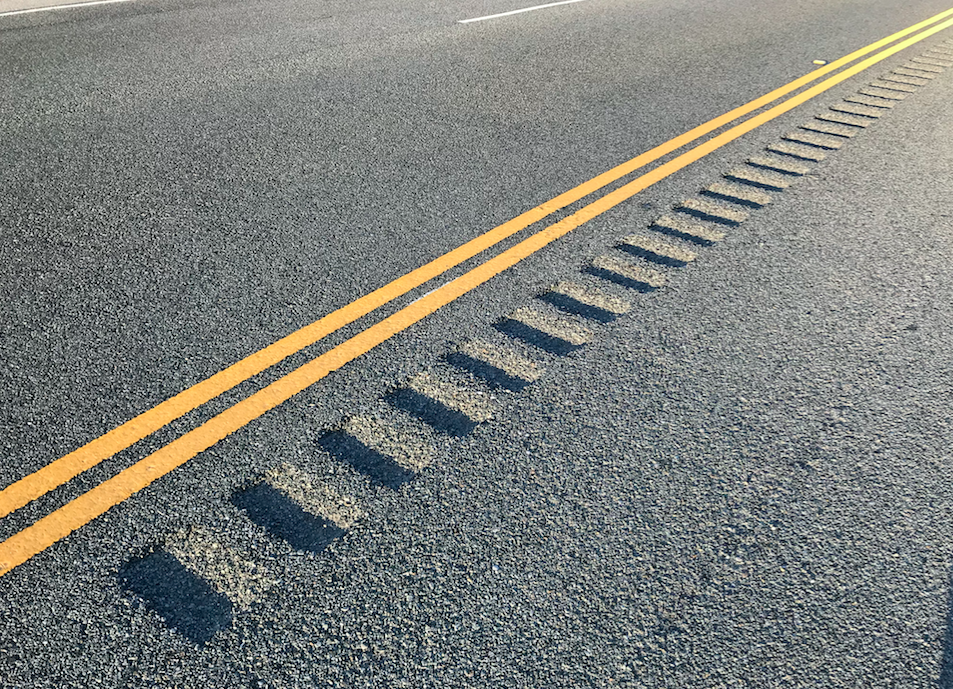 Photos/images by Duncan Hilby, Jenevieve Fong, Sierra Perry, AAA Foundation, and Anson Williams
Junior International Management major Sierra Perry never thought she would be involved in an accident because she fell asleep in her car. She thought she had the energy to keep her going all the time.
"I actually never thought it would happen to me," Perry said. "I was like, 'Oh, I can go 100 miles per hour all the time, I'm in college, I'm young.'"
Perry went home for Thanksgiving break her junior year of high school and she was off to the races. On her first day back, she didn't want to sit around the house, so she went for a run in the early hours of the morning. Once she completed her run, she still had energy and decided to go drive to the gym.
After she went to the gym, she still wasn't finished with her day yet.
"I got home and it was still 10 a.m. and I said 'What am I going to do?' So I drove an hour away to the beach … got there at 1 p.m., [and] surfed from 1 p.m. to 6 p.m.," Perry said.
Perry and her friends completed the five-hour surf session without getting out of the water.
When they had finished surfing for the day, they loaded up Perry's car and began the long drive back home. They stopped for food on the way, and once they finished eating, Perry dropped her friends off.
On the 20-minute drive from her friend's house back home, Perry began to get cold. Her windows had been rolled down, so naturally, she rolled them up and turned on the heater. She then turned the music down and felt really comfortable since she was warm, it was quiet, and she was full from having just eaten. She then got off the freeway and was about to get to her house.
"I remember the two lights turning green and it was about a block away from my house," Perry said. "I think that I just got so comfortable that I just thought, and I was so exhausted, that I thought I would be fine and I fell asleep,"
When she woke up, she first noticed that a concrete light pole had fallen over and was bouncing on the side of the road, and the front of her car was caved inward.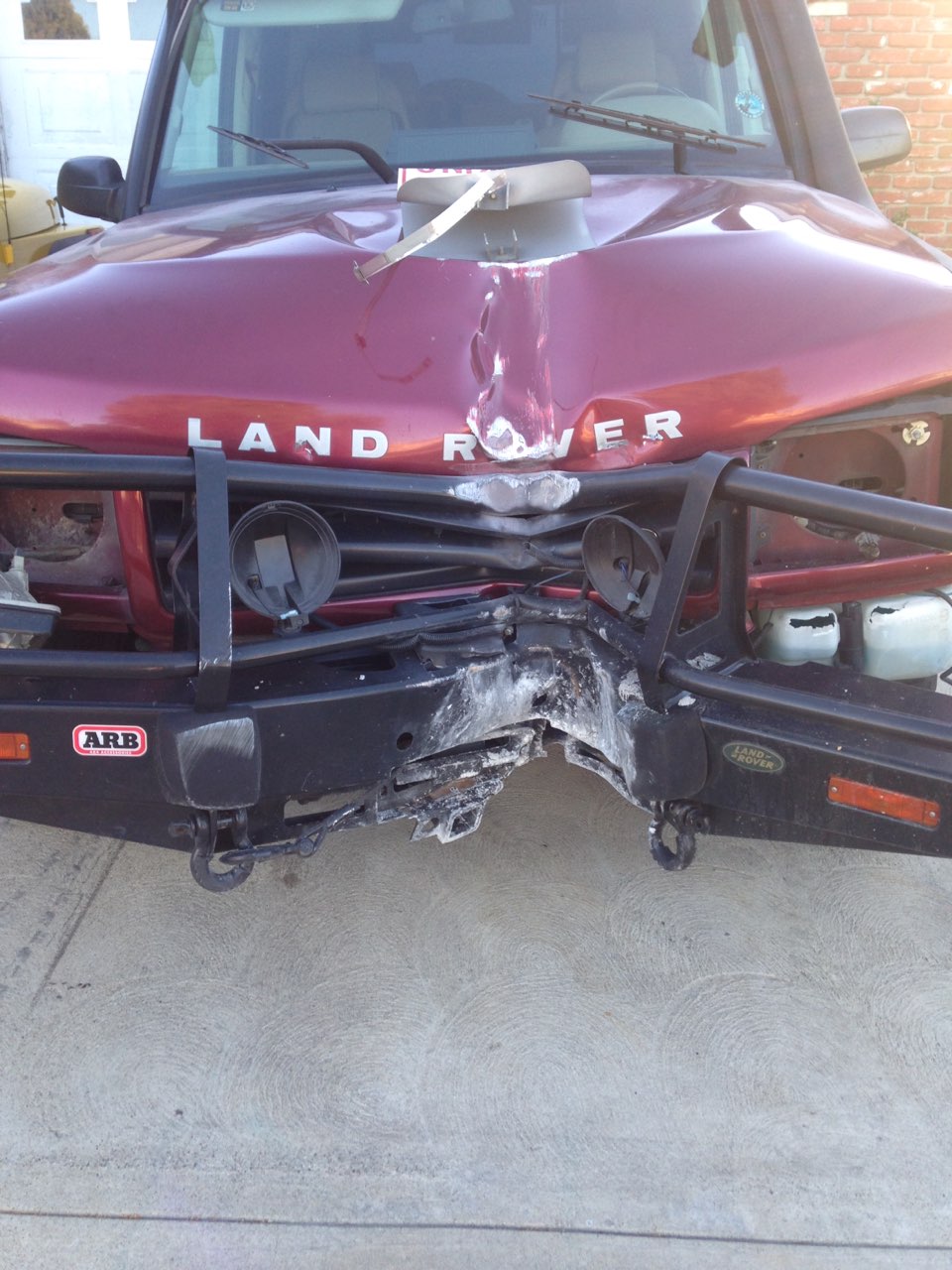 Photo courtesy of Sierra Perry
"My initial reaction was 'Oh my gosh I'm just going to back up, it's fine,' but then I realized I couldn't do that but I was shaking so bad," Perry said.
When Perry described the accident she said that there was a simple explanation behind it.
"It was as simple as I had just pushed myself too hard and thought I could do it and got too comfortable and fell asleep," Perry said.
The Scope of the Problem
Perry's problem is illustrative of a wider epidemic that plagues drivers. Drowsy driving is when a driver gets behind the wheel of a car during a period of sleepiness or fatigue.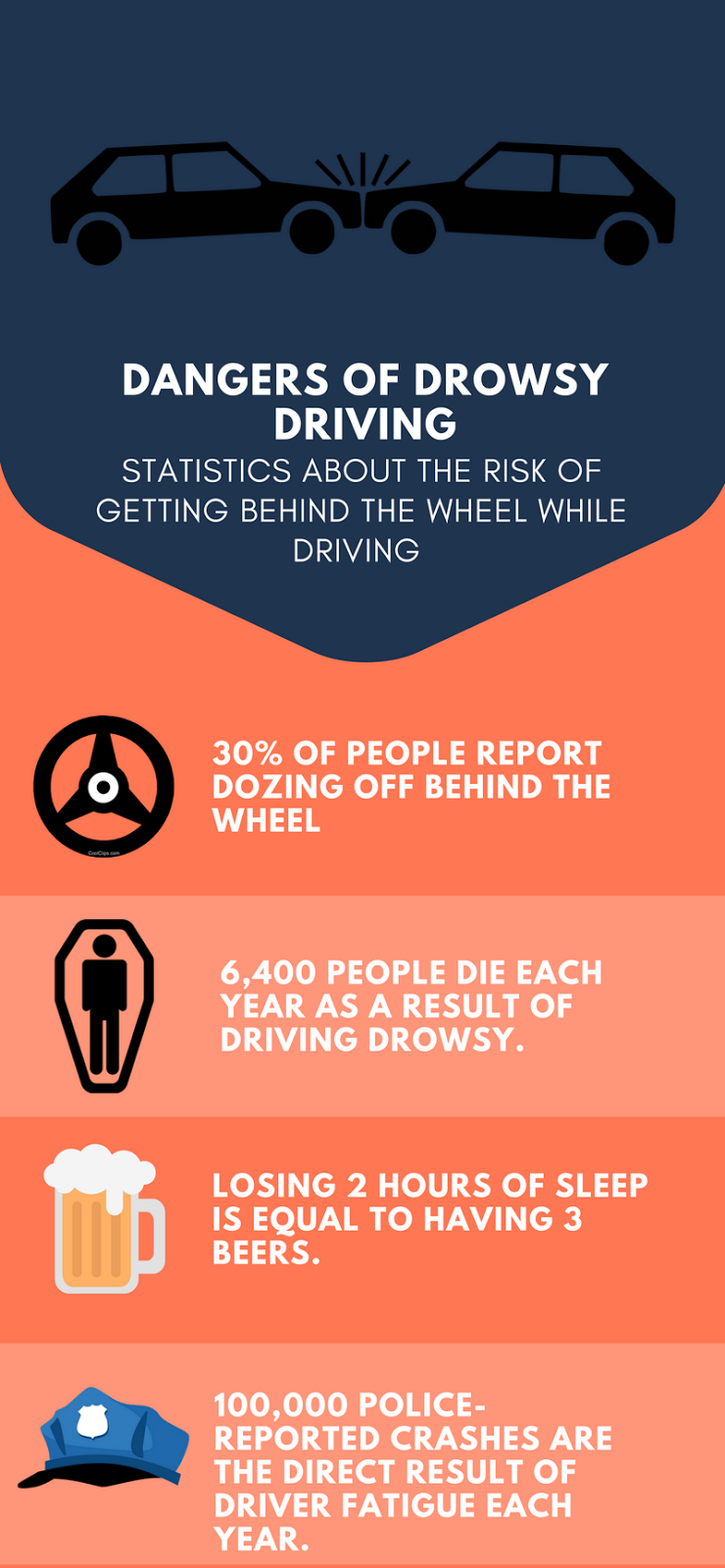 Infographics courtesy of Jenevieve Fong
Pam Fischer, a transportation safety consultant, said sleep is immensely important to our everyday life.
"Sleep is such a critical thing when it comes to how we function," Fischer said. "The public just doesn't recognize how critical it is and how critical it is to driving safely."
The National Sleep Foundation recommends that adults get seven-to-nine hours of sleep per night. A National Sleep Foundation study said that a 2010 poll of Americans found that 54 percent of drivers admitted to driving drowsy during the past year.
Drowsy driving occurs most frequently among drivers between the ages of 16-24. This age group is twice as likely to be drowsy when they are involved in a collision as people between the ages of 40-59 are, according to a National Highway Traffic Safety Administration Compendium.
A fact sheet published by the AAA Foundation for Traffic Safety found that drivers who slept for less than 7 hours are 1.3 times more likely to get in a car crash and 11.5 times more likely when a driver gets less than four hours of sleep a night.
A 2014 study by the AAA Foundation for Traffic Safety examined data from a sample of over 14,000 crashes where a vehicle was towed and found that drowsy driving was involved in 6 percent of accidents, 7 percent of accidents where victims had treatment for injuries, 13 percent of accidents where someone is admitted to the hospital and 21 percent of crashes where someone was killed. The study then estimated that from this data and sample size that 328,000 annual car crashes and 6,400 car crashes that result in a fatality are due to drowsy driving.
Anson Williams, television director and creator of Alert Drops, said the problem is as bad as other impairments.
"I don't think people realize that in terms of a catastrophic problem, it's right up there with guns, drunk driving, and medicated driving," Williams said.
The National Sleep Foundation states on their website that this is a very real problem. They found that driving after a period of 18 hours with no sleep shows the same effects of having a blood alcohol concentration (BAC) of .05 and after 24 hours a driver's impairment would be comparable to a BAC of .10.
Individuals, government organizations, and private companies have attempted to address this problem by coming up with products such as rumble strips, advancements in car technology and the oral spray called Alert Drops.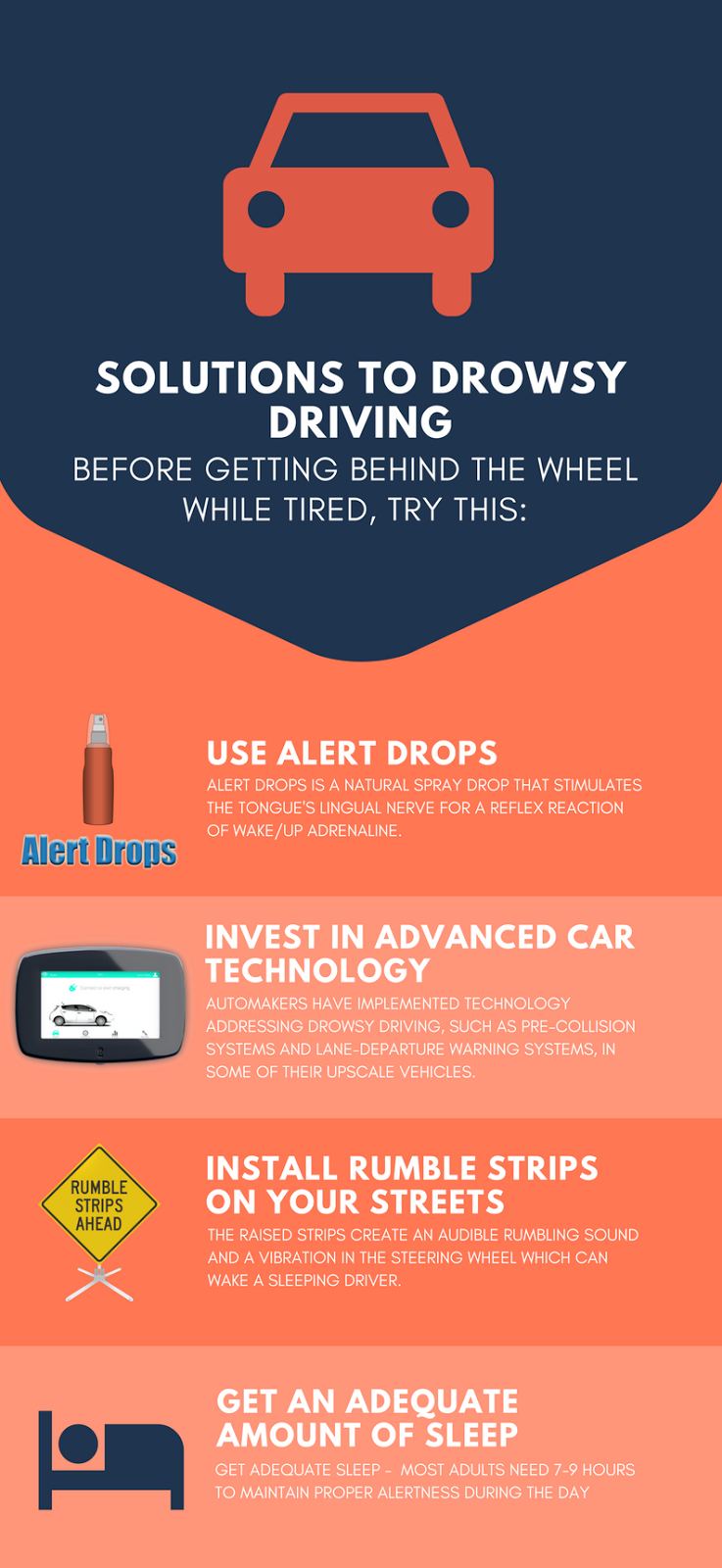 Infographics courtesy of Jenevieve Fong
Rumble Strips
One solution that has been proposed to combat drowsy driving is rumble strips alongside roads and highways. Rumble strips are raised pavement or grooves on the roadway that make a loud and sudden vibration when driven over that will alert the driver they are drifting off the road or into the opposite lane.
According to the US Department of Transportation states, there are three different types of rumble strips: centerline rumble strips, shoulder rumble strips, and transverse rumble strips. Centerline rumble strips are used to warn drivers that they are crossing into the opposite lane. Shoulder rumble strips and transverse rumble strips warn drivers if they are drifting off the roadway or if there is a change on the road.
Additionally, rumble strips are installed in two different ways. They can either be rolled in when hot asphalt has been laid, or milled in later on with a milling machine.
Neil Gaffney, public affairs specialist for the Federal Highway Administration said milled-in rumble strips are preferred to rolled strips.
"Milled rumble strips are more flexible because you can construct different shapes and sizes within a certain area," Gaffney said.
Rumble strips have proven to be effective at reducing crashes. The Federal Highway Administration reports that centerline rumble strips create a 45 percent crash reduction in rural two-lane roads and a 64 percent reduction on urban two-lane roads.
A Federal Highway Administration study found that with the installation of rumble strips there was a 20 percent reduction from estimated crashes on rural roads in Kentucky, Missouri and Pennsylvania.
While Rumble strips reduce collisions, they cost the government and therefore the taxpayer money to implement. Gaffney estimated the cost can range from as low as $500 to $6,000 per mile of road.
"We are looking at, depending on how long, how far you want to install these on a road, between 10 cents and maybe a dollar per linear foot," Gaffney said.
Additionally, rumble strips have been known to create noise problems in communities. To combat these, localities have installed rumble strips farther away from the roadway.
"Some areas place the rumble strips farther away from the roadway or they replace the edge line rumble strips with the shoulder rumble strips, but you still have issues with noise," Gaffney said.
However, Gaffney states that the rumble strips are still a good, low-cost way of improving road safety.
"Rumble strips are one of those proven safety measures that we encourage localities to use," Gaffney said
Car Technology
Today, cars are more helpful than ever in preventing collisions and being aware of when a person is drowsy driving due to driver safety technology.
The National Highway Safety Administration promotes technology such as automatic emergency braking systems, pedestrian emergency braking systems, forward collision warning systems, a lane departure warning system and an automatic crash notification system.
"The National Highway Traffic Safety Administration is pushing for this there," Fischer said. "Behind it, it's part of their big plan to address drowsy driving."
Car companies such as Volvo, BMW and Mazda have developed drowsiness alert features that will warn the driver when it detects that they appear to be driving drowsy. The National Safety Council's website mycardoeswhat.org describes the features as giving audio warnings, vibration warnings and dashboard warnings.
Additionally, technology companies are developing products to further assist in combating drowsy driving. Plessey, a UK based company, created a product called Warden. Warden is an alertness monitoring system that goes over a seat and will monitor the driver's heart rate. It will then send a signal if it believes a driver's alertness is down.
Fischer states that while car technology is making progress toward solving the problem, it has not provided a true answer.
"So there's work going on, but have we solved the problem with technology? By no stretch of the imagination; we've just started to scratch the surface," Fischer said.
Car technology has not advanced to the point where it can totally negate drowsy driving. The website mycardoeswhat.org stressed drowsiness alert features only provide a warning to the driver, not a solution to the problem.
Fischer said that until there are more self-driving cars, nothing will be able to replace a person behind the wheel.
"But [cars] aren't the be all and end all. At the end of the day, there's still a person behind the wheel and we aren't there yet," Fischer said. "We don't have self-driving cars, we still need the person behind the wheel to be alert and focused and attentive and making split-second decisions."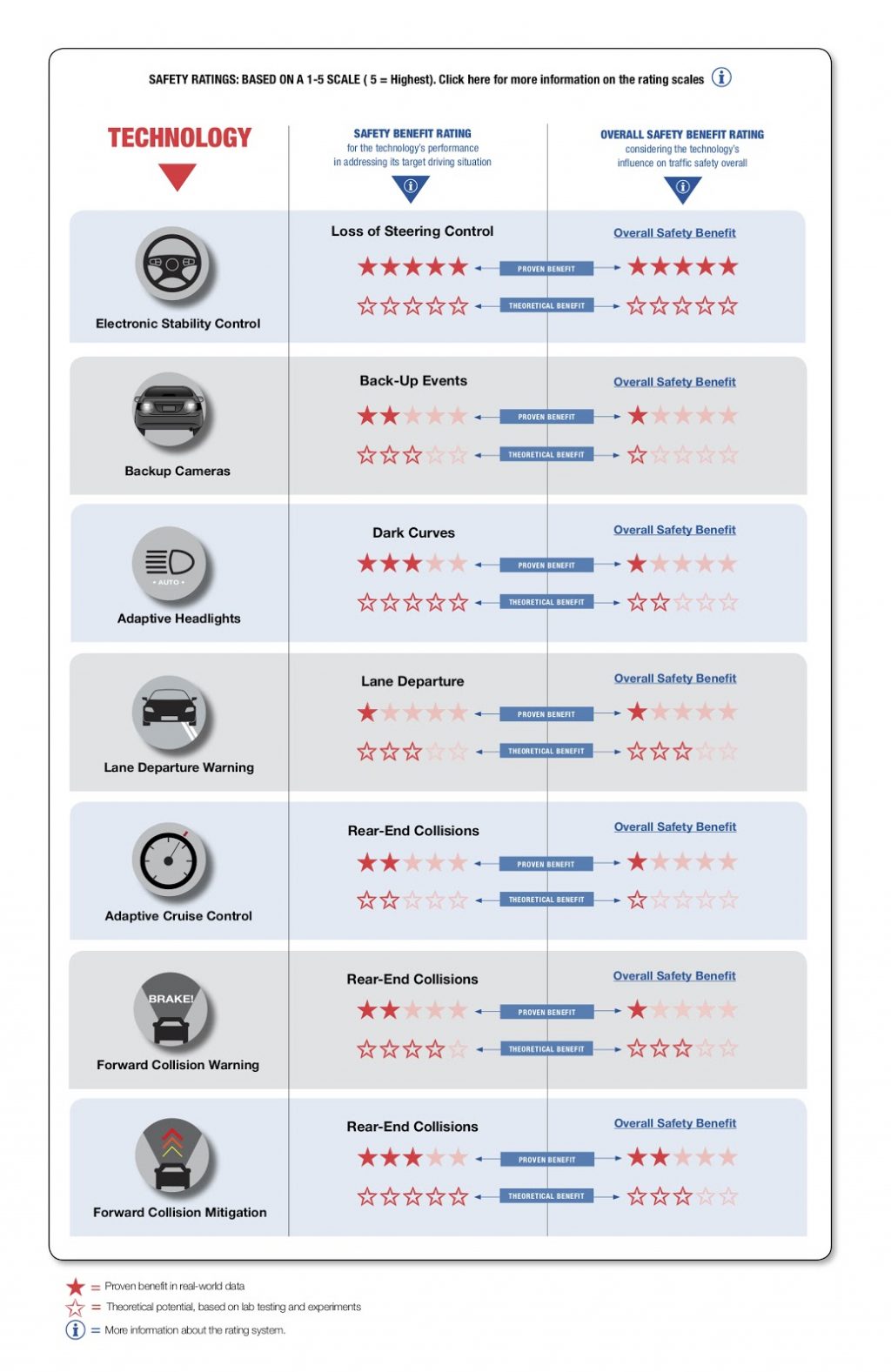 Infographic courtesy of AAA Foundation
Alert Drops
Alert Drops is an oral wake-up spray that is designed to naturally counteract drowsiness with no caffeine or stimulants.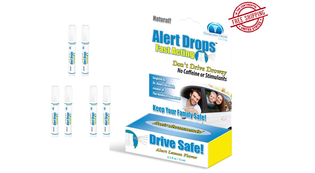 Photo courtesy of Anson Williams
"It's citric acid, specially formulated natural sour lemon, water, and a little bit of preservative for shelf life 'cause this will last two to three years," Williams said.
The way it works is it gives the body a natural reaction of adrenaline after the product is sprayed onto the tongue.
"It's a reflex reaction of your body waking the body," Williams said. "It's no different than going to the doctor and they check your knee, your arm. Same thing. This is actually a little rubber mallet that gives you a reflex reaction with adrenaline."
The idea for Alert Drops came about after Williams had been involved in an accident in the desert due to drowsy driving. He then told his uncle, Dr. Henry Heimlich, a thoracic surgeon and the creator of the Heimlich maneuver to stop choking, about it and he gave him a solution.
"I talked to Dr. Heimlich about it and he said 'Anson, cut up lemons, keep them in the car , [and] if you start getting tired, whatever, bite into it,'" Williams said. "'The citric acid and the sour lemon will envelop the top of your tongue and will hit your lingual nerve.'"
Williams then got the idea to create a product that will work the same way as biting into a lemon will. He called his friend, pitched him the idea and Williams began to develop the product.
Williams said the product, however, is not able to prevent drowsiness. It is mainly to be used in the moment as a reactive.
"It's not a preventative, it's at the moment. If you feel at all tired, like you're going, 'Oh boy, I'm going to drive home. I'm tired,' you use it," Williams said.
Williams also said the reaction time for the product will affect everyone differently.
"We found that the average amount of time it works, because everyone's body is different, it's thirty minutes to an hour," Williams said.
Alert Drops is not meant to replace sleep Williams said. It is supposed to help get drivers home when they are in a tired situation.
"So we'll get where we're going safely. It's not meant to replace sleep, it's meant to, if you're in a tired situation, get you home safely," Williams said.
Jennevieve Fong assisted with the reporting of this article
___________________________
Follow Duncan Hilby on Twitter: @dhilbs