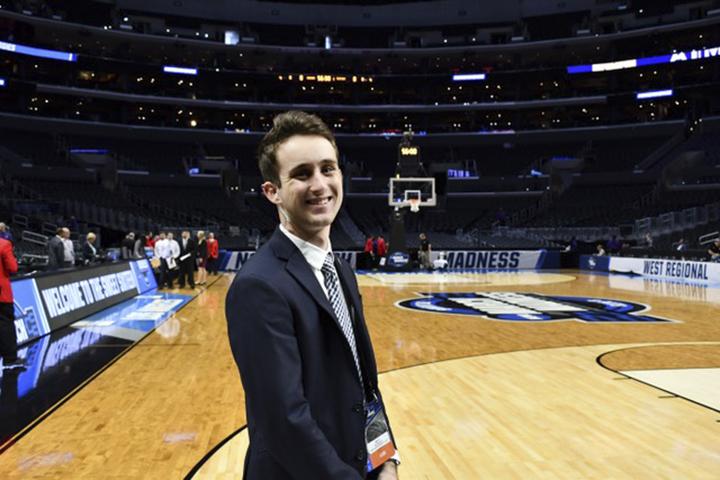 Senior Matt Rosato works the 2018 March Madness tournament at the Staples Center in Los Angeles, CA. He worked for the marketing department inside of Athletics before the COVID-19 shutdown. Photo courtesy of Matt Rosato
Seaver alumna Catherine Gibbs (2020) didn't know when she would be able to return to work as a lifeguard at Pepperdine when the Malibu campus closed in March. But now she is one of the few on-campus workers allowed on to campus.
Pepperdine limited the number of workers on the Malibu Campus only to essential workers.
"It's organized and very different," Gibbs said. "Now I have to make sure teams are taken care of and following the safety precautions while also being safe in the pool."
While student-worker positions are limited on campus, the facilities department works every day to create a safe space for the on-campus residents.
Facilities staff clean each dorm occupied by residents, working twice a day on each suite that has two occupants. The workers wipe down high touch areas, such as light switches and couches in common areas, and they preform a deep clean of the bathroom.
Other on-campus workers include the Department of Public Safety and Student Health Center, according to Pepperdine's Human Resources Department. The SHC operates during normal hours to accommodate regular testing of all on-campus residents and workers.
Gibbs wasn't considered an essential worker like the facilities staff, until athletics resumed team practices. Gibbs started working as a pool administrator this fall, helping tp not only guard the pool but also to check temperatures and admit athletes into their workouts.
"It's little things I have to adjust to," Gibbs said. "I know the pool, but it's adjusting to the protocols."
Gibbs and her fellow employees wipe down tables and make sure athletes wear masks and stay six feet apart throughout their time on the pool deck. To gain access to campus, employees go through the same process as athletes, filling out a health screening every morning.

"It's nice to be back after six months of not working," Gibbs said.
Sophomore Alisha Harris wanted to continue her on-campus job. As a worker for Waves On Call, she faced the decision of working from home or quit altogether. Harris said she chose to quit because she felt her job was more comfortable in an on-campus situation.
"I was opposed to working from home because I felt weird about asking people to donate money on the phone," Harris said. "What if my parents walk in or I get distracted?"
Harris said she finds it hard to be productive in her bedroom. But now that she has opted out of the program, Harris struggles to find a more consistent job away from the Malibu campus.
At home, Harris works small odd jobs. She said she mostly house sits, making the money she normally would if she had an on-campus position.
Unlike Harris and Gibbs, senior Matt Rosato still awaits an all-clear from Athletics before he can return to campus and resume working.
Rosato works for the marketing division of the Athletics department. Athletics suspended his position when events stopped in the spring, though he said he hopes to be back on board when scheduled basketball games start in December.
"I went from working 10 hours a week to doing little projects at home," Rosato said.
Similar to student-workers in the Athletics department, many on-campus jobs halted until students can return to campus. The Handshake portal showcases some of the remote jobs offered to students, but Rosato feels there aren't as many opportunities as there would have been had students returned to campus.
Rosato expressed his interest to return when Athletics resume events. Other workers, like Rosato, need to explore housing options the upcoming months, as many student-workers will require on-campus housing. Athletics has yet to inform Rosato whether he will qualify for housing on campus if he is a student-worker.
Rosato said he has no confirmation of when Athletics will allow student-workers to come back and help out with games.
____________________
Follow the Graphic on Twitter: @PeppGraphic
Email Emily Morton: emily.morton@pepperdine.edu